Contents
---
Colombo nearly out of control
By Angie Cooke
Bathiya, Santhush together with their band, performed at St. Joseph's College indoor stadium last Saturday. The concert, Colombo Out of Control, got in to action at 8.00pm, just half an hour later than scheduled but otherwise very well organised. The crew of youngsters took care of the ticket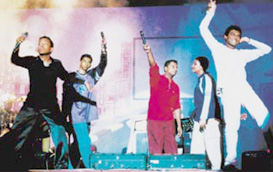 counter, keeping the queues moving and had everybody ushered to their seats in no time.

The first half hour featured performances by R&T, DJ Iraj, Dushan Weeraman who did a typical Michael Jackson performance admirably well, and DJ Kums. At 8.30pm on the dot, the band of Bathiya & Santhush was introduced to the audience, Billy the drummer, Nadeeka, at the base, Nathish at the keyboards, Nalin the guitarist and Nevanthi the vocalist. Then, unexpectedly, the spotlights went to the back of the stadium where Bathiya and Santhush made their grand entrance walking in, between the isles, through the crowd and onto the stage. The show took off on a subdued note, when the group started with a few favourites like 'Vasanthe' and 'Life in the new millennium'. After which, Bathiya & Santhush chose to stick to most of their slows through the first half of the show commenting that a lot of people had never really heard any of their slow songs.

The pair took turns doing solos, when Bathiya took the audience by surprise by doing the unexpected; requesting for a female from the audience to come up on the stage. This was granted by a young fan who admirably went on stage without needing any persuasion. Bathiya's song was subjected to a lady, whose part he wanted his fan to play, just by sitting in a chair while he seemingly sang to her, much to the crowd's amusement.

The audience was an enthusiastic group but response came in bursts. A few were on the balcony, moving to the music while others sat put. Over the second half of the show, the group decided to move into their faster and obviously more popular songs starting with 'Sangabodhi Maligawedi' which received a tremendously good output from the audience. Not long after that when the group kept the beat going, almost every youngster in the room seemed to have moved from their seats to any place that gave them enough room to dance to the music. Many were on the balcony but soon migrated to the foot of the stage which seemed to convert, in front of our very eyes, into a completely jam packed dance floor better than any night club could have been that night. More people joined in until the audience at the front row had to get up and move to other seats in order to make room for the livelier crowd. The younger fans of Bathiya & Santhush were obviously people who knew how to have a good time, dancing their cares away and enjoying every moment of this lively performance.

The pair told their audience where most of their inspiration came from, the Colonial Cousins, an Indian duo known for their rap style music, mixing Hindi with English in the lyrics of their songs. Our cousins in Sri Lanka, Bathiya & Santhush, use the same concept, mixing English with Sinhalese in their music. The pair are hoping to make a breakthrough in the Indian market sometime in the year 2002, when they will have the lyrics of their Sinhala songs translated to Hindi. The songs will then be sung, with the same music and tunes, in Hindi.

Commercial Bank General Manager Dilip Fernando one of the key sponsors of 'Colombo Out of Control', was called on stage to hand over to Bathiya and Santhush an extra large Teen Saver account holder card. Bathiya & Santhush T-shirts were given away, many of them by the duo themselves, thrown from the stage to an excited audience. The concert came to an end at 10.30pm.

---
Dreams come true for Tony
By Sanath Weerasuriya
'All My Dreams', the compact disc with twelve songs, recorded at the Studio 19 in Nashville by Sri Lankan born Canadian citizen Tony de Silva, will be launched tomorrow (June 25) at the Blue Elephant of the Hotel Hilton at 5.00pm

'All My Dreams' will feature nine original songs and three cover versions of Elvis Presley songs. The highlight of the CD is the vocal backup and the live musical accompaniments recorded by Elvis' original music team, 'The Jordanaires'.

Recorded at he Studio 19 in Nashville, Tennessee, where Elvis did his most of his musical work, Tony said it was a sheer luck to work at these studios with the original Elvis team. Lyrics for six of his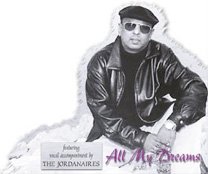 songs were penned by Roy Moor and other songs were written by John Shaughnessy and Sean Ikin.
Being an ardent fan of Elvis, Tony has to his credit another CD titled 'Tribute to Elvis', which was released last year.
"It was just like a collection type CD. I pressed few copies and distributed among friends. I did that CD in Bahrain" he said
Tony , though is a Canadian citizen , now works for Bahrain Telecom. He is in Colombo at the moment to launch his new CD 'All My Dreams' for all Elvis fans in Sri Lanka.
It started with his 'Tribute to Elvis' CD, which was a re-rendering of some of Presley's greatest hits. While on a Caribbean cruise, Tony played some of the songs from CD and some passengers suggested that he should send a demo tape to a recording studio in Nashville.
"At first they didn't take me seriously. After a couple of letter exchange and communication, Larry Rogers of Studio 19 offered me a contract to record my work in this prestige studio. Also he allowed the service of musicians ,who worked with Elvis Presley, to play for me. The Jordanaires were to backup the vocal on this 'All My Dreams' CD." Tony explained the root of his new CD.
Seven months of hard work with friends ( Roy, John and Sean) and two trips to Nashville , their labour of love 'All My Dreams' is now ready to launch in Colombo . It was launched in Bahrain early June and he hopes to do this type of promotional work in Singapore and Hong Kong. in the near future.
The originals from his new CD are 'Tequila Sheila', 'All Over The world', Is It True', 'All My Dreams For You', 'Moving On', Happy Man Blues', 'Home To Stay' and 'Tequila Sheila'(dance mix). The three Elvis' songs are 'Its Now Or Never', 'Stuck On You' and 'I Want You, I Need You and I Love You'.
The original Elvis musicians , who backed Tony, are Mike Leech (bass guitar), Gene Christmon(drums), Bobby Wood(keyboards), Reggie Young (guitar), Jim Pace (acoustic guitar)and Bobby Emmons (organ).
'The Jordanaires', who recently celebrated their fifty second year in music in Nashville studios, comprises Gordon Stoker, Curtis Young, Louis Nunley and Ray Walker.

---
'Mage Sanda Oba': a tender love story
"Mage Sanda Oba" is the maiden directorial effort of Sanjaya Vithanage and deals with a very tender love story.

The story is woven around a blind girl who comes to be loved by a boy who felt compassion for her.

Aloka is an artist in an advertising agency. Born into a rural lower-middle class family he is considered a very competent, honest and forthright young man within the company. Wathsala, coming from a rich background, serves in the same company. She is interested in Aloka and there is an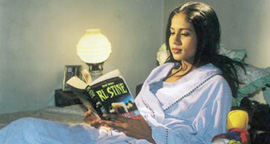 embryonic relationship between them. One day Aloka suddenly meets "Amandi" a girl blind from birth trying to cross the road. Aloka helps this blind undergraduate to cross the road. The meeting develops in to a friendship and he finds himself being drawn towards her.
The story takes a new turn when Aloka meets with an accident and the two girls, Amandi and Wathsala meet each other at the hospital. Wathsala discovers the relationship between Amandi and Aloka. She goes to meet Amandi to explain her relationship between herself and Aloka. But Wathsala realises that Aloka is not interested in her. At the same time Amandi concludes that he does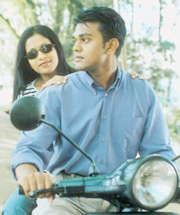 not belong to her but to Wathsala.
"Mage Sanda Oba" introduces Suraj Mapa, Keshini Gomes and Nirasha Ekanayake to the small screen. Others in the cast are Edward Jayakody, Susil Perera, Nilanthi Munasinghe, Rebecca Nirmali and Bandula Suriyabandara.
Having been assistant director of several teledramas Sanjaya Vithanage and Chandrasiri Dodangoda reputed journalist and novelist have combined in writing the script.
Imal Shanaka Peiris does the make-up, while Mahinda Bandara handles the music score. Daya Sooriyaarachchi and Palitha Perera crank the camera.
Shooting of nearly twenty episodes were done in locations in and around Kandy. This is the first teledrama produced by E. A. P. Networks Limited.

---
Teacher learns from life
By Susitha R. Fernando
A devoted school teacher 'Ananda' gives all he has to his pupils. This noble act is disliked by his relations and they force him to leave his kith and kin thus having to go through numerous difficulties in his life.

This is the story line of teledrama "Kinduru Nadiya" directed by P. Shivadasan, soon to be released on the mini screen.

The story depicts a teacher who freely shares his knowledge and is subjected to the hatred of his own brother, a tuition teacher. Rumour mill says of his involvement with one of his students, 'Pavithra' - Disheartened by these stories Ananda seeks a transfer to a remote village. Having thought that he too was responsible for the humiliation brought on the girl, Ananda is determined to take Pavithra with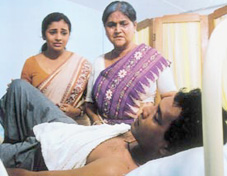 him. Though the girl was ready to join him she is discouraged due to the opposition of her parents.
Ananda goes an transfer to a rural area and makes himself comfortable with the villagers and finds a girl called "Baddra", for marriage. But 'Dharmasena' a boy in the area who was interested in Baddra opposes Ananda. However the happy wedded life lasts only a very short time as the girl meets with an untimely death bitten by a serpent.
Despite facing with repeated misfortunes, Ananda is determined to serve the poor villagers despite all his mishaps. His efforts become fruitful when he opens a dispensary with the help of a doctor whom he knew.
Meanwhile Dharmasena, who was interested in Ananda's late wife and now his rival invites a politician in the area to the village. But this politician gets friendly with Ananda and an enraged Dharmasena attempts to kill him. Narrowly escaping death, Ananda's mother visits him in hospital, with Pavithra.
With the sudden visit of the girl, the reason of his leaving home town turns a new page in his life.
Torn between his wife's sudden death and dreams to build the poor village, Pavithra brings new hopes to his life.
The main roles are done by Roger Seneviratne, Kanchana Mendis, Thamara Dilrukshi, Senaka Wijesinghe. Shalika Edirisinghe and Sumedha Chandrasekara are two new faces.

---
New film by Amarnath
With the 100% loan facilities given by the National Film Corporation through its National Film Development Fund, the well known filmologist Amarnath Jayatilaka is now shooting his tenth directorial venture titled "Bheeshanaye Athuru Kathawak (a drop in the reign of terror)".

It is a film based on the theme of Disappearance that has happened 10 years ago. The screenplay of which is written by Amarnath is based on the novel of the same name written by Nihal P. Jayatunga.

The lead roles are played by Cletus Mendis and Nita Fernando with the Steller cast of Madhuranga Chandheemal and Visaka Siriwardana with newcomers Anushka Priyanjani and Nirosha Lakmali who play adolescents.

The crew is headed by Lal Wickremarchchi as the Director of Photography and comprises Elmo Halliday as the Editor and Priyanjit Wijesekara will be composing and performing the background music score. This film is produced and directed by Amaranath Jayatilaka for Filmvision.

---
New film in the making
Muhurath ceremony for film based on the widely publicised Premawathi Manamperi incident in Kataragama was held at the Training Institute of the National Rupavahini Corporation.

The ceremony for the film "Nahi Werena Verani" was hosted by veteran film makers Lester James Peiris and Sumithra Peiris. Scripted and directed by Dharmasiri Wickramaratne it is produced under the project film fund of the National Film Corporation.

Sangeetha Weeraratne plays the lead role while Joe Abeywickrema, Sanath Gunathilake and Mahendra Perera are included in the principal cast and the music score is handled by Rohana Weerasinghe.

---
A glowing tribute a maestro
Narendra Padmaperuma of Colombo writes..
My inner feelings forced me to write this short letter although I am no writer, as I believe a lot of injustice had been done by a writer who had written to a weekend paper a post-mortem of the live show of a great singer of Sri Lanka Desmond de Silva which was on June 3, at B.M.I.C.H

I was quite fortunate to watch this live performance, though I initially intended to buy a ticket to be in front. However I ended up in the balcony thanks to my brother who offered me a complimentary ticket as the show was a sell out.

Being an Ex Clan member myself, I had the privilege to back this genius on stage over a decade. At the show I was well placed in the balcony to feel the pulse of the exclusive music loving crowd that he had attracted for this show. They were warm and appreciative from start to the end.

The maestro was in full control of the show on that day with his vibrant velvet voice, fantastic dancing and also the interaction with the crowd. The repertoire of songs that he had carefully selected was very refreshing and went very well with the audience. I should also commend the excellent back-up music of the Gypsies with equivalent credit to the back-up singers. However it is very sad to note that our own people try to label him only as a 'Baila Singer' which he is not, but a great entertainer with international repute that all of us can be proud of. Let the youngsters learn from this master.

In my book he is the greatest entertainer especially in the western music scene in Sri Lanka. It was a dream come true for all his music lovers who were present on that day. Well, he did it his way, as he always does thrilling the crowd to the maximum. That is the magic of this man.

---
Pathetic side of musical shows
Mrs. Anusha Subasinghe of Wellawatte writes....

A teacher is every child's guiding light. But the teachers themselves seem to have not got any guidance what-so-ever when it came to organising. This was what was proved in black and white at the recently held 'MARIANS AT JOES WITH BATHIYA & SANTHUSH' musical show, which was of course postponed from Saturday the 5th to Sunday the 20th of May.
The fixing of the fresh date itself proved that the organisers didn't have the brains to re-fix the show on a day convenient to school children. I'm sure the prefects of the College must have gone through hell to get back to school the next day, being a Monday. I myself had a time trying to make it to my office on time.
It also cannot be forgotten that this was a show that was postponed for the first time rather unreasonably, for no one seemed to have known it until they got to the College gates from wherever they came from, near or far.
I was happy that the show was re-fixed within the month, for I was looking forward to it eagerly to watch some of my favourites perform. I made it a point to keep a check on the date and time (fresh) and was confirmed as the of May 20 at 7 p.m. - all three times I called, until one day (the 18th of May '01) I happened to go pass the College to a banner at the gates read as 20th May at 6. p.m. When re-checking I found out that it was really 6. p.m. and not 7 p.m. as the information given by the teachers previously.
Anyway at last it was the 20th. To start off everything dressed in our best attire we managed to make it to the school gates by 5.45 p.m. to be surprised to find the school gates closed to vehicles. We were directed to a small parking area belonging to the Railway Dept. where after parking we had to pay a Rs. 10/- parking fees as well. Of course getting out of the parking area was not so easy with all the potholes filled with muddy water from the rains that day. I also managed to get some wonderful batik patches on my clothes with mud and sweat for even though I travelled in an air conditioned vehicle I had to walk a good 1 1/2 miles from the car park to the hall.
As a truly Sri Lankan tradition the show scheduled to start at 6. p.m. started off at 6.45 p.m. Until such time everybody were fanning their sweat away as if after a good work out. The relieving part was that Bathiya & Santhush were performing first. Thanks to these young and dynamic guys everybody were able to forget the torment they had to go through to get there. But only for a short time, for many - almost 75% of the crowd started leaving. And so did we.
We managed to get to the gates that we entered the school - the closest path to the parking lot - to find it closed and we had to go back to the other gate around the playground.
I was wondering If we had come to watch a musical show or do a workout. Anyway at last we got to the parking area to find it closed with not a soul to be seen and jam-packed with vehicles. We could not even walk to our vehicle, leave alone getting it out of the place.
We could not wait any longer for if anyone showed up at that moment that person would have got to taste the strength of our fists. Not only ours but so many others too. Our only solution was to hop a bus or trishaw which we eventually ended up doing.
While getting home my son kept saying that we paid Rs. 500/- per ticket (Rs. 1500/- for 3 in our family) to get our clothes and shoes painted in mud and sweat, get a good workout, get our patience tested and pay another Rs. 250/- to get a trishaw ride home. All due to the lack of organisational skills of the teachers of the college.
Anyway all I can and wish to say to the organisers of the musical show - the Teachers Guild of the College is that it was the worst ever show I've been to. I swore to myself never to even think of going for show or any other event organised by these teachers.

---
"Going Wild with Jeff Corwin"
Computer Island (Pvt) Limited, the first ever company that was awarded ISO 9002 international quality status for locally assembled computers in Sri Lanka, presents "Going Wild with Jeff Corwin" another fascinating series on Discovery channel (Rupavahini) on Saturdays at 3.30 pm. Each episode of this series takes viewers on a journey in search of an intriguing animal native to each location. The whole family is entertained as host, Jeff Corwin, wrestles alligators, swims with manatees, eats termites and gets up close and personal with a peregrin falcon.

From the tree-sheltering rain forests of South America to the skyscraping jungle of New York City, each episode showcase a worldwide variety of animals ranging from the obscure to the well known. Helping kids discover where animals live while learning unique and unusual facts about them, the programme stresses that all animals, whether fierce or gentle, are important participants of their ecosystem.

---
Thirty years of Milroy of 'Los Flemencos'
Milroy Fernando, the maestro in calypso music and formerly of 'Los Flemencos' of Moratuwa, celebrated his thirty years in the music scene recently.

Milroy was instrumental in introducing many famous songs with his brother Stanislaus, who led 'Los Flemencos' in late sixties and early seventies.

'Kalu Kelle' , 'Bolanda Katha,' 'Evankale' are some of the hits sung by Milroy and his band 'Los Flemencos'. He is still very much actively involved in music and performs occasionally.

"I do not play professionlly, but perform when ever I get a chance. I am now involved in teaching music and it is necessary and my duty is to give away whatever the knowledge I gain" Milroy said.

He conducts his music classes for school children and as well as for adulis at his residence in Moratuwa.

---
Crab Promotion at JAIC
'Crab Promotion, a culinary adventure on various crab preparations, will be held at JAIC Hilton from June 23 to 30.

Appetizers like lemon pepper marinated steam crab claws with singer sauce or even sample a soup like the much fancied sweet corn and crab with spring onions are some of the attractions at this promotion.

Then, there are the main courses like the spicy Korean red chilli crab with saffron rice or the vegetables and mushroom stuffed tomato flavoured crab accompanied by french fries or even the fried crab with green curry paste served on a bed of noodles, to name a few other top culinary attraction.

This promotion is scheduled at the Union Bar & Grill Room for both lunch and dinner at the JAIC Hilton.