The new 'pastimes'
What they cost
Activity Off- peak Peak
Bowling-Kids 100/= per game
Bowling-Adults 175/= per game 225/= per game
Pro-Karting (5 laps) 100/= 150/=
(10 laps) 150/= 200/=
(25 laps) 250/=
(50 laps) 500/=
Pool- Hot Shot (Large table) 400/= per hour
(Small table) 300/= per hour
Pool- Shooters 200/= per hour
Picture 16 balls and two cues on a green felt table. Then imagine yourself racing round a track at break-neck speed or even bowling a strike at the first go. Yes, playing pool, pro-karting and bowling are all popular pastimes among young people in the city.
What draws the youth to these activities? Says Annette Abeyratne who runs the Shooters Club which has its own pool parlour, "There's no other pastime for teenagers. It (playing pool) keeps them off the streets. People earlier had a bad impression of pool parlours. They regarded them with disapproval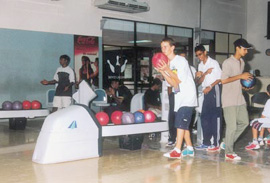 and contempt but today however, this concept is being seen as a family-oriented entertainment."
The pool parlour at Shooters, situated in Colombo 7, attracts largely school leavers and university students. It does not serve alcohol during the day.
Pool parlours that have sprung up in many places have become most popular with the up market crowd, a large part of their clientele being teenagers and students especially from international schools. While they are reasonably well patronised between Monday and Thursday, it is full house during the weekends.
Fahim and Irfan of Zahira College, play at least twice a week at the Precious Pool Parlour at Millennium Park. They prefer this to outdoor sports as it is more relaxing and less tiring. It is a game with simple rules but needs regular practice to acquire the skill.
The basic rules of the game are similar to that of Carrom. The green felt table has six pockets and there is the white ball (like the disc) and the black ball (similar to the queen). The balance balls are divided equally into seven spotted and seven striped. Initially, the balls are set in a triangular arrangements, which is then broken by the opening player who aims and strikes the white ball in the triangle with a cue. The player would continue to strike the balls, either spotted or striped depending on which is 'potted' in the pocket first.
The player or team to get all seven balls into any pocket and lastly the black ball into a nominated pocket, is the winner.
According to A.J. (19), who is following higher studies in Australia, "It's a great way to meet people. When I've got nothing better to do, I play pool."
Andrew (20), says, "When I want to chill out, I book a table, put 16 balls on it with two sticks and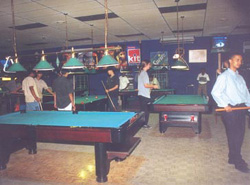 that's pool."
The tables- Italian slate boards and American tournament boards are imported from Italy and the United States respectively. Popular hang-outs for pool enthusiasts are Shooters, Blizz, Precious Pool Parlour, Rhythm and Blues and Q's.
Another activity fast gaining popularity among Colombo's younger generation is bowling. The sport was introduced in Sri Lanka owing to the initiative of W. M. Jayawardene, Chairman, Link Recreation, who set up the Y2K Bowling Centre at the Millennium Park, still the country's only bowling centre. With hi-fi equipment, fully computerised and imported from China, it caters to people of all ages, especially the youth. "We recommend this to people under stress to relax and enjoy a game, hence the corporate sector is a target group of great potential," says Athula Nanayakkara, Manager of the Bowling Centre. The game involves striking ten pins with balls weighing 8-15 pounds, rolled along a 90 foot lane. Each player is allowed 20 balls and 10 frames per game. As you drop pins you get points. The maximum a person can score is 300 per game.
It's a relaxing and absorbing pastime, no doubt, but costs are high. The management concedes this, but feel it is justified as they spend over Rs. 1.7 million on overheads per month, maintaining the centre to international standards.
So is it a difficult skill to master? According to Anushka (19), "It doesn't need much practice to get the hang of the game. It's a fun way to spend time with my friends."
The Millennium Park's 'Friday night Bowling Party', their most popular event attracts large numbers. Besides having a DJ present, they offer discounts on food and beverages, gifts for ladies, discounts for children and several competitions. At maximum capacity, the centre can accommodate up to 144 persons in the 12 lanes.
'An exhilarating experience' is the consensus among Pro-Kart racers. "Having relaunched in January 2001, the Pro Kart Centre is thriving, attracting customers from every segment of business," says Richard de Zoysa, Chairman. Many youngsters are eager to get the taste of racing through Pro-Karting. All island championships are conducted for open, junior and ladies categories. Specialised electronic timing equipment has been installed to grade the drivers. New comers usually start with five laps while more frequent racers vary from 10-25 laps.
All the pro-karts are imported from England and each driver has to take the necessary precautions such as wearing helmets. Tracks are lined with tyres to cushion the impact of the occasional skid. At any given time four to five cars are the maximum allowed to race.
Dinu (21) says, "It's the closest you get to Formula 1 racing. It's awesome!"
A first experience of Pro Kart racing can be literally breath taking. Lowering yourself into the 5' by 3' Pro Kart, as the trainers start it up, you feel a sense of power and suspense, to see what this machine can do. And when you step on the accelerater and felt the engine rev and start moving, you realise that this is going to be an unforgettable ride. Racing down the 175 metre track at full throttle, speeding by the corner bends, missing the boundary tyres by just inches, all too soon time runs out and you see the trainer wave the flag, symbolising the final lap. You don't have to be 18 to drive, and you don't need a licence.
However all things have their price and Pro Karting, bowling and playing pool are no exception. The costs are rather high and may tend to be a rare outing to an average income earner or regular outing to the higher income and expatriate community.
Activities such as going for a movie, eating out and playing outdoor games on their own, no longer seem to have much appeal to the young people. In the highly competitive field of education and work, they do undergo enormous stress to be achievers.
In addition, with exposure to the internet and the western world, bowling, playing pool, and pro karting enable them to relax and enjoy a team game for the few hours they get to spare in their hectic schedule. As Roger Correa, PR. Manager of Precious Pool Parlour says, " It is far better than going to bars, casinos and discotheques."
One can no doubt, continue to debate the merits and demerits of these new fads that seem so popular, but judging from the number of eager enthusiasts, there's no doubt that they've spawned a culture of their own.
- Report by Esther Williams, Umangi de Mel, Shezna Shums and Marisa de Silva

---
Body talk
By Norm(an) De Plume
What comes to your mind when you hear the word 'body'? If you're a guy, an episode from 'Baywatch' most probably. If you're a girl, well, I won't even haphazard a guess here. Then again, if you are thinking along the lines of Orion, Taurus and the Great Bear right now, the chances are that you're really into heavenly bodies, astronomically speaking that is.

But for certain people, the word 'body' is synonymous with education. It evokes the fragrance of Formalin, and brings forth fond memories of 'body groups' etc. You've guessed it; I'm talking about medical students. A body group is the name given to the several students who are entrusted with the delicate task of cutting up a body - and inside sources say that in one faculty the average number in such a group is 13. As you may well imagine, cutting up a dead person not just enriches the knowledge of our would-be doctors, but is also prone to empty some stomachs - via the same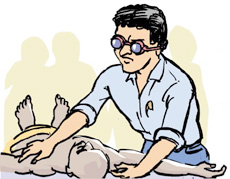 channels the food was taken in.
However, a friend of mine has a rather different reaction. You see, he doesn't faint or throw up or anything. But on his maiden encounter with the empty vessel of a departed soul, he found out that he just couldn't take it.
Oh the futility of it all! Filled with pity at the transience of human life, streams of tears poured from his swollen eyes. Sensitive fellow, you may think. Well, to be absolutely honest, he was just allergic to the Formalin fumes.
Faced with this rather amusing situation... ahem! I mean dilemma, my friend, all credit to him, found a very practical solution. Goggles. "But they're very fashionable ones", he was quick to add. It just goes to show you that even in the most unexpected of places, humour can be found. For instance, I have a cousin who used to give the mortuary phone number as his own. Apparently, people who rang that number had a conversation that went a little like this; "Hallo, xxxxx innawada?" "Ne, ehema body ekkak genawe ne."
But seriously, apart from the generous souls who leave their bodies to Universities so that students may learn, the rest of us do little but add nutrients to the soil. But let's admit it, in life; we really are obsessed with our bodies. We subject it to so much pain, lifting lumps of metal until our muscles ache simply to look good in a sleeveless outfit and so on. Sure, it's important to stay healthy and it's the motive behind exercise, but try telling that to a person on steroids. A classic example of muscle in the brain, if you ask me. Lean mass, fat percentages and the like aside, as our medical students will testify, the substances of our bodies are quite similar. Take the much vaunted six-pack stomach for example. Mine is a barrel. But hey, it's still b(h)eer.

---
Catch the 'dadibidi' show
Life is one hectic rat race with not a minute to 'stop and stare'. But if we do take some time to take a good look at our lives, we'd find ourselves in fits of laughter. Just goes to show that what goes on around us every day can be very amusing and can provide us with a great source of entertainment. Indu Dharmasena's "Dadibidi Jevithay" comprises three short plays and is based on what she does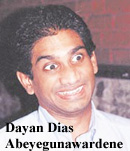 best - observing the funny side of this, oh, so chaotic life.

The first of the comedies, "Dadibidi Bankuwa" is a glimpse into a bank and a few of its employees. Whether you are applying for a loan or thinking of investing your savings, this can be what you may have to face if you decide to visit the Dadibidi Bank.

The second short comedy named, "Dadibidi Campaign" is about an Ad agency, presenting a launch campaign to their client. The team from Effective Ad Makers presents their creative campaign and the client's appreciation of their hard work is what this short play is about.

The third comedy, "Dadibidi Committees" is all about the Colombo School of Song & Dance. The school head master, Mr. Francis is caught between the Dance committee headed by Bandhu and the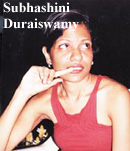 Choral committee headed by Nuwani. Despite their goal being the well being of the school, the two committees don't see eye to eye and this makes life very hard for the poor head master.
If the three short comedies sound just up your street, catch the show tonight (June 24) at the Lionel Wendt Theatre. The cast includes Indu Dharmasena herself, Krys Sosa, Sanjana Selvarajah, Ramali Fonseka, Dayan Dias Abeyegunawardene and Rajitha Mendis among others.