Rover pinpoints
In a mess
The Media Unit of the Cricket Board does not know whether they are coming are going 'judging' by the recent happenings.
A member of the fair sex close to the head had refused to hand over the accreditation cards to the SLBC personnel who was to cover the ongoing England tour. Sixty applications have been made with over 180 photographs attached (three of each person). Only ten have been accredited with no photographs attached and no mention of the SLBC made. They have been told by this member of the fair sex (who is dictating affairs) to rotate the ten passes and had even challenged the SLBC personnel to prove that they have won the rights, when the Board President is going round the country stating the Rupavahini and SLBC had the sole rights for TV and live broadcasts. Who is correct?
Furthermore the member of the fair sex who has her favourites from the other stations had challenged the SLBC to show the fax stating so, even Rover is in possession of the fax signed by the media head. How stupid indeed.
Three on tour
The father, the head of Archery, his son had daughter as participants were in Bangkok participating in the first Asian Circuit Archery Championships. What a record!
Supporting each other
Almost drowning, the NAASU Administrative Officer was seen supporting certain journalists from other newspapers while questioning the others who had access to the Recorders' Table at the recently concluded Age Group Relay Championship held at the Sugathadasa Stadium.
This officer is fighting shy of exposure, Why?
Dead sport in Kandy
Is it true that Netball is a dead sport in Kandy? This could be noted by the way the sport is at a standstill and everybody keeping silent on the issue. What is the Netball Federation doing about it. Over to you Minister of Sports.
Under lock and key
How is it that the Bogambara Stadium is now under lock and key. Those who used this grounds for jogging and do keep fit exercises are now kept kicking their heels. Rover learns of the handful allowed to get in are the favourites of the officials who out-number the security guards.
Is this AGM valid?
The AGM of the Colombo District B.A. was held last week at a girls' school at Nugegoda after giving press notices instead of posting the normal notices to the Clubs. Rover is informed that this was done because there are no Clubs affiliated to this CDBA and no tournaments were conducted since 1998.
How many attended the AGM?
Rover is informed by reliable cager sources that there were only six persons present at this AGM. This too not from clubs, it was a Vice President from SLBF who has personal interest to go on foreign tours and five of his blue eyed boys. They got themselves elected for the office-bearers' posts uncontested. Will the SLBF accept these office-bearers as properly constituted association?
Which CDBA to be recognized?
Why is that the present President and Members of the Sri Lanka Basketball Federation Exco reluctant to recognize the Colombo District Basketball Association of the SLABF who is really promoting & popularizing this game in Colombo and other places? This CDBA has twenty two clubs affiliated to their association and have conducted nearly six tournaments in 2000.
Who is the next SLBF President and Hony Secretary?
Will a person who has played Basketball and who holds a top post in an affiliated association of SLBF be elected as the President and Hony Secretary of the SLBF at the AGM to be held in March 2001.
Will the Ministry of Sports Interfere?
All Basketball lovers are demanding that the Minister of Sports take stern action against SLBF for permitting illegal associations and who do not comply with the basic requirement of the constitution to attend the AGM. Will this come true is the question?
What a shame!
A former captain was critical of the cricket selectors during an interview on television and went on to blame everyone for sending Russel Arnold all over the batting order. What he has forgotten (or at least trying to forget) is that during his term as captain Arnold was not even in the team, despite consistently scoring at club cricket!.
---
Kickbox 'em out
Bruce Maurice.
The World Kickboxing Association (WKA) is the oldest and largest kickboxing Association in the world. It was founded by Horward Hanson the first President in the Los Angeles, USA, in 1977. At that time, kickboxing was in its infancy and dominated by the USA. But Hanson wanted to make it an international sport and was not too happy with the idea of Americans fighting each other for world titles.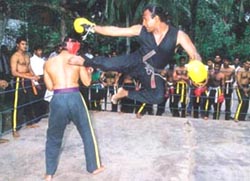 In 1991, Hanson retired and handed over the reigns of Presidency to Dale Floyd of Canada. Floyd made concerted efforts to bring back to the Association those who had made it successful at the start. The WKA has produced many stars like, Benny 'The Jet' Urquidez, Don Wilsion Rob Kaman and many others.
In January, 1994, Paul Ingram took over the Presidency and set up the World Kickboxing International Headquarters in Birmingham, England. Like Hanson before him, Ingram too wanted to develop the sport worldwide. From January 1994 to December 1995, the WKA doubled its membership to almost 70 countries. The WKA spread its tentacles to South Africa, Madagascar, Seychelles, India and Sri Lanka. In 1994 the Sri Lanka Kickboxing Association became members of the WKA.
Sri Lanka which is little known for its kickboxing activities, will very shortly break new ground in the very near future as they are planning to hold a kickboxing tournament with countries in the region.
Sri Lanka has broken into the International Amateur Kickboxing scene due to the untiring efforts of Master Renil Fernando and his Martial Arts Association, which has 125 member clubs affiliated to the Association. Renil Fernando joined the World Kickboxing Association (WKA) in 1994 with the intention of developing kickboxing in the country. On October 29, 2000, the Sri Lanka Branch of the WKA held its Amateur Open Kickboxing Championships at the Sugathadasa Stadium. Five Nepalese from the Nepal Budukai-Do full contact Karate Association participated in this championship.
The Sri Lanka Kickboxing Federation has nine centres islandwide. Any association or individual desirous of joining the Association can contact Renil Fernando on 074-810141. Renil Fernando guarantees if there is a Kickboxing Club holding a championship, a WKA reresentative will be present to enforce the correct rules and regulations of kickboxing.
Renil Fernando also conducts special classes for beginners with the assistance of well trained instructors so that the safety of the student is assured.
Renil says that to be a successful kickboxer one should not lack courage and self confidence. It is important to make oneself accustomed to pain and danger without fear. Kickboxing is an art that need frequent training and it is imperative not, to be over confident of one's ability.
It should be borne in mind never to underestimate the opponent.

---
COSMO to hold ranking Tennis Tournament
The Annual Open Ranking Tennis Tournament conducted by the Dehiwala-Mt Lavinia Cosmopolitan will be held from 28th February to 11th March, said Irshad Othman, General Secretary.

The events to be worked out are Men's Singles and Doubles, Women's Singles and Doubles, Veterans' Doubles, Boys' and Girls' under-14 and 18 singles. In total 11 events will be worked out on the 2 clay courts at Dehiwala, he said.

"We expect a record number of entires as we have conducted this tournament continously for many years.

Last year the men's title was won by Davis Cup player Chamara Wijesinghe, while Ganendran Subramaniam also a Davis Cup player was the runner-up. The doubles were won by former National Champion Jayendra Wijesekera and Rohan de Silva who beat Arjan Perera and Ganendran Subramaniam in the final." Othman also announced that prize money will be offered to the winners in the open events.

Entry forms would be obtained either at the Club or at the SLTA office. Entries close on 24th February at 6.00 p.m. and the draw will be held at 10.00 a.m. on Sunday the 25th of February.

---
Sports solutions fact and myth
By Dr. D. Atukorale
Sporting makes heat in the body. When too hot (over 38o C) one performs poorly. During sports, body loses weight (as water) - and also a large amount of heat (600 calories with every litre of water. In a 1 1/2-hour game of rugby - one loses 1 1/2 litre! Or more!! If you are a class player you lose less because of your fitness. The bodyweight you lost after a game must he replaced by equal amount of water (That is one litre of water for every kilogram lost).

Cooling down (warming down) and taking water after a game is often not practiced! And one ends up in the dressing room with a hot body and a sprinting heart and of course a weak lung and less blood volume running in your systems, not forgetting tight muscles.

Can losing water become serious? - Yes

If a 100-kg player loses 2 litres he will perform up to 20% less. If you lose 8 litres and forget, others will have to say prayers later! The problem of dehydrating yourself comes if the game or training lasts 1/2 hour. Don't be deceived by THIRST. You feel thirsty when you have lost 1-2 litres (out of your body weight of 100 kg) for games lasting less than 01 hour water, and water only is what you need.

For this 01 litre you lose your body hots up by 3° C heart beats faster by 80 beats or so and heart pumps 10 litres less blood every minute.

What if the work out is over 01 hour?

Yes you run the risk of having less glycogen in muscles (energy provider), less blood and tiredness. So one has to take water + Carbohydrates + salts. Things have changed from drinking plain tea to water to special solutions but one must know the guidelines.

Carbohydrates save your glycogen and salts; expand the blood - volume, and helps to absorb water and sugar faster.

What are these salts?

Basically sodium, potassium, magnesium and chloride. The fact is that in hot, humid countries, like Sri Lanka, using a carbohydrate drink has a marginal effect unlike in cold countries READ THE LABEL. More than 1100mg of sodium - salt - in one litre can be harmful because it will draw the body water into the stomach, dehydrating the latter.

Even for sugar (carbohydrates) maximum level is 80 gm per litre. If you exceed these two limits, bowel moves slowly and you absorb less water and sugar. (that is the opposite effect)

I have seen at sports meets children being loaded with plently of water containing glucose by the teachers and the parents. In fact my son was asked to bring Glucose but I told him to tell the TEACHER THAT THESE ARE THE LIMITS. A child may take part in a couple of events which may not exceed HALF AN HOUR - WHERE WATER will be the only need. Children are forced to compete with dehydrated muscles. They must take glucose at a maximum concentration of 40-80 gms in one litre.

Why you feel vomitish with a strong drink, is that your stomach food moves very slowly.

Exception to the rule is when you play in a cold country. Where you can go upto 150gms of sugar in a litre.

Are sports solutions worth taking?

The sports researchers have the answer. This started in 1984.

Less than one hour - no use - more price more than hour - improved performance.

How to choose your ideal sports drink?

Thre types are available -

1. Plain water at 10° C

2. Fluid replacing drink (has glucose, 'glucose polymers', fructose (fruit sugar), sucrose with sodium (salt)

3. 'High energy drink' (gives more energy with smaller drink volume - has mainly glucose polymers)

Clue-Think of how hard, how long, you play and if it is very hot and humid or if it is cold (if you sweat more than others take more fluid).

Dr. D. Atukorale is a Post Graduate qualified family practitioner whose special interests are Sports Medicine, Industrial Medicine, Hospital Administration and Psychology where he has undergone training and holds certificates. He has been attending to rugby injuries for seven years and has been associated with all major sporting events.

---
Hafiz Marikar re-elected
Hafiz Marikar was unanimously re-elected as the head of the Kandy Municipal council sports committee for the year 2001, at the first meeting held few days back, the rest of the committee members are D. Perera, C. Allepruma, V. Ranasinghe, H. Mohamed, H. Hulangamuwa, and all of them are keen to give a helping hand for all sports. Hafiz Marikar is the first president of this committee, which was formed by mayor Harindra Dunuwille, four years back. This committee gives a big hand for all sports through the playgrounds department of the council. They spend a lot of money on equipment, also on coaches. Most of the table tennis players are doing well because all the 40 odd community centres are blessed with table tennis tables. Other sports like junior cricket, chess, football, rugger, hockey, netball, etc., are also assisted.
---
Rain ruins Ananda-Bens game
By Shanaka Silva
The inter school cricket encounter between Ananda College and St. Benedict's College Kotahena fizzled out to a listless draw at Ananda Mawatha yesterday.

Due to heavy overnight rain,the match began at 3.15 p.m.yesterday. Batting first Ananda made 181 all out . The Ananda batsmen were up against the effective left-arm spin bowling of Shehan Perera,who took six wickets conceding only 55 runs. He was well suppored by J. Priyantha who bagged two wickets.

In reply St. Benedict's were 231 for 5 wickets at close with A.Sudesh being the top scorer with 60 runs for the Bens.
Perera cracks 84
The D.S. Senanayaka vs St. Peter's inter school cricket match ended in a draw at Wijerama yesterday.

St. Peter's continuing from their overnight score of 24 for one wicket, went on to pile on 281 runs with skipper Mahesh Perera top scoring with 84 runs.

Going in a second time DSS were 27 for two when stumps were drawn - B.M.
St. Anne's escape
By M.Shamil Amit
Thurstan College nearly pulled off a win against St. Anne's Kurunegala in the inter-school cricket match which concluded yesterday at the Bloomfield grounds. St. Anne's continuing from their overnight score 48 for 2 wickets were bundled out for 115 with A. Umayanga taking 6 for 26 being the wrecker. Asked to follow on the Annites were 114 for 7 when stumps were drawn.
Senadeera 60
In the inter school cricket match between Ananda Sastralalaya and Asoka Vidyalaya which began yesterday at the Mount Mary grounds. Asoka Vidyalaya batting first scored 182 with M.Senadeera hiting 60, Sastralians replying were 103 for 3 at close.- MSA
Mini Big match
The Mini Big match between Isipatana and Thurstan which was concluded yesterday at the BRC grounds ended in a tame draw. Thurstan set a target of 181 runs to win were 95 for 6 wickets at close.

Isipatana - 186 for 9 dec (O.Nawaragodagedera 31, Dishan Karunasena 29, Pubudu Viraj 24, Chaminda Prasad 43,D.Arjuna 13, S.Pullukkodi 12, D.Anuradha 16; R.Perera 4 for 26, S.Gamage 2 for 34) and 123 for 7 dec.(O.Nawaragodagedera 21, T.Rodriga 15, Dishan Karunasena 33, C.Prasad 11, U.Indika 14 not out; S.Gamage 3 for 38, I.Liyanage 2 for 24)

Thurstan - 129(A.Sampath 32, R.Perera 11, D.Perera 37, I.Hasanha 11 n.o.; Ishara Vindana 6 for 34, O.Nawaragodagedera 2 for 14) and 95 for 6 at close(R.Perera 20, A.Sampath 38, S.Gamage 12 n.o; Ishara Vindana 3 for 13)

-MSA
Big Match on 23, 24
The Big Match fever gets underway this week with the first of the Big Matches due to be played on the February 23 and 24 at the P.Sara Stadium between Isipatana and Thurstan, this will be the 36th encounter between the two schools of which Thurstan has won five and Isipatana has won four the rest ending in no decisions.

This season the Patans who are the home team, will led by fourth year player Malinda Abeyratne and the Thurstanites will also led by a fourth year player, Nisal Randika. - MSA

---
School cricket scores at a glance
Ananda-St. Benedict's draw at Ananda Mawatha

Ananda College - 181 all out in 59 overs (Lakshan Fernando 50, E.Abeysinge 26, B.Talagalla 25, T.Kandambi 21; Shahen Perera 6 for 55, J.Priyantha 2 for 53)

St. Benedict's College - 231 for 5 wickets in 80 overs (A.Sudesh 60, I.Mohamad 50, M.Perera 49; L.Senarathna 2 for 14, E.Abeysinghe 1 for 32)

D.S. Senanayake draw with St.Peter's at Wijerama Mawatha.

DSS - 200 for 7 declared and 27 for 2 (M. Silva 2 for 10).

St. Peter's - 281. (D. Faux 15, J. Jayasuriya 44, A. Gallage 29, Mahesh' Perera 84, Shenal Fernando 40. R. Fernando 15, A. Dharmapriya 4 for 68, S. Zoysa 2 for 66).

Thurstan-St. Anne's draw at Bloomfield Grounds

Thurstan - 216 (Prageeth Shanaka 87, D.Karunanayake 20, T.Deepal 28 not out; Rajiv Perera 6 for 53, S.Tilakeratne 2 for 48)

St Anne's - 115 (A.Herath 22, R.Perera 21, M.Samaranayake 19; A.Umayanga 6 for 26, G.de Silva 2 for 24, A.Nishantha 2 for 16) and 114 for 7 wkts. at close (U.Perera 27, A.Perera 28 not out, R.Abeysinghe 25 not out; T.Deepal 3 for 34, A.Umayanga 2 for 21)

Asoka V and Ananda Sastralaya first day atMt.Mary Grounds.

Asoka Vidyala - 182 (M.Senadeera 60, T.Perera 31, N.Hettarachchi 26, B.Prabath 25; Imran Samsudeen 3 for 32, Sandakelum Perera 3 for 41, R.Ashok 2 for 40)

Ananda Sastralaya - 103 for 3 wkts at close(Dinesh Nilanga 38 not out, Imran Samsudeen 29, D.Saranga 18; R.Arunadeva 2 for 37)

---
Havelocks provide vintage sevens fare at inter club tournament
By Bernie Wijesekera
The opener for 2001 rugby season - the Inter-Club rugby 'Sevens' playedforthe Denzil Kobbekaduwa Memorial Trophy, sponsored by Yes FM/MTV, proved to be an instant success on the first day at Longden Place yesterday.

Defending champions Havelocks SC revamped by evergreen Hisham Abdeen provided vintage rugby. Hisham with his knowhow and experience in sevens rugby has done a lot to boost the game at Havelocks this year.

Last year's runners-up CR&FC 'A' played to a pattern with a seasoned Sevens team led by Kishan Musafer.Kandy SC, Army, CH and Police are the other teams to watch when play resumes today.

Quarter final line-up

Cup: Havies 'A' vs Navy 'A'; Army vs KandySC; Havelocks 'B' vs CH&FC 'A'; Police 'B' vs CR&FC 'A'.

Plate: CR'B' vs CH 'B'; Ruhunu vs Moratuwa University; Police 'A' vs Col. University;Old Zahirians 'A' vs Army 'B'.

Bowl: Army Diyatalawa vs Matale;Navy 'B' vs Jawatte Lions; Old Zahirians 'B' vs K.V; Galle vs Navy Trincomalee.

---
Tamils set for victory
By Marlon Fernandopulle
Tamil Union were set to clinch an outright victory over Singha SC in their Premier League Division One game at the P. Saravanamutthu Stadium yesterday.

Tamil Union-237 & 232 all out (Nuwan Shiroman 31, Indika de Saram 55, Indika Galagoda 33, O. Warnapura 31, S. Jayaratne 43,

R. Weerasinghe 2/25, R. Perera 5/60, H. Kumara 2/22)

Singha SC- 59 all out (Gayan Wijeyakoon 7/24, S. Jayaratne 2/25) & 73/3 (H. Kumara 29 n.o, S Jayantha 32)
Fernando 100 n.o for Colts
A fluent half century from Sajith Fernando left the BRC-Colts clash evenly poised at the end of the second day's play at Havelock Park yesterday.

BRC-280 all out

Colts SC-251/7 at close (Shantha Kalawitigoda 21, G. Abeyaratne 22, Sajith Fernando 100 n.o, G. Janaka 30 A Attanayake 29 S.Weerakoon 2/85 M. Warnapura 3/18)
Ganegama helps NCC
Five wickets from medium pacer Akalanka Ganegama helped NCC to bundle out Sebastianites for 153 and set the stage for an outright victory at Maitland Place yesterday.

NCC-231 & 94/2(Pradeep Hewage 22, Rally Tissera 37 n.o, Naweed Nawaz 24 n.o; Shadip Silva 2/22)

Sebestianites SC-153 all out (Pubudu Ranaweera 35, Nilan de Silva 24, Roshan Jaymon 16, Nissanka Silva 20; Akalanka Ganegama 5/34, Hashan Rushdie 2/37)
Cops on the run
Half centuries from Damitha Hunukkumbura,Lanka de Silva and Bradman Ediriweera helped CCC to 271/7 against Police SC at Maitland Crescent yesterday.

Police SC-170 all out

CCC-271/7 at close(Jehan Mubarak 36, Damitha Hunukkumbura 56, Lanka de Silva 52, Tharindu Mendis 23, Micheal Van Dort 19, Bradman Ediriweera 52 n.o; M.T. Abeyaratne 5/78)

---
Even exchanges at Panadura
By M.Shamil Amit
On the second day's play between Panadura SC and Moors being played at Panadura, exchanges were even. Panadura resuming their overnight score of 150/6 went on to score 233.

Moors were 141 for 4 wickets at close.

Panadura - 50 for 6 o'night 233 all out (Amila Perera 39, Charitha Buddika 26; Ismail Abdeen 4 for 44, Charinda Fernando 2 for 61, Rangana Herath 3 for 37)

Moors-141 for 4 at close (Mohamed Sampan 55 n.o., Nilam Jamion 25, Dhanushka Rajapakse 23; Amila Perera 2 for 29)

---
Godamanna beaten
The top seed in the boys under 16 singles, Harsha Godamanna, was beaten by the sixth seed Franklyn Emmanuel on the penultimate day of the Junior Masters Tennis Championships sponsored by Robbialac and organisedby the British School.

The championships was worked off at the Health Grounds Courts with Maheesha Seneviratne winning the girl's under18 singles event defeating Erangi Dias 6-2.

---
Zahira take action for indiscipline
Indiscipline among sportsmen in Zahira College, too has raised its ugly head (among the cricketers). According to sources three players were found wanting. After a preliminary enquiry they were suspended for the entire season.

This happened during the start of the current season.

A senior and a much respected old boy, who served as a senior officer in a disciplined service enquired into it. They were found guilty. Four other players in the team protested over the suspension. No nonesense! They, too were suspended by the hierarchy, for the entire season.

Among them was an outstanding ruggerite. Besides being barred from playing cricket he was banned from playing rugby too.

The same source told The Sunday Times, that the team will be weakened with the absence of the seniors. But we will maintain discipline, whilst playing with the juniors.

It's better to lose with dignity rather than playing with indisciplined players, he added.

-(B.W.)