Shake your bon bon Shohan!
By Ruhanie Perera
Everyone's heard the phrase 'you can't sit still'. Well, Shohan lives it...to the fullest. As a dancer he's very much into rhythm; he's studied it, talks about it and it seems as though he was born dancing!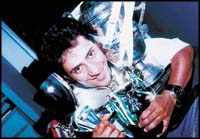 Shohan Chandiram, external affairs, brand and communications executive at Shell Gas Lanka, has made a name for himself not just in his professional field but away from it as well. Squint down at any poster publicising a school play or musical and more often than not you would see his name under the phrase 'choreography by....'.
Shohan, who started off as a choreographer for school productions with 'Viva Mexico' presented by the students of St. Lawrence's School, says that at the time this was a new avenue for him, "and that was the challenge". "As a dancer, choreography is something you invariably learn," says Shohan, "but handling kids was something I had absolutely no idea about." So was he nervous? "Not really." Having been thoroughly trained in the disciplines of dancing by Tony Fernandez and Naomi Rajaratnam and that of drama by Jerome de Silva, he was confident of his capabilities. Another factor that served to boost his confidence was that he worked with Indu Dharmasena, "so I could always discuss the plot with her and clarify any doubts I had."
Since then he has been involved with St. Bridget's Convent, St. Thomas' College, Visakha Vidyalaya, Royal College, The Wendy Whatmore Academy and his own school Alethea International. The productions include popular musicals ('Fiddler on the Roof', 'My Fair Lady') and classics ('Wind in the Willows', 'Jungle Book'). Now what drives him is simply "the thrill of the whole experience".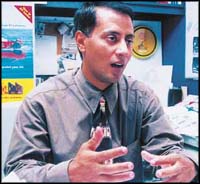 Shohan's happy-go-lucky attitude is what enabled him not to see this as something that was an impossible task. "Yes, I had to start from scratch when I taught kids and most of the kids who take part in everything in school more often are not dancers by nature - meaning they lack rhythm. I couldn't choose kids who were potential dancers, instead I had to work with what I had." But that is what is most appealing to Shohan; the fact that he can turn a child who may have never dreamt of being a dancer into a potential dancer. "You set that foundation for them and who knows what doors it will open up for them in the future."
"That is the story of the beginning of my dancing career," says Shohan who was one of the kids who never knew he could dance. "It was Tony who started me off," he says and from then on he just couldn't be stopped. His dancing career which lasted from 1995-1999 was one big winning streak for Shohan who won almost every local and international competition he entered. Determined that he wasn't going to show-off he quickly changed the subject stressing that he could have never made it without the support of both Tony and Naomi. "Sometimes what they told me then makes more sense now when I'm trying to make some kid I'm training understand the basics. Almost everyday I find myself repeating stuff they told me."
The shift to choreography took place while he was dancing so the transition was a smooth one. But choreography when it comes to a production is more challenging because it does not deal with dancing alone. "Actually it's the acting and singing - if it's a musical - that takes prominence. The dancing just serves to complement it. Co-ordinating that is the difficult part since the character has to be sustained throughout." That calls for analysing the script, plot and the characters. "I love it when there's an opportunity to innovate."
From his first production which saw many a Mexican dance, he has taken a flying leap to his most recent 'The Jungle Book', which called for all sorts of animal dances and gave him ample opportunity to innovate. "I think I had as much fun as the kids taking part."
Is he strict with the kids? "Well, nooo," he says rather slowly and then adds, "but I do install discipline and after that I give in...a bit". But possessing the 'Peter Pan' attitude to life he enjoys the company of children and feels that, "although this is quite a stressful hobby (it is very much a hobby because his job always takes priority), it's all worthwhile in the end."
With his lively eyes, ever present grin and bubbling exuberance, Shohan sure seems to be dancing his way through life; taking the good times with the bad, the fast with the slow and the intense with the uncomplicated, thoroughly enjoying the variations - the waltzes, sambas and cha cha's - that life offers. "I thrive on it," he says grinning, "and I strive to give everything I do, my very best."
---
'You've got to dream crazy'
By Laila Nasry
Doing party decor is like working out a math equation," Shalinee Cooray tells me in earnest and I think she's kidding. I don't remember math equations being artistic or beautiful...maybe colourful - because I did see red! But she explains, "like you try all sorts of different methods to get to the final answer, when doing the decor I use all sorts of material... anything to get to that final picture in my mind. And there's no giving up." I see the connection and I'm really impressed.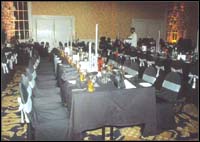 Having just completed her degree in Architecture, Shalinee who works with leading architect Surath Wickremesinghe, enjoys indulging her creative side.
"I have fun at other people's expense - literally," she says grinning impishly. "I was told 'futuristic' and given an event, a hotel, a budget and allowed to do as I please," recalls Shalinee having been asked to handle the decor at the 125 @ BC. dance (The Bishopian dinner dance). "I was nervous at first but dance chairperson Ayoma de Silva's confidence in me really helped."
It was her first solo effort (having done part of the decor at a friend's wedding and at parties) but thinking futuristic was no problem. She used metal, aluminium, polythene and loads of silver "I wanted to create this space ship effect." She used reams of polythene on the ceiling and lit it up in shades of purple and blue which changed from time to time. "Getting movement was very important because the future to me was one with constant change and movement." The table centres had tall pipes of three feet, two feet and a foot sprayed in silver lit at the end with a candle. The backdrop was all that she wanted it to be-the focal point. In vibrant purple emblazoned with the school crest bordered by a shimmering silver frame it had the marks of a giant T.V screen. "I wanted it to catch the attention of everyone walking into the hall- for it to be something they would always remember."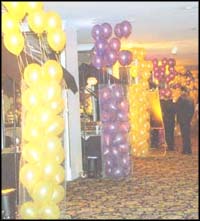 Shalinee's lucky. To her ideas come easy and she doesn't have to stay up nights waiting for inspiration to strike her "When ideas strike me they really do." Dispelling an idea is almost a waste for Shalinee. "If you get an idea respect it, it doesn't come for nothing." However her thoughts and ideas are very abstract. "You got to dream crazy," she says with a grin. "You can't start practical. Start at a higher point and then get to the reality part."
Anything around her is a good enough inspiration for in her mind even the mundane things are given life. "Sometimes I look at something and think what if it was in this angle maybe painted silver and lit up, what would it look like." Nevertheless there are times that her mind has refused to be inspired. "Actually it's all in the mind. It can make things happen or flop completely.
Having done decor for parties and a wedding, "on each occasion I try to create something new." However she formulates her ideas to suit the occasion. "I did this party where most of the people were in the 40 -50 age group. Then I don't get all wacky but scale it down by sticking to greenery etc. Most of the time she is told what type of decor is wanted and some even call several times to check on her. However sometimes for best effect she does things differently. "Of course then it's a risk because if it doesn't go down well the blame would be all mine." But once her mind's made up there is no changing it. "I generally stick by my gut instincts of what I think is right."
Supervising and doing the decor does take its toll. The Bishops dance decor alone took her the whole day. "I do feel kind of drained out. But my parents, friends, even the driver all help me out, making things easy." All the same the support from her family is not limited to putting up the decor. Their encouragement and confidence is the strength that keeps her going.
At the moment she has no infrastructure like a garage to work in or labourers to help her out. "I'll get to it," she says for the opportunities coming her way, keep increasing. "The numerous chances will help me explore my ideas to the hilt," she says bright-eyed. Ideas that show no signs of drying up. "The next time I do a backdrop I thought I'll use...but that's a whole new story altogether.