Switch on to your morning wake-up call
To many of us tuning into the radio in the morning has become so important that almost all radio stations have special 'morning shows' tailormade for early listeners.
By Ruhanie Perera, Laila Nasry and Uthpala Gunethilake
So it's a new day, a brand new morning. You give a last longing look at the comfort of the bed, ponder a little about what the day might bring, worry a little at the endless tasks awaiting you and then jump out to greet the morning. The first on the agenda is to turn the radio on.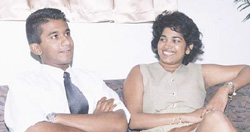 To many of us tuning into the radio ranks with those automated tasks we carry out the first thing in the morning. It has become so important that almost all radio stations have special 'morning shows' tailormade for morning listeners.
Yes FM's Shaquille and Nirasha are a spunky pair who work their way through the Morning Show breezily. "We are here in the morning to keep you company," they say cheerily. "We play familiar music and don't try to experiment on the morning show because when you are rushing you don't want to listen to music you don't know."
If you tune in to their Morning Show you may get the chance to say your piece about air pollution, win a luxury cruise or hear some riveting tips about a forth coming local festival. "There's quite a lot of interaction. We give away prizes and bring up debatable topics for discussion and talk about international events etc," says Shaquille.
So how much of preparation goes into making the show run smoothly? "Quite a lot," says Shaquille. "We split our work and we have to research about what we are going to say." That's part of the reason why they always try to have two presenters on the show.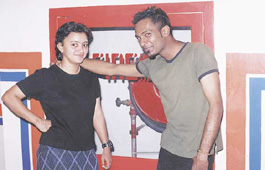 But it also is just the tip of the iceberg as to why two are better than one. "When it's one person, you can't have that unexpected conning of the other person which bounces off spinning into something totally different," says Nirasha grinning. "Besides you can't really laugh at your own jokes or laugh by yourself at something," she adds.
"It's also more interesting when it's a guy and girl rather than two of the same sex. You can make fun of each other better. Also when you are having a topical discussion on air, it's more interesting to have the guy's point of view and the girl's point of view. There is a balance."
Shaquille and Nirasha agree that whoever it is the chemistry has to be right. "Otherwise you can't make it. If your personalities don't match, you'll be on two different wavelenghts and that'll get you nowhere."
They describe their job as one of the few where you can actually come to work and have fun. But it's not without its occuapational hazards. "You just can't be depressed. Even if you're having the lousiest day you can't let your audience have any of it," says Shaquille.
"I'm like an opening batsman. I have to put on a good score. The other DJs rely on me to set the trend, so the show has to be great," says Jason Bond, Sun F.M.'s secret agent 009. Many hopes are pinned on the Breakfast Drive, which is from 6 to 10 a.m. The company relies on it heavily for revenue and further it is this show that will make or break the listenership of the rest of the day.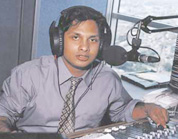 "The music in the morning is always hyped up. It's not about being fast or slow, but about getting the people into the mood,"says Jason Bond who in most cases pick the songs he plays, "unless I'm busy". The songs are a mixture of chart hits and classics for a primary audience of 25 years and over. A lot of preparation goes into the show. Gathering humorous anecdotes and other punchy lines full of sarcasm and irony are a great way to put a smile on listeners' faces. "People call me up and tell me 'good line' or 'that joke was really funny, I enjoyed it'." Jason updates his audience on current affairs around the world and reads the headlines of the local daily newspapers which gives variety to the show. "We also interview people and ask them various stuff like what annoys them at work and so on and put their views on air." However, Jason doesn't script what he says on the show. "That's all spontaneous."
Job-satisfaction-wise Jason has it all. "The response has been great. I get around 15 calls a day with people telling me that they enjoy my show. One lady told me that her 10-year old daughter is a big fan of mine. There are others who constructively criticise my show which is also welcome because feedback is what every DJ hopes for."
Chantal on Lite Cafe sets the tone for TNL Lite. Catering to an adult contemporary audience of around 25 to 55 years, she plays light, catchy, upbeat music that keep people on the go. "I try to keep it as entertaining and informal as possible. There has to be a smooth flow." The music is not generally chosen by her, but she does make suggestions. Her show also includes a sports diary, funny stories, this day in history, "generally stuff that I myself can relate to."
The show begins at six in the morning and Chantal never comes unprepared for it. "I don't practise lines as such. What I say on the show is mostly ad lib, which sometimes gets me into trouble,"she says with a laugh.
Having to put everyone in the mood is good enough so long as one is in the mood oneself. What of a bad day? "I'm human. Sometimes after a late night I'm all groggy in the morning. But Tracy from TNL gets coffee for us both which pretty much puts me up. Other than that I have this listener who calls me daily at 5.50 in the morning. That's sort of my wake up call." Though it hasn't been long since she took over from Gehan, Chantal has settled in well and the feedback she gets is an indication that her listerners seem to enjoy her style. "I even get calls from school goers and those who've just left school."
"I think the morning show is extremely important," says Rozanne, who hosts the morning show on E FM together with J dee. "We set the pace for the rest of the day, so doing a good show is in a way a responsibility. After all we can't lose our listeners." J dee adds, "it's the show people wake up with, so we need to present something really good. I think we play a pretty vital role and by doing a good job we contribute to the betterment of the station."
All anyone wants is really music, that's the very reason why they switch on the radio. At E FM there is a Music Controller who chooses music and the DJs present it. "We try not to give something too mellow," says Rozanne who feels that in the morning people need energetic music - to put them in the right frame of mind. As J dee puts it, "we stick to one form of music, which is hot dance music, but in the mornings we play the more upbeat tunes. Basically, we give our listeners what they want to hear, catering specially to our target age group which is from 18 - 35."
Of course there needs to be a bit of talking in between the music and "with some preparation you can make sure that you are never speechless," states J dee who never seems to be lost for words. "We put in about five hours preparation for a three hour show." According to Rozanne they pick a topic and research on it. The topic should be one that the listeners can relate to - "therefore it can range from credit cards to clothes," says J dee. Most of the time they give a lot of tips for people who are on their way to work. "We include traffic tips and aim to give out information in point form, usually giving the meaty points of our research." It's a lot about saying as little as possible, but still making an impact.
"The worst mistake is to state the obvious. I learnt that the hard way when I told the listeners that it was raining," confesses Rozanne. "I immediately got calls telling me that they knew that," she adds with a laugh. "I've learnt a lot from the listeners. They call us up and tell us what we're doing right or wrong. The feedback is very valuable. Our listeners are our friends. Even on the show I address them as I would a friend, it's a 'how are you doing' sort of approach."
So, is having two DJs advantagous? "Depends on who is handling the show," says J dee. "One can handle the show, but we work well together. Adding black, white and bits of gray to the various ideas that flow." "Added to that it's a lot of fun," laughs Rozanne, remembering a 'girls are stronger than boys' debate she won.
Do they run the risk of enjoying themselves too much and as a result get carried away with their chatter. As J dee, who enjoys 95 percent job satisfaction, puts it "It's almost impossible for that to happen because we have a time limit on what we say. More importantly the show is more about getting people involved in our fun, rather than shutting them out."
Taking people through the Zoo Cafe on TNL is Tracey who feels that music is a part of everyday life. "Although all spots on the radio are equally important, on the breakfast show, I sort of try hard to wake our listeners on the bright side. It's the time of day to cheer everyone up. Give them some good music to put them in a good mood." And her greatest feedback is when a listener calls in to say 'you really made my day' - a phrase that is sweet music to her ears.
"I have a lot of control on my show. I try to play a range of songs that cater to diverse tastes. We also have some funny tunes I like to use. It's really a mixed bag of stuff." That keeps the show different and interesting.
Tracey spices up her show with a very interesting weather report. "I have a 'weather girl' who discusses the weather as if it is food. Sort of in keeping with the whole cafe theme. Everyone who is featured on the show comes on as if they are dropping in for their morning coffee. It's a pretty cosy theme."
Tracey also gets heaps of interesting anecdotes from her listeners on her email address and she tries to read as many as she can on air. As a result, "the inbox is chock a block". As for how much of talking she does, "I play it by ear, because it's got a lot to do with instinct. Sometimes I talk for ten seconds, sometimes two to three minutes. It really doesn't matter."
"I always enjoy myself on the show. Getting up at 4.30 a.m. is the hard part, but once I'm through that and the calls keep coming through, I just love it!"
However not all of us want to hear the cheery pitter patter of a bright presenter when bogged in the wild morning rush. When you are frantically trying to locate that missing sock or earring, or tearing your nicely brushed hair at the endless line of traffic ahead of you, the last thing on your mind is to phone in and present your views about male chauvinism. Not only would the DJ's chatter about what a lovely day it is seem totally irrelevent, you find it highly annoying. An unbroken line of favourite hits are the only balm that can soothe your frazzled nerves.
On 'Golden Breakfast' from six to seven and 'Road Runner' from seven to nine on Gold FM, the station which plays the memorable music from past decades all day long, this is what you'd get. Ralston Goonetilleke, Music Controller of the station explained that they play well-known hits back to back while the presenter makes the minimal appearance. "No talk is the best and I think we are the only station in Sri Lanka which does that. When you are listening to good music you don't want to be interrupted," he says.
"It's the dawning of a new day and we play music to cheer you up. It's the punchy, uptempo type of music but never hard stuff. It also has to be well known music because many people like to sing along while they carry on with their tasks or tap on the wheel while they are driving," says Kevin Lappen, one of the several presenters in the morning.
So if you walk into work with a light step, a cheery smile and a chirpy 'good morning' at the tip of your tongue, it could just be the result of that morning show.