---
Rare reverse
Her heart is on the wrong side and so are her other organs. Kumudini Hettiarachchi meets Tilla Krisnaratne.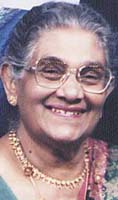 The technician who had been trying to take her ECG was sweating and perplexed. The ECG machine was spewing out reams and reams of paper, but there didn't seem to be anything on it. The technician was about to call the heart specialist who had ordered the electrocardiogram (ECG), when he noticed that the patient was smiling.
Helen Terese Krisnaratne affectionately called Tilla had every reason to smile. For she had just carried out a 'coup' in connivance with well-known heart specialist Dr. D.P. Athukorale against the 'poor' technician in a clinic in Borella.
This was in 1979. When Tilla told him, "My heart is on the wrong side" , the technician's relief made her feel sorry for him. But unique Tilla had agreed to the doctor's suggestion that they play a practical joke on him and frighten him into thinking that she had no heart.
Yes, Tilla is unique and she found that out only when she was 16 years old after being admitted to hospital with acute appendicitis. An emergency operation was needed and Prof. M.V.P. Pieris opened up the right side of her abdomen for this routine surgery. But he couldn't find her appendix. So the clever surgeon checked the left side and found the infected appendix. "After surgery he ordered that my full body be X-rayed and checked all my organs. Then only did I find out that all my organs were on the wrong side," laughs Tilla now residing in Newport News, Virginia, America. This condition, where all the organs are found on the reverse side (the heart on the right, the liver on the left, the appendix on the left etc) is know as dextrocardia.
"Some people have a partial condition, but it was not so in my case. All my organs were completely on the other side," she says.
For her, a riddle that has never been solved is what the doctors who used to check her for minor ailments earlier had heard when they kept their stethoscopes to the left side of her chest to listen to the heartbeat.
Tilla recalls with appreciation how a young intern at the Colombo General Hospital saved her from a 'guinea pig' experience. "I was warded at the General for a severe attack of amoebiasis in 1952. After several days, though I had recovered, the main doctor in charge of the ward was not discharging me. One day, a young house officer asked me whether my husband was coming that evening and requested me to leave the hospital with him. He told me that the main doctor was planning to take me to the medical college for the students to study my condition."
"The moment my husband came, I left the hospital. For I was a young woman at that time and the senior doctor should at least have asked me whether I would like to be examined by all those medical students," she says indignantly.
However, she also praises the efficiency and care given to her by other doctors in November 1994. It was election time in Sri Lanka and she was returning home after casting her vote, when she felt a heaviness in her head. With the support of husband Joe, she barely managed to reach home, before being caught by spells of dizziness and nausea. That night they couldn't get to a doctor because the country was under curfew. The next day she found that her pressure had risen.
Visits to numerous private doctors, tests and hospitalisation followed. But there was no improvement in her condition. When she was on the verge of losing consciousness, she was once again rushed to a private hospital and finally a decision was made to call in a cardiologist. Next day she was transferred by ambulance to the General Hospital and a pace-maker fitted.
She relates another anecdote which seems to provide more evidence that she's unique. When she and her husband joined their children in Virginia in 1997, they had to attend to a lot of paperwork in America. As is usual, one requirement was getting themselves fingerprinted.
But her fingerprints simply could not be recorded even after three or four visits to the relevant official. At last the official had laughed it off saying that they had found a rare person whose fingerprints had faded with time.
Now living among her family of one daughter, two sons and five grandchildren, 75-year-old Tilla has to be careful not to use the microwave oven because of her pace-maker. But Joe is on hand to do the needful. She also has to carry a card with her at all times that her heart is on the wrong side.
When right is wrong
Dextrocardia, which means that the heart is transposed on the right, is a rare condition, but not that rare, said a doctor who wished to remain unnamed. If it's dextrocardia alone there could be other problems and health complications, he said.

However, in the case of Mrs. Krisnaratne it's Situs Inversus which means that all the organs (one-unit) like the liver, appendix, spleen, gall-bladder are located on the opposite side, from where they normally should be, he explained. This is usually detected through a routine X-ray.