As troops recapture areas LTTE resumes 'Op. Ceaseless Waves'
It lay north east of Kaithady, the salient strong point of the Liberation Tigers of Tamil Eelam (LTTE), just outside the northern capital, Jaffna. It encompassed areas west of Sarasalai and north of Maduvil.
In four different offensives launched since September 3, the aim of the security forces is to evict Tiger guerrillas from areas they captured in the Jaffna peninsula in April this year. It came after they acquired billions of rupees worth of new equipment.
It began on September 3 with the launch of "Operation Rivikirana." This offensive ended in a fiasco (Situation Report – September 10) and a Military Court of Inquiry is now probing how a string of reversals occurred. A week later, on September 10, troops resumed the thrust during phase two of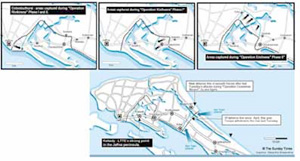 "Operation Rivikirana" extending further on the small gain in the eastern defences of the security forces held Jaffna town by two and half kilometres at Columbuthurai. (Situation Report – September 17)
With that over, troops launched "Operation Kiniheera" on September 17 to re-capture Chavakachcheri and surrounding areas. The operation which began at 8.10 am was over in just four hours (Situation Report – September 24). After three days during which troops consolidated defences around Chavakachcheri, the Operational Headquarters of the Ministry of Defence laid out a conducted tour for a group of local and foreign media. Even if Sri Lankans and the outside world did not know that Chavakachcheri had fallen into LTTE hands four months ago, it wanted to gain maximum publicity mileage of the re-capture.
A review of the reportage, mostly in the foreign media, did help the Op Hq prove its point, though it was at great cost. Most of the reports truthfully highlighted the other realities the media personnel saw. Many observed that heavy collateral damage had been caused to buildings in what was once a bustling town in the peninsula. They noted that civilians had fled the area and it was now a ghost city surrounded only by the security forces. Those were the by products of a renewed, sophisticated campaign to militarily weaken the Tiger guerrillas.
What the guided tour planners left out were the thousands of refugees, including those from Chavakachcheri. They had a story to tell - why they had chosen to remain in security forces controlled areas and not seek refuge in LTTE dominated territory. Planners who took the media on the conducted tour, that too after a break of over six months, did not seem to know what their priorities were. The focus was more on senior Army officials asserting that the latest operations had no link to the ongoing campaign for the October 10 Parliamentary elections.
Must one say anything more about staged media campaigns which do not even succeed in achieving the limited objectives of the sponsors ? That is in the backdrop of a tight censorship where the Op Hq is the only source of information both to the local and foreign media. Added to that is a Government ban on media visits to operational areas. The only exception are the guided tours, like the one carried out to tell Sri Lankans and the world about the re-capture of Chavakachcheri.
The latest guided tour did little to boost the Government's image on an election eve. Neither did it contribute to enhance the image of the soldier who had resumed the battles with an invigorated spirit and high morale. The objective is clouded by what the defence establishment considers to be a high priority – which is to deliberately obscure operational reality in the battlefield and also military procurements involving millions of dollars or billions of rupees. The only exception, conducted tours, it has been proved once more, did not deliver to the sponsors what they wished. This was after laying out special flights to ferry the media to battle areas.
It is in this backdrop that troops launched the second phase of "Operation Kiniheera" on Tuesday (September 26, the death anniversary of late Premier S.W.R.D. Bandaranaike). The pre-dawn operation saw troops move west of Sarasalai and north of Maduvil. In three hours they had seized the Puttur – Sarasalai road, the shortest route connecting the Valikamam sector to Thenmaratchchi. Barely an hour later, another guided media tour was arranged and a media team was flown to Palaly from Ratmalana. They were listening to stories of the latest success when a little distance away something else was going on.
Tiger guerrillas led by three of its military leaders, Swarnam, Theepan and Murali mounted attacks on the security forces defences at Kilali. Some 14 bunkers stretching over 700 metres came under intense attack. Under heavy mortar attack, Tiger guerrillas breached the defences. Sometime later, another group led by Lawrence attacked the defences at Eluthumaduval. They seized eight bunkers but troops later re-captured six leaving two in LTTE hands. A group of Sea Tigers also landed by boats in an area south of Nagar Kovil to join other cadres on ground. The heavy fighting forced the troops to fall back to their second line of defence over two kilometres to the rear.
The defence lines that came under attack, extended from Kilali in the west and running past Eluthumaduval up to Nagar Kovil in the east. It was the last line that security forces fell back after they withdrew from Elephant Pass and moved to Pallai. They were forced to move further northwards (to Eluthumaduval on the A-9 Jaffna- Kandy highway) after the LTTE attacked their positions in Pallai. If security forces regained territory during four phases of two different operations, the LTTE attack has forced them to shrink their first line of defence along the A-9 axis by some two kilometres.
If that was significant enough, a statement issued by the LTTE from its offices in London added greater weightage. The LTTE said its fourth phase of "Operation Ceaseless Waves" (or Oyatha Alaikal) had begun. The first phase of this operation saw the fall of more than 1000 square kilometres of security forces controlled areas and encampments in the Wanni, in November last year. The second phase forced more than 10,000 troops to withdraw from the sprawling Elephant Pass defence complex. The third saw the LTTE capture a sizable area south of the Jaffna peninsula.
Announcing the launch of phase four of "Operation Ceaseless Waves", the LTTE statement on Wednesday (September 27) said:
"One hundred and fifty Sri Lankan troops have been killed and more than 500 injured in the heavy fighting that flared up yesterday evening and continued throughout the day today in the Muhamalai- Kilali sector of the southernmost Army defences in the Jaffna peninsula.
"LTTE combat formations supported by heavy artillery and mortar fire launched a massive offensive code-named "Unceasing Waves 4" yesterday evening around 4 p.m. in the Kilali- Muhamalai-Nagar Kovil axis of the southern Jaffna peninsula, about 20 kilometres from Elephant Pass. In a six-frontal offensive assault the Tamil Tiger commando units over-ran hundreds of Army defence bunkers and several mini-camps along the well-fortified military perimeter.
"After intense fighting that continued throughout the day, the LTTE forces have advanced three kilometres from their original position and are now poised to launch an attack on the Eluthumaduval military complex and Kilali naval base. The vital supply lines to troops stationed at Nagar Kovil have been cut off.
"Since the outbreak of the fighting 150 Sri Lankan soldiers have been killed and more than 500 injured. According to reports received from the battlefield heavy fighting continues in the sector. Nine LTTE fighters have been killed in combat."
Casualty figures could not be verified with media visits to the area being banned. Both the security forces and Tiger guerrillas are claiming they inflicted very heavy casualties on each other and gave their own counts. As for the LTTE claim they had re-captured three kilometres during phase four of "Operation Ceaseless Waves," an Army source said it was just over two kilometres. That was the area where they had their second line of defence.
The Operational Headquarters of the Ministry of Defence did not make an official comment on the latest territory lost. But a news release on September 28 gave the following account:
"Having lost Maduvil North and west of Sarasalai on the morning of Tuesday 26th the LTTE tried to regain the lost initiative by launching an offensive in Kilali sector.
"Around 3.45 p.m Tuesday 26th terrorists launched an offensive on the forward defence of Eluthumaduval whilst engaging frontages of Kilali lagoon and Nagar Kovil with artillery and mortars.
" Security forces counter attacks stabilized the situation by the same night. Three soldiers were killed and 20 others were wounded in this encounter.
"The terrorists tried to breach the forward defences again on the morning of Wednesday 27th but they failed to regain any initiative. In the process the security forces inflicted heavy casualties on the enemy.
"Another 27 were killed and 112 others were wounded in this sector up to the morning of 28th making the total killed 29 soldiers and 132 soldiers being wounded in this sector since Tuesday 26th evening.
" Sri Lanka Air Force aircraft engaged identified terrorist targets in Kilinochchi and Paranthan.
"It is believed the LTTE had lost over 60 cadres up to yesterday in this sector and many others were wounded.
" On 26th September troops engaged a group of terrorists with artillery around 8.45 p.m. in Puttur east. Monitored terrorist transmissions confirmed that four terrorists were killed and 12 others injured due to the incident.
"On the same day in Maduvil North area troops on clearing operations recovered six terrorist bodies.
"Terrorists fired mortars at troops operating in Maduvil North on 27th September during the daytime. Troops retaliated with artillery. One soldier was killed and four others were wounded due to terrorist artillery fire. On the same day troops engaged and killed on terrorist in the evening in Maduvil North.
"Troops on a subsequent search in the area came across six decomposed terrorist bodies.
"In another incident in Meesalai South around 1 p.m. yesterday, troops deployed ahead of defences confronted a group of terrorists and one terrorist was killed."
There has been a relative lull in the fighting in the past 48 hours. In areas the LTTE captured this week, there has been exchange of small arms fire yesterday according to Army sources.
Last night the LTTE began firing artillery into the Security Forces Northern Command area. At least seven artillery shells fell in different locations, according to the same source.
The clandestine Voice of Tigers heard in the north and in the Wanni on Friday called upon civilians to vacate the villages of Kodikamam, Mirusuvil, Kachchai, Manduvil, Puttur and Varani. They were told to leave for safer areas in Vadamaratchchi. The VoT claimed the areas were unsafe for civilians since the Army was establishing new defences in these areas.
Whether this is a prelude to further attacks or a ploy, only coming days or weeks will show. But the fact that the LTTE has announced it had embarked on another offensive operation, after a four month lull, is significant. More so with the upcoming Parliamentary elections on October 10.

---
Terrorism anywhere is terrorism everywhere - foreign minister
AS a highly successful practising lawyer, Sri Lanka's Foreign Minister Lakshman Kadirgamar spent a lot of time and effort trying to secure a response of his choice from audiences of judges and jury. Rarely, however, would he have evoked an instant and supportive response as he did when addressing a Washingtonian think tank, the Potomac Institute for Policy Studies, last week, on "The Terrorism Challenge to Democracies."

Kadirgamar's prestigious audience consisted primarily of policy makers, academics, and diplomats. He had barely finished speaking when a member of the audience, visibly moved, offered to raise funds to rebuild the lives of children who had been snared by Sri Lanka's terrorist group, the Tigers.

Kadirgamar's gut-wrenching comments on the wasted lives of youngsters, barely as tall as the weapons they carry, were the most passionate and poignant aspect of his presentation. However, he dealt with many more issues than child soldiers alone. His "bottom line" was that terrorism threatens all democratic societies and therefore requires a consistent and cohesive global response. "Terrorism anywhere is terrorism everywhere" could have been his subtext.

Kadirgamar, with appropriate reference to international and domestic law, including precedents from actual legal judgments, explained why and how such a global response must seek to fulfil the obligations that flow from international and regional conventions, as well as domestic laws and has to be grounded in an unshakeable commitment to strengthen and protect all democracies from terrorist threats.When he started life as a foreign minister some six years ago, Kadirgamar said the response in Western capitals to his pleas for anti-terrorist action was ambivalent. Western societies, spared the horror of terrorism on their own turf, had "no laws against terrorism, not even definitions of terrorism." The intrusion of terrorism into life in the West changed that and led to the development of international conventions and domestic laws, setting out the basis for action against terrorism and against support for terrorism, overt or covert.Citing the Sri Lankan example, Kadirgamar described in terms that he obviously found painful, how so many of the defining characteristics of democracy had been affected by the need to protect society against terrorism. He pointed out as well that to many Sri Lankans terrorism is a permanent personal threat. "When we leave home in the morning, there is no guarantee we will return." The Foreign Minister was emphatic throughout his speech that Sri Lanka's terrorists do not have the support of a majority of Tamil Sri Lankans at home or abroad.

Kadirgamar challenged politicians and policymakers in Western democracies to fulfil their obligations to fight terrorism unflinchingly and without falling prey to various blandishments. A long-time observer of Sri Lankan politics who was in the audience described Kadirgamar's presentation as a tour de force. Kadirgamar, he said, "has the capacity, rare in politicians, to differentiate between rational persuasion and propaganda."