---
TOO FEW IN THE FRAY
A women's manifesto is unveiled but where are the women candidates? Feizal Samath asks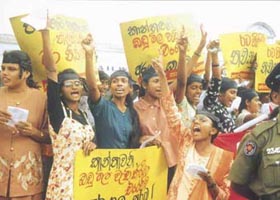 Despite the progressive development of Sri Lanka's women's groups over the years, the number of female candidates contesting the country's Parliamentary polls this month is disappointingly low.

"It's a bit of a shame. It appears that in the political mainstream we have not moved forward," said Nimalka Fernando, a well-known women's activist and Colombo candidate for the Left and Democratic Alliance, a small leftist group contesting in a few districts.

Kumudini Samuel from the Women and Media Collective (WMC) said the number of women who contested elections at local councils was much higher because "women were much more knowledgeable about local issues which were closer to their heart than national issues."

However the unexpected entry of Ferial Ashraff, widow of Sri Lanka Muslim Congress (SLMC) leader M.H.M. Ashraff who died in a helicopter crash two weeks ago, into politics and the polls is something to cheer about for the country's women activists. Ferial Ashraff has been picked as the co-leader of the SLMC, leader of the National Unity Alliance and is contesting the polls on the vacancy created by the death of her husband.

Less than 150 women are contesting the parliamentary polls. The People's Alliance is (PA) is fielding 18, the United National Party 11, the Janatha Vimukthi Peramuna 23 and the Sihala Urumaya 8.

The 1994 election saw 55 women from a countrywide total of 1,450 candidates of which 11 women ultimately obtained parliament representation in the 225-seat legislature, according to WMC figures.

The WMC said at provincial and local levels, there were 77 women councillors out of a total of 3,720 positions.

Meanwhile a group of 11 non-governmental organisations led by the Social Scientists Association (SSA) has, for the first time in Sri Lanka, put forward a women's manifesto for all candidates to address at the polls. The manifesto deals with the need for quotas for women in the legislature, removal of laws discriminating against women, violence against women, equal wages for men and women, health issues, education, culture and society, and conflict resolution.

"We have had many discussions with political parties over the past few years in a bid to include more women's issues in their manifestos but the response is disappointing," says Dr. Kumari Jayawardene, a veteran women's rights activist attached to the SSA.

"At every election we try to get some intervention on behalf of women."

She said it was hoped that the women's manifesto would be a catalyst for action at the forthcoming polls.

Candidate Fernando, also a leading international women's activist and secretary at the Colombo-based Movement for Inter-Racial Justice and Equality (MIRJE), said she had tried to organise a list of women to field at least in Colombo as an independent group, but had failed.

"Most women activists, while pushing for a higher percentage of women in the political arena, are reluctant themselves to enter the fray. That is another disappointment," she said. The only time women contested as an independent group on the theme of women's issues was at the central provincial council polls last year. The group failed to win any seats.

"Women are not contesting only to win," says Fernando, who is certain the going is tough for her small party compared to heavyweights like the three main political parties. "By contesting we make a public statement that women are also in the fray and by doing so we open a little public space for women candidates and women's issues."

Many of the women in Sri Lankan politics are political widows - the usual route for South Asian women in politics - like President Chandrika Kumaratunga whose politician-husband was killed in the late 1980s, and her mother, Sirimavo, whose prime minister-husband, Solomon Dias Bandaranaike was assassinated in September1959.

The manifesto calls for a minimum quota of 30 percent women in parliament and local councils; the national lists to comprise 50 percent women; the removal of discriminatory laws against women; and the need for a new law governing domestic violence - combining criminal and civil remedies and offering expedient relief for victims.

It urges a strengthening of the laws relating to sexual harassment, liberalization of laws to allow abortions in the case of rape, incest and risk to the women's mental and physical health, decriminalization of homosexuality and lesbianism among consenting adults, amendment of the current fault-based divorce laws to incorporate the concept of "breakdown in marriage" and non-discrimination against foreign spouses of Sri Lankan women to live and work without restrictions.

The PA says in its manifesto that it would amend the law to enable the children of Sri Lankan women married to foreigners to be entitled to Sri Lankan citizenship, but SSA's Jayawardene says that is not enough.

"We need a whole heap of issues on women and their rights taken up by political parties ... not only a few," she added.

Bernadeen Silva, a woman activist from the Centre for Society and Religion (CSR), attributed political violence as the reason for the reluctance of many women to enter politics.

"Our political culture is so bad that leave aside a female, a male alone cannot contest." Elections in Sri Lanka in the past few years have been marred by violence, ballot rigging and stuffing of ballot boxes often blamed on the ruling party.

Some of the worst incidents of violence against women were reported at the northwestern provincial polls in January 1999.

Two female activists from the UNP were stripped on a public road, in separate incidents, allegedly by opposition supporters. Several political parties, community groups and the clergy condemned that election and the pre-poll violence.

Violence is also on the up during the current polls campaign with more than 700 incidents reported by polling monitors including eight deaths.

Women's rights groups say that while the women's movement has been very progressive - with the emergence of more women's non-governmental organisations and community-based organisations dealing with women's rights issues - political violence is a deterrent to women entering politics.

"Ironically if there were more women - say 70 percent of all candidates - then the level of violence would fall and there would be a different and more sane political culture," said CSR's Silva noting that women also don't have support systems to enable them to take up politics.

"Women have to carry the burden of the home and in such a culture there is little space for politics."

Women's Affairs Minister Hema Ratnayake in a recent statement appealed to leaders of political parties to include at least 25 percent women in their nomination lists. She said political parties should encourage women to contest the polls noting that such an initiative will reduce political violence to a great extent. Women account for 51 percent in Sri Lanka's population of 19 million people. The Sri Lanka's Women's NGO Forum ran newspaper advertisements urging political parties to consider more female candidates and to desist from political violence plus attacks on women during campaigning.

MIRJE's Fernando says that unlike most other female candidates from the main political parties, she was contesting purely on a women's agenda. "I may belong to a political party but my campaign is based on women's rights issues while female candidates from other main parties are just party stooges and don't fight for women's rights, at least in an organised way."

She said despite appeals by women's groups for the government to seriously address issues like war-widows or globalisation in a women's context, little has been done. "We have progressed just a little since the Beijing women's conference, she said.

Fernando said Sri Lanka's economy was virtually run by women - be they in highly lucrative garment factories, as housemaids in Middle East households or as workers in tea and rubber plantations - but the government has failed to sufficiently address their problems.

"The only way we can make things happen for our under-privileged women is by being represented in parliament and pushing a women's agenda there. We've got to put pressure on government to address these issues and parliament is the best place for it," she said.

Sunethra Ranasinghe, a female candidate from the UNP and the country's first women's affairs minister in the 1980s, says one of the problems of women in politics is the lack of leadership capacity at grassroots level. "We need women who are capable ... not just merely women."

She said women activists in her party had urged the party to give space to women and children who have been abused. "There is a serious problem about violence against women and children and we have the laws but they must be fearlessly implemented without political interference. If we hand out tough sentences to rapists and other perpetrators of violence against women, it would send a strong message across."

The women's manifesto also wants equal pay for women and men, a nationally enforced minimum wage and strengthening the rights of women workers to unionise and bargain collectively, especially in sectors where organizing is discouraged.

The manifesto says women are under-represented in media production, noting that patriarchal structures and attitudes demeaning women persist in the Sri Lankan media.

"While one of the most potent weapons to promote positive images of women could be newspapers, journals, radio and television, unfortunately sexism in advertisements, cartoons, articles and editorials still prevails," it said. Many TV series depict violence against women and display sexist attitudes, as well as portray women only as wives and mothers, or as sex objects."