Contents
---
Indian Food Festival at Galadari
An Indian Food Festival will be held at the Coffee Shop of the Galadari from September 15-30.

Food flavours from various parts of India in its many presentations will be prepared with authenticity by expert chefs from Breeze Hotel India.

Executive Chef S.K. Abdul Dayan, Chef Khan Fakir and Chef Ajeem will bring this culinary treat. These chefs will be flown in from India by VMS Travels & Tours. The Dinner buffet will vary daily and goes all the way from Starters, Soups, Main Dishes and Dessert. There would be Vegetarian and Non-Vegetarian dishes to accommodate everyone.

To add to the ambiance there will be two Indian artistes who will entertain you to fits of laughter. Mr. T.P. Ravi, Charlie Chaplin look-a-like and impersonator and Mr. R. Ramesh, the Dwarf.

---
'Aquarius' at Colombo 2000
'Colombo 2000' of Galadari is heating up with a new line of entertainment.

In addition a pub-theatre atmosphere has been created in order to enjoy movies every Friday and Saturday at 7.00 pm, as well as major international sports events.

The house DJ's starts to jam the music from 9.00 pm onwards daily and on Fridays the very popular local band "Ecstasy" will perform.

The popular band Aquarius led by veteran Benji Ranabahu is in action on Fridays for a limited engagement.

Aquarius' will fly back to Europe for another tour in October. They will be back for the Festive Season in December.

Special theme nights have been arranged every Wednesday, Thursday, Friday, Saturday and Sundays at 'Colombo 2000'.

Friday and Saturday - Adrenaline Night which is the of the most popular theme nights in the club. Every Friday night the club offers guests special one to one offers on beverage. Wednesday is flying - High, which is fast growing due to the four Airlines crews the hotel houses.

The hotel has printed a limited number of special vouchers which offers complimentary entrance to the nightclub and 10% Discount on Food & Beverages. This offer is valid only on Wednesday Thursday and Sundays until October 20.

The entertainment acts "The Force and guest DJs are lined up for performance on special theme nights. It's all going to happen at the Colombo 2000. So be there.

---
'Irasma': Focuses on children
By Susitha R. Fernando
The first children's film "Irasma" funded by the Film Development Fund of the National Film Corporation, is in the process of being filmed in Kandy and Mawanella.

Scripted and directed by Ariyaratne Vithanage the film unravels the story of the girl 'Irasma', which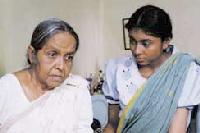 means, strong as the sun and soft as a flower. Ama Wijesekera plays the leading role in 'Irasma'.
The film is based on Anoma Ratnayake's award winning children novel 'Irasma".
Irasma is the only daughter of 'Tharintha", an engineer and 'Paani', a dancer. When the parents were busy with their jobs Irasma lives in her own world in isolation. The hidden quarrels between the parents one day turn into a major fight and Irasma's mother meets with an accident while she is trying to leave the house. The mother is taken abroad for further medical treatment and father seeks foreign employment. Meanwhile Irasma finds herself without parental love. Living with her grandmother and cousin brothers Irasma is regularly disturbed with the past experience of disputes that occurred between her parents.
Determined to work hard on her education she proves to be a leader in her school.
Even after the return of her father, Irasma refuses to meet him due to the unfortunate experiences haunting her. Meanwhile she undertakes to look after her mother who is now recovering from the accident.
There is nothing that could bring the separated mother and father together, except young Irasma's achievements and her determination.
Ariyaratne Vithanage, the only children's film director in the country entered the world of films as a script writer. His first script was made into the film "Selinage Walawwa" by veteran film maker Dharmasiri Pathiraja.
Vithanage, who also is the general secretary of the "Children's Film Society of Sri Lanka" speaking on his specialization on children's films said "with fifty years of history in the film industry in this country we have produced only four childrens films. In a way filmmakers have become unfair to the children of this country,".
Having directed two childrens films namely "Thrupthi" and 'Athuru Mithuru", Mr. Vithanage was given a jury award for his direction including three other awards at the Presidential Awards ceremony.
"If we can bring 35% of the school going children to the cinema halls for a good film, there won't be any financial difficulty" he added.
The film was produced under the guidelines laid down by the children's film society of Sri Lanka.

---
Dasgupta Retrospective Film Festival
The Asian Film Centre in association with the Indian High Commission in Sri Lanka and the Directorate of Film Festivals in New Delhi is presenting a retrospective festival of films by the eminent Bengali filmmaker Buddhadeb Dasgupta.

The festival will take place from September 26 (Tuesday) to September 30 (Saturday) at the BMICH Cinema. A film will be screened at 6.00 p.m. each day, with one film also scheduled for screening on Saturday 30 at 10.30 am.

Buddhadeb Dasgupta is one of the leading filmmakers of India. He has made 11 feature films and about 12 short and documentary films. He has won several national and international awards for his cinematic creations. Buddhadeb started writing poetry also, and has got them published in various journals and magazines. By now he has eight books on verse to his credit. He is also a novelist and has published four novels and one book on cinema titled Dreams, Time and Cinema (in Bengali). A book has been published on the films of Buddhadeb Dasgupta titled Time and Dreams authored by John W. Hoo and published by Seagull Books, India.

The film to be screened on Tuesday September 26th will be an early work, GRIHAYUDHA (The Cross Roads) (1979, 35mm, B&W, 98 min).

PHERA (The Return) (1986, 35mm, Colour, 90min)

The film scheduled for Thursday 28th is THADER KATHA (Their Story) (1992, 35mm, Colour, 93 min)

CHARACHAR (Shelter of the Wings) (1993, 35mm, Colour, 86 mins.

On Saturday September 30, at 10.30 am, the film scheduled for screened is Buddhadeb Dasgupta's latest film UTTARA (The Wrestlers) (1999, 35mm, Colour 97 min.) and

On the evening of Saturday 30 at 6.00 pm, LAL Darja (The Red Doors) (1996, 35mm, Colour 100 min) will be screened.

All the films will be sub-titled in English and entry to the screenings will be on a first come, first-served basis.

---
'Daruwange Ammala' portrays child exploitation
The teledrama "Daruwange Ammala", on Rupavahini channel at 8. 30 p.m. from tomorrow is a story woven around a new theme-exploitation of children.

It stresses on the responsibility of every one to protect children from all kinds of exploitation.

Rohitha Samaradiwakara (Srinath Maddumage) is a cruel businessman who uses children in his business activities in Nuwara Eliya. His cousin sister, 'Uthpala' (Maureen Charuni) is married to 'Sampath'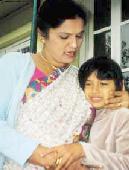 (Roshan Pilapitiya), a manager in a company exporting flowers. They have a young daughter "Thisaru".
Dark shadows fall on the happy six year wedded life when Sampath comes to know about Uthpala's earlier love affair with her cousin brother, Rohitha while they were schooling. The family dispute leads to the point of disrupting the marriage, resulting in young daughter losing a father. 'Uthpala' determined to face life single handedly goes abroad for employment so that she may provide for her daughter's future. She keeps her daughter under the protection of her aunt, Rohitha's mother but she never expects that her heartless aunt would ever spoil her daughter's future by stopping her education and exploiting her in a devilish manner.
Meanwhile 'Sampath' is affected by the broken marriage and has trouble at the company he works for. The company owner's daughter "Inoka", who handles the business comes to Sri Lanka to look into the business affairs. She starts an affair with Sampath. The affair ends in tragedy when on the day of engagement Inoka is found murdered. Sampath's life becomes painful when he finds himself suspected for the murder.
On Uthpala's return Rohitha proposes to her but she refuses so that she could live with her daughter. When she opposes this, Rohitha claims a right over her daughter who knows the whole story behind the exploitation of little children at his vegetable and flower farms.
What would happen to the broken family of Uthpala's and Sampath? Who killed Inoka? Would the little girl, Thisaru unravel the inhuman exploitation at Rohitha's farms?
The tele-drama is directed by Sanath Abeysekera

---
Oberoi Goes Swiss
The much looked forward to event - The Swiss Food Festival, will be on again from September 9-16 2000. At the The Supper Club of the Lanka Oberoi. The Swiss Food Festival, A celebration of great food, wine and music from the Alpine country has been a tremendous success during the last few years with the Swiss community in Sri Lanka as well as the Swiss food lovers in general.

Swiss food lovers can once again look forward to an eclectic selection of traditional Swiss cuisine accompanied by a choice range of wines and liquers complimented by nostalgic Alpine music.