---
Susanthika wins 2 golds in Japan
TOKYO, Saturday (AFP) - Sri Lanka's sprint queen Susanthika Jayasinghe enjoyed a sprint double at the Yokohama athletics meet here today to tune up for the Sydney Olympic Games. Susanthika, the 1997 world silver medallist, bettered her personal best by one hundredth of a second to win the women's 200 metres in 22.32, and then timed 11.04 to win the 100m. "I have a big goal in Sydney, at the moment, I can't tell, but today, I had a very good time after three years ... after 1997," said Susanthika, who had a sea of problems after winning the silver in Athens. Our Sports Desk adds: Susanthika's spectacular performance yesterday came a day after Sri Lanka's Amateur Athletics Association decided to drop her from the Olympic sprint relay team on the basis that her trip to Yokohama was not approved by the local body. Susanthika since she shot to world fame in 1996 has been embroiled in a series of personal and political controversies, including a sex-harassment charge against a VIP.
---
Hashan warned
Hashan Tillekeratne, has been severely reprimanded by the NCC hierarchy for his ugly and unwarranted behaviour when he abused former Sri Lanka Test player and national selector Sidat Wettimuny within the club premises.

The three-member panel comprising DIG Camillus Abeygunawardena, Elmo de Silva and John Rajapakse found Tillekeratne guilty of the offence.

A repetition of this nature in the future will be the end of his future membership, a senior source of the NCC told Sunday Times.

Tillekeratne has submitted an unconditional apology to Wettimuny for his behaviour.

Tillekeratne is not in the national squad, but has been harnessed to the development squad which is being handled by Hemantha Devapriya, according to a national selector. The national squad is being handled by Dav Whatmore. (BW)

---
Seeds win
On the first day of the Junior Tennis Nationals which began yesterday all seeded players won their games with ease.

In the Boys' Under 12 singles, number 5 seed C. Thalagala beat D. Balasuriya whilst in the boys' Under 16 competition number 13 seed Y. Jayasekera beat F. Salman and in the Boys' Under 14

singles group, J.Ganendran the number 11 seed, U. Wickramasinghe, the number 10 seed, and A. Arudpragasam won their matches easily.

Results

Boys' Under 14 singles: J. Ganendran beat A. Tilakaratne 6/0, 6/3; U. Wickramasinghe beat S. Rasika 6/0, 6/1; A. Arudpragasam beat N. Wickramasinghe 6/2, 6/3; R. Subramaniam beat S. Lokuvitharne 6/0, 6/3. L. Jayatileka beat E. Sudusinghe 6/1. 6/1. S. Priyankara beat M. Nabil 4/6, 6/1, 6/2 .- BM

---
Fisticuffs mar CH's win over Air Force
By Bernie Wijesekera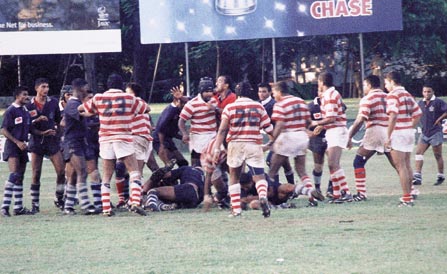 Play comes to a halt in the CH-Air Force Rugby game as players traded blows. J. Weerasekera was there to snap the fracas.
In a bruising forwards battle, marred by frayed tempers and fisticuffs, A Division league champions CH&FC had all cylinders firing against the gritty Airmen to win by 28 points (5 tries and a penalty) to 11 (a try and two penalties) in a Clifford Cup knock-out quarter final match at Longden Place yesterday.
At the break Air Force led 8-5.
The score line was no indication as to how the game went about as the Air Force bombarded the CH defence when they dominated the first half with their rugged 'eight' who tackled their opponents to a standstill.
After the turn around unwarranted dirty play raised its ugly head.
The eyes were more on the man than on the ball hence the reason for a free-for-all.
The game was stopped for nearly five minutes when Air Force's Ajith Prasanna and CH&FC's scrum half Milinda Jayasinghe were sent to the sin-bin by referee Orville Fernando.
If not for this sad spectacle the game was evenly contested.
The Airmen showed vast improvement unlike in the league when they failed to show up to be placed last in the league.
CH opened scoring through full back Dinuk De. S.Wijeratne for an unconverted try. (5-0). Air Force hit back to cross the CH line with a dandy try off a scrum close to the line. (5-5).
The Airmen went further ahead with a 45-yard penalty put over by Ranjith Anthony to take the lead 8-5 at the break.
But after the turn around CH got their act together and took control to score four tries which went unconverted.
Fullback Dinuk Wijeratne who had a fine game constantly formed the overlap to score a hat-trick of tries and the other two tries by Milinda Jayasinghe and Antonian schoolboy, second row forward N. D. S. Welagedera.
Welagedera made a solo mid-field run to fall over. The Airmen in the second half played hard but the CH defence stood firm.
They scored another penalty beautifully arrowed by Anthony to make it 15-11.
CH meet the Army in the semi-finals on Wednesday, September 13 at Longden Place. Today CR&FC take on Police at Longden Place. Kick-off at 5 p.m.

---
Kandy's win unimpressive
By U.J. Jejeem
Kandy SC put up an unimpressive display before pulling themselves together to score a 19 points (1 goal, 4 penalties) to 8 (1 try, 1 penalty) win over Navy in a quarter-final game of the Clifford Cup rugby tournament at Nittawela yesterday.

At lemons the sailors were in front 8-0.

Kandy,specially in the first half, put up a pathetic display, which resulted in the score to their credit being barren, this is something which has not happened before against a weak side such as the Navy on their home terrain.

Though Kandy had the edge in the scrums and lineouts the tough Sailors with their bruising play nailed their opponents. Kandy were no where near their form which made them the custodians of the Clifford Cup. Their forwards normally robust and fiery were contained superbly by the tough Navy pack.

D. Nimal refereed.

---
Defence still on track
By Bruce Maurice
Defence Services are well on track to retain the Senior National

hockey title for another year. They defeated Nationalised Services by 7 goals to nil in what was a thoroughly one sided game yesterday.

This was their fourth win in as many matches they have played so far. Abeyratne, Cramer and Ganegoda scored two goals each, while S. Perera netted in the other for the Defence Services.

In the other matches worked off yesterday Matale, made mince meat of Nationalised Services by beating them by 9 goals to nil. For the winners Dissanayaka scored a hat-trick. Riffas rattled the boards twice, while Wasalage, Wijekoon, Jeewananda and Batugoda scored a goal each.

Meanwhile it looks quite obvious that Galle's earlier 9-0 win over Nationalised Services was just a flash in the pan. They were routed by State Services who won 7-0. Scorers for the winners were Kumara and Prasanna 2 each, while Kulasekera, Jayalath and Sumanaratne netted one each. In the final match for the day Colombo HA defeated Kandy HA by one goal to nil.The scorer was Harsha.