Wild strokes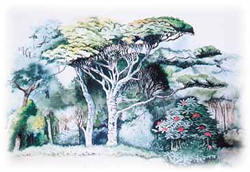 Many artists have been fascinated by Sri Lanka's rich heritage of fauna and flora. Jayaindra Fernando, a surgeon by profession and wildlife enthusiast is no exception. His forthcoming exhibition 'Colours of the Wild' features 50 of his water colour paintings and ink drawings of trees, birds, butterflies, wild animals etc, subjects that have caught his fancy on his frequent travels throughout the island.

'Colours of the Wild' he says, will hopefully draw attention to the country's natural heritage, threatened at present.

Jayaindra has had two previous exhibitions whilst still a medical student. He and his wife Thivanshi have also published the book 'Fruits of Sri Lanka' which is illustrated with his watercolour paintings. His work has also been featured in wildlife journals like the Loris and Sri Lankan Nature.

A painter from his teenage years, Jayaindra had the distinction of illustrating Dorothy Fernando's book 'Familiar Trees of Sri Lanka' when he was just 16. He painted and sold his work while doing his postgraduate training in New Zealand. The exhibition is open to the public from September 13-15 from 9 a.m. to 8 p.m. It will be opened on September 12 by Italian Ambassador Maurizio Teucci.

---
Children of nature
The winning and commended entries of the islandwide children's art exhibition 'Haritha Sithuvam', organised by the Haritha Darshana Organisation, will be exhibited at the BMICH Centre garden from September 15 to 17. It will be open to the public.

Haritha Darshana, a group of artistes dedicated to preserving the harmony between man and the environment, organised Haritha Sithuvam last year in connection with the environmental teledrama series Mihi Mandala Ginivadi (Earth Ablaze). The drama series, directed by Parakrama Niriella, was telecast on Rupavahini from November 1999 to May 2000. The art competition was conducted to raise awareness among children and youth on the theme of environmental conservation that was promoted by the drama.

The first round of the competition brought in around 43,500 entries from schoolchildren all over the island. From among these, the most promising young artists were invited to selected locations in each province and asked to draw further paintings. The locations of these provincial art competitions were places close to nature, which further inspired the environmental sentiments among the children. Hundreds of the best work will be showcased at the exhibition to be held at the BMICH, in the primary, junior and senior categories.

"Many of today's children grow up in artificially built environments. They are detached from nature," says Mr. Niriella who is Secretary of Haritha Darshana. "That is why we brought them to places with scenic beauty and a natural environment to draw their entries. By doing this, we hoped not only to inspire their creativity, but also to nurture a sense of respect and proximity to nature."

The exhibition will be opened at 9 a.m. on Friday, September 15, by Western Province Chief Minister Susil Premajayantha. The presentation of awards will be at 2 p.m. on September 17 where Mrs. Iranganie Serasinghe and Pandit Amaradeva will be the chief guests.