Dancing to chants and drums
By Uthpala Gunethilake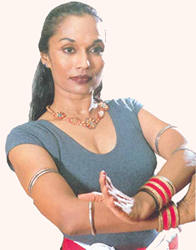 Dances are like fingerprints. Sri Lanka's traditional dances, like a fingerprint, define the thinking and the needs of the people out of whom the dances evolved. And for us Lankans, they meant much more than entertainment.

"These are not dances meant purely for the stage," says Khema, veteran danseuse, talking of her forthcoming show of ritual dances, both udarata and pahatharata which goes on the boards at the Bishop's College auditorium on September 16. "They are rituals sometimes linked with ayurvedic practices. In other words, they are dances with a purpose."

The dances include excerpts from healing and fertility rituals still popular in the villages, such as 'Sanni Yakuma', 'Kohomba Kankariya', 'Sende Samayama' and 'Devol Maduwa'. Traditional dancers to whom these dances are a way of life will join Khema on the stage. "I'm in awe of them. When I see them dancing I feel I have a long way to go," says Khema, adding that the energy needed for the dances is immense, while you need to be mentally and physically well-prepared .

The rhythm for these traditional dances come from chanting and drums, and Khema says that the entire show will flow to the music of drums and chanting.

Herbert Dayaseela is in charge of the costumes and set, while Jerome de Silva directs the show. Khema will be flanked by expert traditional artistes whose talent in various aspects of traditional dancing will help make the evening a rare and spectacular occasion to celebrate our own identity. Guest artistes include Guru Peter Surasena, Guru S. Walabadage and Ravibandu Vidyapathi.

The show is sponsored by the Heritage Foundation and is in aid of the Environment and Arts Nature Field Centre at Bundala to launch an environment awareness programme for schoolchildren.
Taste of Sinhala (30)
---
Taste of Sinhala (30)
Of darlings and dears
By Prof. J.B. Disanayaka
When speaking of a person we love, such as a member of our family, we use words of endearment such as 'dear', 'darling', 'love', 'sweetheart', 'sweetie', 'honey' and so on in English. What does a Sinhalese say? The words would depend on the occasion.

On certain occasions one word which would be used is 'amma', which literally means 'mother'. A Sinhalese refers to his mother as 'amma' and says 'amme' when calling her. One's own mother is 'mage amma' (my mother).

When the mother is sick, the children will bless her by saying, 'mage ammata deyyange pihitai' (May God bless you) or 'mage ammata teruvan saranai' (May the Triple Gem bless you).

However, when a child is sick, the mother will also say the same thing to bless the child. In this context, 'mage ammata' refers to the child. For it means, 'my dear', 'my darling' or 'my love'.

When a child worships her/his mother or father, it is the custom to bless her or him by saying 'mage ammata deyyange pihitai' or 'mage ammata teruvan saranai'. If a small child falls, she or he will be picked up immediately and asked: 'mage ammata ridunada?' (Did it hurt you, my darling?)
Bookshelf
---
Bookshelf
Ummagga Jatakaya for children
Jataka tales are extremely popular among Sinhala Buddhists. Writers from early times have been presenting the more popular Jataka stories both in prose and verse for people to absorb the good qualities of the Bodhisatva.

The 'Ummagga Jatakaya' is the most comprehensive tale among the 550 Jataka tales in Buddhist literature. It relates the story of the Bodhisatva as an erudite scholar in the person of Pandit Mahaushada. The tales are fascinating, almost all woven round problems for which he finds solutions.

Rupa Sriyani Ekanayake has selected five stories from the 'Ummagga Jatakaya' and presented them in little booklets for children to read and enjoy. She has done an excellent job using simple, easy to understand words and phrases in narrating each story.

The first in the series titled 'Miyulu Nuwara Pandiwaru' forms the backdrop to the entire series where the reader is introduced to King Vedeha and his four advisors Senaka, Pukkusa, Devinda and Kavinda.

The well illustrated set of books is an ideal gift for any child.
-Ranat
---

The brighter side of grammar
Professor J. B. Disanayaka is an angry man. He is disturbed over comments by numerous 'soothsayers' that the Sinhala language will soon disappear. "A language will live as long as a nation exists. For the Sinhala language to vanish the Sinhala nation will have to disappear," he stressed at a recent gathering where the first eight in a series of 32 books written by him on Sinhala grammar were launched.

Inspired by a packed hall at the Public Library auditorium, he asked whether Pali has disappeared even though the language is not in common use today. So long as Buddhism exists, Pali will be a living language, he said.

According to JB for those who don't want to think in Sinhala or use Sinhala, the language may be dying. It is the fashion today to use English terms even for simple words where there are beautiful words in Sinhala. "Everywhere we go we see 'Gardens', 'Views' and 'Parks' used in names to identify roads or locations. These words are written in Sinhala. Why can't we use Sinhala words in place of these?" he asked. That morning he had heard over the radio someone talking about 'election dawase, polling booth vala vote keruwata passe ballot boxes counting centres valata geniyanawa'. He is angry because he can't understand why that person couldn't say all that in Sinhala.

JB is not against using English. In fact, he stressed the need to use English as a universal language. But that did not mean that we should forget about Sinhala, a rich language. He gave examples of how when it comes to the use of certain phrases, Sinhala is far ahead of English.

"What we should do today is not to wait till the day Sinhala disappears, but strengthen it. But how can that be done when everyone is working in English and all decisions are made in English? Sinhala is confined to a mere mention in the constitution," he pointed out. "Our language is our heritage," he stressed.
'Basaka Mahima'
From 'Rataka Mahima' and 'Sittara Mahima', JB moves over to 'Basaka Mahima' (Splendour of the Language) in his new series of books. His objective is to let everyone know what a wonderful language Sinhala is. The books will also make the Sinhala reader appreciate grammar – a subject fast losing ground. JB's effort is to make it interesting and revive interest in grammar.

The first eight books launched, deal with the Sinhala alphabet, vowel strokes, use of cerebral ('na' & 'la'), word formation, stems, prefixes, and derivative suffixes.
Sensitive issue
At the book launch, Pro- fessor Sunil Ariyaratne handled a sensitive issue cleverly when he spoke of the lack of interest taken by Sinhala lyric writers in the use of grammar in their compositions. Himself being a lyric writer, he admitted he had to be careful in what he says. Yet he gave enough examples to show that some lyric writers have absolutely no concern for grammar. He quoted from John de Silva's compositions to illustrate how careful he had been in the use of the language. Correct grammar had been used.

While Prof. Ariyaratne represented the Sri Jayawar-denapura University, there were three others from other universities - Professor Vibhavi Wijayasriwardena (Peradeniya), Dr. Ashoka Premaratne (Kelaniya) and Sandagomi Coperahewa (Colombo) – making presentations.

It was most encouraging to see such a crowd – both young and mature and members of the Maha Sangha-turning up to listen to what most of us consider a boring subject – Sinhala grammar. With such a response, at the end of the day, JB may have gone back home relieved that Sinhala will live on and on for many more generations.

---
A world to read and dream
By Alfreda de Silva
Professor Yasmine Gooneratne had returned from one of her visits to the idyllic Pemberley International Study Centre in the Haputale hills built by her husband Brendon Gooneratne, to fulfil a promise made earlier to his father.

Pemberley aims to give locals and international scholars and artistes the opportunity to develop a project or an idea in a congenial setting.

Yasmine feels that the centre is also a way of giving something valuable back to this country, that gave the generation to which Brendon and she belong, a first class university education in the 1950s.

She had been teaching English Literature full-time and continuously at Mcquarie University in Australia from 1972 to 1998 and for ten years before that at Peradeniya.

The thought of retiring from her academic profession and writing literary fiction had occurred to her, after the success of her second novel 'The Pleasures of Conquest."

So she took the plunge that year. She was answering my questions. How was she able to combine her university life in Australia with her deep interest in Pemberley and what was the place like? She informed me that it was modelled, though adapted to local conditions, on the 'Rockefeller Center' on Lake Como in Italy where Brendon and she had been Rockefeller Residential Fellows working on This Inscrutable Englishman based on Sir John D'Oyly.

We had no time for further conversation. But my curiosity, once roused, the next step was a long-distance interview. How did Macquarie react to her retirement? ".....while accepting my resignation, (they), sprang a wonderful surprise on me by simultaneously elevating me to the rank of Emeritus Professor in English Literature," she wrote.

This means that her niche in the Department of English with its access to research grants and other facilities is retained intact.

A great advantage of this new turn of events is that Yasmine has greater freedom to travel. This year, in what would have been teaching time, she has delivered the Bishop's College 125th. Anniversary Oration at the invitation of her old school.

In addition, she has given a plenary paper at the Indian Association for Commonwealth Literature and Language Studies in Kerala, and spent two weeks in May in Kuala Lumpur as External Advisor, to the University of Malaysia's Department of English. In July and August she was at Pemberley working on her third novel, while helping her husband to welcome the first group of residential scholars to pursue research and creative projects at the centre. She also began a consultancy for the Literature Board of the Australia Council.

"Best of all I have time at last to spend with my family, to enjoy old and cherished friends and develop new ones." Honours sit lightly on Emeritus Professor Yasmine Gooneratne - D. Litt (Macquarie), Ph.D (Cambridge) B.A. Hons. (Ceylon). At Bishop's College, Colombo, she was awarded the coveted Senkadagala Memorial Prize for Original Verse.

A Change of Skies, her first novel, won the 1992 Marjorie Bernard Award for fiction, and was shortlisted along with her second novel The Pleasures of Conquest for the Commonwealth Writers' Prize.

Among the major events of her life she rates discovering Jane Austen's novels, at quite a young age and about that time, the poetry of Alexander Pope.

Remembered milestones are "the four years I spent reading for an English Honours degree at Peradeniya (1954-1958); meeting a medical student, Brendon Gooneratne (1959); marrying him (1962), the birth of my children, the death of my father (1969), accepting the appointment to an Australian University (1972)."

Other highlights she lists are her first encounter with the author Ruth Prawer Jhabvala in India (1977), receiving McQuarie University's first higher doctoral degree of D.Litt., writing and publishing Relative Merits on her father's family history (1981) and the award of the Order of Australia for her work in literature and education (1990).

Yasmine sums up a writer's most significant asset as "kindred spirits, within her family or beyond it with whom she can correspond regularly about literary matters... This is a writer's real audience made up of intelligent appreciative people who are her readers themselves".

She refers to the "'delicious privacy' that a writer needs distanced from doorbell or telephone where she can dream or read undisturbed". She stresses the importance to a writer of good health and a disciplined lifestyle.