Jeremy tops at regatta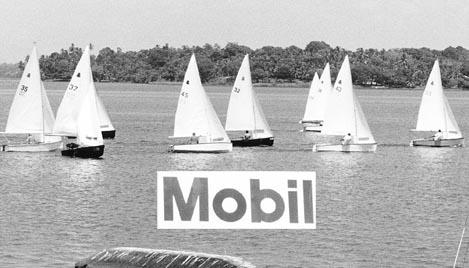 Jeremy Bolling won the Mobile Single Handed Sailing Regatta conducted by the Ceylon Motor Yacht Club at Indibedde, Moratumulla, Moratuwa.
Nine participants faced the starter and the 2 races Jeremy won the race with the sailing conditions at the Bolgoda Lake being to perfect and the competition keen.
Anil Gunawardena took the second spot followed by Hans Svendsen, schoolboy Devika Balasuriya and Mohan Balasuriya.
The father and son combination finished in fourth and fifth positions.
Trevor Reckerman, the Director of McLarens Mobil (Pvt) Limited was the chief guest and gave away the awards.
The National Championships for Enterprise Class organised by the Yachting Association of Sri Lanka (YAAL) will be sailed today, Sunday July, 30.
Sailors from the Navy, Ceylon Motor Yacht Club and Royal Colombo Yacht Club will vie for honours.
---
Police Vs Havelocks - Havies won 28-20
A game of missed opportunities, which the Police could have won. The Police were only 1 point behind about 8 minutes from full time - the scores 21-20. Scrum half Sudath Sampath sealed the game from the Havelocks with a fine try jinxing himself through a bewildered Police defence. The Havelocks proved that they could come back into a game and win it - good fighting qualities. They however need to be more cohesive and purposeful. A sense of urgency is noticed only when they are being led. Otherwise complacency sets in with players lethargic and individual brilliance takes over! The Police three quarters must be alert and watchful, especially when the opposition win 2nd and 3rd phase ball. It is only then that I notice the Police defence lacking. They should continue to use their forwards in more ploys. From a spectator point an exciting game.
Kandy Vs Navy - Kandy won 53 pts to 16pts
Kandy were expected to win this game. However the Navy played with much gusto and tackled well. Possession is vital in these games. Kandy won most line-outs and were dominant in the scrums. With such possession Kandy crossed the Navy goal-line as much as 7 times. Nalaka Weerakody proved that he is the best place kicker in Clubs today. Well done Kandy. Some scuffle had marred the game according to a press report where a Navy player on the bench was involved. Bad show, Navy! Once again I reiterate that apart from plays being confined to a place behind the playing area, they should be isolated from the others when sent to the sin-bin. Last week a CR player who was 'sin-bin' was seen mingling with others near the spectators!
Never too late to have a sin-bin cage... behind the dead ball line!
Army vs CH&FC - CH won 15 pts to 5 pts
Army played well but were not good enough to win. Why? They faltered on their own ball in the line-outs and at times lost possession. Individual play also cost the Army the game. They must play together and use their possession well. Kicking too much is also a negative factor. Size up your opponents and understand their game plan. The Army centres were closely marked by the CH. But they continued to work their line and were tackled. They then began to kick too much and as a result lost the 'steam' they started with. The CH brought in some of their veterans who used their experience to outwit the Army. CH played to a plan and were not ruffled by the Army.
CR & FC vs. Airforce - CR won 45-nil
CR are playing well. With excellent possession they outplayed the Airforce scoring at will. Scrum half Tuan Bohoran is a player to watch. He is ever watchful for any opportunity to slice through even the tightest of defences. CR ran the ball and were well rewarded. They played as a team and their success lies in this aspect. I have said much about Air Force priorities and hope these are given due consideration.
Police-Havelocks, a game of missed opportunities.
---
English pitches will be a nightmare
By Leonard Ratnayake
Sri Lanka's first tour, after emerging runners up to the world title during the Under-19 tournament in Sri Lanka early this year, is going to be a nightmare for the youngsters who will be experiencing the English pitches for the first time in their lives.
But many are hoping, despite the different conditions in England, Sri Lanka will hold the upper hand in the three-match Test series and the limited over cricket encounters over their English counterparts..
A squad of 15 cricketers led by the experienced Trinity College schoolboy Kaushalya Weerarathne have pitched into their five-week tour in England on a positive note. The tour includes a three-match limited over series, a three 3-day encounter and a three match unofficial Test series against the English counterparts.
The Sri Lankan squad is made up of a good batting lineup and many of them have been in and out of the Sri Lanka "A" team which played against Zimbabwe "A" and in the Board XI teams which played against two top cricketing teams in Pakistan and South Africa. The experienced batsmen, undoubtedly will be the hopes for a promising performances on the tour to give the team a formidable balance. The team is confident with the pace bowling attack as well.
Much is expected from Sri Lanka's latest all-rounder Kaushalya Weeraratne who represented the national team at the Asia Cup in Dhaka recently. Playing in all four matches Weeraratne captured four wickets conceding only 98 runs with an economy rate of 3.77 per over.
Weeraratne has led his school team Trinity College, Kandy, for two years and has had a good success rate. Leading a national side for the first time, Weeraratne is confident that the team mates would come out with best performance to support a collective work towards victory.
Kaushalya said that the team underwent hard training with their new coach Owen Mottau.
Team Manager Anurudda Polonnowita says that the team has trained hard for the upcoming tour and should do well and that it will be a good experience for the youngsters. Polonowita said the team comprises the best possible combination in the country and are looking forward to a successful tour.
The U-19 Squad to England: (All rounders)
1. Kaushalya Weeraratne - Trinity College, Kandy (Capt)- RA Medium fast. 2. Ian Daniels - St Joseph's College, Colombo 13 - RA Slow Medium.3. Muthumudalige Pushpakumara - Ananda College, Colombo - RA Off spin.4. Ranil Dhammika - Lumbini College, Colombo - LA Leg spin. 5. Kaushalya Lokuarachchi - St Peter's College, Bambalapitiya - RA Leg spin. (Batsmen) 6. Thilina Kandambi - Ananda College, Colombo (V. Capt) - LH bat.7. Nimesh Perera - President's College, Rajagiriya - Wicket keeper/RH bat. 8. Mahesh Perera - St Peter's College, Bambalapitiya - RH bat. 9. Jehan Mubarak - Royal College, Colombo - LH bat.10. Ashan Peiris - Prince of Wales, Moratuwa - Wicket keeper/RH bat. 11. Malintha Gajanayake - DS Senanayake College, Colombo - RH bat. (Fast Bowlers): 12. Prabath Nissanka - Trinity College, Kandy, - RA Medium fast. 13. Akalanka Ganegama - Ananda College, Colombo - RA Medium fast.14. Thilina Thushara - Kaluthara Vidyalaya, Kalutara - LA Medium fast. 15. Aruna Bandaranaike - S.Thomas' College, Mount Lavinia, RA Medium fast.
(Spinner):16. Nisal Randika* - Thurstan College, Colombo.LA Orthodox.
Nisal Senaratne will join the touring squad only from August1,
Manager: Anurudda Polonowita, Coach: Owen Mottau, Physiotherapist: Lal Thamel, School Representative: T.B. Damunupola
Tour Itinerary
28 July v NatWest England Under 19, 1st One Day International , Cardiff; 29 July v NatWest England Under 19, 2nd One Day International , Cardiff; 31 July v NatWest England Under 19, 3rd One Day International , Hove (Floodlit game); 2-4 Aug. 3-day Game v U19 South at Arundel; 5-7 Aug. 3-day Game v Development of Excellence XI at Brighton College; 9-11 Aug 3-day v Under 19 North at Sleaford CC; 15-18 Aug. v NatWest England Under 19, 1st Test Match, Trent Bridge; 21-24 Aug v NatWest England Under 19, 2nd Test Match, Northampton; 29-01Sept. v NatWest England Under 19, 3rd Test Match,Worcester
---
A stunning victory at Galle
By Dr. Baptist Croos F.S.C.
The 1st Test at Galle will go down in Cricket history as a " David and Golliath" encounter because Sri Lanka convincingly defeated the mightly South Africans who are giants in International Cricket. Spectacular bowler and dynamic Captain Shaun Pollock, excellent world class fielder like Jonty Rhodes, classic opening batsman Garry Kirsten, century maker Darryl Cullinan, superb all-rounders Kallis and Klusener were all there. But in spite of their presence, the Sri Lankans beat them by an innings and fifteen runs. To have beaten such a star- studded team, is really a victory worth recording.
Quality leadership
Our dashing Captain Sanath Jayasuriya must be heartily felicitated for having led the team from the front with a blistering knock of 148 made in double quick time. With a little more patience, he could have broken the world record. He also could have scored a century before lunch, thus etching his name in record books. That was not to be. However, his scintillating century paved the way for an awesome total of 522.
That was the starting point. Once that solid foundation was laid, then his faithful team-mates responded enthusiastically to the captain's call. Sanath's field placement and bowling changes to trap the batsmen were astute and timely. The team effort definitely contributed to that sensational and stunning victory.
Mahela's century
Mahela has the potential to become a brilliant batsman if he could only believe in himslf. This time he did just that and scored a magnificent century. Executing his shots with clinical precision, he powered his way to an enormous 167, proving that he could be a world class batsman.
Sangakkara's exploits
The batsman-wicket keeper Sangakkara gave a creditable and mature performance behind the wicket. Having already made a name for himself in the recently concluded Singer Triangular Series, he proved his worth as a Test debutant with poise and dignity. His catches were classy and he collected the throws pretty well. Being an outstanding batsman, he has ample opportunities to exhibit his sterling talents.
Murali, the mastermind
Superman, spiderman, body-builder, magician, tactician, prestidigitator call him whatever yo may want, but he is a world class, top class off spinner and a match winner. He is the captain's pride and hope. Under any circumstances he will exploit the pitch and batsmen are nervous and non-plussed, when he takes the ball. Wickets tumble in quick succession and he is all smiles ! He gives you the impression that he is a tireless warrior known for his marathon bowling. Yet other bowlers could rally round him by improving the quality and style of their own bowling. He also can be easily clobbered for sixes and fours. But watch again, and the balls will fly. His endurance in the field and bowling almost non-stop defy our imagination. A match bag of 13 wickets with the man-of-the-match award, is a marvellous achievement. More power to your elbow, Murali!
Arjuna's presence
Arjuna's affable and gracious presence was certainly encouraging. Sri Lanka, havidng become the World Champions under his shrewd captaincy in 1996, honoured him profusely with a handsome trophy as a grateful acknowledgement of his immense contribution to Sri Lankan cricket. Having put Sri Lanka authoritatatively on the world cricket map, he fully deserves our adulation and admiration. His presence at the next two matches could be a fitting finale to his colourful cricketing career.
Bravo ! Sri Lanka !
Apart from a few glaringly questionable umpiring decisions, which usually leave a bitter taste in the mouth, the Sri Lankans did exceptionally well. The South Africans and even a couple of Sri Lankans fell victims of unsavoury decisions. Nonetheless all the batsmen showed their gentlemanliness in accepting the decisions of the umpires, like true sportsmen. It was a remarkable victory for cricket. Having emphatically won the match, the Sri Lankans proved that they are a force to reckon with. Bravo ! Sri Lanka !
---
Radeesha wins five Golds
Radeesha Daluwatta underlined her supremacy as the champion women's swimmer in no uncertain terms, where she bagged five gold medals at Western Province 26th National Sports Festival stage-3 swimming championships concluded at the Sugathadasa Indoor Stadium pool.
Radesha won the golds in the 50 and 100 metres free style events and the 10 metres breast and dolphin stroke individual events and the 4x100 metre free style event.
In the 50 metres free style event, Radeesha clocked 30.53 seconds with Theekshana Ratnasakera second in 31.53 seconds.
The other events won by Radeesha were the 100 metres free style in 1 minute 7.70 seconds, 100 metres breast stroke in 1 minute 19.18 seconds and the 100 metres dolphin stroke in 1 minute 18.57 seconds.
---
'World Title Fight'
By Gwen Herat
In recent years, Australia and New Zealand has certainly led the world as the top two teams in the women's game with Australia only occasionally being knocked off the top spot by their Transe Tasman rivals.
When the two teams take the field in the opening match of the 2000 World Cup the result may well set up the standings for the final stage of the tournament.
Certainly both sides will not expect to lose any other game and if they do not, the opening match will decide the final finishing order at the end of the round robin play. The result of the first match will also provide a psychological edge should the teams meet again in the final.
New Zealand lost to Australia in three consecutive Odis in Melbourne earlier this year, but the last time the two sides played in New Zealand, the home team won 2-1 . The two teams were the finalists at the last World Cup in India in 1997. Both sides talent and experience in depth with some of the best known names in women's cricket in Debbi Hockley, Emily Drumm, Zoe Goss, and Belinda Clerk heading the line-up.
The opening match of the 7th Women's World Cup will surely be the grudge match of the tournament and will set the scene for a fiercely contested title fight. This of course if a ' Dark Horse' makes no entry. Of the newset members, Sri Lanka stands as a confident outfit and she too will have a grudge match with England to settle in this series.
Warm-up matches across New Zealand: The World's top women cricketers will be on show in a series of warm-up matches at venue around New Zealand later this year as the teams build up to the 7th Women's World Cup.
The eight teams competing in the CricInfo Women's World Cup tournament will each play two-warm up matches at the venues around New Zealand prior to assembling at Christ Church. All warm-up matches wil be held on Sunday 25th November and 27th November, Monday, England and New Zealand will be based in the South Island and will play against each other in three match series as warm-up for the tournament. Dates and venues are still to be decided.
New Zealand Women's cricket administrator, Catherene Campbell has informed us that the warm-up matches would allow the visiting teams to familiarise themselves with New Zealand pitch conditions. It would also provide an opportunity to promote the game to women and girls around the country.
Although the teams will all be very focused on their preparation for the CricInfo World Cup tournament, the warm-up matches will allow women and girl-players across the country to conserve top level women's cricket.
The CricInfo Women's World Cup 2000 willl be the most widely followed world cup in history, thanks largely to the involvement of the naming of rights sponsor. CricInfo is the home of cricket on the internet and will score all 31 world cup matches live on the net.
It is a little known fact the Women's World Cup is in fact older than its counterpart competition in the men's game. The first women's world' cup was played in 1973 while the first men's world cup was played in 1975 which is two years later. The English multi-millionaire, Sir Jack Hayward who was an avid cricket fan funded the first world cup to the tune of £ 40,000 believe it or not. Sadly, we do not have that type of luck but our grit and determination will surpass it.
While New Zealand and England play South Islands in the warm-ups, the following teams will play :-
Australia - Otago Cricket Association; Sri Lanka - Auckland Cricket Association; India - Wellington Cricket Association; South Africa - Canterbury Cricket Association; The Netherlands - Central District Cricket Association; Ireland - Northern District Cricket Association.
---
Rover pinpoints.....
Parents to sue coaches
Parents of schoolgirl cager players were charged Rs. 10,000/- by force to send their children on a tour of Japan. Rover learns that parents had to pawn their jewellery and some even had to sell their properties in order to please the coaches. Now the coaches are refusing to repay the money.
Stripped of badge
The Games Captain of a leading school in Colombo in netball was deprived of playing basketball. This very captain was caught in compromising situation at a leading shopping complex in Colombo by her games mistress who immediately stripped off her badge. But now comes the news that this Games Captain has been appointed as Assistant Cager Coach.
Without permission
Rover learns that four players were added to the contingent to the ABC Cager tour. Has the Minister given approval in addition to the four earlier players who gave the letters in order to obtain the visas to the Malaysian High Commission.
Rover also learns that the uniforms to the players were only handed over just one hour before departure and were brought to the Airport and in two scooter taxies.
Buttons were not stitched to the blazers and the parents had to do a rush job, some uniforms did not fit the players, including the shirts and trousers.
Divers drowned
Two divers were picked to participate at the Junior World Championships in Canada selected by the NAASU and approved by the Minister. On second thoughts these two divers have been refused permission to go, for fear that they may not return to Sri Lanka.
Three or five
Rover is informed that the composition of wives and husbands going to the Sydney Olympics may increase to five from three, at whose expense we wonder. Your guess is as good as mine.
Crazy Tony
Tony was heard saying that viewers should read a certain Sunday newspaper. Could it be that he is in the pay roll of this newspaper? Please describe the game Tony and stop unwanted gossip.
He is worth much more
A diehard past official who contributed much for the uplift of a leading Club passed away recently.The Club thought it fit to give a donation to his kith and kin and an amount which hardly deserves for the work he did spending much of his personal time and life, was presented.
His dedicated service to this Club can't be measured but has to be treasured.With this regard a letter was circulated to the membership to contribute to a donation whereby it could be reimbursed to the Club.
The member, who received this letter was saddened to note the measly contribution given to a man, who served the Club in the past when they were struggling unlike at present when everything was found where some players are now millionaires.Is the club bankrupt, he asked in asking for a donation from the membership to donate for this measly contribution. It's a crying shame he just scoffed at the request.
Not debarred
The President from a leading Club in Colombo informs Rover that no female swimmer has been debarred from the pool.
---
Arun to lead team to Asia Pacific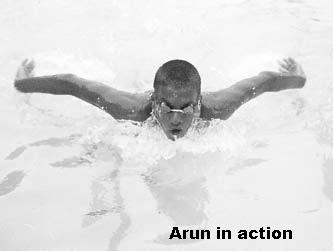 National back stroke record holder Arun Karunaratne of Elizabeth Moir International School will captain the Sri Lanka swimming team to the Asia Pacific Age Group swimming and diving championships to be held from August 4 to 6 in Kaoshung, Chinese Taipei.
Five swimmers Arun Karunaratne, Akshyan Rajasingham (Hindu College), Rghvan Madawala (S. Thomas), Darshaka Tennekoon (Ananda), Mellissa Boange (Bishops) and two divers Chanaka Wickremasinghe (Royal) and Esiri Kankanage (Royal) will participate in diving.
M. Farzan will go as Manager with Sumith Darmadasa as Coach.
---
South Africa inadequately equipped
As Sri Lanka coasted to a comfortable innings victory over the visiting South Africans it was made pretty evident that visitors did not have the player strength to counter the home team who revelled in familiar conditions. The toss did matter as the pitch was a feather bed on the first day.
Sanath Jayasuriya went crazy from the word go and capitalized on smashing deliveries that had no pace, no bounce and no movement. Atapattu played solidly and the pair laid the foundation that was so valuable for this Sir Lankan victory.
It was almost like a one day innings for skipper Jayasuriya. The difference - to his advantage - was that there were hardly any run saving fielders. Most were around the bat, waiting for the edge but with the ball being carried off the middle of the bat, the field placing were to Jayasuriya's advantage. He made most of all what was available on the day and put up a big century.
The supremely talented Mahela Jayawardena got amongst the runs, playing a masterly innings. He equalled his previous best which was also achieved on the same venue. Some players do have lucky grounds. And unlucky grounds too! As was the case with his captain, Jayawardena also found no terrors in the bowling. He played each delivery on its merits and was prepared to accumulate the runs. That was not too difficult as the opportunities to score were forthcoming regularly. The fast parched outfield also added fuel, as once the infield was beaten the ball raced to the fence.
Sri Lankan's score of the three hundred plus on day one put them in a very strong position. With the pitch starting to take spin the final total of 522 put them in the drivers seat to win the game. Although Shaun Pollock, Paul Adams and Nicky Boje bowled steadily they were unable to penetrate. Should Adams and Boje have bowled on day three and four then may be it would have been tougher to tackle them.
When play began on the third day few would have expected the game to be wrapped up in another four and a half sessions. One man marched through the South African defence, not once, but twice. Muttiah Muralitharan was in his element, on a pitch where the ball spin like a top. There was not only spin but bounce too which made it all the more difficult for the visiting batsmen to handle the magical off spinner.
Of course it underlined the inadequacy of he South African batsmen. Only one player demonstrated the art of batsmanship on a turning pitch. Darryl Cullinan occupied the crease for 274 minutes, faced upto 231 deliveries and remained undefeated at the end for 114 runs. His concentration and application was admirable. His approach consisted of getting his foot right to the pitch of the ball when playing, leaving or padding upto any delivery which he felt necessary to do so, stepping out and smothering the spin when possible, playing defensive strokes as close to the front pad, not pushing against the spin when playing defensive, attacking every scroreable delivery to keep the scoreboard ticking.
A few of the others started but could not maintain the momentum, lost concentration and perished. Mostly the cause was not playing positively, but being tentative, the downfall on most occasions.
The Africans reached the one hundred run mark in their second innings for the loss of a single wicket. At that stage, the pair at the crease, Gary Kirsten and Jacques Kallis were tackling the bowling in the Cullinan fashion. Then fate struck. it was the final over and Kirsten testing Vaas's arm for a second run, bit the dust. That was the beginning of the end for Shaun Pollock's men.
Also, the door opened for Muralitharan to be the hero of the match. He claimed seven of the eight wickets to fall the next day. Upul Chandana bowled much more confidently in this innings. He has been slotted into many one-dayers, that he does not attack in the long game to dismiss batsmen. With Sri Lanka approaching victory he had a free mental state to attack. May be a few more such games should see him on the right track.
The South Africans are short of spin bowlers who can really exploit the tracks that they will be playing on during this tour. Adams is somewhat confusing to begin with but can be worked out. Boje is not difficult to handle for good players of spin. Cullinan, Kallis, Kirsten and Rhodes are competent batsmen against spinners. They all need to click for the team to succeed, as the rest fold like a pack of cards. The bowling department is heavy laden with the quicker bowlers who are unlikely to make a big impression. Overall this team is inadequately equipped to handle the cricketing conditions of Sri Lanka.
---
High standard at mini cager
A high standard of competition was maintained at the Mini Basketball carnival played at the Holy Family Convent, Bambalapitiya courts jointly organised by the Sri Lanka Veterans Basketball Association, the Colombo District Basketball Association and the Sri Lanka Amateur Basketball Federation.
In the junior event for girls, Reds beat Yellows by 25 points to 20 after leading by 10 points to 8.
Arjana and Ashvika scored 8 points each, Shashini 7 for the winners while Sulochana and Upeka scored 10 points each for the losers.
In the senior girls match, Orange beat Blues by 32 points to 28 after leading by 18 points to 15 points at the half time.
Sharmila Thirugnanam 15, Abarna and Dulari Amarasekera scord 7 points each for the winners while Menaka,Yalini and Shannon scord 8 points each for the losers. In the junior boys match, Orange beat Yellows by 23 points to 14, after leading by 12 points to 10 at the half time.
Ali Kumail and Dharshan scored 10 points for the winners while Rayan and Joel scored 7 points each for the losers.
The most unforgetable moment of the carnival was the presentation of 100 basketballs and medals to the participants.
Indra de Silva, the Deputy Inspector-General of Police and Chairman. Police Basketball Association presented the medals while Gamini Nethikumar, President of Otters Aquatic club presented the trophies and Col. Vickum Siriwardena the Secretary, Sri Lanka Amateur Basketball Federation gave away the certificates.
Mark Fernando the President of the Colombo District Basketball Association presented the basketballs.
---
In brief
Priyantha wins Chandra Silva Trophy
The inaugural Colombo District Cycling championships conducted by the Colombo District Cycling Association was flagged off by Mrs. Chandra Silva the wife of the Mayor of Kotte at the Chandra Silva Stadium, Kotte.
Forty two riders faced the starter from Paragon Pedallers, Sama SC and Royal for the distance of 50 kilometres from Kotte to Hanwella and back. P. Yasaratne of Sama Sports Club won this inaugural event in a time of 1 hour, 20 minutes, 2 seconds followed by Rohan Chaminda Seneviratne (Sama), W. Gurusinghe (Sama), K. Rohana Priyantha (Paragon), Senath Piyarathe (Sama).
Piyaratne was awarded the Kotte Mayor Chandra Silva challenge trophy by the Western Provincial Council member M.B. Wickremapala. The Welikada Police under directions of the Nugegoda Division SSP Gamini Karunatilleke handled the traffic and security of the race very efficiently.
NDB Win
National Development Bank beat DFCC by 34 runs in their Mercantile F division limited overs cricket match played at the Health Grounds at Castle Street.
Batting first NDB were bowled out for 168 runs in 29.2 overs with Dimantha Wickremage 46, Lasintha Fernando 30 and Anura Minipura 25 contributing.
In reply DFCC were bowled out for 134 in 28 overs with Arukshan Rajamohan and Ravi Jayasuriya capturing 2 for 35 and 2 for 38 respectively. In NDB's win Prasanna Tillekaratne was outstanding taking 4 catches.
NDB - 168 all out in 29.2 overs. ( D.Wickremage 46, L. Fernando 30, A. Minipura 25 , S. Fernando 15).
DFCC - 134 all out in 28 overs. ( N.De. Silva 59, T.Athugala 18, A.Rajamohan 2 for 35, Ravi Jayasuriya 2 for 38).
Jupana to continue
Brig. Jupana Jayawardene, who was functioning as Army Sports Officer, has been appointed as Director Staff Duties, at the General Staff Branch at Army Hq.
Brig. Jayawardene, who was the cog-in-the-wheel for the revival of Army rugby despite exigencies of service, will continue as chairman of the Army Rugby Committee along with his new appointment. (BW)
Schools athletics
The Sri Lanka junior and senior athletic championships conducted by the Sri Lanka Schools Athletic Association for boys and girls will be held next month at the Sir Albet Peiris Stadium, Wennappuwa.
Entries for the junior championships under 12,13,14 and 15 will close on Mondy July 31 while the entries for the senior championships will close on August 15.
The entries for the junior championships will close with Reginald Perera, Deputy Director, Regional Education office, Wennappuwa while for the senior chmpionships it will close with R.A.Kularatne, Deputy Director, Western Province Education Department, Greenpath, Colombo 7.
Ruhunu Rally
The Ruhunu Motor Sports Club has organized their annual motor rally on July 30 starting from Matara, covering a total of 64 km on trunk roads, and ending at Club Horizon, Koggala their official hotel.
The Rally will be followed by their AGM and lunch. A total of over 100 members have registered to participate. The sponsors of the event are Eagle Insurance and Caltex Lubricants, Lanka Limited.
Navy drub Beruwala
High scoring wins were recorded in five of the eight Senior Inter League football encounters played over the weekend, with the inform Navy team defeating Beruwala by 10 goals to nil.
In the other high scoring games, Army beat Nuwara-Eliya by 8 goals to 1, Colombo beat Government Services 8-1, City beat Playgrounds 5 nil, Negombo beat Sri Jayewardenepura 8 nil.Mercantile beat Wennappuwa by 3 goals to 2, Hatton beat Gampola by 7 goals to 6 in a penalty tie-breaker and Airforce beat Mannar 3 nil.
The quarter final line-up to be played on Saturday August 5 are: Air force Vs Mercantile, Hatton Vs Army, Navy Vs Colombo and City Vs Negombo.The noteworthy feature is the form displayed by the three services teams, Air Force, Army and Navy, despite the on-going war.
Chinthaka shines at Malaysian Open
Sri Lanka's sprint ace Chintaka de Soysa won the 100M with a time of 10.58 to edge out Thailand's Sittichai Suwonprateep 10.65 secs. in the men's final at the Malaysian 78th National open championship held at Penang from July 20-22.
Fifteen nations took part according to Manager G.L.S. Perera, who accompanied the team. There was another first among the Lankan athletes.Ranga Wimalawansa ran a great race in the men's 400M to pip C. Eruie of Philippines. The Lankan clocked 47.08 in a close finish. Among the women Nayana Kumari came second in the women's long jump.
100M. Final (Men):
1. Chintaka De Soysa (Sri Lanka) 10.58; 2. Sittichai Suwonprateep (Thailand) 10.65; 3. Ekkachai Janthana (Thailand) 10.68.
400M. Final (Men):
1. Ranga Wimalawansa (Sri Lanka) 47.08; 2. Ernic (Philippines) (47.37); 3. Narong Nilploy (Thailand) 47.57.
Long Jump:
1. Lerma Elmira B (Philippines) 6.32; 2. Nayana Kumari (Sri Lanka) 6.17; 3. Wacharee Rittiwat (Thailand) 5.95.
200 Metres:
1. Sittichai Siwonprateep (Thailand) 20.98; 2. Ekkachai Janthana (Thailand) 21.03; 3. AMRB Ramanayake (Sri Lanka) 21.47.