---
Give us our dues
Though proud of their husband's heroic sacrifice, the war wodows of Labunoruwa plead
By Kumudini Hettiarachchi
Labunoruwa - The dusty track along which we are winding our way is just like any other village path in the harsh dry zone, except that the nameboard is constructed with cement and brick. It is freshly painted white, with the lettering in stark black stating, 'Ranaviru Ranjith Jayaweera Mawatha'. It is not the only one in this impoverished remote village off Maradankadawela, in Kekirawa. We've passed many more - Ranaviru Suresh Edward Fernando Mawatha, Ranaviru Nandana Guneratne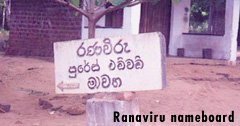 Mawatha, to name just a few.

We are on our way to see Ajantha Weeraratne and it seems as if we have stepped into the pages of Leonard Woolf's 'Village in the Jungle'. For as the track turns a right angle and disappears into the scrub jungle, we see a tiny wattle-and-daub hut with a cadjan roof. The inexorable march of the jungle seems to have overtaken any human effort at cultivating the tiny plot of land that surrounds the hut.

Inside the hut, it is dark. The hut is bare except for three cane chairs with the cane long gone. On a tattered mat lie two beautiful babies - twins Sachini Sulochana and Achini Gayathri born on March 4 at the Kekirawa Hospital. Ajantha's other two children are playing outside, six-year-old Sasika Sewwandi and four-year-old Buddhika Madhusanka.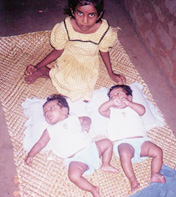 No money for their milk, the twins' mother Ajantha weeps
"Lalith bohoma santhosawuna nimbunno kiyala," (Lalith was very happy about the twins) Ajantha says wiping away a silent tear. But Lalith has not seen his twin girls and the twins will never see their father. For Lalith Kumara Samarasekera laid down his life at Mankulam on October 15, 1999, when Ajantha was four months' pregnant with the twins. But he knew before he was killed in action that she would be having twins after the tests done at the Anuradhapura Hospital. Now Ajantha at just 24 is a widow with four fatherless children. She is proud that he died for his country and could have borne the grief, but for the fact that she has been left utterly destitute.
"Porondu ishta wela ne. Api hugak asarana wela inne eya nethi wunata passay," (The promises have not been fulfilled. We have become destitute) she laments and the reality strikes us. Neither she nor her children have got a cent as compensation or even his salary though Samarasekera died nearly nine months ago. It could be that the burden on the bureaucracy is heavy with the large toll of lives in the war. But Ajantha's plight is doubly pathetic.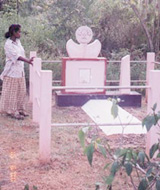 Graves all over this village
Her life has been one of toil, sweat and tears. This is her story.
Ajantha married Samar–asekera on January 31, 1993, at the tender age of 16, against the wishes of both families. He had been in the army's Armoured Corps for five years and she feared for his life. They decided to earn a humble living by cultivating the little plot of land they had. They also decided that he wouldn't go back to the army. He deserted. But soon after their son was born, Samarasekera did go back to the army. First it was training at Panagoda, then he was sent to Jaffna and later to Mankulam.
Life was harsh, but there was hope. Ajantha tended their tiny plot and Samarasekera sent her enough money to survive with their two children. They had hopes of putting up a small house of brick and mortar..the dream of all married couples. The bricks, the sand and the stones were bought.
October 17, 1999 was just like any other day. Ajantha, four months pregnant with the twins was clearing the weeds in their plot in the burning heat. But it was not a drudgery, it was a labour of love. Then the soldiers came, not like in the movies where they break the news gently, but with the body of Samarasekera. He had got shot on October 14, been brought to Colombo the next day, where he died.
She grieved for him and does so yet, but life had to go on. She had to move out of the home of Samarasekera's relatives after that because there were problems. She also had to make the long journey to the clinic at Anuradhapura alone - walk three miles to Muriyakadawela junction, catch a bus from there to Kekirawa and onto Anuradhapura. As the pregnancy advanced, she could not work the plot, so the crops were destroyed. To find the money for their day-to-day hand-to-mouth existence, she sold off the building materials, the sand, the stones and the bricks. Out of sheer grit she managed to put up the tiny mud hut they are living in today. We look around and up and see holes in the roof through which the twilight falls in.
Then came the twins and with a heavy heart Ajantha sold Samarasekera's bicycle, the final memento of their brief life together. Stupidly, I ask her, "What about the land? Why can't you cultivate it?" There is no rancour as she says gently that she cannot leave the twins in the hut alone to fetch water from the well in the village schoolyard, about a mile away, for the crops. Even to get water for their daily washing and cooking, she has to find someone to be with the twins, before she rushes to the well.
Starvation is staring Ajantha and her children in the face. She has filled numerous forms and been given the reference No. 461876 L/C. She has also gone to Saliyapura in Anuradhapura to check on it. How many more times must she go to get what is due to her? With whom can she leave her tiny children? These are the practical problems this young war widow faces and which the authorities must see to urgently.
Yes, she is in dire straights, for she needs a packet of Lactogen, which costs Rs. 112, every three days for the twins. I dare not ask what the other two children eat, for though it's getting close to dinner time, the pots are empty and the tin plates are turned over as if they will not be used soon.
At our next stop, "Why oh why didn't I have a child to remember him by?" weeps pretty Ranjani Pushpachandra.
Though her soldier husband died in December 24, 1997, her sorrow hasn't subsided. "Mage papuva avilenava, pichchenava," (My chest is burning) she cries, her body wracked by sobs. She is another war widow, just like so many others in Labunoruwa. In this farming village of about 100 families, most homes have lost a husband, a father or a son.
Ranjanie and husband Somasiri Somaratne spent seven days of bliss after their wedding in August 1997 and then duty called and he went back to Vavuniya, where he was stationed. The last letter she got from him told her he would be home on holiday in January. That evening they brought his body to the village. He had been killed in an ambush at the Kannadi checkpoint.
Ajantha's and Ranjanie's situations are different but also similar. The powers that be cannot bring back the dead.but something needs to be done for the Ajanthas and Ranjanis scattered far and wide across Sri Lanka. For Ranjani too whose husband died nearly three years ago only his salary is being paid. Nothing in the form of compensation has been given.
"After my husband has sacrificed his life for the country, why should we have to go and plead with the authorities for what is rightfully due to his next of kin? is the very valid question that Ranjani poses.
With the war a reality in the country for the past 17 years, cannot an efficient system be put into place to give the widows and orphans of those who have sacrificed their lives what is theirs without pushing them into penury? Need they starve? Need they have to go from pillar to post begging for what is their due?
The authorities must and should give serious thought to implementing an efficient system to disburse pensions and compensation as soon as possible. Another requirement in this country which is wracked by a bloody war is a support system which provides counselling to the traumatized families. Projects should also be launched to provide them with self-employment and other jobs for them to sustain themselves and their young families. This should not be done only for those within close reach of non-governmental organizations working from main towns, but also in remote areas.
The government has begun a programme of helping war widows and the war disabled and their families and though it comes after 17 years of fighting, hopefully it is not a political gimmick with an eye on the elections. This programme must filter down to the grassroots in all corners of the country.
When we met Ajantha and Ranjani, it was several weeks after President Chandrika Kumaratunga's plan to help war victims got off the tracks and government parliamentarians were asked to prepare a list of victims in their areas.
Last week there was still no sign that the government had reached out to these two victims. Let's at least hope this small plea would catch their eye and help a deserving cause.