---
Rocking release for Five
The Spice Girls were or- dered to pay £ 400,000 by the High Court in London to the Italian scooter firm which lost out on sales after Geri Halliwell quit the group. The court ruling was made on 20th July.
The old rock anthem 'We Will Rock You' has been revived. The song has been given a new lease of life thanks to the pop act Five who have taken a little bit of support from the group Queen. The song has now taken root at the No: 1 position of the UK singles chart.
Five premiered the song at the Brit Awards early this year. The song now reaches out to a new market as none of the teenagers of today would have been born when it was recorded in 1977. 'We Will Rock You', was never released as a single by the group Queen. It was infact the B side of 'We Are The Champions,' which peaked at the No: 2 position. In the US though, 'We Will Rock You', received extensive airplay and really it was from that point onwards that the song became famous across the world.
For the quintet Five, 'We Will Rock You' is the group's second No: 1 song. They have been releasing singles since mid 1997 with 'Slam Dunk (Da Funk)' being the boys debut Top 20 hit in December of the same year. Five's last No: 1 song was the track called 'Keep On Movin', in November last year. Their last single 'Don't Wanna Let You Go' peaked at No: 9 in March this year. Five have just toured Australia and New Zealand. The group comprises Sean Conlon, Richard Neville, Abs Breen, Jason Brown and Scott Robinson. For the group Queen, it's a No: 1 song after 7 years. The 'Five Live-EP' was the last No: 1 for the group in 1993. It comprised the tracks 'Somebody To Love/These Are Days of Our Lives/Calling You/Papa Was A Rolling Stone-killer (Medley)' recorded at the Freddie Mercury tribute concert featuring the surviving members of Queen, George Michael and Lisa Stansfield. As for opinions-it is going to be obvious that pop fans will prefer the Five/Queen version while the older and rock fans would vote for the original version as their choice.
Just as we were about to relegate Louise to the history books of pop music, the lady makes a point. Her new single '2 Faced' sprang a surprise this week by checking into the chart at No: 3. This is the first release byLouise in nearly 2 years. She took a break after marriage to be at home. But while being at home and not being anybody she began to write songs for her forthcoming album with some help of course. '2 Faced' is the lead off track from the yet untitled album. This song is very much in the mould of a Britney Spears song. It was rather risky to follow that trend but it appears the fans have accepted the one time Eternal member's new style and helped sell enough copies of the CD single to give Louise a place in the chart.
The Austral- ian duo Savage Garden have released 'Affirmation', the title track of their current album. This week the song makes its way into the Top 20 at No: 8. It follows the last single 'Crash & Burn' which was released in late March. Darren Hayes and Daniel Jones have a strong following thanks to their lyrics and romantic delivery. They did however keep the dance floors full with the 'Animal Song'.
Three weeks ago 'Uncle John From Jamaica' by the Vengaboys entered the singles chart at No: 6. It was a very competitive week because other acts like Eminem's 'The Real Slim Shady', Samantha Mumba's - 'Gotta Tell You', Coldplay's 'Yellow', Lonya's 'Summer of Love' and Sid Owen's 'Good Thing Going' all were checking in at the charts with a share in sales.
Like their previous hit 'Sha-lalala', the current single 'Uncle John From Jamaica', as the title suggests has the character and beat of the Caribbean. Two weeks ago the song took a tumble to 13 and dropped further to No: 16. But this week with summer in full swing it moved back to No: 13.
News from Los Angeles says a deal is being finalised to bring back together the song writing duo Hal David and Burt Bacharach.
---
The Goss
Thank you for your music
Veteran singer-actress Barbara Streisand announced July 19 that she will give four final concerts this fall and then bid goodbye to her career as a public performer. According to her publicist, Martin Erlichman, Streisand will perform two concerts in New York and two in Los Angeles in September.
Nominated for best comedy
The hit series "Friends" was among five shows nominated for best comedy series during a press conference announcing the 52nd Annual Emmy Awards in Los Angeles. Joining the category, were "Frasier", "Sex and the City", "Everybody Loves Raymond" and "Will and Grace"
A Shining star
Actor Charlie Sheen, who stars in the ABC television network comedy series "Spin City," poses as he arrives at ABC's Summer press tour party in Pasadena. The party introduced the stars of ABC's fall televison season to TV writers from around the United States. Thrilling stars
Actress Michelle Pfeiffer, star of the thriller film "What Lies Beneath," poses with her husband, David E. Kelley, at the film's premiere in Los Angeles. The film also stars Harrison Ford and opened July 21 in the United States.
Multi-million dollar legal battles
Michael Jackson is facing a multi-million dollar lawsuit for allegedly pulling out of two Millennium eve concerts. Promoter Marcel Avram has filed a lawsuit against the singer in the California Superior Court in Los Angeles, seeking damages of $21.2 million plus interest. Warner Brothers has ended a five-year deal with actress Melanie Griffith after 'Crazy In Alabama', the latest film from her production company Green Moon, directed by her husband Antonio Banderas, took less than £600,000 at the US box office. Ivana Trump has filed a lawsuit against an Italian TV station, claiming that employees of a show on which she appeared dropped a large quantity of water on her as part of a stunt. Ivana, 51, is seeking £2 million over the July 1999 incident, alleging that the dousing made her sick, ruined her £2,000 dress and resulted in the loss of a pair of earrings worth £ 15,000. Ivana also says she spent £250 on emergency medical treatment.
---
Making music their way
By Uthpala Gunethilake
Keen eyes sparkling, he leans forward slightly while he talks. His hands talk on their own, backing up the vigour in his voice. Words come fast as if his enthusiasm runs ahead of his tongue. Five minutes into the conversation he has forgotten about me. All he knows is that he is speaking about the one thing that matters most to him-following his dream.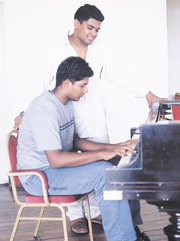 Rajiv and Thilina de Silva
Five minutes with Shean Dharmaratne is enough to convince any cynic that dreamers are made of solid stuff, like earnestness, faith and passion. The name of the production team he calls his own-'Dream Productions'- bears testimony to his determination to make a name for himself and his team, out there in the vast arena of the music industry: no, not just locally, but internationally.
For two and a half years Shean, now 23, dabbled as a vocalist in 'Dreamteam', when impatience set in. "I was not doing anything that could be called wholeheartedly ours". By 'ours', he means something distinctly Sri Lankan, something which blends his identity as a Sri Lankan with the one of being a part of global culture in terms of technology and style. "We just get a lot of Hindi and Western pop followed by trashy imitations, but nothing that truly recognizes us as Sri Lankans," Shean explains, tracing the beginning of his 'big' idea. "The sad thing"-or the encouraging thing for him now- "is that there are people among us with a lot of potential, at a very young age". But lacking encouragement, few have the courage to come out on their own. Inspired by the lack of identity and the abundance of talent, he started gathering his team slowly, "selecting and sifting talent," as he says, since an year and a half ago. And now he and his colleagues are ready to take on the world, releasing their first album in a month's time. Their idea is to produce something new and different, but something which is intrinsically Sri Lankan.
But how are they different from many such we have seen lately, coming out with a bang, but dying away too soon, too quietly ?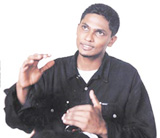 Shean Dharmaratne
"Having an idea is not enough," says Shean: "you must give quality to your idea. That way you can make something really worthwhile. I always try to gather people who could add quality to what we come up with." True to his words he has around him a competitive and talented crowd, and his belief in them is evident in the way he introduces some of his colleagues: "He's a got a brilliant voice, he's a wonderful lyricist, he's the best producer ever."
"When working with people, we want them to come with us the whole way," says Shean, explaining that there is no hope of making a name for yourself if you plan to keep hopping from one record company to another, the way it usually happens here. 'Dream Productions' has its agents in London and Los Angeles, and "we have contacted international companies like Arista and BMG, who are always on the lookout for something interesting," says Shean. " But the best thing that can happen is that local organizations take an interest and agree to invest." He speaks with conviction that such a venture has much potential of succeeding, because there is a lot of untapped talent locally.
However, as it has been proved time and again, one has to admit that Sri Lanka's music industry is very rigid, when the combination is young, new and different. Shean and his colleagues say that there is a lot of scoffing among many in the field, but admit that many senior musicians had been understanding and encouraging. Shane Pillai's name slips out several times with grateful intonations- "he is one of the best technicians we have today"- along with 'Dreamteam'.
Rajiv and Thilina De Silva, who call themselves R&T are going to be the first from Dream Productions to release their first single. "We plan to have concerts, and right now we handle entertainment for various occasions," they explain. And anyone with talent and dedication are welcome to try it out with Dream Productions.
Writer Henry Thoreau, once said, "If you advance confidently towards the direction of your dreams, you can meet with a success unexpected in common hours". Listening to Shean and his colleagues, those words repeated themselves in my head, and I hoped 'Dream Productions' had the potential to make them come true. Shean has no doubts: "we have a dream, and we are going to make it come true."