KBSL does it again
A world-class client-server based CTI (computer telephony integration) and IVR (interactive voice response) integrated Call Centre, has just been implemented at Dialog GSM, and will be completed in the next three months.

Dialog GSM, the pioneer GSM technology in Sri Lanka awarded the contract for the supply, installation and commissioning of a fully integrated Call Centre to Keells Business Systems Ltd. (KBSL), the pioneer for call centres and integrated communications solutions in Sri Lanka.

Upon completion of the project, Dialog GSM customers will benefit from personalised customer services, while management will benefit from improved staff and systems productivity levels.

According to KBSL engineers, among the any first of this particular installation, the Call Back Messaging feature takes pride of place as it allows Dialog GSM customers to reach a customer services agent by simply calling in once.

Even if a customer calls in when agents are busy, they could leave a message for their particular agent to call back, with the agent being automatically prompted by the system.

"Not only does this enable customers to obtain services without having to hold on for long periods of time, but will also greatly reduce congestion on Dialog telecommunications resources," said Keith Modder, Managing Director of KBSL.

The solution provided by KBSL, includes the Lucent Technologies Definity Enterprise Communications Server (PABX), Call Centre Elite Software, Conversant MAP/40IVR Server with Customer Assist and Agent Assist Software, Centre Vu CTI and Client Middleware with PC soft phones, CMS Server, Wireless Wall Board and Netcare CRM Professional Services

---
Dana launches Int'l Educational Institute
The Dana Group of Companies ventured into the field of higher education with its newest project, Dana International Educational Institute Pvt) Ltd., located at Milagiriya Avenue, Bambalapitiya.

The late C V Gooneratne, Minister of Industrial Development, was the special guest at the opening ceremony. Speaking at the opening the honourable minister stressed that "...education and enterprise are a sine qua non for the development of youth in this millennium era."

This educational institute has established relations with prestigious foreign universities and accredited university colleges in several countries, including Great Britain, the United States, Australia, Cyprus and India.

The unique feature of this international educational institute is that it caters to three levels of academic achievement; senior students, adult youth and white-collar workers.

Under the 'study abroad programme' and their 'distance learning programme', a Sri Lankan student can now either proceed abroad to the university of his or her choice, in any country desired and pursue the complete course of study in the selected field or remaining in Colombo and qualify for the award of a degree or diploma.

Similarly, white-collar workers in employment can study at their own pace, in Colombo and qualify for a professional diploma and/or degree, in a chosen field.

Dr Trevor Ashton, International Operations Manager of Wigan and Leigh College, UK, who was the chief guest at the opening, gave a brief but comprehensive description of the services offered by the institute.

In his address, Ashton stated that as a college of further and higher learning, Wigan and Leigh College, offers education to anyone over 16 years of age on a wide range of subjects, including pre-university, under graduate and postgraduate studies.

The institute has an eminent panel of consultant professors and educationalists, with lecturers who are fully briefed in the teaching methods and the standards required by Wigan and Leigh.

Career counselling is available to offer students the best course of study for their chosen vocations. The institute is also fully equipped with the latest computer technology supplying up-to-date media for scholastic pursuit.

Lion R Dhanaraja, Chairman of Dana Group of Companies, Member of the American Management Association and Senior Advisor of the United Nations Youth Federation states that "this international educational institute is more service oriented, for the benefit of Sri Lankan students, adult youth and white-collar workers."

As an incentive Dhanaraja announced that students who enrolled before the end of June would have the opportunity to gain scholarships ranging from 25 per cent to 100 per cent.

---
Money market update First Capital
Inter bank market
91 Days 182 Days 364 Days
Last Week 12.14% 2.18% 12.95%
This Week 12.21% 12.26% 13.01%
Change 0.07% 0.08% 0.06%

The inter-bank call money rate saw a marginal decline over the previous week, despite insignificant improvements in the liquidity level. Most of the inter-bank call transactions were within the range of 14.5% and 15.25%.

However, on Thursday, the rate was shed to 11.5% — probably due to the squaring off by commercial banks. The weekly call money average plummeted by 46 basis points to close at 14.84%, still remain high. We continue to believe that the call money rate is likely to range bound till an improvement in liquidity occurs.

For the fourth consecutive week, the Central Bank overnight repo rate and the reverse repo rate remained unchanged at 9.5% and 15% respectively. Given the prolonging liquidity shortfall and the unchanged Central Bank open market rates, the market repo rate continued to remain within the boundaries of 13.5% and 14.5%.

Following a similar pattern in the previous week, the reverse repo in the Central Bank Open Market window was Rs. 8.7 bn on Monday. But the amounts were gradually reduced towards the latter part of the week. This could be due to a term reverse repo agreement.

The Central Bank continued to play a vital role in bridging the liquidity shortfall in the market. The daily average of reverse repos was around Rs. 3.06 bn. The repo window continued to remain motionless.
TBill auction
Rs. 2.559 bn worth of TBills were auctioned last week. For the fifth consecutive week the Central Bank intervened in the auction, reserving and buying Rs. 1 bn worth of bills. Further, the Central Bank purchased Rs. 76 mn, worth of bills with the intention of securing the rates and pumping the much-needed liquidity to the market.

However, the rising momentum of treasury bill yields continue with 91 days 182 days and 364 days yields surging by 7, 8 and 6 basis points respectively. The 91 days and 364 days yields levels were the highest since December 1998.
Forex
During the week the Central Bank middle rate remained unchanged at Rs. 77.535 per dollar. In spite of the comparatively high short-term interest rates the demand for dollars remained strong. The market spot rate moved in between Rs. 78.65 and Rs. 79.00 per dollar. As at end of June, the annualised rupee depreciation on spot rate stood at 18.8% while on Central Bank middle rate was 15.1%. The three months forward rate was at Rs. 80.60 and Rs. 80.70

---
Biz broadsides by Rajpal A.
The banks will grow around the people
Thomas Jefferson issued this warning::

"If the American people ever allow private banks to control the issue of currency, first by inflation, then by deflation, the banks and corporations that will grow up around them will deprive the people of all property until their children wake up homeless on the continent their fathers conquered."

Monopoly banking received the attention of Sri Lankans this week, with the Sampath Bank rank and file going on the offensive, against the purported takeover bid by the Hatton National Bank and the interests that represent that controversial business wizard of our times, Mr Harry Jayewar-dene.

Banking monopolies haven't catapulted into the spotlight for the first time. But, particularly emotive this time, has been various calls that have been made, from among top-order Buddhist monk's for instance, who have been saying that this is a bid by the anti Buddhist and anti national elements of the country to hand over the Bank to vested anti national interests on a platter.

Sampath was a Bank that, indubitably was created on a wave of nationalist sentiment from among the business community, and it was from the beginning positioned in the Banking sector as a bank owned by the country's Sinhala businessmen to safeguard banking interest of the nation's core community. Though that may have been a hard act to follow, some others seemed to follow that act, quite successfully.

It created a Banking culture of sorts that was coming from a particular community. But, this never approximated for instance, to the dominance of the Jewish community in Banking at a certain time in the United States, which elicited a very negative reaction.

If one thing is certain, it is the fact that banking monopolies have historically been subject to particularly outraged reactions. Benjamin Franklin, once ranted that the "burden of debt is as destructive to freedom as subjugation by conquest." He was talking of the proclivity at that time for the American government to borrow from foreign banks.

All that can be said, with the benefit of this considered wisdom is that, the ramifications of banking monopolies are not all that pleasant.

The latest monopoly crisis, in which Sampath Bank employees have got on to the streets to forestall a takeover bid is curious. The immediate effects or the immediate efficacy ( or otherwise ) of the so called takeover bid is yet to be estimated.

But, one interesting development is the insinuation that the Sampath Bank is Buddhist, and that the takeover is a Catholic usurpation bid, which is rankling to many parties. Religious rabble rousing in any manifestation is negative and "retro'' even for the tendentious banking community, but, this does not necessarily mean that a Bank following a community ethos should not exist. If Sampath was formed as Bank for the sons of the soil, it makes sense that the sons of the soil are trying to resist change, if there is a bid to uproot the bank from its moorings.

It's not strange that the subject of Banking monopolies has not received the attention of unions and the politically alert. The Sampath Bank issue is new, in this sense, and in a certain sense refreshing, even though this column will not yet comment on the merits or demerits of the so called takeover bid.

If the Sampath fracas has brought banking monopolies into focus, that's good — even though the Sampath issue itself may or may not be all that it is cracked up to be. The definition of foreign debt for instance is the debt owed to various sources including foreign banks, and in this sense, banking monopolies can have a disastrous influence which in Europe for instance has been coming under the scrutiny of most social activists. This has been particularly so in newly emerging economies in Europe. The repercussions of really ugly banking monopolies are too numerous to be mentioned here. But, suffice to repeat Jefferson's warning that "banks and corporations that will grow up around (the people) will deprive them of all property until their children wake up homeless on the continent". It's also worth noting in this context that the IMF and World Bank too are Banks — monopolies though they may not be in the way discussed here,

---
Coconuts take a tumble
By Chanakya Dissanayake
The global trend in coconut over supply and low demand for all coconut products has created a crisis in the local coconut industry, which dipped to new lows following the drop in the price of coconuts to Rs. 2.50 per nut this week. All sectors of the coconut industry were complaining of low prices and demanding an urgent government intervention to save the industry which makes a major contribution to Sri Lanka's export bill. A conference on the coconut industry titled Meeting The New Challenges was held on June 27 at BMICH to convene all sectors of the industry to discuss the crisis situation and to present a collective proposal to save the industry.

Chairman Coconut Research Institute, Dr Wadyanathen said that, on the supply side of the industry the year 2000 has been the best since 1986 with the coconut production passing the 2600 million nuts mark in 1999 and expecting to reach the all time high of 3000 million nuts by the end of the year. This was following a global trend of high yields due to favourable weather conditions conducive to coconut cultivation in South Asia. Many other factors including measures taken by the Coconut Research Institute to distribute genetically enhanced plants to cultivators, increase in fertiliser usage and the introduction of appropriate technology for cultivation has contributed towards this growth in supply.

With supply of coconuts increasing by more than 10% in the year 99/2000, the demand in both local and international markets has remained static in the past few years. This has created a oversupply of nuts to the market resulting in the massive price drop.

The local market for coconut is mainly made up of consumers, desiccated coconut exporters and coconut oil producers. The consumer market for coconuts has remained stagnant over the years and cannot be expected to increase due to the high cost of living and low real wages prevailing in the country.

The demand for desiccated coconut in the international market has not improved in the past few years and Sri Lankan exporters have to compete with many South Asian counterparts to maintain their market share in this stagnant market.

The coconut oil producers are experiencing vast difficulties and most have stopped their production due to their inability to compete with foreign cooking oil which is dumped in the local market at prices far below coconut oil production costs. The government's decision to lift tariffs on edible oil imports made soya oil and palm oil available at prices below coconut oil prices resulting in a consumer shift from coconut oil to other edible oils. The unfavourable conditions prevailing in these sectors attributed to the overall drop in demand for coconuts.

On a global context, the future of coconuts looks bleak with the growth of soya oil and palm oil industries. The world palm cultivation alone is growing at a rate of 400,000 hectares per year, which incidentally is the total extent of the coconut cultivation in Sri Lanka. Both palm and soya oil industries operate with a lower cost of production and get a higher yield of oil per metric ton compared with the coconut oil industry.

Agricultural Economist Dr. M.T.N. Fernando speaking at the conference said the government's decision to reduce import tariffs for edible oil came at a time when the local coconut production was low and there existed a high demand for desiccated coconuts in the international market. The local desiccated coconut exporters were unable to maximise the opportunity to earn foreign currency due to the short supply of coconuts. By making the imported edible oils cheaper than coconut oil, the government expected the coconuts going to the oil industry to be channelled to the desiccated coconut exporters and maximise their forex earnings. But the plan backfired due to international markets for desiccated coconut not growing according to forecasts and as result, Sri Lanka became a net forex loser in the process. This move also damaged the market share of coconut oil held in the domestic edible oil market. Sri Lanka should increase the tariff on foreign oil to protect the coconut oil industry and allow duty concessions only on periods of low local harvests he said.

Apart from protectionism measures the most effective method of salvaging the Sri Lankan Coconut industry is value addition. Sri Lanka should break away from exporting raw materials and should venture into new markets with a new innovative range of coconut based finished products, said Head of Research CRI Dr (Mrs.) Jayasekera. CRI is introducing a range of finished products that can be produced and exported using the existing technological environment that include, coco yoghurt, kernel chip, coconut cream and canned toddy. .

Even though the current situation seems to be a no-win situation for the coconut industry, the ability of local exporters to read the global trends and offer a value added end product can stage the turnaround and establish the profitability of the industry, said the Chairman Coconut Cultivation Board Mr. Upali Senaratne.

---
Holidays, take them but be more productive
POINT OF VIEW
By Ananda S. Wijesuriya
The Sunday Times, Business published an article titled 'Lanka to set world record on holidays!' The article appeared in the midst of a long spell of holidays covering national festivities; therefore, regrettably, we are made to feel guilty about enjoying them. We are said to be holding back the economic growth Sri Lanka can achieve through higher productivity gains (by working non-stop?), since instead we indulge in all these 'holidays' (?). Reportedly, feeling guilty about enjoying can put your health at risk (weakening of the immune system). As such, through this 'exposure' (of facts already well known) making us feel guilty about the holidays we enjoyed and subjecting us to a health risk. The question is whether the article can contribute to the country's economic growth?

That aside the issue is real, Sri Lanka does have hindrances in achieving productivity gains and we have to find someone to blame for it, instead of ascertaining what the real problem is and seeking redress. The said article identified two other 'culprits', namely, cricket and the traffic.

With regard to the first villain, it is the winning of the world cup that made this sport become a new 'religion', which levelled all social boundaries and made even grandmothers become masters of the subject. It was on the verge of dominating everything else in this country, until we lost at the last world cup. As much as Arjuna will be honoured and remembered for placing Sri Lanka in the world map of cricketing nations, one day Economists will thank him for not winning the 1999 World Cup too, that brought some sanity and halted the productivity and other resource losses we were incurring. Has anyone calculated the increase in demand for electricity due to all those matches telecast; the resultant higher investment required that also triggered using imported fuels for generation of power? It would be an interesting study. Let's hope and pray for few more Hansie Cronjes for us to realize some of those heroics are stage-managed and not worth losing national productivity over some 22 people chasing leather and sweating, since we do not know whether the outcome is 'fixed' or 'information provided on the weather and pitch conditions'. Of course, it is also required that, bosses who have TV's in their office rooms set an example by having them switched off during matches and concentrating on planning and other better ways of resource utilization.

Traffic congestion is only one aspect. Due to the bad state of roads in and around the city, added to the over crowded pathetic state of the public transport, on arrival at the work place, one will require at least 15 to 30 minutes to recover from aches and pains. Since newspapers and other media are full of traffic terror and how the public is suffering elaborations on the topic are not necessary.

Most disheartening is a statement attributed to 'officials' who say that 'if a fraction of all these hindrances were resolved, Sri Lanka's productivity would soar to new heights'.(Emphasis is mine) Since we are not privy to how this projection was made, it is difficult to agree with such a bold statement. Assuming that even a fraction of improvements claimed can be achieved, it is the duty of every citizen in this country to look at this problem closely. However, the statement is preceded by an 'if'. Sri Lankans are now very familiar with this particularly powerful word, and how hopeless their own future when anything or everything is hindered around this, 'if'. During election times it is 'if', we are elected, how the country will be racing to prosperity overflowing with curd and honey. For nearly 15 years we have heard 'if', this conflict is resolved and peace restored, what higher status this country can achieve. Look around you and ask yourself, what 'if' a fraction of all those 'ifs' were delivered, indeed this country would have been a paradise.

Therefore, since this mighty 'if' is an elusive goal, we should now see how could we forget about all those 'ifs' and manage best with what we have. The key is 'manage best what we have'.

The private sector often boasts of its management skills. Therefore, the private sector should show its prowess by managing this 'holiday' problem and achieving results, which is why it is now given a bigger say in the country's affairs.

So much so, the private sector is also called the engine of growth. The word engine, denotes that it will be the one that drives something. However, anyone with elementary knowledge about engines will know that to achieve the desired results, there are other components necessary, maybe a good gearbox, perhaps a steering wheel, above all necessary skills to drive (the engine). Such skills are a sense of judgement, vision, foresightedness, clear goals/destinations and most important common sense. (Do they sound familiar traits?).

It is well known from many examples that we encounter on the roads, if one is allowed the arrogance with the power of the engine, it is an extremely dangerous situation.

It is true that we have many holidays and they do disrupt manufacturing schedules thus affecting productivity. Yet, can one truly say that the only solution for this is the abolition of the holidays? Why does Sri Lanka have so many holidays? We are a multi racial, multi religious nation and with the exception of the Poya holidays introduced in 1972, the rest have been there from the British Empire days. In fact, if my memory serves right, even in the early fifties, the Public Offices used to close from Dec. 24th till January, 2nd. In addressing this issue, it is necessary to make a distinction between the weekly rest days, leave and holidays. It is said in the Bible, that after creating the world, etc. God rested on the seventh day.

So we cannot complain about us mortals having a rest day for a week on Sunday, as emulated by the Creator himself. Sri Lanka went into a five-day week in early 1977, after the shock of the ten-fold oil price increase, when it was found that the economy would benefit by this move. Since it was during the period of the present Prime Minister, backed by her powerful and very astute Finance Minister Felix R Dias Bandaranaike that this practice was introduced, we have to presume the pros and cons were fully studied and the move was made with the best of intentions. I think today the conditions are sill the same. As can be seen in, anybody wanting to work on Saturdays will never get additional 56 working days. The ILO and other legislative bodies' concerned, after scientifically analyzing that human beings will not be productive if they continue to work non-stop, have decreed that number of working hours within a week has to be 45.

By and large, the employee gets the two days rest only after completing the said number of working hours. Further, some western countries are experimenting shortening the week to four working days as it is found to be more productive. Lifestyles in Sri Lanka too have changed and most people cannot cope with their domestic chores during the weekends and, unless there is irrefutable evidence strongly supporting the hypothesis that giving up the weekly rest days would make 'Sri Lanka's productivity soar to new heights', it is best that this arrangement be left intact. Why is that there should be rest day or two after six or five days, one need not be a rocket scientist to figure out. If not anything else, at least to give the aching and creaking bones protesting against the travail's of five day public transport, a repose to gear themselves for the next week's onslaught. We can be rest assured that those compiling the Guinness Book of world records would recognize that 104 of the days complained about are 'weekly rest days', same as most of the world.

Of the 42 days leave entitlement, ( Please note these are entitlements and in many cases this is only 28 days) twenty-one (or 14, as the case may be), has to be earned by working for one full year and of the balance 21(or 14), fourteen (seven) can be taken on account of a sickness. In such an instance, the employer has the right to call for a medical certificate, if the absence is for 2 days or more. By abolishing the entitlement available for somebody sick to convalescence /recoup and compelling such a person (with the saline bottle still attached?) to report to work, whether there would be any contribution towards productivity, debatable. This right was also enshrined by the legislators to ensure that employers do not penalize an employee who cannot work on account of illness, since it is human nature to fall ill. Casual leave are the seven days that can be taken on account of, as the name indicates, for affairs of a personal nature. Remember, we all have our social obligations to be at weddings, bury the dead, etc., In my experience, there could be only one in a thousand who will flout the leave entitlements.

In any event such people do not contribute to productivity in an organization at all, looking for ways to disrupt all the time. The sad point is, they are also living beings and would require subsistence. If we all can regularly donate at least one rupee each, I am sure we can keep these small number of 'habitual's' away from the work places, thus save the rest being spoilt by few bad eggs.

From the above, it is clear that leave is an entitlement, earned and regulated, requiring an application and does not require the organisation to be closed. Absenteeism is a problem in any country and leave is taken for vacations/pilgrims/family functions/sickness. Any self-respecting employer should recognize the fact that employees live in societies and they have personal, family, community obligations and take cognizance of the fact, and accordingly plan the resource requirements and have motivating factors to dissuade employees taking leave, unnecessarily. Instead of accepting things as they are and managing to get the best value, to make a demand for the number of days of leave entitlement to be reduced is un-warranted. Even if an attempt is made to do such a thing, in this pluralistic society that will have enough of champions (Lipton Circus!) to fight against such a move this will bring about chaos, and that is not productive at all. Besides, of the number of days with which we are trying to get into the world records, one can see we are not different to most developing countries.

The statutorily declared holidays, in real sense, are on account of national/religious/cultural events, where everything is expected to shut down. There again, the private sector enjoys a less number, nine in all.

During the early 70's, we acquired a new set of holidays called Poya. This was the aftermath of a change in the weekly rest day system introduced during 1965 - 1970 Dudley Senanayake regime. By catering to the political wishes without considering the economic and other important aspects, Sri Lanka (then Ceylon) adopted the 'lunar calendar', Poya and pre Poya instead of Saturday and Sunday as the week-ends (rest-days), and thus was cut off from the rest of the world for 4 days. When attempts were made to correct the situation at the early stages of ULF Government, the then very powerful public servant N.Q. Dias triggered a series of events that ended up the country being saddled with 10 additional Poya holidays (prior to that Wesak and Poson were customary holidays).

Because of this Poya Holiday feature, we may perhaps be considered for a world record, since 21 are definitely the highest number any country enjoys as holidays (Yet, the actual holidays for year 2000 are only 15 due to Poya being on either a Saturday or Sunday. Both Kuwait and Hong Kong have listed 19 holidays for the year 2000, closest contenders!). As stated earlier, in this present political social milieu, if any Government is to try and bring about a change to this poya holiday scheme, this is bound to create such disturbances that definitely will not contribute to productivity gains at all.

So what is the answer? Obviously it is easy to put the blame on the external forces outside your control for losses of productivity, the difficult thing is to plan yourself and organize the industry/workplace in such a manner where the work can be done systematically and thus achieve productivity gains. In any industry between the start and the end of a product batch, there would be a build up which will lead to productivity gains, which is why the long stretches of work is advocated. Since these national/cultural/ religious days of importance occur within a working week, thus disrupting the momentum gathered, these certainly are not conducive to productivity gains. However, one must keep in mind if loss of productivity is an issue, employers can request their employees to work on such a holiday, but will have to pay as prescribed in the labour regulations. Since a good many of them are days of significance to one sector or another, and not to the whole nation, it will not be impossible to have a work place functioning as this is not proscribed. The law is very strict about the rest days being given to the employees and have prescribed how an employee who worked during a holiday should be compensated. However, SL does not have that kind of industries in abundance, and in any event those industries that cannot avoid closure due to technological reasons or market demands will have to plan and organize 24-hour non-stop production/service.

According to available statistics, in Sri Lanka the maximum numbers of employees are centered in textile related industries, probably equal to those engaged in agriculture. In the case of the latter, holidays are not necessarily the main reasons for lack of productivity, the foremost contributor being the weather. The private sector, very vociferous about the holidays are certainly not complaining of the loss of productivity in the agricultural sector. Perhaps the plantation sector might have a grouse but there again the lack of productivity cannot be solely attributed to the holidays. Our plantations still lack good practices that can bring about productivity gains and this becomes an issue only whenever the workers want a bigger share of the pie. The management will draw attention to the losses that would be incurred whenever negotiations are made for a wage adjustment necessitated due to rise in cost of living, which still will only afford them a sub-standard living, and will cite world prices, lack of productivity, etc. It is regrettable to note at such times the plantations management does not question the practice of the so called 5% management fee from the turnover, collected up front.

Reverting to the industrial sector, the garment industry, which is export oriented, has to meet shipment targets. Productivity therefore, is an important issue to stay competitive in this global trade, but can be achieved in many other ways; main amongst them is the use of advanced technology employed by other producing countries. There is a very positive trend where a good number of elucidated employers are investing in better technology, worker training and improved working conditions whereby they have already gained by higher productivity.

In most instances productivity losses are found to be caused by lack of planning. Productivity is not the sole monopoly of only the labour input, machinery and material also plays a part in it. Unless and until these are well coordinated and organized with investments done on improving technology including material handling, and most important communications, Information Technology, we will not have significant gains. Along with those, it is necessary to have awareness and knowledge amongst all employees at every level, otherwise even if we work 365 days nonstop, it will be impossible to achieve productivity gains.

The Private Sector should start gearing themselves to plan better. If human resource input is the mainstay of achieving productivity gains, then planning for better utilization of this scarce and costly resource is vital. It is an easy task for anybody to find out well in advance how many working days are available for a week, month and a year.

Therefore, taking in to consideration the available human resources, they can easily plan their order and manufacturing/service schedules and optimize the productivity of the available resources. If all responsible takes heed of this manageable factors rather than waiting for IF's to happen, much can be achieved, and next time when we are having holidays we will not feel guilty, as they are pleasurable things that do no harm. Prudent employers will recognize that Sinhala/Tamil New Year is a cultural event where the nation comes together and activities virtually come to a standstill. Therefore, they plan well in advance their production schedules around this and enjoy the festivities along with the populace who definitely will not be deterred from following the traditions. We are a society comprising of communities where family ties are strong, and it is these that keep this nation together.

The differences and difficulties that have arisen have never been due to holidays. By citing alarming numbers of days incorrectly labelled as holidays for a year, when facts are otherwise, I think we distract ourselves from the real problem and give credence to the statement attributed to 'officials'. We will grow into complacency when manageable factors exist, instead of which we will find fault with the system, nation, government, etc. and will not take meaningful steps within our capabilities to make a change. Productivity gains should not be a concern for factory workers alone, it transcends to everyone at every level. Even the necessary business lunch or the cocktail can be evaluated by way of productivity. It is well known that by setting a firm example, bosses can wean away the rest of the organization from wasteful habits and enhance productivity. What is necessary is to take responsibility and lead, instead of wailing and blaming everybody else. It is time that those in charge of the 'engine that drives the growth' be practical minded and accept the fact that they have to recognize the cultural, social and political realities of a nation when making demands from the Government, and ensure that their action would not lead to unnecessary confrontations/conflicts.

---
Look good to feel great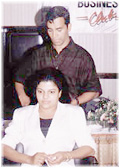 "The total look is more important," said the guru of hair and beauty, Ramzi Rahaman at the last Celltel Sunday Times Business Club meeting.

In a members only exclusive, Ramzy gave head to toe tips on how to look after oneself and the art of grooming. He said that it was important for both men and women to have good hair and skin and wear clothes that complemented them. In today's corporate world, looking good is vital to give that extra edge over competition. The total look is also an important criteria in interviews in addition to the paper qualifications. Research studies show that on average people who dressed well and groomed themselves felt more confident than their poorly dressed counterparts.

He recommended that men wear pastel shirts and dark trousers and complement it with a matching tie that is not too vibrant. For ladies wearing sarees, he suggested plain colours and a few pieces of complementing jewellery.

In keeping with that, Ramzy said as the first step that men and women needed to pay attention to their hair. He said that choosing the right shampoo to suit your hair type was vital for healthy looking hair.

He said that most people used a shampoo for the sake of using one. He said that this should be avoided and if one is not sure of their hair type to get professional advice. He said that conditioners should not be applied to the scalp but the middle and end of your hair. He added that hair should be kept neat and women could complement their hair with accessories, but felt that it should not be overdone.

He said that choosing a professional saloon was not necessary, but advised not to try anything that you were not aware of on your own. He said regular haircuts would help maintain healthy hair and make you look good.

Ramzy said that the next step in looking good was good skin. He emphasised on the importance of having healthy skin, especially on the face.

He said that the first thing most people would see in a person was the face. He said that there were two types of skin – dry or normal. He said that it was important to know your skin type and use the right facial products.

Most men pay little attention to their facial skin, and many other think that facial products are only for women.

He added that makeup was important but overdoing it would ruin it. He said that facials were also important to remove black heads and clean up your face.

Ramzy said that in addition to dressing well and taking care of your hair and skin to look good, that eating well was also important. He said that eating well not only helped your weight but helped to develop good skin and hair.

He said that looking good would pay at the end of the day.