ADVERTORIAL
---
'Eyes Wide Shut' on Agfa
The late Stanley Kubrick, renowned for being one of the most critical filmmakers of this century, ensured that each of his masterpieces was of the highest standard. For what was to become his last film masterpiece, "Eyes Wide Shut" he decided to use Agfa Print CP20 as the release print stock and Agfa Sound ST9 as the soundtrack stock, a company release said.
"Eyes Wide Shut", the film which has been shrouded in a veil of secrecy from the start, has caused quite a stir amongst filmgoers and critics alike. Kubrick's last film, starring Nicole Kidman and Tom Cruise is awaited eagerly from fans around the globe and in order to make this possible thousands of prints are being produced to cover many territories in a short space of time.
Agfa CP20 is a colour print film which reproduces pure and saturated colours, deep blacks and bright whites. This film is fully compatible with all industry standards. It is ideally suited for bulk printing from colour intermediates.
It is the first print film that replaced the heavy polluting carbon black backing layer by an ecologically clean and fully recyclable polyester base, the release adds.
---
Rubber firm going strong at 90
H.W.J. Dias and Bros has completed 90 years in business. The company was the first firm of Ceylonese produce brokers.
The partners of the firm have since then played a very important role specially in the rubber industry. The late H.W.J. Dias was the only local present at the first rubber auction held on November 4 1910 by the Ceylon Chamber of Commerce.
In 1926, the late C.A. Dias a partner of the firm introduced bud rubber to Sri Lanka.
In 1937 the late Lambert M. Dias (a partner) made representations in London to the then Secretary of State for the Colonies and succeeded in increasing the standard production of rubber fixed at 80,000 tons to 105,000 tons.
In 1934 the Rubber Research Institute was formed and the Chairman was the Director of Agriculture, ex-officio. Since 1949 the chairman was elected and the late Mr. W.P.H. Dias (a partner) was the first elected local Chairman of the Institute in 1952.
L.M. Maalyn Dias the present Chairman of the company joined the firm in the late 1940s. He is the most senior member of the Rubber Traders Association presently and is often referred to as the grand old man of the trade.
He represented the Ceylonese broker members of the association who were not Colombo Broker Association members for a number of years in the association's committee till the constitution of the association changed. He was appointed to the first rubber council in 1989.
He was also a member of a three man team headed by a marketing expert from Europe who conducted a survey of crepe rubber in Europe arranged by the ITC-UNTAD.
The firm also conducted the first Centrifuged Latex sale arranged by the Chamber of Commerce. The firm created rubber history when in 1988 selling Muwankande Estate a crepe manufacturing estate obtained the highest nett sale average for rubber beating all estates including those producing sole crepe for the first and only time in the long history of the trade.
---
Ceylinco launches pension scheme
Ceylinco Insurance has launched a pension scheme for Sri Lankans becoming the first private sector company to venture into this filed.
The plan, which is open to organisations as well as to individuals, provides designed pension schemes tailored to custom requirements and income patterns, a company release said.
Under the scheme, already launched to Ceylinco Insurance's sales force and employees, the customer may decide on the value of his or her pension premium, the frequency at which payments are to be made, and the age at which the pension would commence. Ceylinco Insurance will guarantee the customer at retirement a monthly pension for the rest of the pensioner's life.
Unlike public sector pensions, the pensioner also has the option of receiving the full value of his pension in one lump sum, through this scheme. He or she may also nominate a beneficiary who will continue to receive the pension for a pre-determined period, in the event of death after commencement of the pension.
If, on the other hand, a contributor to the scheme dies while making contributions, 150 per cent of premiums paid upto that point will be immediately given as a lump sum to the beneficiary or converted to pension the spokesman explained.
Other features of Ceylinco's Pension Plan include a choice of immediate pension of full payment of the account balance, in the event of total and permanent disability.
---
HP scheme from Hayleys
Hayleys Electronics Ltd., in association with the Bank of Ceylon (BoC) has launched an easy payment scheme for customers purchasing consumer electronic items and home appliances marketed by the company.
Branded "Ran Dhahara", the new scheme allows customers to purchase Philips, Daewoo, Usha and Daytron appliances and pay for them over a period of upto 24 months.
An interest rate of 22 per cent per annum is charged on a reducing balance basis, thus customers would pay interest for purchased goods only on the outstanding balance and not on the initial loan taken, as in leasing or hire purchase. The Ran Dhahara scheme offers payment schemes for 12, 18 and 24 months for loans from Rs. 5,000 upto Rs. 50,000 with no down payment required.
To qualify for the scheme, a customer has to possess a BoC account or open a savings account at any BoC branch if applying for the loan scheme only. Normally, an account holder must have a valid account for at least six months to qualify for a loan, but through Ran Dhahara, the loan can be obtained almost immediately, BoC's Deputy General Manager, Corporate and Development Banking, Sarath de Silva said in a company release.
---
UAL provides risks cover
Union Assurance Ltd has been selected insurer for the civil works of the diversion facility and dam contruction of the Kukuleganga Hydropower project.
This construction work is handled by a joint venture consisting of three major international construction companies - the Kajima Corporation, Kumagai Gumi Company Ltd, and Hazama Corporation of Japan.
These companies have undertaken the civil works for the Ceylon Electricity Board. In addition, UAL has also been selected as the insurer for another contract which comes under the Kukuleganga Hydropower project.
Both contracts are valued at nearly Rs. 6 billion.
This is one of the largest civil construction projects undertaken in recent times.
Union Assurance is proud to be associated with this massive infrastructure project and to help Sri Lanka in the power development sector.
---
Faster messages with DSL tech
The world's latest and fastest copper access technology for communications was unveiled in Sri Lanka recently by 3M, one of the world's leading manufacturers of telecommunictions accessories.
The new technology named Digital Subscriber Line (DSL) enables the existing coppper telephone cables to carry data at speeds 20 or 30 times faster than today's fastest dial-up modems.
With its higher bandwith connectivity. DSL can also provide simultaneous transmission of Internet, voice fax and video (Cable TV).
3M's International Marketing Manager Doug Dahms explained that the company's involvement in this technology is as a supplier of connectors and closures for the existing cable network that are necessary to ensure a static and disturbance free phone service."
This is a very important aspect because inferior components do not facilitate the use of DSL, and to switch over to the new technology all the faulty and inferior components would have to be replaced.
Disclosing these facts at a seminar for top excutives and senior management of Sri Lankan companies in the communications sector, Dahms said: "With the Internet as the forum for today's business world, the current need is for more speed and greater data carrying capabilities. DSL technology provides uninterrupted, high-speed access that's always on-line."
---
EU trade fair in Sri Lanka
The European Chamber of Commerce of Sri Lanka (ECCSL) will launch the first ever European Union trade fair in Sri Lanka with assistance from the EU Embassies.
The European Trade Fair 2000, a unique business opportunity for both Sri Lankan and European entrepreneurs will be held from October 18-21 next year at the BMICH in Colombo. It will not be a mere bilateral trade event - but will be a platform for investment promotion between Sri Lanka and the countries of the European Union.
The European Trade Fair 2000 is the first of its kind to be held in the entire South Asian region, and will portray the European Union (Sri Lanka's largest trading partner today) as the source of quality products, know-how and technology for Sri Lanka and the Asian markets.
The trade fair will focus on sectors such as environment, agriculture, dairy and livestock development, infrastructure, plant / process and machinery and services.
This event has been endorsed by the Ministry of Foreign Affairs, Ministry of Industrial Development, Ministry of Internal and International Commerce and Food, Ministry of Tourism and Civil Aviation, Board of Investment of Sri Lanka and the Sri Lanka Convention Bureau.
---
Furniture for different markets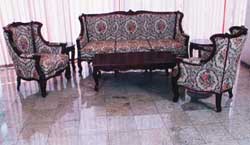 Craft Supplies Ltd is strategically positioning its products to cater to different market segments. "We will focus on a high priced niche, economical middle market and office furniture," marketing manager, Craft Supplies, Rukshan Sheriff told The Sunday Times Business.
"With the recession there is less money and few people demand 17 th and 18 th century period furniture which is priced higher," he said.
Craft Supplies intends addressing this problem by promoting furniture among architects, company proprietors, ministries and expatriates.
Hotels will also be targeted.

The company which claims to have 30 per cent of the market for period furniture is considering branding and selling period furniture in show rooms other than their own."Meanwhile the demand for office furniture is increasing but the cost of production is high and we may have to import office furniture in the future," Mr Sheriff said.
While the market for furniture in Sri Lanka is increasing its life cycle is declining.
"The demand for furniture which lasts ten years is growing," Mr Sheriff said. "In Europe furniture has a life span of about three years ," he added. Alternative wood such as synthetic wood is also increasingly popular, as environmental awareness is increasing and restrictions on felling trees have been introduced.
---
DHL wins silver award
DHL Keells, Sri Lanka, was adjudged winner of the silver award for their outstanding performance as Service Providers to Exporters, at the National Chamber of Exporters of Sri Lanka (NCE) annual export awards ceremony held recently. The gold award was won by freight forwarding conglomerate Roton-Vander Freighting Ltd.
DHL had been accorded No.1 status as a courier company over the past several years, among the company's many features, its ability to anticipate and proactively respond to market needs.
DHL has introduced various sector initiatives like 'e-TRACK,' which is the most accessible, flexible and easy to use e-mail based shipment -tracking system in market, especially geared to service customers without direct access to the Internet.
---
McDonald's obtains halal certification
McDonald's Sri Lanka, has obtained Halal certification for their full range of products.
Obtaining Halal certification was complex process in which McDonald's had to ensure that ingredients purchased from suppliers fully conformed to the necessary regulations, a company release said. McDonald's whose standards of cleanliness and quality have an enviable reputation throughout the world have been preparing their products to Halal standards from the beginning.
But with the gradual change from import to local production spanning a wide range of ingredients McDonald's has had to take steps to ensure that their suppliers too, adopt Halal specifications which has resulted in benefits to both the restaurant and the suppliers.
---
Membrane Asia merger makes it a global player
Membrane Asia, a BOI approved company in the Biyagama Export Processing Zone, recently was in the news being the first tensioned structure fabricator in Sri Lanka having the largest manufacturing facility in the world and having executed prestigious projects like Mina Tents in Saudi Arabia, Chicago Beach Hotel in Dubai, Munich Airport, Germany.
A news release from London states that a Global Architectural Membrane company was formed by the merger of world leading hitherto independent players in the industry. Sky Span International has concluded the acquisition of five leading architectural membrane companies and has merged them to form a new global player in the growing market place.
The new Group is formed by the merger of Koch Membrane Structures GmbH (Germany), Membrane Asia (Ptv) Ltd. (Sri Lanka), Hightex Limited (U.K.) Structureflex Pty Ltd. (Australia) and Spacetech Pty Ltd. (Australia). The group has offices in Dubai, Malaysia, Japan, and South Korea. The Group is planning to open its office in US early 2000.
In line with the Group name, Membrane Asia (Ptv) in Sri Lanka will henceforth be known as SKYSPAN ASIA (PTV) LTD. It is hoped that Sri Lanka will be benefited immensely by the merger as Skyspan Asia. The Sri Lankan member of the Group, is the largest member of the Group with the largest fabrication facility having a large work force.
---
Multilac paints go abroad
Macksons Paint Industries, manufacturers of Multilac paints since 1982, have progressed from manufacturing and marketing their products to meet local demand to acquire significant export orders for their premium quality paints to markets in China, Myanmar and recently to Australia.
As the demand for Multilac paint is encouraging, a Multilac country office was opened recently in Myanmar, to further support the growing demand for Multilac products in that country.
Multilac's success hinges on high quality, affordability and offering value-for-money, locally, as well as creating new avenues of acceptance into lucrative markets in both developing and developed countries.
---
Don't let your system drive your customers crazy!
By Ron Kaufman
Customers are often left frustrated by a company's smooth-running and standardised, but inflexible policies.
Does you company "run like clockwork?" Are your accountants pleased with how smoothly everything moves along? Are your managers content with how customers are managed throughout your system?
If so, watch out! Your present methods may include policies and procedures that are convenient for the company, but utterly frustrating for your customers.
Customers discover these land-mine of dissatisfaction in your company almost by accident. They usually stumble upon them in the course of normal business. Dedicated customers will speak up and complain. Others will just go away.
I am one customer who makes a point of letting companies know when their polices are frustrating, preposterous or just plain customer-unfriendly. Unfortunately, many organisations have built up a thick layer of resistance and defensiveness towards such comments. They have stopped listening to the voice of the customers... especially the customer with a complaint.
In recent weeks I have had a series of actual experiences bizarre enough to make me wonder whether anyone is listening at all! I think you'll find them both funny and disturbing.
"The Conference Rate" at Hilton Hotel in Los Angeles:
I was making arrangements to attend the American Society of Training and Developments Annual Conference in Los Angeles. As a frequent flyer, I have many award coupons offering a 50 percent discount from usual hotel rates.
I called Hilton Hotels in California to make my reservations. The reservations clerk was infinitely helpful. First, she took my name, then my contact number. She confirmed the dates, my room preference and credit card number.
She asked if I was a Hilton Honours Club member, which I was not. She signed me up on the spot and then remarked: "Now that you are a Hilton Honours Club member, I can offer you an even ;lower rate, and an upgraded Towers room on a higher floor. A fruit basket will be waiting for you upon arrival." I was delighted. And my special discount rate was just US$85 per night.
In signing off, I said: "Thank you for your help. I am looking forward to staying at the Hilton during the conference." "The conference?" she shot back quickly: Mr Kaufman, if you are attending a conference during your stay, you must use our special conference rate of US$112."
I laughed at her proposal and stated that I was happy with the special rate she had already confirmed on my behalf. She said quickly: "Mr Kaufman, if you are attending a conference during your stay, you must use our special conference rate. We have a block of rooms set aside for conference participants on a lower. These rooms are specially reserved for the people who are attending the conference."
My protests were to no avail. She checked with her supervisor, who concurred. "I'm sorry, but that's our policy," she said without much concern.
I surrendered to her insistence, listened as she cancelled my Hilton Honors Club reservation declined to have her book me back into the same hotel at the higher conference rate, and hung up the phone in disbelief.
I called right back. I reached a different reservations clerk and made another reservation. I used my frequent flyer award coupon and the new Hilton Honors Club membership number I had received in the previous phone call. This time I kept my mouth shut about attending any conference!
I paid just US$85 when I went to Los Angeles. I enjoyed the Hilton Towers room and enjoyed the complimentary fruit basket upon arrival. No thanks to Hilton's absurd policy and customer unfriendly procedures, though.
Somewhere deep inside the marketing department of Hilton Hotels, management professionals have carefully calculated the maximum rate they can, and will, charge participants at an international conference.
Meanwhile conference participants are also thinkers, communicators and frequent flyers... real live customers! Hilton Hotels, are you listening?
"Frequent Flyer Coupons" with Hertz Rent-A-Car in San Francisco.
My next step was to make a three-day car reservation for a pre-conference visit to San Francisco. I called Hertz, where I am a member of the "Hertz Number One Club" for frequent travellers. I planned to use an award coupon for one free day rental from American Airlines and an additional award coupon for two more free days from United Airlines.
The telephone reservation officer gave impeccable service. She greeted me pleasantly, acknowledged me as a member of the Number One Club, confirmed my dates, flights, pick-up location and my choice of automobile.
Then she asked me what time I would be returning the car after the first day of rental. "I want the car for all three days," I replied. "You can't keep the same car for all three days," she asserted. "After the first day you have to bring the car back and pick up a different car for the next two days. The first day is paid for with your American Airlines coupon, but the next two days are with your United coupons."
I was skeptical. "But I am the same person, with the same Hertz Number One Club member. I am the rightful owner of all the awards coupons, and I want a Hertz automobile for three consecutive days. Surely you will let me keep the same car, and avoid having to come back to the airport in the middle of my Bay Area vacation."
"That's not the way our system works here, Mr Kaufman," she replied.
"But it should work that way, don't you agree?" I asked, appealing to her sense of logic, concern and elementary customer care.
"I don't make the rules here, Mr Kaufman. Just follow them. What time will you be returning the car after the first day?"
Somewhere deep inside the heart of Hertz, a group of senior accountants live comfortably with their precise policy of "one airline, one coupon, one car, no exceptions". But somewhere closer to this customer's heart lies, frustration, inconvenience, and incredible disbelief.
But I'm not the type of customer who gives up in these situations. When my Hertz reservation commenced in May, I took along a copy of this article to San Francisco and had a long chat with the most senior manager I could find at the airport. I ended up keeping the same car for three days. Hertz Rent-A-Car was listening.
"You Don't Get Juice" with a Broiler Meal at Burger King:
You don't have to call a reservations officer to experience procedural insanity instead of convenience and customer care. Before going vegetarian, I used to visit Burger King for their BK Broiler meal, a fast food lunch of broiled chicken sandwich and french fries.
But instead of taking the large Coca-Cola included in the package, I always asked for a small glass of orange juice instead. The counter staff would freeze up in uncertainty and refer my request to the floor manager.
One young manager was particularly memorable. "I'm sorry, sir," he told me. "You can't have the orange juice with the BK Broiler Meal."
"Oh, sure I can," I replied, "I do it all the time at the other Burger Kings. I know there is a 65-cent price difference and I am happy to pay the difference."
"That's not the problem," he said with a touch of annoyance. "There's no key here on my computer to make the substitution, so I can't let you do it."
"Hey, sometimes you just have to break the rules," I said, reminding him of Burger King's own multi-million dollar advertising campaign. "I'll take the BK Broiler meal, with orange juice."
He realized I was not going to take "No" for an answer and he could not very well go against Burger King's well-known advertising promise. "I'll do it for you just this once, as an exception," he said curtly.
"Oh common, you can do it for me anytime," I replied.
"No," he stated, looking at me straight in the eye. "I will do it for you this once, but I won't do it again the next time."
"Wait a minute," I asked gamely. "You are about to make me a happy customer. Do you really mean you wouldn't make me a happy customer again?"
"I will do it for you this once," he repeated flatly. When I received my meal, with orange juice, I gave the manager a genuine smile and said, "See you again next time."
He quietly replied, just below his breath but loud enough for me to hear, "No, I don't want to see you again."
Somewhere deep inside Burger King, computer programmers design point of purchase terminals to carefully limit the choices and options of customers around the world.
Accountants are happy. The daily sales reports are neat and accurate and clean. But at the counter of the restaurants, face to face between customers and staff, both parties experience frustration .
The advertising slogan says "Sometimes you've just got to break the rules", but the restaurant manager cannot.
After this article first came out, Burger King called and invited me to lunch. They asked me to tell my story. They asked me for suggestions.
The following week I returned to the same outlet seeking a BK Broiler Meal, with a small orange juice. The counter staff smiled brightly and keyed in my order.
"How did you do that!?" I asked in a state of pleased amazement.
"Oh, now it's easy," she replied. "Last week they gave us a new key on the computer to make simple menu changes."
Congratulations, Burger King. You are listening!
Now each of these stories is completely true, but they are only valuable if they inspire you to listen more closely to your customers and more carefully examine your policies and procedures.
And remember, although certain policies may cause customers to fume in frustration, the rest of your system may quietly conspire to keep the complaining customers' voice at bay.
Ask your customers:
"How can we serve you better? Is there anything that frustrates you most about the way we provide our service? Is there anything you would like us to do more of? Iess of? start doing? stop doing? What do other companies do for you that we don't do here?"
Ask your staff:
"What do our customers ask for that frustrates you the most? Are there any special customer requests that really drive you crazy? Is there anything they ask for that is against our company policy?
Is it the customer that makes your staff so mad, or are they driven to distress by limitations in your systems, policies and procedures?
Make special requests:
You can learn how to improve your own systems by testing the flexibility of others. Whenever you dine, travel, shop, purchase or rent, make requests that are slightly different from the usual routine, ask for specials "not on the menu".
Watch carefully how each establishment responds to your requests. Are they fast, flexible and friendly? What is it about their policy and systems that allows them to respond?
Finally, ask yourself: Are you willing to make the change? Your accountant is comfortable. Your managers are content. But who are you in business for?
Your accounting department will still be with you tomorrow. Will your customers be with you, too?
---
DFCC appoints next chief executive for millennium
Mr. Nihal fonseka has been appointed to succeed Moksevi Prelis as the Chief Executive Officer effective January 1, 2000, a DFCC release said.
Mr. Fonseka, a well-known senior banker has 23 years of experience with Hong Kong and Shanghai Banking Corporation Ltd. (HSBC), in Sri Lanka and abroad, the last 10 of which has been as Deputy CEO of the Sri Lanka operation.
He joined HSBC in 1976 shortly after obtaining a B.Sc. in Physics from the University of Colombo. Mr. Fonseka became an Associate of the Chartered Institute of Bankers, UK in 1983. He is a long standing member of the Technical Advisory Committee of the Sri Lanka Banks Association and a life member and former Secretary of the Bankers' Club.
Mr. Fonseka is credited with playing a major role in the evolution of HSBC Sri Lanka to its present leading position among foreign banks in corporate, institutional, personal banking and treasury activities. In recent times HSBC Sri Lanka has placed much emphasis in implementing 'Managing for Value' techniques.
DFCC Bank is presently in the process of implementing its new strategy plan. Mr. Fonseka brings with him in-depth knowledge of cutting edge practices in the international banking industry including credit and market risk management, management information systems, debt, money and foreign exchange markets, operational processes and controls and human capital management which will be of great value to DFCC.
The Chairman of DFCC Bank, Mahinda Wijenaike said, "It was after a very intensive search, both here and abroad that the Board selected Nihal Fonseka. Given his track record and background we are confident that he will be an excellent successor to Moksevi Prelis who has made an invaluable contribution to the success of the DFCC by his dynamic leadership and drive.
I can say this with some authority as I joined the Board of DFCC as a representative of the People's Bank almost at the same time as Mr. Prelis was appointed the CEO. At the time, the DFCC was a relatively small lending institution which was not very well known. Today, mainly due to his vision and untiring dedication, the DFCC has become a leading Bank in the country," the release added.
---
Moving Towards E-Commerce
The Council for Information Technology (CINTEC) will be holding two pre-IT Conference Workshops titled "From E-Commerce to E-Business" on October 4 and "Information Technology - the Legal Issues" on October 5 at the "On Golden Pond" Hotel Taj Samudra. An increasing number of transactions are now being carried out globally by means of Electronic Data Interchange (EDI) and other means of communication commonly referred to as Electronic Commerce, which involves the use of alternatives to paperbased methods of communication and storage of information.
The workshops will be conducted by Ray Walker the special Advisor on Trade Processes and Electronic Business to the UK's Department of Trade and Industry. In that role he is seconded to the UN/Centre of the Facilitation of Procedures and Practices for Administration Commerce and Transport (UN/CEFACT).
Among the local speakers are Prof. V.K. Samaranayake, Chairman CINTEC Dr. Dileepa de Silva, CEO, Sri Lanka EDI Network Service (Pvt) Ltd., (SLENS), Vijit Ratnarajah, Chief Operating Officer ITMIN Ltd, K. Kanag Isvaran P.C., Indunil Abeysekere, Lecturer, Faculty of Law, University of Colombo and Rohitha Dharmawardena, Consultant, CINTEC IT Law Centre.
---
American expert for SMI
In response to a request made by Colombo District Association of SMI Foundation, Technology Initiative for the Private Sector (TIPS) has agreed to make available the services of an American Industry Expert to help Small and Medium Industrialists of Sri Lanka.
Accordingly a former Vice President of the Central Asian-American Enterprise Fund, Peter Stephens is expected to arrive in Sri Lanka soon to help the local industrialists to improve quality, productivity, management and technology in their respective industries, a news release says.
He will hold discussions with entrepreneurs on their individual requirements and also visit their industries to advise them on how to improve productivity and to introduce good manufacturing practices in their factories.
---
Asian Secretaries to meet in Lanka
The 14th Asian Secretaries Association (ASA) Congress is scheduled to be held in Sri Lanka in September 2000.
Administrative professionals and executive secretaries from 14 countries including India, Brunei, Indonesia, Japan, Malaysia, Thailand, New Zealand will attend this Congress and about 300 participants are expected.
The Sri Lanka Association of Personal Secretaries, as the host, has started the groundwork and has appointed a Committee consisting of Past Presidents to handle relevant areas.
---
Seylan offers FD with travel package
Seylan has launched 'FD with Wings', which offers depositors a dual benefit possession of a fixed deposit, as well as airtickets to destinations of their choice.
Under this FD scheme, you'll be required to invest a minimum of Rs. 50,000/= Whenever you require funds to fly overseas, you can obtain the special travel package from Seylan Bank. As part of the package, Seylan Bank will make all travel arrangements, inclusive of travellers cheques, hotel accommodation, etc., through Ceylinco Travels Ltd. On your return from overseas, you'll find your Fixed Deposit intact and even earning an interest rate of 11% per annum. So all you have to do is settle your travel package in convenient monthly instalments.
FD with Wings' is an ideal investment opportunity. If you wish to combine the delights of overseas travel, while putting aside a sum of money for the future needs of your family.