---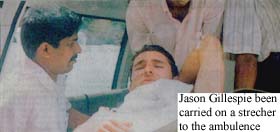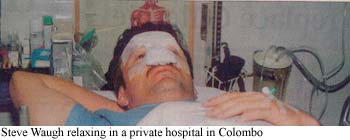 The Collision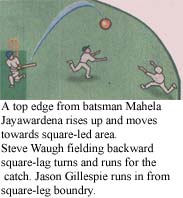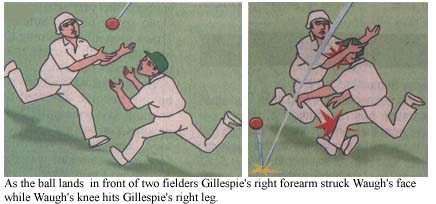 Cricket history in the hills
BY Aubrey Kuruppu
In a dramatic Test match at the Asgiriya Stadium, Sri Lanka pulled off a six wicket win to record their first ever win over the Australians in eleven attempts.
This match certainly had its share of thrills and spills. In a match where the ball generally hold sway over the bat, two batsmen towered over the rest. Had it not been for Ponting's magnificent, fighting 96 in the first essay, the game would have ended even earlier. That he followed up with another half century merely confirmed his rising stature.
Aravinda de Silva mixed unbridled aggression with rock-solid defence. His reassuring presence, and stroke-making ability came to Sri Lanka's rescue when terribly rash shots by Jayasuriya, Kaluvitharana and Jayawardena had put a Sri Lankan victory in doubt.
The Aussies are fighters, if nothing else and the manner in which they applied pressure and fought it out to the bitter end did them a lot of credit.
The Sri Lankans were placed on the road to victory by Vaas and Zoysa who bowled superbly on the first morning. They kept the ball up, made it swing around and in consequence life was not easy for the batsmen. Gillespie, who was more seriously injured than Steve Waugh in that unfortunate collision, gave an object lesson in defensive play as he helped Ponting in a seventh wicket stand of 107.
Jayawardena and de Silva, too, put on 107, this time for the fourth wicket to revive a Sri Lankan innings that could have tottered and collapsed.
When play resumed on the third day, Miller played an agricultural swish against Vaas and perished. McGrath batted sensibly in assisting Ponting to add 41 for the eighth and last wicket.
Sri Lanka almost pressed the self-destroy button when in pursuit of a smallish victory target of 95. Both sides seem to have problems with the opening batting slots, especially the visitors. Mark Waugh's fifth duck on Sri Lankan soil was another note-worthy feature. The Aussies are no doubt hoping that their inspirational skipper will be fit for the second Test.
This was Sri Lanka's fifteenth vitory in 91 Tests and for Jayasuriya's men it couldn't have been sweeter, or have come at a more opportune moment. The world champions have been beaten in both forms of the game and this can only augur well for the game in Sri Lanka.
---
Front Page| News/Comment| Editorial/Opinion| Business| Plus | Mirror Magazine