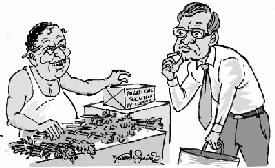 The sudden death of veteran former for-eign minister A. C. S. Hameed – a co-lossus in the political field – was a blow especially to the peace process in which he was playing a key role.
He rendered yeoman service not only to his community, but also to the whole of Sri Lanka as a respected politician and diplomat par excellence. His demise, therefore, has created a void which is difficult to fill. Indeed, Sri Lankan Muslims lost a leader who worked for the well-being of the whole country, while the country in general lost a refined politician, a diplomat and negotiator.
As the foreign minister in 1977, he had to play a difficult role while protecting Sri Lanka's position as chairman of the Non-aligned movement. He was engaged in a delicate task of propagating the pro-western foreign policy of the late President J. R. Jayewardene. He was a close associate of President Jayewardene who always looked upon him for advice.
During the Dudley-JR feud in the early 1970s, Mr. Hameed was firmly behind Mr. Jayewardene. At times, he walked the tightrope as the minister of foreign affairs while maintaining goodwill with pro-Palestinian countries and at the same time allowing the government to open an Israeli interest section in Colombo.
He played a prominent role in getting the Jayewardene regime to involve itself in an all-party conference to resolve the country's ethnic strife and at one stage he even travelled to the north at the worst of time to negotiate with the LTTE.
As the minister of higher education, Mr. Hameed settled many problems relating to higher education through dialogue and consensus and proved to be a fine negotiator. His last assignment for the UNP was to lead a delegation to talks initiated by the business community aimed at finding a just solution to the ethnic crisis. Mr. Hameed progressed well in this area to have a constant dialogue with the government and with Minister G. L. Peiris.
It was on Wednesday, September 1, that they met to discuss the nature of the state and the unit of devolution. There, Mr. Hameed told both the PA delegation and business community leader Lalith Kotelawala that he could not conclude the discussion he had with the minority parties to decide on the nature of the state and the unit of devolution. Hence, he asked for two more weeks to arrive at a reasonable solution acceptable to all.
But by Thursday evening, Mr. Hameed developed a bronchial problem for which he wanted an X-ray for medical purposes. That evening, Mr. Hameed went to the Delmon hospital where the doctors advised him to get admitted for further investigations.
On Friday morning, Mr. Hameed developed a further complication with a colic in his abdomen, which compelled medical experts to put him in the Intensive Care Unit. Cardiologists were called and further medical examinations revealed that his haemoglobin count was on the decline and the doctors ordered a blood transfusion.
By evening however, the condition worsened and by 10.15 p.m. he breathed his last.
At the time of his death, Minister M. H. M. Ashraff was at his bedside along with UNP MP A.H.M. Aswer and many others.
Minister Alavi Moulana, UNP MP Ali Zahir Moulana also rushed to the hospital soon after his death. It was the Colombo businessman A. J. Muzammil who had earlier informed Mr. Ashraff about Mr. Hameed's condition. On Friday morning, Mr. Muzammil visited Mr. Hameed after he was told by another friend that Mr. Hameed was in hospital. He immediately called Mr. Ashraff. Since he was not available, he left a message saying that it was urgent. Mr. Muzammil called again in the evening to check whether Mr. Ashraff had received his message. Since he found that he had not received his message, he told Mr. Ashraff to go and see Mr. Hameed in hospital.
When Mr. Ashraff visited the hospital, Mr. Hameed had suffered a heart failure. Mr. Ashraff learnt from doctors about Mr. Hameed's condition. The doctors said that his brain was not functioning. Mr. Ashraff wanted confirmation as to whether Mr. Hameed has passed away. When the doctors confirmed it, he performed the rituals on the body according to Islamic customs.
He then called Minister Peiris and the national list MP M. M. Zuhair.
Mr. Ashraff told Prof. Peiris: "I have some bad news for you" and broke the news that Mr. Hameed had passed away. Prof. Peiris was saddened by the news. More than anything, it was a setback to the government in its efforts to solve the ethnic crisis.
For Prof. Peiris, it was the second loss in as many months. First, it was Neelan Tiruchelvam who made an untiring effort to make the package a success and now it was Mr. Hameed who extended his unstinted co-operation to bring about a solution.
The same night, Mr. Hameed's body was taken to his home town Akurana in the Kandy district under Police escort while the UNP Parliamentarian A. H. M. Azwer informed UNP leader Ranil Wickremesinghe and others about the death.
Mr. Wickremesinghe immediately telephoned Mr. Hameed's brother Nuhuman to convey his sympathies and decided to pass a vote of condolence at the executive committee meeting to be held at Polgahawela. After the first session, Mr. Wickremesinghe said he cancelled a mass rally which was scheduled for the evening in view of Mr. Hameed's death.
In the meantime, Minister Ashraff made arrangements for Mr. Hameed's two sons who arrived from London to be taken by helicopter to Akurana.
On Saturday, from around 4 a.m., the body of Mr. Hameed was lying at his Akurana residence for the people to pay their last respects. People thronged in their thousands to pay their last respects to a politician, a diplomat and negotiator par excellence.
According to the police, nearly 300,000 people paid their respects within less than 24 hours.
By afternoon, many government ministers including Mahinda Rajapakse, D. M. Jayaratne, Alavi Moulana, G. L. Peiris, M. H. M. Ashraff and Deputy Chairman of Committees Rauff Hakeem were seen at the funeral house while the UNP was represented by the opposition leader Ranil Wickremesinghe, M. H. Mohamed, Imtiaz Bakeer Markar, A. H. M. Azwer, Ali Zahir Mowlana, Kabir Hashim, Karunasena Kodituwakku, Sarath Kongahage, Rajitha Senaratne and many others. Former general secretary Sirisena Cooray was also present.
Mr. Ashraff, Mr. Azwer and many others recited verses from Holy Quran while the body was taken in procession to the Akurana Mosque and all Muslim leaders offered funeral prayers.
At the funeral house, Mr. Cooray had an opportunity to talk to Minister Peiris. Mr. Cooray told him that he had come up with a reasonable solution for the present ethnic problem.
"Why don't you consider", Mr. Cooray told the Minister. "If you can implement my proposals, you are sure to win the next presidential election," Mr. Cooray said.
Mr. Cooray said there was no point in trying to implement something, which had little public support and invited Prof. Peiris to consider his proposals.
Prof. Peiris nodded his head with a smile and as he saw businessman Mr. Muzammil, he told others who were there, "here comes the dangerous man."
Mr. Muzammil replied with equal wit and said, "Sir, you will not say this publicly if you really consider me a dangerous man."
Many old-timers of the UNP who were present at the funeral and who met after a long time exchanged a few words inquiring as to what they were doing. Former UNP minister M. L. M. Aboosally also had an opportunity to talk with Mr. Cooray.
Mr. Cooray asked Mr. Aboosally as to what he was doing now. "I am planting brinjals", Mr. Aboosally said, sporting a smile.
"I am also doing something similar," Mr. Cooray quipped. "I am planting kankun."
Soon after the funeral, Minister Ashraff was seen with the family members at Mr. Hameed's residence. Not only Minister Ashraff, Minister Alavi Moulana also worked behind the scenes to give prominence to this Muslim leader.
In fact, he arranged a live broadcast from Akurana in the Tamil Service for the benefit of Tamil listeners.
Minister Ashraff had left for Mecca after the funeral. He would have done everything with a genuine feeling towards a fellow senior parliamentarian. But it is alleged his SLMC tried to gain political mileage out of Mr. Hameed's death.
It is true that only a few UNPers were around at the time of Mr. Hameed's death. It is also true that scores of SLMC members were present at Mr. Hameed's funeral. But some opponents say the SLMC should not stoop to the level of gaining cheap publicity over a death. It is also true that SLMC wanted to spread its wings to other areas. It was focusing attention on Muslim concentrations in other parts of the country - Mannar, Puttalam, Beruwala, Weligama, Matale and Akurana. But it is foolish at this stage if the SLMC thinks that it could get a big chunk of the UNP vote bank in the Matale district. If all that is done with an ulterior motive, then it shows desperation or bankruptcy in the SLMC.
Barely one week after Mr. Hameed's death, journalists in this country have focused their attention on another death, which was unnatural and most foul. The death of Rohana Kumara, the editor of "Satana" had caused ripples in journalistic circles.
It is not because the other journalists approve of his writings and his style of journalism, but because it happened to a journalist it is immaterial whether he is from the gutter press or not.
Of course many journalists did not have much connection with Mr. Kumara, but they respected his right to express himself the way he wanted within the parameters of the law.
It is appropriate to quote Voltaire at this stage: "I may disagree with what you say, but I will defend to the death your right to say it."
What is important here is to examine whether Mr. Kumara was involved in any heinous crime for him to meet with this kind of punitive measure. No, he did write to expose those who are in power. He may have done so in a most unrefined way, which may even have disgusted some of his readers. But still he has the right to his life. The government should now bring to justice the miscreants who were responsible for this killing without more bluff that the police could not find any clue leading to his death. The police in the past have solved many mysteries, but when it comes to political killings, the police often draw a convenient blank. It happened in many cases including the recent abduction of the Lakbima journalist, Srilal Priyantha and the killing of Richard de Zoyza during the UNP regime.
If the police fail to find the killers, it will only create a doubt in the minds of the people that the government may have had some connection to this incident.
It is a duty for the government to its people to unravel these murders and bring to justice those who are responsible for such crimes, whether it is a journalist or a poor man in the street.
If the government attributes this murder to an unidentified gunman as in the past, it may give rise to a dangerous trend which could even lead to an anarchic situation in the future. It would not be healthy for the people,nor would it be so for those who are steering the wheels of power.
The murder of Mr. Kumara also figured at the UNP group meeting on Thursday.
Mr. Wickremesinghe alleged that the murder of Mr. Kumara was linked to the Channel 9 episode. He said that Mr. Kumara was instrumental in exposing the alleged Channel 9 fraud and brought out a cassette by the name of " Commissana" .
"The CID on several occasions had threatened him. We may have different views about the Satana, but it falls within the ambit of the constitutional requirements. Our Constitution guarantees freedom of expression," Mr. Wickremesinghe said.
The Satana newspaper was first started to attack the UNP when the UNP was in office but after exposing the Channel 9 details, Mr. Kumara became a target. The Presidential Secretariat had apparently maintained a file on Mr. Kumara", Mr. Wickremesinghe said.
It is a pity, he noted, that several ministers had also been threatened with death because some of them failed to defend the Channel 9.
"It appears that the Parliament is on one side and the Presidential Security Division is pulling to another side," Mr. Wickremesinghe said.
He also said even Minister Mangala Samaraweera had admitted that it was the Presidential Security Division that attacked the journalists at the July 15 demonstrations of the UNP.
"There is a serious allegation against the PSD. The government should even at this stage bring the people concerned to justice," Mr. Wickremesinghe said adding that assassination was the most extreme censorship.
Many journalists and several editors have also expressed dismay and condemned the killing of Mr. Kumara.
Another matter to ponder about is the killing of popular politician in Ratnapura, Ranjith Nandasena. The UNP believes that there is a political motive behind this killing. However, five people have been arrested over this killing leaving no room for doubt that it was caused by any political manipulation.
The assailants are now under interrogation and if there is any political connection to this murder, the police are now in a position to determine the root cause for the murder of Mr. Nandasena whether it is for political or personal animosity.
The Parliamentary Select Committee on media reforms also met last week to reconsider the criminal laws in the statute book.
Constitutional expert R. K. W. Gunasekera who appeared before the Select Committee argued that the penal clauses and the criminal defamation laws should be removed from the statute book in toto.
He pointed out that this piece of legislation had not been used in the past and recently there had been one or two occasions where the government had used this legislation.
In the course of his argument, he also referred to the British practice and said that before initiating criminal defamation proceedings, the Attorney-General had to satisfy the high court that there is a prima facie case against somebody.
As Mr. Gunasekera was making submissions on those lines, a member of the Select Committee, M. M. Zuhair, posed a question whether it would not be appropriate to get the sanction of the high court even before initiating an investigation.
He said that even before initiating such investigation, the Attorney-General should go before the high court and satisfy the court that there was a case which warranted investigations.
Mr. Zuhair pointed out that in most of these cases, journalists were arrested at the time of investigation and not at the time of proceedings.
At this stage, K.N. Choksy queried Mr. Gunasekera whether the other party concerned should not be informed before such investigation was initiated.
Mr. Gunasekera said that the Code of Criminal Procedure Act provided that an investigation could be initiated after ex-parte application to the magistrate.
If this was made ex parte, Mr. Zuhair said that the whole objective of the investigation or the search could be lost.
Mr. Gunasekera said that it need not be ex parte. He said that permission should be sought by the Attorney-General from the high court to initiate such investigation. However, Mr. Gunasekera submitted that his contention was for the total removal of criminal defamation laws although it was spelt out as an alternative to this.
Henry Jayamaha, however, felt that there were exceptional cases where civil redress was inadequate. He said that in some cases, although compensation was awarded, the damage was done and the person's name was tarnished. In the circumstances, he felt that criminal defamation might sometimes help in exceptional cases.
Mr. Tyronne Fernando said he was for the abolition of criminal defamation laws since he felt they did not serve much purpose.
---