Nepal, Sri Lanka renew air services agreement
Nepal and Sri Lanka have renewed an agreement to allow direct air services between the two South Asian nations, a civil aviation ministry official said on Friday.
"The agreement allows designated airlines to operate four weekly flights between Kathmandu and Colombo and points beyond," said Yagya Prasad Gautam, a spokesman for Tourism and Civil Aviation Ministry.
The agreement was signed in Colombo on Thursday, Gautam said.
He said a designated Nepali airline would have the right to carry full passengers between Colombo and Male in the Maldives and the Sri Lankan carrier was free to pick up passengers between the Nepali capital and Dhaka in Bangladesh.
The previous agreement allowed only a limited number of passengers and the number of flights by each airline was restricted to two per week.
Nepal has air services agreements with 27 countries. Tourism is the mainstay of its economy. (Reuters)
---
Golf course waits for greenlight
Sri Lanka's fourth golf course is awaiting environmental authority approval.The Ceylon Tourist Board (CTB) is evaluating a proposal for a golf course in Penrith Estate, Avissawella, managed by Free Lanka Management Company. (FLMC). A ninety nine year lease for the property has also to be approved.
An application has been made to the Board of Investment. "An investment of Rs 800 mn is required for the project," Director Development and Planning, Ceylon Tourist Board, S.K Selvam told The Sunday Times Business. Free Lanka Management Company is in the process of negotiating with prospective investors.
The proposed golf course will compete with existing courses such as the Royal Colombo Golf Club, Nuwara Eliya Golf Club, and Victoria Golf Club in Rajawella. "It is easy to market Sri Lanka as a golf destination when there are many golf courses," Mr Selvam said. "Japanese and Korean nationals will be targeted," he added.
He said that the concept of a golf destination is unique in South Asia as countries such as India, Pakistan and the Maldives are not marketed as golf destinations. Tourists who are into the golf circuit have to visit Malaysia or Hawaii where this type of visitor is catered to.
Golf is considered an upmarket pursuit and in western countries is considered a requisite in the executives portfolio, as many business deals are clinched on the links.
Golf courses require over a hundred acres of land and are expensive to maintain. The green requires a special type of grass which has to be manicured frequently. A watering system is also required to be in place.
---
Eltron Driver License Program in Sri Lanka
Zebra Technologies (Zebra), a leading manufacturer of plastic card printers and thermal bar code printers, today announced that Access International (pvt) Ltd, Colombo, Sri Lanka, has entered into an agreement with Zebra Technologies for the production of national drivers licenses for the Department of Motor Traffic in Sri Lanka.
The Eltron P500 plastic card printer was selected to produce the national driver licenses in Sri Lanka by Access International, a member of the Access Group of Companies and system integrator of the project. Access International (pvt) Ltd. is a member of the Access Group of Companies, a fast-growing Sri Lankan corporation, with its core business and growth primarily deriving from trading activities related to infrastructure development in Sri Lanka.
Centralized in the capital city of Colombo, approximately 18,000 national driver licenses are issued per month. The new system has the capacity to issue up to 25,000 licenses per month. The production facility, housed in the Department of Motor Traffic's office in Colombo, incorporates three Eltron printers and related consumables commissioned in April 1999.
The Sri Lanka project specifies a printer that provides a dual-sided printing capability, magnetic stripe encoding and the application of a secure holographic overlay. The Eltron P500 printer was selected because of the company's leadership technology to fulfill these requirements. The Eltron P500 is an integrated color card printer and laminating station designed for on-demand production of high-quality, tamper-resistant cards.
George Lopez, systems manager at Access International, and project leader for the project, said, "We visited the United States in December 1998 to evaluate various printing options available in the industry.
Eltron was selected based on its company's strength, professionalism, competitive pricing and, most importantly, the availablity of support in the region."
"We are pleased to partner with Access International and bring our extensive driver license program experience to the Sri Lanka project" said Patrice Foliard, vice president of Sales & Marketing for Eltron Card Printer Products. "The Access Group has a strong presence in Sri Lanka, which aligns well with our regional service and support capability in Southeast Asia."
Zebra Technologies Corp. manufactures and distributes Zebra- and Eltron-brand instant issue printing hardware consisting of plastic card and bar code label printers used for secure identification and plastic card personalization applications worldwide. More than 70 percent of the FORTUNE 500 companies use Zebra's products. Zebra's stock trades on the NASDAQ. The Stock Market symbol is "ZBRA."
---
Economists get more bullish on Asia—poll
Financial analysts continue to revise their growth forecasts for Asia's regional economies upward, although some of the boost is due to arithmetic as governments revise down past data.
The latest Reuters survey of 132 economists showed that for countries that suffered most during the 1997 crisis forecasts are being revised up quite sharply, but where things were less severe the revisions are less dramatic.
Much has to do with the base effect of the year-on-year percentage changes given that many economies hit rock bottom this time last year, but the growth outlook for the region as a whole is definitely brighter.
Compared with a similar survey carried out by Reuters in June the most spectacular upward revisions are for Singapore, South Korea, Malaysia and Thailand.
The forecast for Singapore growth this year has been pushed up to 5.4 percent from 2.7 based on a recent spate of good non-oil export data, while the South Korea forecast jumped to 8.1 percent from 4.8 on the back of faster than expected domestic consumption and investment.
In Thailand particularly the 'base effect' is quite pronounced following data showing a much deeper economic contraction in 1998 than previously thought and forecasts for this year have been pushed up to 3.5 percent from 0.7 percent in the June survey.
"The 1999 GDP growth is mathematically helped by the lower 1998 base, not to mention a stronger than expected revival of the manufacturing sector seen in the past several months," said Usara Wilaipich at KGI Securities One Plc.
Malaysia is looking good at 4.4 percent this year with robust industrial production amid buoyant overseas demand for electrical and electronic products.
Big investor markets like Hong Kong and Taiwan are also looking more bullish with Hong Kong seen returning 0.8 percent growth this year compared with previous negative forecasts and better demand for high tech products pushing up Taiwan's forecast to plus 5.8 percent.
Indonesia's GDP is now seen contracting just 0.3 percent, a sharp improvement from the 2.3 percent shrinkage forecast in the June poll.
But analysts warned political uncertainty means forecasting the economy is a risky business. Indonesia is due to select its next president in November.
"Politics are playing a major role in the country's economy.
The longer it takes to solve, the longer it will take the economy to settle down," one analyst said.
But it was not all good news and forecasts for growth this year in Sri Lanka and Australia were revised down.
A fall off in investment is largely to blame here with Sri Lanka seen returning 3.7 percent growth this year, down from the June forecast of 4.3, and Australia 3.3 percent against 4.6.
---
Gearing up for Big Brother
Sri Lanka's Blue Chip with the highest exposure to the hotel sector is developing its third resort in the Maldives and says its next stop is India. 1999 is forecast to be a record year for tourist arrivals. Although arrivals are on an upward trend, Aitken Spence Hotel Holdings (the Aitken Spence and Company's hotel sector subsidiary) made a loss of Rs. 20.7 mn for the first quarter which is an off peak season. Business will pick up in the upcoming winter season, but the company's main focus is selling outside the troubled island. Obviously business must be good in the Maldives for the company to build a third hotel. So is the company moving out of the country for tourism? If so where? In the wake of a move to create a cess fund to sell Sri Lanka overseas and the wisdom of introducing GST to the industry, The Sunday Times Business spoke to Ratna Sivaratnam CEO of Aitken Spence and Company Ltd. Excerpts from the interview:
BT: How much have you invested in the Maldives resort and how are you funding it?
RS: The new resort, Meedhuparu will have a project cost of US $ 15 million. Aitken Spence who is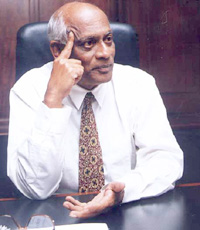 handling the project has a bed contract with Cowrie Investment, owners of the resort, who are doing the development and the programme.
We will take a percentage of the shares when the hotel comes into operation. The four star resort will have 215 rooms or 430 beds. We will restructure the financials of Aitken Spence Hotel Holdings to fund the resort in the Maldives. We will collect about Rs 400 mn through this restructuring.
BT: Room rates in the Maldives are higher than Sri Lanka and occupancy is also higher. Is this solely because there is no threat of terrorism or are standards maintained there higher ?
RS: The two destinations are not comparable. The Maldives is a specialist destination for the divers, snorklers and the bathers, Sri Lanka is a destination which is for the beachcombers and the culture tourist and Eco tourism. People who come to travel around the country and see the ancient history and culture.
They are two different destinations and so make a superb twin destination holiday. European or Japanese tourists can go through the Sri Lankan tourist sector which is different from going to the Maldives.
But I agree with you that the price structures are different. Maldives is a demand destination where growth rates have been roughly about eight per cent YOY for the last ten years.
Whereas Sri Lanka due to the terrorist problem has been going up and down. Today if you take a five star resort hotel on the beach, for example, half board accommodation plus half board arrangement would cost about US $100 in the Maldives it is around $140 to $160.
BT:Aitken Spence Hotels cater to a high-class niche that Sri Lanka has not been very successful in attracting. The operating cost of servicing this niche must be high. What's the gain?
RS: Niche markets with specialised products like Kandalama and Tea Factory attract a different higher spending clientele. Eco tourism is for higher spending tourist who come for ecology and environment. At Tea Factory too we charge at least 15 to 20 per cent more than any other hotel in that region.
Kandalama rates are higher than the accommodation units in the cultural triangle. So we are naturally attracting a higher spender. The operational cost need not be very much higher. The standard of service you provide the client is superior because of a good management. The good management is anyway available and the food cost and the beverage cost and the service cost are not very excessive. The marginality is a notional difference. So it is the management that gives you the superior service rather than there being a huge cost to it. The training that goes into the management and the service personnel are what matter.
BT: How do you view the forthcoming tourist season in terms of profit and price? Will you be charging premium rates in December for the millennium?
RS: Unfortunately, there is only a very small sector of the tourist that come over in December and January that we can attract for the millennium. Because we are doing year round business with the tour operators and they anyway bring in clients during the December January period to maximum capacity. In the past years the high of the high season commences from about the 20th of December and it goes on till about the end of February. So the place is full and these are the people who bring us the tourist. So there is very little space available for any special millennium foreigners who want to come to this part of the world.
But Colombo is quite a different story. Colombo has a huge number of rooms vacant even during the high tourist season. They are making special arrangements to attract these people but we are in the resorts and the resorts are anyway full from our past experiences.
BT: Is there a decline in rates in dollar terms or are they going up?
RS: We have priced all our hotels and services in dollars and we have succeeded over the last three years. Thank god we are getting increased rates in dollars. So we do not sell in Rupees. There is a dollar increase of 5 to 8 per cent over the last three years. For example at Kandalama and the Tea Factory the increases are higher than on the beaches where we have to compete and there is excess capacity of rooms or whatever. These two properties are demanding and receiving better prices than other properties in dollars.
BT: Is there a trend of Sri Lanka beginning to attract a higher percentage of working population as opposed to retired people and where do you see this trend going?
RS: With the social benefit in Europe being cut back we find that retirees are going to short haul destinations. Earlier they used to come to long haul destinations in the winter. Now they are going to different destinations closer to home. So there is a tendency for the travellers age group to drop. Whereas young people have the money to travel. And the younger people travel more and more because the world is getting smaller. The airline service is improving and airline rates have not increased in line with other consumer products. Take a ten-year spell, airline rates are virtually static. The charter airlines are competing virtually at the prices that were there ten years ago. Again because there have been mergers and alliances. So their prices are very stable , making it possible for young people to travel greater distances.
BT: What are the higher revenue earning hotels in Sri Lanka and are they profitable?
RS: Its a two fold question. Higher revenue earning depends on the cost of construction. If you take the new hotels the cost of construction is so much more. For example the Triton Hotel at the initial stages cost us Rs 125,000 a room to build. Today to build a similar room costs you Rs 800,000 so it has gone up eight times virtually. But the revenue is on a supply and demand basis.
So new hotels have a longer payback period. Although there is a profitability element, interest costs come in. The cost of construction, the cost of funds. All that attributes to a lower revenue or income flow to the shareholder.
We made an early entry in to the hotel sector. Apart from the Tea factory which we converted from a tea factory to an accommodation unit and Kandalama. All the other hotels have been there in the last ten to fifteen years.
We believe in refurbishing our plant and keeping it in top order because hotels are a renewable resource. Because if you keep it in good order you can get your rates. But if you are going to build a new hotel today..... but I would not advice anyone to build a hotel today with the rate structure.
BT:If operations in Sri Lanka are not as profitable as overseas operations would you consider closing down and moving out of Sri Lanka?
RS:We have made an investment . We have created an asset. Closing a hotel down and what would you convert it to? Realisable value of a hotel is nothing, unless you convert it to a hospital or a.......what else can you do with it? So it is there and we don't intend closing any hotel and we have not closed any hotel. We are maintaining our hotels in whatever possible condition and expecting better days in front. Which I must say and I'm happy to say seem to be around the corner.
BT: With your third hotel you would optimise exposure to the Maldives? Where next?
RS:I don't plan to go further into the Maldives. I would like to confine our development around the Indian Ocean. So India is the next stop for us. Also Seychelles or Mauritius, although we have not examined that so closely.
We have a huge domestic market if we go to India. Furthermore a link with India on the hotel front would also enhance our possibility of marketing Sri Lanka, in the Indian market which is a huge market.
Five per cent of the Indian market is about hundred million or hundred and fifty million adult working population. If you can make the zero point one per cent to come to Sri Lanka, all of the hotel beds will be full.
But we have to gear ourselves to receive the Indian visitor who is quite different in his demands to the European visitor.
We are gearing ourselves. We had an Indian chef with us for six months and we sent him around the hotels to teach Indian cooking. When you talk of Indian cooking you have the South Indian cooking, Hyderabad cooking, Kashmir cooking.
We are in the process of training our people in expectation of Indian arrivals. So having a base in India and running a hotel in India will have a great spin off benefit to our skills in Sri Lanka.
BT:What percentage of your consolidated profits are from tourism?
RS:Last year it was in the region of 50 per cent. In 1996 it was about five to eight per cent. Our return on capital (ROC) on tourist development or investments at the moment is about eight per cent. Whereas in the Maldives it is 25-30 per cent. If 8 per cent goes to 25 -30 per cent can you imagine the inflow of foreign exchange to the country and the inflow of profit to the company.
BT: How will you factor in GST to your performance next year?
RS:It will hurt the industry. We are not opposed to GST on the tourism sector but we believe tourism is an export industry. It has been recognised as an export industry in our neighbouring countries. In the Maldives it is an export industry. Here when you are exporting tea or cardamoms or any thing they say that people come and buy the tea and pay for it at the point of delivery here. We are exporting and their paying us at the point of sale. In Germany when they sell a holiday package to Triton hotel they pay for it there. Any hotel services taxes or VAT according to the German law in the country of origin and the country of purchase. So when he pays VAT and GST he is paying it twice. So we are pushing hard and trying to explain our position that we should be recognised as an export industry. This tax will erode our competitive advantage.
---
Fishing for fortunes
Story and picture by the Business Editor
In Chong Maesan they fish for their fortune.
The zillions of tiny fish swimming about in the shallow waters of the Thai gulf have transformed a poor fishing village into a prosperous town—courtesy Sri Lanka.
About 180km from Bangkok and just 30 km away from the famous Pataya beach resort, people were poor.
They caught the fish off the ocean and sold it to whoever could afford to buy it. Life was difficult and existence was hand to mouth.
But that's only until Sri Lanka erupted in a war. Now the sprats they never ate have turned to gold!
The raging war in the North and East of Sri Lanka, disrupted many things including the sizeable supply of sprats from Mannar and Mullaitivu.
Anchovy - a delicacy to the upper crust elsewhere, is the poor man's staple here.
And the war cut supplies severely, pushing up prices over the roof.
So, if dried fish was in short supply here, it definitely had to be sourced elsewhere. And that's when and how the dried fish merchants swung into action, smelling money in the shallow waters of Thai gulf, home to the unsuspecting schools of sprats whose peaceful existence has now turned into battle of dodging the net.
Now huge motor boats complete with strands of multi colored jets dot the small fishing harbour and fisherfolk on motor bikes with huge basket attachments for their catch, swarm the quay night and day.
Between 30 to 50 containers (the village's whole supply) is exported to Sri Lanka with each container carrying about 10,000 kilos of dried sprats.
About ten Sri Lankan companies have set up operations there, going directly to Chong Maesan and other such villages to buy dried sprats for export at an average price of US$ 1150 per ton. Of them about four to five run large scale operations and sell to Sri Lanka's biggest buyer the CWE on tender.
Thai fisherfolk's lifestyle has progressed from humble huts and broken down boats, to sprawling bungalows with television and Benz cars and trawler boats but the fishing and drying process are still primitive and subject to nature's dictates.
For example, if the sun is low the catch is low. The drying process takes two days and is 'solar powered'.
Fish is washed in salt water and dried out in large trays just a few metres off the shore, in the backyard of the fisherfolk's houses.
In their genuine attempt to explain their change of fortune, little trade secrets slip out.
Sprats are supposed to be kept in the salt water tank for just 10 minutes for the best results but the longer they stay in salt water the more they weigh. So, when the demand is higher than supply the longer the sprats sit in the salt.
Crude trays are placed on a slant to drain off the excess water and face the sun for quick drying.
The trawlers used for shallow water sprats and also cuttle fishing are rather fancy. The strands of electric bulbs attached to long thick bamboo sticks look purely decorative but they are used for the all-important task of attracting fish. The boats stop some way away from the schools of fish and extend the lit up bamboo, so that the fish swim toward the light.
And then, in next to no time, they are in the net and quickly dismissed to the hatch to make room for the next catch!
Fishing for sprats is always in shallow waters at 3 a.m. or 4 a.m. and about 500 boats operate each night with a 7000 kilo catch in each boat.
This gives an average income of BHT 5000 - BHT 8000 per month to the 20,000 families and 60,000 people in Chong Maesan.
The fisherman's selling price for a kilo of sprats ranges between BHT 25 and BHT 35.
Prices fluctuate and vary as much on quality as on supply and demand.
Quality is graded on the size and drying system.
Many things affect quality and we can only control some of it say the fishermen.
Sprats move about in schools and some happen to be bigger than others, not something the fishermen can control.
But drying methods also affect quality and that can be controlled to their advantage.
Quality, the fisherfolk admit, is a problem, especially when drying methods are at the mercy of mother nature.
But exporters say that fishermen use various ruses to control quality.
The moisture content in the dried fish should be no more than 18%. But some fisherfolk add more salt in the drying process to add more weight per kilo. However the salt dissolves in transportation and the weight per kilo reduces, exporters say.
This has led to on site quality supervisors for dried sprats exports. Strange but true!
Each village has about 10 collection centres where fisherfolk bring their produce for sale.Also too much moisture could make the fish go bad in the 15-day sea voyage to Colombo.
Poor quality can be sold cheaper but spoilt fish spoils the trade, exporters say.
---
ACL Cables takes control
Trading on the Colombo bourse was flat last week with an average turnover of Rs 28.5 mn. Foreigners remained nett sellers to the tune of Rs 14.99 mn.
ACL Cables bought over its rival Kelani Cables Ltd and is now estimated to control 75 per cent of the cable market.
Asian Hotels Corporation released its quarterly accounts, showing a loss of Rs 11.9 mn. A profit of Rs 28 mn was earned during the same period last year. Tokyo Cement Company (Lanka) Ltd made a profit of Rs 90.8 mn for the quarter ended June 30. This was a 74 per cent increase YOY.
Three Acre Farms gained 20.83 per cent while Commercial Bank rose 8.65 per cent fuelled by rumours of a bonus issue. CT Land gained 7.69, with the trading of a large parcel of shares.
Meanwhile Blue Diamond Jewellery lost 28.57 per cent and Seylan Merchant Bank fell 25 per cent.
"There will be a shift in focus to the plantation sector as tea prices are improving," Director Research, John Keells Stock Brokers, Nandakumar Nair said. He predicted the trend of improved tea prices would continue into the next week and the stock market would witness relatively better activity.
"With interest rates falling, following the easing of monetary policy the relative attractiveness of equities has increased for local investors," Strategist, Jardine Flemming HNB Securities, Amal Sanderatne said. "With support from an improved macro economic outlook in the second quarter and a likely turnaround in corporate performances in the second half we are very bullish on the market," he added.
"There was no market breaking news and the market will continue its natural movement next week," Head of Research, Forbes ABN Amro Stock Brokers, Prassana Ludwick predicted.
"I believe the economy is picking up and will see growth of 3.1 per cent stemming from a growth rate of 2.7 per cent in the first and second quarters and possible growth of 3.5 per cent in the second half," he said. He added external trade was picking up and so were tea prices. The gap between last year and this year has narrowed significantly.
"The statutory reserve ratio cut would lower interest rates and infuse liquidity which is market positive. Political uncertainty in the second half would also be subdued and the market should go up," Mr Ludwick said.
"Nothing is happening on the market, it will remain flat," Head of Research, CDIC Sassoon Cumberbatch Stock Brokers, Diluk Desinghe said. "There is no positive investment, no foreign investment which is needed to boost the market. But the Sri Lankan market can change suddenly," he added.
"The market will be sluggish," predicted Head of Research, Asia Securities, Dushyanth Wijayasinha. "I don't see any significant revival in trading until concrete economic numbers come that confirm economic recovery in the third quarter. The first half of 1999 was the worst and confirmed our predictions, however the economy is bottoming out," he said. "Share prices are at an all time low and this makes any downslide minimal," he added.
"Trading patterns will be the same as last week and it remains to be seen whether the investor conference being held by the Colombo Stock Exchange, to attract foreign investment, will pan out," Head of Research, NDBS Stock Brokers, Chanaka Wickramasuriya said.
---
Rs. 2 mn debentures from Seylan
Seylan Bank will offer a monthly interest on their 2 million debentures of Rs 100 each to be issued at the end of the month. "We are targeting pensioners," Manager Business Development, Seylan Bank, Tissa Nanayakkara, told The Sunday Times Business.
The bank is issuing two million debentures of Rs 100 each. The minimum investment is Rs 10,000 and multiples of Rs 5000 can be obtained thereafter. The bank will raise Rs 200 mn but will accommodate an additional Rs 200 mn if the issue is oversubscribed.
The issue is intended to improve the bank's capital adequacy ratio and mobilise a long term funding source to match long term lending. It will minimise the interest rate risk and gap exposure with the bank's asset and liability portfolio. Managers and registrars to the issue are Ceylinco Securities and Financial Services Lim
---
Producers worry over high tea prices
Top quality tea prices continued to slide narrowing the difference between below best and poorer quality tea prices.
Colombo auction statistics show that the strength in the market is for poorer teas, which are selling near par to best teas. This unusual trend is hampering efforts to maintain a superior product by managing green leaf quality, industry officials said.
Pluckers would rather spend their time plucking more teas with less quality constraints and get a price that is only a few rupees less than what is paid for quality leaf. In other words plucker's are selling their green leaf to factories producing lower quality teas. As a result of this we might see a drop in the quantity of quality teas coming into the auctions, brokers said. While, the improvement in prices was more than welcome the slow but steady narrowing of the gap in prices between teas in the below best category and the bottom end is a cause for concern.
However, at last weeks auction the market for low growns continued to be strong. BOP prices moved upward due to satisfactory demand from CIS and the Middle East resulting in BOPs once again selling above Rs. 100, but the market for BOPFs was significantly weaker.
Brokers said that the present market was driven by demand in the tea for price category and applied across the board to all elevations.
Elsewhere in the industry the thirteenth session of the Food and Agricultural Organisation (FAO) Intergovernmental Group on tea is due to be held in Ottawa, Canada at the end of this month. Among the many topics that will be discussed are market reviews, issues and strategies, intergovernmental action the project on tea consumption and human health. The project on tea consumption and human health will be especially interesting since the project aims to create an increased demand for tea through research on the human health benefits of black tea consumption and generic promotions which is now almost complete.
The group will be presented with the findings of the study who in-turn will evaluate these results and make appropriate recommendations for the future generic promotion programme on tea using the trademark which has been developed under the project.
---
Indian industry data fans revival expectations
India's industrial output grew by 5.4 percent in the April-July period year-on-year, which experts said was in line with expectations signalling recovery from a slowdown that began three years ago.
"This is one more step to confirm that the on-going economic recovery is gathering steam," said Rajesh Jain, director at Pranav Securities, on Friday. Economists said going by the current trend, with output growth showing a significant rise from the 4.2 percent seen in April-July 1998, they expected an industrial growth of about six to seven percent in 1999/2000 (April-March).
The July growth rate was 5.4 percent compared with 3.4 percent in June, but showed a steady upward trend overall. Industry grew by 3.8 percent year-on-year in 1998/99. The
government expects industry to grow by six percent in 1999/2000.
"It (the April-July figures) is another indication that the uptrend continues," said Sonali Sinha, analyst at SBI Capital Markets. "And it is being led by the fast moving consumer durables and automobiles sectors." Analyst expectations of a pick-up in the automobiles sector were reflected in data released on Friday by Tata Engineering and Locomotive Company Ltd which said its total vehicle sales —including cars, jeeps and trucks — rose to around 14,440 units in August from 8,250 in August 1998.
Consumer durables grew 14.3 percent in April-July, up from 0.9 percent in the year-ago period. Infrastructure activity was identified as a growth pusher.
"The big positive is that infrastructure sector is also keeping up...If industry has to grow, infrastructure has to keep pace," Jain said.- (Reuter)
---
Caltex plans LPG project
Sri Lanka's Board of Investment (BoI) said on Thursday it had in principle approved a proposal by Caltex Ceylon Ltd, a unit of U.S. Caltex Corp, to set up a gas storage terminal and bottling plant.
Thilan Wijesinghe, chairman of BoI told Reuters the cost of the proposed liquefied petroleum gas project (LPG) was estimated at 670 million rupees ($9.32 million).
The plant is expected to be built at Muthurajawela, a suburb of capital Colombo.
"The Caltex application is awaiting agreement but the company could be only allowed to construct the storage terminal at present," Wijesinghe said.
Currently Shell Terminal Lanka (Pvt) Ltd, a wholly owned subsidiary of the Royal Dutch/Shell Group, has the monopoly on the LPG market, but that will end in 2000.
An official of Caltex Lubricants Lanka Ltd confirmed that the U.S. oil giant was seriously looking at the option but declined to give details.
"We are very actively looking at the gas market in Sri Lanka that is growing very fast," the official told Reuters.