---
Compensation will be given
"I have proposed a 300-metre buffer zone, which should be cordoned off, so that people will not be harmed when the security forces use the 800 acres for exercises and testing," Kalpitiya Assistant Divisional Secretary L.T.M.G.C. Bandara said, assuring us that compensation would be paid to the victims.
He confirmed that usually before such exercises, the security forces inform the Divisional Secretariat and they in turn send Grama Niladharis to the villages to warn the people. Soon after the incident on August 5, he and the police held an inquiry.
He was sure that compensation would be paid to the two children who suffered injury. The incident on August 18 is slightly different, Mr. Bandara said. The children had gone into the danger zone and collected spent bullets, among which there may have been a live one. They had come back and played with them. So there were limited possibilities for compensation.
According to him the zone had been demarcated a long time ago. He felt that as the military equipment at that time and those used now were different, with varying ranges, a buffer zone should be established. Otherwise, the people close to the danger area may have to be moved out.
---
Innocent targets
While soldiers fight "mock" battles with live ammunition in the Bomba pitiya at Sagaragama in Kalpitiya, little children of the area have become victims of indifference
By Kumudini Hettiarachchi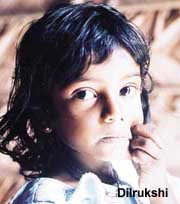 Who cares? No one. Not the govern- ment, not the security forces, not even the human rights activists, it struck me with chilling finality, as five-year-old Varuni Dilrukshi said, "Mata vedi veduna." (I got shot).
Seated in this little girl's tiny two-roomed cadjan home which was bereft of any furniture, except two brightly coloured plastic chairs, I am consumed by anger and frustration at my inability to do something. For us from Colombo, it seems as if we are in the middle of nowhere, amidst sand dunes as far as the eye can see dotted with small shrubs. But to Dilrukshi and her family, their home is close to the boundary of the "bomba pitiya" (bomb glade), in Sagaragama, Kalpitiya.
Unable to describe what struck her, she mutely raises her worn dress and shows me an ugly scar on the inside of her right thigh. She had got back from the hospital only a few weeks ago after an operation to remove a bullet.
Dilrukshi is at home with her grandmother, "aiyya" and also "malli". Her mother has gone to work as a labourer in one of the many onion fields, the green of which brings relief to the eyes among the dry, parched sand. "Thama ridenawa," (It still hurts) Dilrukshi says, her eyes big with pain. Her grandmother, Podi Nona steps out and points at small concrete pillars planted on a sandy mound not far from their hut. No area has been fenced off, there is no barbed-wire fencing, there isn't even a red flag to indicate that this is a danger zone.
Farther down the sandy track are two more isolated cadjan huts. They are deserted. A rafter and a golden-haired doll's head lie on the sand, along with shrapnel, pieces of metal from what seem to be grenades and bombs, to my lay eyes, strewn near a wall. Faint blood stains can still be seen on the cadjan wall which is also damaged. This was the place where two curious boys, Amila Chamara and Sisil Kumara brought "something" they had collected from the "bomba pitiya", played with it and met with death. Their families too have gone to work the fields, because in the struggle for survival there is no time to mourn.
We track down the mothers of Dilrukshi and Chamara and the sister of Kumara at an onion field. They are hard at work in the scorching sun, removing weeds from the rows and rows of plants. Two incidents on August 5 and 18 are brought to light by them.
Dilrukshi's mother, Kumari, says that around 6 a.m. on August 5, she and the children were drinking their plain tea near the door when they heard "pata, pata, pata". Suddenly, Dilrukshi screamed "Amma" and there was blood all over the floor. She carried the limp child, but couldn't get out of the house because the firing continued for about two hours. She watched helplessly as her daughter bled. In desperation, she took Dilrukshi through a jungle track, even as the firing continued, to the main road, about two miles away, from there in a trishaw, to the Kalpitiya Hospital. Another boy, 16-year-old Ajith, was also injured. The bullet had pierced his calf, but come out.
Normally, a jeep or the Grama Sevaka informs people before Army exercises are launched. "But on that day, no one told us. They also put up red flags and we've been told that if someone gets injured we should run up to the red flag and raise it. Far away there is a camp manned by homeguards," explained Kumari. Apparently, that day there were two groups of soldiers fighting a "mock" battle, with live ammunition, while some planes were also strafing the area.
According to villagers about 800 acres have been demarcated for the firing range and bomb experimentation, because the sandy ground is ideal for such testing. Simon Mudalali and A.C.M. Niyas, both big-time cultivators and property owners said the area is under the Air Force, but even the Army uses it.
Simon Mudalali, whose house is quite far from the demarcated area said planes drop bombs long before they reach the zone. In 1991, some bombs had dropped on three houses owned by him. He had been paid compensation for the damage. Luckily no one was killed in that incident as his labourers were on holiday because he had to attend a wedding. This was not an isolated incident.
Yes, they drop bombs from 3,000 to 4,000 feet. The testing is done here, because of the sandy ground. Muddy land is said to be unsuitable for such purposes, Niyas agrees. In 1987, middle-aged Zainul Hassan had been killed while he was watering the garden.
More recently, on July 7 this year, Mudalaippali Government School with 700 students was hit by what the Principal and teachers think was a mortar shell. It exploded near the toilets. Fortunately, the children were in a hall, a distance away because English teacher Jouffer was holding a literary society meeting.
But Chamara (13) and Kumara (9) were not so lucky. Veronica, Chamara's mother says that on August 18, he told her that as school was starting the following week he would go to town, have a hair-cut, come back and have a bath. She was taking her brother-in-law's meagre lunch to his workplace, when she heard a blast and rushed back. Her nephew, Kumara was already dead, her blood-splattered son was lying against the wall with broken limbs, her four-year-old niece, Nilmini, was seriously injured and her six-year-old daughter, Priyanka had escaped with minor cuts. The children had collected "pathuran kopu" (cartridge cases) and tried to hit them with a bottle, when a live cartridge or grenade had exploded. On the way to the hospital, jolting along in a lorry, Chamara had told his mother that his hand was broken and pleaded with her to take him to hospital. He had been operated on, but had died that evening.
"His father has deserted us and Chamara worked in the fields during the vacation, earning a paltry Rs. 40 a day after hard labour, to help me and also buy his books. It's our karma," she weeps.
The other four-year-old girl is still in a Colombo hospital, with her mother. "We don't know what has happened. We don't know which hospital. We can't find out, because we don't know where to go to. We also don't have the money," says the girl's sister Siromi.
Most of the families who have put up small huts near the boundary of the danger zone have come in search of jobs and squatted on state land. "There is plenty of work here. They come from Negombo, Anamaduwa and Thabbowa because Kalpitiya has work in the onion and potato fields. There is water too. You just have to dig a little bit and you get the water," Simon Mudalali says. Siromi's mother had come two months ago, because her sister's family had found work here. She had brought the children from her maternal home, only two days before the tragic incident.
Whether they are squatters or villagers, does anyone, especially innocent children deserve to die? How many more deaths do we need before preventive action is taken? Maybe in a society that has been brutalised, like ours, these children are expendables in the war, a war which is far away from their homes. We do understand the need for the security forces to train and test their armoury.
But what about the duty of the government to protect its citizens? A government which has pledged, through the Convention on the Rights of the Child to ensure four basic elements: the "survival" rights, the "development" rights, the "protection" rights and the "participation" rights of all children.
UNP's National List MP A.H.M. Azwer brought this serious issue to the notice of Parliament on August 19 and also wrote to President Chandrika Bandaranaike Kumaratunga on the same day. But the authorities have been deaf and dumb. So far nothing has happened, not a cent has been paid as compensation to the families. When contacted, military spokesman Brigadier Sunil Tennekoon said it would have been joint Army-Air Force exercises, mainly Air Force. But no official complaint has been made to the Army. He didn't know whether anyone had complained to the Air Force.
I leave Sagaragama in frustration. Is it enough to pay only lip service to international conventions and charters? Is it enough for Sri Lanka to parade the UN's Special Representative on Children and Armed Conflict, Olara Ottunu? Maybe we should deploy the UN mine experts, now in Jaffna, in Kalpitiya too. My plea to the powers that be is —Please help the humble people of Kalpitya to live lives free of bullets and bombs.
---
Front Page| News/Comment| Editorial/Opinion| Business| Sports | Mirror Magazine