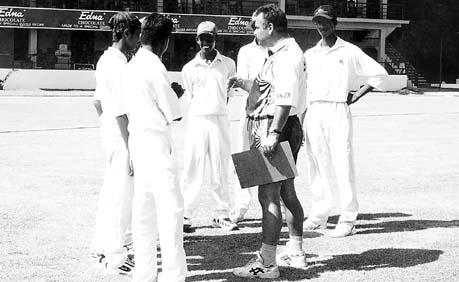 Cricketers from St. Aloysius, Mahinda, Richmond, Amarasuriya Vidyalaya and Meepawala MMV were given a training session in fast bowling by Sri Lanka's coach Dav Whatmore.
---
St. Peter's College became champions of the All Island Schools under- 17 seven-a-side rugby tournament organised by the Central Province Schools Rugby Football Association in association with the Sri Lanka Schools Rugby Football Association when they overcame St. Thomas' College, Mount Lavinia by 26 points to 7 to win the Milo Cup in the finals played at Nittawela on Sunday. At half time Bambalapitiya School were ahead 17-0.
The finals turned out to be an absorbing affair but the Peterites despite some unwarranted play which saw one of their players sent on 'sin bin' finally romped home comfortably. They collected their points through three goals and a try which were scored by prop Mario Corloff. (1), scrum half Phillip Asinghearachchi (1) and fly half Thariq Zuhair (2) who also added the extra points to three of the tries. The Thomians who found the pace put up by the Peterites too hot scored through scrum half J. Gunatillake who goaled it himself.
Anil Jayasinghe refereed.
The Plate Championship was won by Vidyartha College who routed Zahira College, Colombo by the massive margin of 38 points (4 goals, 2 tries) to nil, Vidyartha led 22 - 0 at half time.
This match was a virtually one-sided affair with the Zahirians having no answer to the inspired play by the Kandy team who were unlucky to be pushed out of the Cup championship. Vidyartha obtained their points through their stand off R. Pushpakumara who ran in four tries including a hat-trick and goaled all four himself, thus bringing his tally in the match to 28 points which is creditable in a short duration match. The other two tries were scored by hooker K.A. Jayasuriya (1) and winger R. Rajapakse.
Arunashantha Rankothge refereed.
In the Bowl championship Seethawaka Maha Vidyalaya showed that their recent success in the regional rugby tournaments was no flash-in-the-pan by defeating Maliyadewa College, Kurunegala to win the Milo Bowl title. Seethawaka collected their points through 3 goals (21) against a goal (7) by the Devans. Seethawaka thus winning 21-7. S. Muthumala refereed.
Cup Quarter Finals: Lumbini beat St. Sylvesters 22 - 5, Thurstan lost to St. Peter's 0-29, Issipathana 'A' beat St. Anthony's 24-5. St. Thomas (Mt. Lavinia) beat Prince of Wales 26-7, Semi finals: St. Peter's beat Lumbini 25-12, St. Thomas beat Issipthana 'A' 12-5.
Plate Championship: Quarter finals: Issipathana 'B' beat Science College 22-0, Zahira Colombo beat St. Thomas', Matale 26-10, Vidyartha beat S. Thomas' (Mount) 'E' 36-12, Mahanama beat Dharmaraja 19-5. Semi finals: Zahira beat Issipathana 'B' 31-0, Vidyartha beat Mahanama12-5.
Bowl Championship: Quarter Finals: Nalanda beat St. Aloysius 10-5, Seethawake Mv, Maliyadewa Model School, Maliyadewa College received byes. Semi finals: Seethawaka MV beat Nalanda College 10-0, Maliyadewa College beat Maliyadewa Model School 12-5. (MA)
---
Doyen of Sri Lanka boxing, evergreen Eddie Gray, is here again from Australia along with another Sri Lankan sports promoter in Bertie Ekanayake, to witness the ongoing triangular series and the three-Test series against Australia.
Both Gray and Ekanayake are two senior committee members of the Sri Lanka Cricket Foundation of Victoria, giving men and material to further help develop sports - especially cricket in their motherland.
Gray be at Royal or or in general had the vision to achieve his mission with his abundant knowhow.
Even Dav Whatmore's coaching stint had a big hand in helping Sri Lanka win the World Cup in 1996. His coaching stint in Sri Lanka was made possible through the SLCFV.
Gray speaking to The Sunday Times, said they were happy that Whatmore has returned to the fold again to take over the coaching after a successful stint in Lancashire.
Ekanayake was joined by another cricket loving personality, David Cruze. The duo was responsible in giving a long-term sponsorship package to a talented schoolby cricketer from St. Sylvester's, Kandy, in Chanaka Wijesinghe. The lad got an yearly grant of Rs. 50,000/- to help improve further his educational and extra-curricular activities.
There is a likelihood that in the near future Wijesinghe may get an opportunity of playing cricket in Australia and also the possibility of following a training stint at the AIS Academy in Adelaide, provided he maintains his consistency with the willow.
Chamara Silva, the lad who raised many an eyebrow with his defiant debut knock of 54 against the mighty Australians is one of those many young talented players from the outstations, whose talent go unheard, unsung depite the big talk of promoting cricket in the outstations.
Silva apparently hails from a less affluent home according to humanist Kushil Gunasekera, one of the co-ordinators of the Interim committee.
Eddie Gray said that he was keen to help Silva through the SLCFV. The Foundation, in the past helped many youngsters to improve their skills whilst playing in Australia. They later went on to do proud for the country - Roshan Mahanama was one of them, he added. B.W.
---
Asian Junior TT championships
Sri Lanka's chances at the Asian Junior Table Tennis championships at Chennai hinge on the draw. That is the view of coach-cum-Manager Malinda Ellapola. He points out that countries such as China, Japan, the two Koreas, Hong Kong, Malaysia and Thailand (not forgetting India) will be among the top notchers. Twenty six countries will be taking part in this tournament which is held once in two years.
Sri Lanka's boys' team performed reasonably well last time out. K.T. Chalitha, Duminda Herath and Rohan Sirisena (the sole survivor this time around) comprised that team.
Ex-Royalist Rohan Sirisena who leads the boys' team is playing at his best right now. Adept at using top spin on both flank, he also possesses that killer instinct. He puts one in mind of Thilina Piyadasa in that respect. Yohan Deshapriya ( the number one player among the under fifteeners), I.J. Gunapala and Dinesh Deshapriya make up the squad.
Dilini Madawala of Pushpadana, Saranga de Silva (Dharmasoka), Sachee Tennekoon (Girls' High School) and Pradeepa Dilrukshi (St. Joseph's Balika) are the girls who will strive to bring honour to the country - something that previous teams have been unable to do. The team leaves on the 30th. AK
---
By Bernie Wijesekera
The inaugural Asian Singer "Sevens" to be staged in the Hill Capital to mark Kandy S.C's. 125th anniversary celebrations, will create a new dimension in the annals of Sri Lanka rugby.
It will be staged at the Bogambara Stadium on Sept. 4 and 5, where ten teams drawn from South East Asia will scrum down.
Ishvan Omar, the organising secretary, told The Sunday Times, that two international referees - Hong Kong's Leo Chung and Japan's Masahiro Sakura, will handle the games along with the local referees. Both have tremendous experience and have been regularly blowing at the H.K. 'Sevens'.
Chris Padfield, the reputed T.V.commentator of the Welsh R.F.U. has already arrived. He will handle the electronic media, he added.
The official launching was held at the Singer Mega, in Kandy with a Fashion Show on Sept. 28.
On August 30 to Sept. 3, - street promotion in the vicinity of the schools will be held - to bring about awareness of this beautiful sport to the school children and to the general public. It will pertain to the Int. 'Sevens'.
Further, there will be a giant screen presentation held at the Dhanasiri Super Market on Sept.1. On Sept. 2, it will be held at the George E. de Silva Park. On both days rugby fans will be able to watch some great games, including some international 'Sevens' staged abroad in recent times.
The national carrier - the SriLankan Airlines and the Cathay Pacific will jointly handle the travelling arrangements. The participants will arrive on Aug. 31. They will be provided with accommodation at La Kandyan Resort. To add more colour to it Sun FM/Sooriya FM are having a mobile discotheque at all public venues.
Suntel will provide all communication at the venue - during the matches and at La Kandyan Resort for the teams.
Finally, Omar said it will be one of the greatest happenings in the annals of Kandy S.C's history and one to remember for a long time - that, too staged in a carnival atmosphere.
---
Harini Jayasekera won a silver and bronze medal; in diving at the 13th Asia Pacific swimming and diving championships in New Delhi.
She won the silver in the one metre spring board and the bronze in the one metre platform. Two other divers and a female swimmer qualified for a diploma but the organizers did not present these to them, only the medals.
---
Golden Jubilee Basketball
By Ravi Nagahawatte
Army Womens cagers registered a thrilling 37-31 victory over University of Peradeniya on the opening day of the Army Golden Jubilee Basketball carnival which began at the Sugathadasa Indoor Gymnasium yesterday.
The winners did most of their scoring in the first half where they led 30 points to 16 .
Priyashanthi 8 and Nirudhi 10 dazzled for the winners while Nadhee 10 and C.Rajamanthir 12 excelled for the University team.
In another women's match played earlier on Blue Cagers routed St.Lawrence 70-4 in what turned out to be a lop sided contest.
Kumarini 14 and Suleka 10 shone for the winners and helped their side pound the hapless St.Lawrence defence.
The Nalanda junior Under 15 side had a grand day on the court when they beat Ananda 50-37.
The winners led 26-14 at half time.
---
Nawaloka Group clinched the Mercantile F division cricket title after they scored a close 15 runs win over Merchant Bank of Sri Lanka in the final at the MCA grounds yesterday.
Nawaloka groups bowler Keerthi Gunaratne was chosen as man of the match in the final for his figures of 3 wickets giving away 10 runs.
K.H.Nansena was chosen as the best bowler while the best batsman award went to Sujith Hettiarachchi of Ceylon Tobacco.
Nawaloka Group - 110 all out in 28 overs(S.Amarasinghe 12, C.Withana 26, H.Perera 12; S.Fernando 3 for 15, P.Susan 2 for 16, C.Gunasekera 2 for 10)
Merchant Bank - 95 all out in 28.3 overs(M.sooriyarachchi 38, C.Kannangara 11, C.Gunasekera 10; Kevin Anthonisz 2 for 17, Keerthi Gunaratne 3 for 10, Duminda Perera 2 for 13)
---
Scolded in foul language?
A high ranking Cricket Board official was heard scolding another official in foul language when he inquired about the complimentary tickets to the AIWA Tri-Nation match between Sri Lanka and Australia in Galle.
He was heard shouting why don't you go, ask so and so for it. Walls have ears indeed.
Is it true?
Whilst the Galle CC members were seen standing, it was noticed that a section in the new pavilion was full with members from the surrounding clubs especially from Ambalangoda. A laminating machine was installed at a spot closer to the pavilion and under orders, persons got their tickets in a jiffy, much to the surprise of others Rover learns. Is it also true that a Manager of a bookie in the Ambalangoda town was given the contract to install various stalls in the ground!.
Chucking menace?
A leading school, where many national cricketers blossomed, is now finding it tough to select a pool for their under-13 age group, where in two trials 17 were found be chucking out of 75 and 13 out of 85. What's the remedy for this? If not checked now, they will bowl with the same action when they grow older.
Howler
The Audio Visual presented by the CE of the Cricket Board to all media was shown on a big screen at the Taj Samudra.
Shown were the matches, dates and venues about the AIWA Tri-Nation Cup. Everything went fine, but when the day of the final was shown, Tuesday August 31 the Stadium's name was spelt as Pemadasa International. Everybody including the foreign journalists were in loud laughter. What a disgrace?
Gone crazy?
Tickets for the day/night match purchased from the Cricket Board for the India/ Sri Lanka game saw the wording lunch time printed on it. Was this done by mistake or to save money.
What a price?
Is it true that the Board has been requested by a foreign sponsor to pay Rs 5 million for a fault done by them in not naming the sponsor earlier on the on-going Tri-Nation Cup for which an explanation has been called for by the Interim Body. Who is the culprit?
Stupid questions?
The bootlicker was at it again asking unwanted and not related question's at the press briefing held at the Taj Samudra Hotel. He was also heard stating that he was going to thrash Rover. What a fool indeed!
The trial games
Believe it or not. A player who has represented Sri Lanka and who is in his late 20's has performed in one of the under-19 trial games in preparation for next year's youth World Cup. Not that he altered his birth certificate, but because someone wants to test him and the juniors.
The "under-current"
By the way. A strong "under-current" had been at work in the Sri Lankan camp during the World Cup, Rover learns. He tried to turn some screws but fingers pointed to others. This under-current who has nothing to do with senior cricket, now has his ideas on the future.
---
No men's captain picked yet
Sri Lanka will be represented by 15 swimmers for the South Asian Federation Games (SAF Games) from September 24th to October 4th in Kathmandu, Nepal.
The Lankan team will comprise 9 men and 6 women.
The National Amateur Aquatic Sports Union (NASSU) learns, has not selected the men's captain which will be a toss between Gheffari Dulapandan, Gihan Ranatunga and Marlon S. Delano with pressure brought to name Conrad Francis to lead.
The women's captain undoubtedly will be Natasha Kodituwakku.
The question posed is how one swimmer who failed to qualify to the set standard by NAASU has been included in the team.
Those picked and approved by the Minister of Youth Affairs and Sports is:
Men - Conrad Francis, Gheffari Dulapandan, Marlon S. Delano, Sujendra Mather, Sean Lee, Jayamal Wijeratne, Gihan Rantaunga, Asela Pradeep, Eranga Feranando.
Women - Natasha Kodituwakku, Theeshani Ratnasekera, Radeesha Daluwatta, Chandra Haputhanthri, Rasansi Lankage, Ruchira Mony.
---
Caddies, Ex-Caddies and fore Caddies gathered together with Laksiri de Mel, Jehan De Saram and Nandasena Perera in N'Eliya to tee off in a 4 round competition organized by the Sri Lanka Golf Union and impeccably arranged by the N'Eliya Golf Club under the direct supervision and command of Clive Tissera ably assisted by Caddie Master Sunil Santha.
The golf was unimpressive except for Tissa Chandradasa's steady and well calculated rounds to strike 282 and average 70.54 per round. It was a praiseworthy performance richly deserving of the first prize award of a handsome voucher. Nandasena Perera still the maestro despite physical impediments was at his brilliant best in the 3rd round when he struck a superlative 5 under par 67. His other rounds were 71, 75 and 70 totalling 283 to average 70. 75 per round.
N'Eliya Boys
Much was expected from Prabhakaran not to be mistaken for the self claimed chief of the Wanni and Sounderajah on their home territory. Prabhakaran shot 296 averaging 74 per round and Sounderajah reached 299 after a few disgusting mishaps and hiccups.
Colombo Boys
Talented Laksiri de Mel and Jehan de Saram were never ever comfortable through the 4 rounds though they had the capacity to trim many more strokes from their eventual totals. They have to get to the nets more often under the wing of someone who can eliminate the flaws that affect their game. Professional attention is necesssary or else we will lose these two young bright sparks.
Digana Boys
It was heartwarmning to find two boys from the Victoria Club joining in the fray. Ratnayake and Jayantha made their debut in N'Eliya playing in the company of a few stars. They were most welcome competitors, and they received great encouragement from all around them. Tony Whitham was responsible for pushing them and I hope more will join in at the next meet.
Champs Fail
R. A. Rohana and Lalith Kumara who were playing classy golf a few weeks ago fell flat by the wayside and failed to show any signs of recovery. There is little to choose between Chandradasa, Rohana and Kumara but what is most evident is that they have the potential and capacity to do much better and I remind the hierarchy again that the trio needs expert coaching now and not later.
Sponsors
The sponsors were benevolent and lavish. Marlyn Abhayaratne a former President of the Ceylon Golf Union and an accomplished golfer in his youth continues his benevolence towards the promotion of golf and as Chief Executive of Lion Shipping Ltd his autograph on a cheque for Rs. 50,000/= was placed for the promotion of this competition. Through the efforts of Manori Jayakody the wife of the President of the Golf Union the E. A. P. Edirisinghe Group was coaxed in to help the cause of golf and they were certainly lavish providing medals and pendants manufactured by Swarna Mahal.
Hotels Help
Grand Hotel and St. Andrews chipped in superbly with lunch and refreshments for all occasions soundly assisted by Inter Fashions, & Eye Lash. Mr. N. Junaid the Chief Executive of the National Lotteries Board provided most welcome awards of Golf Shoes and to quench the thirst Elephant House moved in with bottles and bottles of their best unendingly, thanks to Sumithra Gunasekera.
Awards
Sunil Jayakody the President of the Sri Lanka Golf Union presided at the Award Ceremony and his charming wife Manori distributed the Awards at the end of an extremely successful competition superbly organized.
---
By H.P.P.Perera.
Police won the B and C division shuttle titles in the Government Services Badminton championships held at the Police grounds, Bambalapitiya.
RPC Anura of the Batticaloa SSP Division won the B division championship, while RPC Sarath Chandra won the C division title.
Both winners are serving in the operational areas of Batticaloa.Customs won the A division title.