---
Fowzie has gone back on his word-commuters
By M.Ismeth and Nilika de Silva
Transport Minister A. H. M. Fowzie has vowed that regulations governing quality of private bus services will be strictly enforced from Wednesday when fares will go up by 15 to 25 percent.
He said provincial flying squads and police had been told to ensure that regulations on overloading and other areas were observed by private bus operators.
Last week, the ministry agreed to the bus fare hike on condition that luxury and semi-luxury buses should carry only seated passengers while other buses should carry only a limited number of standing passengers. Another condition was that private buses must operate until 11 p.m.
"I have summoned a meeting of provincial transport ministers on September 9, to discuss the enforcement of these conditions," he said.
Justifying the hiking of state sector bus fares along the private sector fares starting September 1, the Minister said that due to the competition between the state and private sector this hike had to automatically take place. There is no alternative, he said.
Central Transport Board Chairman Ramal Siriwardena told The Sunday Times that the state sector fares should also be increased if an efficient transport service was to be maintained.
"Five hundred large Ashok Leyland buses will be added to our fleet within the next six months," he said.
Asked whether rail fares would also go up, Minister Fowzie said the government had no need to do so because it could subsidize the service," he said.
Bus commuters have criticised the government decision to increase bus fares by 15 to 25 percent from Wednesday, saying that Transport Minister A. H. M. Fowzie had gone back on his word that he would not allow that to happen.
The Sunday Times conducted a commuter survey to find out what they thought of the fare hike.
Jagath Silva, manager of a firm dealing in electronic items said placing more burdens on commuters were unfair without improving the quality of the service. "Even if we pay more, what do we get in return? Crowded buses and insults from conductors."
M. H. S.Hameed, a sales representative and a regular traveller from Dehiwela to Fort, said the Minister had let down the commuters after giving assurances that he would not agree to any such hike. At a time people are finding it difficult to cope with the rising cost of living, increasing the bus fare was unreasonable, he said.
Chandini Wijesundera who commutes daily from Moratuwa to Fort said: "With all these belching buses, torn seats, unroadworthy buses yet the Transport Minister wants the commuters to pay 15 to 25 percent more in bus fares."
Ranjani Silva, a private firm stenographer who travels from Nugegoda to Union Place asked what the so-called bus commuter societies were doing without protesting. She said that before increasing the fares, the minister should have taken steps to ensure a decent bus service.
Another commuter Saman Silva said the number of overcrowded buses was on the increase and most of the bus drivers had little respect for traffic laws. He said solutions to commuters' grievances should be found first before increasing the fare. "When are we going to have a system where buses would come to a halt at a specified time? This system prevails in other countries. Our Ministers travel quite a lot abroad and they should know to introduce an efficient transport system here," said commuter M. Nizar.
---
50 'unfit for use' drugs withdrawn
By Faraza Farook
More than 50 types of drugs that are being given to patients in public hospitals have been identified as substandard or unfit for use by a state laboratory and the Medical Supplies Division has begun steps to withdraw them.
Some batches of these drugs, which were found to be substandard after they were tested by the Quality Control Laboratory of the MSD, were being withdrawn from hospitals, a top MSD official said.
He said these drugs might have been imported to Sri Lanka three or four years ago and therefore it was possible that certain batches of the drug had lost their potency. Usually the MSD brings in drugs with a shelf life of between three and five years.
Drugs could lose their potency due to manufacturing defects, temperature changes or weather conditions, he said.
Some of the drugs that were found to be substandard included Metoclopramide used for abdominal pains, aspirin and Benzyl Penicillin.
The official said no supplier guarantees that the drug within its shelf life will remain one hundred percent to expected standards.
"If the hospital finds that a certain drug is substandard, the Director of the hospital should send samples to the Quality Control Lab. If found to be substandard, the drug is withdrawn and the supplier is either surcharged or required to replace the item," he said.
---
Horror goes on as maids flee to mission
By Leon Berenger
The Sri Lankan mission in Kuwait is taking in some 200 runaway housemaids a day, prompting one senior official with the Foreign Office in Colombo to describe the situation as 'horrible'.
The maids, most of them rural women with little or no education are on the run from harassment by their Arab employers and seek a safe haven at the embassy complex, the official said.
Although in most cases the employer is at fault, there are however instances where some maids, driven out of frustration, loneliness, homesickness and boredom decide to break off their work contract and bolt to the embassy with a false claim of harassment, the official pointed out.
"Nonetheless the situation in that country is indeed, very grave", he quickly added.
The embassy, already hard-pressed for cash has little alternative but to provide food, medical care and accommodate for the maids until a solution could be found.
In some cases the maids take up temporary accommodation with friends, relatives or sympathisers, but the bulk of them remain in the embassy, the official said. "This has proven to be a very costly exercise", he added.
While a few maids are persuaded to return to their employer in most cases however, the maids are flown back to Colombo largely at Government expense. A few individuals manage to gather their ticket fares with contributions by fellow Lankans working in that country, the official said.
---
Bus import confined to 2 firms
The government has decided to restrict the imports of buses to two particular companies, despite the imports from one of the companies show defects.
Approval has been given for the import of 500 small buses on a Cabinet paper submitted by Transport Minister A.H.M. Fowzie.
Cabinet has decided to call for tenders only from Ashok Leyland and Tata Companies of India.
Cabinet decided that a tenders should be called for the purchase of 500 omni buses and the following Cabinet Appointed Tender Board (CATB) should determine this tender.
The CATB comprises W.J.S. Karunaratne, Additional Secretary to the President (Chairman), Secretary, Ministry of Transport and Highways and Secretary to the Treasury or his representative.
Cabinet approved the purchase from Lanka Ashok Leyland Ltd 500 42-seater Viking Buses, 200 fully built 32-seater Tata buses and 50 fully built 42-seater Ashok Leyland Viking buses."
The 200 Tata buses will cost nearly SL Rs 260 milliona and the 50 Viking buses SL Rs 87.75 million.
A portion of the provision of Rs 925 million available in the ministry votes will be used to purchase 500 fully built ordinary buses.
Meanwhile, Dimo and Hino, two local companies, had to close down as a result of the import of only Tata and Ashok Leyland buses.
This also caused 3000 persons to lose their jobs, sources said.
---
Bringing peace to Sri Lanka
The Alumni Association of the Bandaranaike Centre for International Studies will hold a public lecture on 'Bringing Peace to Sri Lanka' by Lyon Ockersz, journalist and Alumnus of the BCIS, on Tuesday, at 5.15 pm. at the BMICH press lounge.
---
Govt. delay adds fuel to fire fighters' rage
By Chris Kamalendran
Colombo's fire fighters are fuming over government delay in implementing a Supreme Court ruling that the city's Fire Brigade be brought under the Western Province administration.
More than one hundred fire fighters, clad in their blue uniform, went in procession to the Presidential Secretariat and handed over a petition to the President, listing their grievances.
The fire fighters filed a fundamental rights case citing their right to equality had been violated after the Fire Brigade was handed over to the Air Force following the bomb attack on the Central Bank in January 1996.
The court in October 1998 ordered that the city's fire service be brought under the provincial public service government but no action has being taken to implement the order, a spokesman for the fire fighters said.
He said more than 120 fire fighters were idling and only Air Force personnel were sent on all fire calls, leaving behind the trained fire fighters who came under the Colombo Municipality.
The Supreme Court also ruled that the fire fighters were entitled to their due promotions and salary increments, the spokesman said.
---
Photo Journalists say thank you
The Photo Journalists' Association (PJA) of Sri Lanka has thanked all those who have expressed solidarity with its members who were subjected to a brutal attack while covering an opposition rally on July 15.
"While thanking all those who supported the victims with morale and material help, the PJA wishes to place on record its gratitude to Mahinda Rajapakse, the minister of Fisheries who helped launch a Fund to help the photo journalists," the PJA said in a statement.
Mr.Rajapakse donated a month's salary to the Fund which seeks to compensate the eight photo journalists whose photographic equipment was damaged by those who are believed to be members of the Presidential Security Division (PSD).
Ministers A. H. M. Fowzie and Jeyaraj Fernandopulle and several other PA politicians have made contributions to the Fund
"We are pleased to note that the UNP has come forward and followed the lead given by Mr. Rajapakse in participating in the Fund to help our members. Mr. Wickremesinghe presented a contribution to the PJA Fund at his Cambridge Place Office on Tuesdays," the statement said.
---
Ex-ASP alleges corruption in computer division
A retired Assistant Superintendent of Police has written to President Chandrika Bandaranaike Kumaratunga allegeding on-going corrupt practices at the Police Headquarters Computer Division.
Retired ASP M.P. Weerasena has also addressed a complaint to the Chairman of the Commission to Investigate Allegations of Bribery or Corruption expressing his disappointment that the IGP has failed to take any action against hte police officers who are allegedly responsible for these corrupt practices.
---
Peace Alliance: don't delay the package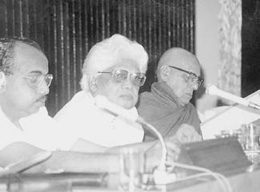 The National Alliance for Peace has urged the Government to present the devolution package without delay as it is an essential step in the peace process.
The Alliance which held a peace conference on Friday passed a resolution calling on all political leaders to facilitate the process and put the national interest before party interests.
The resolution states that the Opposition should accommodate all reasonable amendments and be equally responsive. The consensus reached should result in a revised Constitution being passed expeditiously by Parliament with the requisite two-thirds majority.
The resolution also requested the Government to initiate talks with the LTTE and called on the LTTE to respond to the peace process and overtures.
Religious leaders were also called upon to actively support the initiatives to create unity and peace.
---
DMO in centre of probe
Provincial health authorities have initiated an inquiry against Polonnaruwa's District Medical Officer for alleged arbitrary action that caused severe inconvenience to patients and resulted in the death of an accident victim.
Provincial Health Director W.M.T.B. Wijekoon told The Sunday Times that the DMO had transferred all the patients to other hospitals and asked medical officers to leave in the wake of a mob attack after the death of a school boy last week.
On Wednesday, doctors at the Polonnaruwa hospital launched a one-day token strike in protest against the mob attack. The situation was brought under control with police providing security.
But the DMO is alleged to have threatened doctors who reported for work on Thursday. Reports said only ten doctors turned up on Thursday.
---
Forged notes gang nabbed
By Sunny Samerasinghe
Five businessmen and an agent were nabbed in Nochchiyagama while allegedly introducing forged currency notes to the circulation, police said.
They said the gang had 64 forged 500 rupee notes and three forged 1000 rupee notes.
They gang is alleged to have transacted with unsuspecting people of Anuradhapura and nearby towns.
The businessmen were produced before the Thambuttegama Magistrate Hiran Ekanayake who ordered that they be remanded till September 7.
---
Return to News/Comment Contents
Front Page| Editorial/Opinion | Business | Plus | Sports | Mirror Magazine