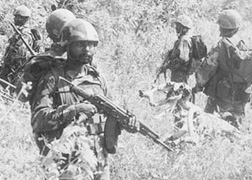 Confessions by arrested Tiger guerrilla cadres in the recent weeks have bared a clear message for the security forces and the Police – the LTTE have begun to unleash a fresh wave of violence after ending a seven month long lull.
The lull, particularly in areas outside the war torn north and east, began in December, last year. This was after the Government declared it was calling off "Operation Jaya Sikurui" (Victory Assured).
If Tiger guerrillas resisted an advance by security forces along A-9, the Kandy-Jaffna highway and prevented the opening of a land based Main Supply Route, they offered little or no resistance to subsequent operations. This began with "Operation Rivi Bala" that extended the eastern defences of the security forces in the Wanni and was followed by a string of operations Rana Gosa, later on the western flank. If there was no resistance to the former, resistance to the latter came only when the guerrillas were caught by surprise when the security forces advanced. Some were in fact trapped. However, as usual, skirmishes in the battle areas of the north and east continued.
A break in the lull, in areas outside the north and east, came on July 29 when W. Pathmasiri was driving Dr Neelan Tiruchelvam from his residence in Rosmead Place to his office at Kynsey Road. Just before he turned into Kynsey Road, a suicide bomber hurled himself towards Dr Tiruchelvam. The explosion killed him instantly. Today marks the first month of that incident but Police teams probing it have still not been able to identify the suicide bomber or how the killing was planned and executed. How many guerrillas carried out surveillance on the late Dr. Tiruchelvam ? Where did they operate from ? Where did the suicide bomber live ? From where did he come that fateful day to carry out the attack ? These are just a few of the many questions that beg answers.
That incident signalled the resumption of a fresh round of violence. But confessions made by Tiger guerrillas, arrested on tip offs and also by chance, have laid bare a clear pattern of the latest LTTE strategy. Some of the LTTE plans have been executed whilst others, which came to light well ahead, have been thwarted.
Added to this factor are various LTTE activities uncovered by sleuths of the Directorate of Internal Intelligence (DII), ones that go to further highlight the pattern that has emerged. The fresh wave not only focuses on military/police targets but reveals stepped up efforts to attack VVIPs, key economic installations, members of Tamil political parties and even civilians in the Jaffna peninsula who do not obey LTTE's "orders."
Last Wednesday (August 25), Police Special Task Force commandos from Batticaloa, helped by the local Police, conducted a night raid on a line room at Batuwatte Estate, Madulsima, in the Badulla district. The STF men had been tipped off that a large quantity of explosives were being moved from the east to the plantation areas. The raid led to the discovery of nearly 68 kilogrammes of explosives (P 9 type) concealed inside the spare wheel of a van.
The van carrying a hard core LTTE cadre, Sulochana Devi alias Devi Akka, along with the spare wheel, had arrived in Madulsima from Batticaloa. It had travelled through Siyambalanduwa, Moneragala, Badalkumbura and Passara getting through several road blocks and check points. The van had left the area after dropping Sulochana Devi and the spare wheel.
Sulochana Devi was arrested together with Mookkan Ganeshan, an employee of Batuwatte Estate, who is alleged to be an accomplice. Ganeshan's wife is said to be a resident of Batticaloa and that was believed to be how contacts were made with Ganeshan. A brother of Ganeshan, Mohan Sunderalingam and another person, Balasubramaniam Vadivel, a resident of Porativu in Batticaloa district, were also taken into custody. All four had been at the line room at the time of arrest.
Preliminary investigations have revealed that the explosives were to be used to blast the tea factory at Batuwatte Estate. If this finding is correct, it lays bare a new move by the LTTE to attack economic targets in the hill country. Security authorities have been closely monitoring reports of LTTE infiltration into the plantation areas in the recent months. Sulochana Devi and the three others were brought down to Colombo on Friday night for further detailed interrogation.
The arrests at Batuwatte Estate came in the backdrop of a string of incidents in the plantation areas this month. Among them:
August 11: Three pillars of an electricity pylon were damaged when an Improvised Explosive Device (IED) was exploded. The incident occurred in Hatton (along the Dickoya Road).
August 12: Two IEDs fixed to two of four pillars of a pylon carrying high tension electricity cables exploded. It damaged both pillars though electricity supply was not interrupted. The incident occurred at Kandegedera in Badulla.
August 13: An Army bomb disposal team deloused an IED accompanied by a timing device and containing steel pellets. It was fixed to the Telephone Switching Cabinet along Dunbar Road in Hatton and was timed to explode at 4.40 a.m.
August 14: An Army bomb disposal team deloused another IED linked to a timing device near the Telephone Switching Cabinet at Dunbar Road, Hatton.
A few days earlier, detectives from the Terrorism Investigation Division (TID) raided Sun Hotel at Kathiresan Street and arrested a youth who was seated behind a small desk writing bills for diners who were required to make payments to the cashier.
He possessed a cyanide capsule, well concealed in his body and a forged identity card which gave his name as Ulaganathan Vigneswaran. He has later claimed that his real name was Somasunderam Mahendrakumar alias Bhuvanendran from Karainagar in Jaffna. The TID is in the process of verifying his identity and the confessions he has made.
The man is said to have revealed that he was on a mission to assassinate two Cabinet ministers – Nimal Siripala de Silva (Minister of Health) and Richard Pathirana (Minister of Education). He has said that he reported to LTTE intelligence cadre Kiruba in Mallawi (in the Wanni). He has said that reconnaisance was conducted on the movements of the two Ministers. The interrogation is still continuing and it is not immediately clear how the assassination plots on the two Ministers were to be executed.
Another LTTE intelligence cadre, Sivagnanadasan Srikanthan alias Sri, was arrested on August 4 by officers of the Colombo Fraud Investigation Bureau (CFIB). The chance arrest came when the man was found loitering outside the CFIB office in Wellawatte. His conduct roused suspicions. Police said 28 year old Srikanthan from Kodikamam in Jaffna had flown to Colombo in June, this year, after he was selected to be recruited as a policeman.
He is learnt to have revealed LTTE plans to attack a VVIP convoy at a congested City roundabout, a State Guest House where Professor G.L. Peiris (Minister of Justice and Constitutional Affairs) lived, the Merchant Tower of the Bank of Ceylon, Sri Lanka Telecom Exchange at Borella among others.
Intelligence sources say that a hard core LTTE member, a former Naval rating, a native of Kayts and now living in Vavuniya, and four others including a female suicide cadre had been tasked to attack EPDP leader, Douglas Devananda.
As reported in these columns (Situation Report – August 15), an alert Reserve Police Constable manning a checkpoint outside the Trincomalee Railway Station arrested an LTTE intelligence cadre, Krishnapillai Rameshwaran (alias Anbumaran and not Anbu Maama as erroneously reported earlier). Rameshwaran led Police and Military Intelligence officials to a hide out at Thovarankaddu in Uppuveli. There they found 42 kilogrammes of high explosives and other military items.
Rameshwaran also confessed he was aware of the explosion that destroyed 'NEWCO ENTERPRISE," a privately owned vessel that ferried passengers between Trincomalee and Mutur.
The vessel was berthed in the Inner Harbour at the Dockyard in Trincomalee when an explosion in the early hours of Saturday (July 24) ripped through sinking the ship and killing a crew member. This attack, according to Rameshwaran, was carried out by two Sea Tiger cadres who had infiltrated Trincomalee days earlier. They were operating from Selvanayagapuram and Anbuvelipuram areas. One evening, they had used a hired three-wheeler taxi to transport explosives and scuba diving equipment from these villages for the attack.
Both Military Intelligence and DII officials have subjected 19 year old Rameshwaran to detailed questioning. He is learnt to have revealed that 150 Tiger guerrillas have arrived at a base in Peraru jungles in Kuchchaveli area, in late July, from Mullaitivu. These cadres had completed "model training" to attack military installations north west of Kuchchaveli. A 15 member group led by Murasu, he has said, were operating near Yan-Oya Jetty at Yan Oya in Pulmoddai. Another 15 member group under Arulmolee were operating from "Baskaran Base" at Pallachenai near Nilaveli, according to Rameshwaran.
Intercepts of LTTE radio transmissions in the area, intelligence sources say, have further confirmed these reports. Military installations in the area have been warned of these threats. They have introduced several counter measures including offensive patrols to prevent any attacks.
The same sources said they were investigating reports of an attempt by an LTTE intelligence cadre, operating from Kattamurivikulam (north of Batticaloa, forming the border with Trincomalee district) to pay one million rupees to a Muslim lorry owner, to smuggle to an unknown location in Colombo a stock of explosives stacked in containers. The lorry owner from Mutur had been approached through a Muslim fisherman. The lorry in question is one among many that transported fish from Mutur to St John's fish market in Pettah.
LTTE had believed that the stock of explosives would find easy passage since the lorries bringing fish to Colombo from those areas obliged security forces and police officials by transporting curd, meat and other items to relatives or friends.
If there was relative calm in the Jaffna peninsula during the Black Tiger week last month, subsequent weeks saw heightened LTTE activity. The Army arrested Srikuran, an LTTE cadre in late July, at the Gurunagar Jetty with five suicide jackets and a sniper gun. The LTTE has warned Tamil United Liberation Front (TULF) and Eelam People's Democratic Party (EPDP) members in the peninsula to refrain from indulging in political activity. A warning has also gone to members of the Eelam People's Revolutionary Liberation Front (EPRLF). A similar LTTE "decree" was issued to Tamil politicians in the east but was subsequently relaxed to allow them to indulge in activity that would be of "service to the people" excluding political activity. On August 4, an LTTE pistol gang shot dead the owner of Ajantha Video Parlour, Markandu Logeswaran, reportedly for disobeying their "order" not to lend certain types of videos.
Senior officials in the security establishment in Colombo say they are not surprised at the fresh wave of violence the LTTE has begun to unleash. "They have now declared their intentions and we are ready for it," a high ranking Army official, who spoke on grounds of anonymity, told The Sunday Times. "They may be trying to force us to re-deploy and create confusion. That will not work," he said. Asked what measures were being adopted to counter, he replied "we do not advertise what we plan to do. We are already responding. We will respond more in a very fitting manner. That's all I can say ," he said.
In the battle areas of the north and east too, LTTE attacks have been stepped up. Here are a few among the incidents that occurred:
July 27 – Attack on Rangiriulpotha Police Post in Morawewa (Trincomalee district). After Police personnel reportedly deserted, Tiger guerrillas removed the arms and ammunition at this post. IEDs were used to destroy a telecommunications tower at Kumbukanwewa.
July 30 - A Police road block was attacked. A policeman died upon admission to the hospital. Another was injured.
July 31 - An Army route clearing patrol was attacked at Sagarapura in Trincomalee. Four soldiers were killed and four more were wounded.
August 4 – The radio controlled detonation of an explosive laden pedal cycle on an STF truck (42 Sri 1437), the third in a convoy, at Vepankulam (on the Vavuniya-Mannar Road) killed 12 STF commandos and two civilians. Four civilians were injured.
August 6 - The radio controlled detonation of an explosive laden pedal cycle on a security forces convoy between Kumarakadu and Vepankulam left Lt. Sanjeeva Rajakaruna and five soldiers injured. Two civilians were killed and two more were wounded.
August 8 - Attack on three civilian lorries transporting troops. Two civilians were killed. Two soldiers and four civilians were wounded.
August 9 - A suicide bomber who gained entry into the Army Camp at Vakarai blasted himself killing Major B. Karunanayake, injuring Major J.H. Karunadasa and two soldiers. From radio intercepts, the suicide bomber has been identified as "Major Ratnakaran."
August 11 - Ten policemen were killed and 21 more were injured when a claymore mine ripped through the vehicle in which they were travelling. The incident, near the Batticaloa Police Station, occurred when policemen, who were going on leave, were proceeding to Welikande.
August 18 - A claymore mine explosion killed six soldiers in the controlled area of Omanthai, north of Vavuniya.
August 22 - An ambush and attack killed six Special Task Force commandos and wounded another near Central Camp in Ampara district.
The fresh wave of violence by the LTTE manifests a change in their operational strategy. This is a shift from positional defence posturing against a conventional type of advance and attack operations by the Army to small-scale, fluid offensives over a wide area against a variety of targets. The fresh offensive is obviously designed to compel the Government to maximise its security efforts to protect a whole range of targets essential to governance. Thus, in the process denying it the one priority it wants to focus on the most – the application of maximum resources to the confrontation in the north and east.
This change of strategy should hardly come as a surprise. The limited human and material resource available to the LTTE, as compared to the security forces, leaves little other option than to resort to operational methods which will protract the war to limits that will be politically, economically and militarily unendurable to the Government.
Could it be that it was in pursuance of such strategy that the LTTE offered little or no resistance to Rivi Bala and Rana Gosa series of operations ? So that the Army would be forced into deployment in a large areas of real estate at the expense of the advantage of being able to concentrate its resources, thus giving the LTTE the opportunity to change over to a new operational mode.
In doing so, the LTTE are not adopting an innovative strategy but taking a leaf off Mao Tse Tung's doctrinaire for guerrilla warfare, that is sacrificing Space to buy Time and Will. Time, to prolong the war and to build Political Will towards the unquestionable ultimate – the support for Eelam. The latter includes the elimination of any competition or alternative to the sole domination by the LTTE.
Even though the Government should have been forewarned by its intelligence agencies of the ominous options that may result by the unusually low profile resistance to Rivi Bala and Rana Gosa operations – which was almost an acquiescence – the new situation poses many new challenges to the Government.
To meet these challenges a more dynamic, flexible political and diplomatic initiatives need to be activated. In this, it is well to bear in mind that, the LTTE campaign has always had its priority – its political and diplomatic strategy. Its military campaign was an adjunct to its political agenda. The emphasis may differ from time to time due to exigencies but the bottom line is that it is a political victory that is at stake.
An error has crept in to my report last week about successful talks and accord a delegation headed by Defence Secretary, Chandrananda de Silva, reached in New Delhi. Sri Lanka's High Commissioner in New Delhi, Mangala Moonesinghe, was not associated with the delegation since he was away on an official visit to London. He was represented by his deputy and acting High Commissioner, Prasad Kariyawasam.
---