---
Maxi surprises the audience
Hearing the strains of the popular hit 'Having the time of my life' and looking into the Union Bar and Grill Room Hilton JAIC Tower last Tuesday evening and surprise, surprise, evergreen Maxi Rosairo was at the usual best holding centre stage along with Corrine backed by Sudu on keyboards.
Maxi Rosairo, the polished performer and a singer with a rare voice and a recipient of many an award has that uncanny knack of surprising his audience with his vast repertoire that ranges from the golden oldies to the contemporary pop chart toppers or even the funk or rap hit - and all with equal ease and aplomb that only Maxie can do, his way! Corrine Almeida, no mean vocalist herself was at her sizzling best and a perfect complement to the suave maestro Sudu Gunasekera providing the icing on the cake tickling the ivories.
A Trio that will certainly draw crowds, so be a part of the action - The Trio will be in action on Tuesdays from 7 p.m. onwards at the Union Bar & Grill Room, Hilton JAIC Tower.
---
"Friends" to heat audience
'Friends' from Europe and the band 'Heat' will be the bands in attendance at the 'Millennium' bash at the Ceylon Inter Continental on 31 December this year.
The Ceylon Inter Continental Colombo is fine tuning its preparations for their millennium bash in the Sapphire Ballroom. A special millennium package has been put together with a value-added full board offer, specially tailor-made to suit all Sri Lankan expatriate returnees, in-house guests and the residents to see in the Year 2000 at the Inter-Con. This package entitles an overnight stay in a deluxe room, lunch on the afternoon of the 31st, dining and dancing at the Sapphire Ballroom where two live bands - "Friends" and 'Heat'- will be in attendance. There is also a special souvenir of a quality T-shirt with the slogan "I was there for the millennium - Ceylon Inter Continental - Warmest Heart in Colombo."
---
Aquarius ended up at Hut
The good old days are now back at the "Hut' of the Mount Lavinia Hotel.
Bengi and his band Aquarius are now alive on Thursdays and Fridays at the Little Hut.
Aquarius started their first live performance last Thursday and they will continue till the festive season. The band 'Heat' will continue on Saturdays.
The most unique in this place is slashed prices on beverages. It has come down to half of the current price to match the old prices ten years ago, when Bengi used to perform at the 'Hut', Oshadie de Silva, PR Manager of the Hotel said.
Aquarius now comprizes Benji, Rozanne, Shiran, Ranil and Sampath. Raja Mendis of Ecstasy fame will join Aquarius towards the end of the year.
---
UK 'Foreign Affair' in SL
By Sanath Weerasuriya
British based band 'Foreign Affair' will be the latest addition to Colombo's series of Millennium celebrations on December 31.
'Foreign Affair', a six member band led by Sri Lankan born Bandula de Silva will perform at Taj Samudra for their millennium bash. They will be in Sri Lanka on December 12 and will start their gig at 'My Kind of Place' on December 17 and continue till the millenium bash.
All six members of the 'Foreign Affair' are professionally qualified in their respective fields and the band is proud to have two scientists in the line-up.
Bandula, who was in Colombo last week for a short holiday, visited TV Times.
'Though we are not fulltime musicians we play almost all the functions organised by the Sri Lankan societies and some of the British functions too. 'Foreign Affair' performs at Hilton and Marriott chains in UK and at most of the London's Park Lane hotels Bandula said. 'Foreign Affair' comprises Bandula de Silva on keyboards, bass guitar, sax and vocals, Greg Wells on keyboards and vocals, Priyal de Soysa on guitar and vocals, William Razel on bass and vocals, Rohan Dias on drums and Jimmy Razel on lead vocals.Except Greg, all are Sri Lankans who have migrated to UK more than fifteen years ago. Greg is a nuclear physist and Priyal de Soyza is a genetic engineer. All others are professionals too Bandula explaind.
Bandula is the founder leader of Cosmic Rays, which was very popular during early eighties. William and Jimmy were with 'Pioneers' and Priyal was with many Scottish bands during his eighteen years stay in Scotland. Greg too is a professional singer.
'Foreign Affair' released two of their originals to Yes FM recently. 'Ultimate Trip' and 'Young Blonde & Dangerous' are now on air. 'We will be working on another song and hope to release it by October in London. The name of that song is 'Never say goodbye'. We have lot of British influence in our style of music and performance than us.' Bandula said. Desmond de Silva is very often backed by 'Foreign Affair'.
---
Cranford: a jewel in Uva Province
By Sanath Weerasuriya
Diyatalawa is known as one of the most beautiful and scenic valleys in the Uva Province.
The best known place in Diyatalawa is the Army defence training camp and a beautifully located Cranford Holiday Bungalow is fast gaining in popularity as the second most prominent landmark in Diyatalawa.
Set in natural surroundings in Kahagolla, just two km away from Diyatalawa town, Cranford Holiday Bungalow is an ideal base from where the scenic and historic Uva could be explored.
Cranford Holiday Bungalow, which is very popular among overseas visitors and foreign expatriates living in Sri Lanka, is centrally located in Diyatalawa, and is 199 kms away from Colombo by road and 245 kms away on rail.
The Cranford holiday bungalow is a magical transformation of an old planters bungalow into a unique style of its own. It has two deluxe rooms and three family rooms with all modern comforts.
According to the of TPR Holdings, General Manager Luxman Suriyabandara, the owning company of the 'Bungalow', Cranford, could be booked on full board, half board, room only or entire bungalow for large groups with or without meals.
"Since we started this project, the Cranford Holiday Bungalow was meant for foreigners only. But now we have decided to open it for Sri Lankan holiday makers too. This is becouse now we promote authentic Sri Lankan food", said Suriyabandara.
Cranford Holiday Bungalow offers eastern, western and traditional Sri Lankan cuisine.
"The guests, who would like to have a trip by rail, the package could be arranged from Colombo and be picked up on return at Diyatalawa or Bandarawela railway stations", Luxman said.
The nature tours are the most important part of the Cranford Holiday Bungalow.
Bandarawela is just three km away from the Bungalow and the world famous 'Demodara railway loop' is 10 km away.
'The Bridge in the sky', the Demodara nine arch' and 'three arch' bridges are within 9 kms range. These bridges are nearly 3100 feet above the sea level.
Most of the well known water falls are just a couple of hours drive. The beautiful Dunhinda Falls ( 32 kms away), Diyaluma ( 37 kms), Rawana Ella (21 kms) is not to be missed by any visitor, either local or foreign to Cranford. Haggala Botanical Garden and Nuwara Eliya is just 60 to 90 minutes drive from Cranford Holiday Bungalow.
'These nature tours too can be arranged from Cranford Holiday Bungalow by a Safari jeep. But it should be on prior request as we have limited transport facilities for these tours", Suriyabandara added.
Cranford Holiday Bungalow has a lot of recreation facilities such as indoor games, basketball and badminton court and Jacuzzie on request.
Cranford Holiday Bungalow can be booked through 'TPR Holdings" at 189, Bauddhaloka Mawatha, Colombo - 4 ( Tel - 587996/583387).
TPR Holdings is a sister company of JF Tours the owning company of the 'Viceroy Special.'
---
"Undaya" takes a shot at social evils
Writer film maker K.A.W.Perera is to release his latest film 'Undaya' (Bullet) after adelay. "Although there was a delay to release 'Undaya' its story has not got stale. It's fit for any season as I discuss a social theme in 'Undaya' "he said.
'Undaya' is based on an incident which took place when the ugly head of terror was gradually rising in the south.
Mr.Perera is known as a 'bullet' for his straight forwardness and the film too has been named by the same name. " Well I am not aware that some people who know me and my ways of facing problems that arise in my day to day activities have branded me by such a name.
However I do not hesitate to face things in the real perspective. But I consider titling the film 'Bullet' is nothing but a coincidence" he added.
He is one of those who was in the forefront in the campaign to form the National Film Corporation ( then State Film Corporation of Sri Lanka). He yet believes that NFC should exist for the betterment of the domestic film industry.
"There are many film makers like me who have graduated as film producers with the blessings of the NFC.. If not I would have yet been a film director for a fee " he added. 'Undaya' is written,produced and directed by him. After directing several films K.A.W. produced his own film ' Janaka saha Manju ' which was a box office success.
Deserving independent film makers were allowed the rare facility of getting loans to produce films. This wasa scheme propsed by NFC to the People's Bank.
Again he is one of those who opposed the recent Cabinet memorandum prepared by Ministry of Finance and Planning. "I opposed it because my view is that NFC should be there for the local film industry is progress." he said.
He bears no malice but openly expressed his views in public on this matter as several in the film industry requested him to openly speak out his ideas on the proposed liberalisation policy." Some people do not like me as I call a spade a spade,".the director said.
He entered films as a dialogue writer in Lester Janes Peries' 'Rekawa'. Since then he has directed 21 films.
In all these films he has written the screenplays as he thinks he could do justice to any story only by writing the script by himself. and 'Undaya is no expection.
Sarala ( Sangeetha Weeraratna ) is the heroine of his film.Her brother Murthie is a graduate but is unemployed because he is not fluent in English. Even though Sarala to is an educated woman she too is not employed. Their only source of income is what Sarala and her mother jointly earns by tapping rubber trees.
While a section of the population live in fear, another lives happily enjoying all comforts in life.. Amidst terrorist activities and death threats Sarala and Jayadeva continue their love.
---
Fund raising tribute to Clarence
A Musical Fiesta titled "To Clarence With Love " is scheduled to be held at the BMICH on August 28 evening. This fund raising project is organised by The Lions Club of Wellawatte.
There were two main objectives in organising this musical show. One was to pay tribute to an outstanding artiste who created a sensation in singing and in music.
The other was to donate the proceeds of this show to a project that will benefit the youth of our country, Organising Committee Chairman Lion Sri Sangabo Corea said.
After an evaluation of prospective youth oriented projects,the Lions Club of Wellawatte West decided to support the Gamini Dissanayake Institute of Technology & Vocational Studies which teaches English to the poorest of the poor who are not fortunate of receiving an English education. It is also intended to train them in computer science.
The organisers of the show will not divulge some of the surprises in the show however according to them it is going to be a show worth seeing.
Several top artistes have already given their consent to appear in this musical programme. Organised to be an exclusively a Clarence Wijewardena show where his popular numbers which have become household melodies either hummed or whistled, or sung or imitated by his fans not only in the country but by Sri Lankan expatriates all over the world.
A highlight of this programme is going to be the introduction of two girls who in their very young days inspired Clarence Wijewardena to compose two songs about them,Ramani And Dilhani.These two sisters will come on stage to felicitate Annesley and Indrani who sang those two songs.
Annesley Malawana who performed with Clarence Wijewardena in many foreign countries, Indrani Perera, T.M.Jayaratna, Shanaka and Lankika Perera, Anil Bharetti, Chandralal Perera, Monty Watalandeniya, SriKantha Dassanayaka, Kumar Peries, Rajiv Sebastian, Priya Suriyasena, Ronnie Leitch and Piyal Perera will sing paying tribute to the late singer Clarence Wijewardena.
The musical backing will be provided by Siha Shakthi. Kulasiri Budawatte Dance troupe will perform the dance items.Sirisa FM and TV are the official radio and television channels covering the show.Torana will record the show live and later produce it on a CD and song cassette that would be released to the public on a later date.
Dr Vijeya Corea will compere the show.
---
H D planning a dual release
Film maker H.D.Premaratne has completed work in 'Kinihiriya Mal' and is busy making arrangements to screen the film before the Public Performances Board (PPB).He is also contemplating to release the first Sri Lanka-Australia co-production ' Mandakini' here, which held its world premiere in Sydney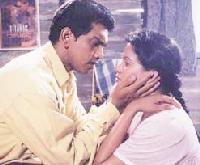 last March.
Referring to E.A.P.Films 'Kinihiriya Mal' director Premaratne said the film discussed vice as a theme that is rampantly spreading in the country. He had filmed several scenes where vice breeds and of those who encourage immorality to gain financial benefits."Immorality that was once limited to urban areas has now spread to the villages where young men and women are involved. Some of these acts are operated by the elite who play a double role in society" he said.
The main roles in this film are played by Kamal Addaraarachi, Sangeetha Weeraratne, Vasanthi Chaturani, Veena Jayakody, and Pradeep Senanayake.
Suminda Weerasinghe has is its cinematographer. Rohana Weerasinghe is the music director. Elmo Haliday has edited it.Lyricist and broadcaster the late Karunaratne Abeysakere's son Dileepa Abeysakere makes his debut as a lyricist in 'Kinihiriya Mal'. "It was my intention to introduce Mr Abeysekere into this field as we must give a place to the younger generation to show their mettle " director Premaratne said.He is quite satisfied with the work done by this young man who is presently attached to a leading advertising firm. Soma Edirisinghe has produced 'Kinihiriya Mal 'Incidently his other film ' Mandakini ' is also ready for release.
---
Amaradeva's rich past in music field
It was a musical evening with golden oldies hits sung by Maestro Amaradeva at Hotel Taj Samudra on August 13.
A mixed audience of media personel, film, song and literary celebrities and wellwishers participated
The occasion was the release of Maestro Amaradeva's latest CD and song cassette 'Swarna Vimanaya' comprising 20 hit songs, both film and ather song renderings.
'Swarna Vimanaya' is one of the songs he rendered for 'Getawarayo' where the Maestro was its music director. The lyrics were penned by Madawela S Ratnayaka.. 'Siri Buddha Gaya Viharaye', a song which was disced long before independence and sung by H. W. Rupasinghe and Rukmani Devi, which gave her a break as a singer is reproduced in this CD.with Amaradeva and Samitha Mudunkotuwa's voices.'Pinamuko Kalu Gange' the lyrics, melody and voice is by Amaradeva and four songs penned by Mahagama Sekera are incorporated in it.
Another hit song among millions of listeners even now 'Sandun Gasse Saman Welak' penned by Karunaratna Abeysekera, sung by J.A.Milton Perera and Mallika Kahawita for 'Adata Wediya Heta Hondai' was sung by the Maestro with Mallika at this event. "Enna Seda Pare' written by Rev Fr Marcelline Jayakody and sung by Amaradeva is also included in the CD.'Adawan ..' the song penned by W.A.Abeysinghe on the Samadhi Buddha Statue in Anuradhapura is another song in this CD.
Songs written by K.D.K.Dharmawardena, Lucian Bulathsinghala, Sri Chandraratna Manawasinghe, Dalton Alwis, Ajantha Ranasinghe, Professor Sunil Ariyaratna, Kularatna Ariyawansa, and Sunil Sarath Perera are the other lyric writers.
A few songs tuned by music directors Victor Ratnayake, Gunadasa Kapuge, Edwin Samaradiwakara, Stanley Peiris, and Sarath Dasanayake are also incorporated in this cassette which is produced by Thorana Enterprises.
Chief Guest Dr Sarath Amunugama M.P. paying tribute to the Maestro described his achievements as a musician and a singer during the last five decades.The Maestro's involvement in the music field from the time of H.W. Rupasinghe -Rukmani Devt era and his close association with Professor Ediriweera Sarachchandra paved the way to the creative world in music.
Sarath Kotelawala, Stanley Peiris, Professor J. B Dissanayaka and Professor Sunil Ariyaratna also participated.
---
Palm Garden Village is a tourist haven
The Palm Garden Village Hotel in Anuradhapura celebrated its third anniversary last week.
The Palm Garden Village Hotel Complex a popular hideout in North Central Province, covers an area of 130 to 140 thousand square metres and lies on the Anuradhapura Puttalam road.
Built by an Italian, it includes a huge park, with villas immersed in the greenery, a swimmig pool, restaurants, 'a great hall', bar, games room, tennis courts, shops, and a health centre providing ayurvedic nautral cures.
After driving through a grove of coconut plams, the portico adorning the entry to the hall of the hotel, the main building where all the services are located.
From here you can marvel at the view of the villas and botanical garden thickly planted with flowers, spices and fruit, and it is not rare to see elephants, deer, wild boar and buffaloes coming from the forest to quench, their thirst at the lake in the Park.
A great moment of interest which guests await patiently, while ornithologists and bird watchers will be fascinated by the enormous variety of birds to be seen in this area.
The villas at the Palm Garden are quite large with two, three or four room units, each with private porticoes and entrances immersed in thick greenery and often visited by splendid peacocks.
The rooms too are spacious, with twin or double beds, tastefully furnished and provided with every comfort to put you immediately at your ease. The swimming pool is one of the largest in the area, and surrounded by greenery, nearby guests will find an Italian pizzeria and a bar.
The kitchen is designed in Italian style by a famous Italian chef and the menu includes international cuisine.
The great hall is the name of their banquet, which can accommodate up to 500 people standing for buffets or receptions, or 200 seated for conferences, conventions or banquets.
---
Riverina satisfies clients with its up-to-date facilities
By Sanath Weerasuriya
Riverina Hotel is the largest resort hotel in the south western coastal belt, is one of the most popular destinations for tourists.
This hotel is graded as four star and recently upgraded with large rooms with satellite TV and mini bar, mini club. This hotel is the only one of its kind on the southern coastal belt to have Cyber Den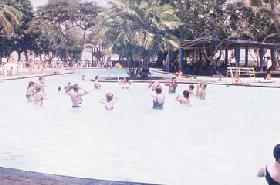 (Internet cafe) and Ayurvedic centre.
Riverina, just 56 km away from Colombo, is an ideal venue for families and is tastefully furnished with 3 suites and has a total of 192 rooms.
A large fresh water swimming pool, is one of the biggest attractions of the hotel. Coffee shop and main restaurant provides A'la carte vegetarian and snack menus and the wines.
The lounge bar and the pool bar are stocked with alcoholic and non alcoholic beverages. The discotheque which is very popular among visitors provides music for the young and the young at heart.
Laundry, valet service and left luggage facilities and for recreation a billiards room, modern fitness centre, hair dressing saloon and games room, two tennnis courts md mini golf (sharing with the Club Palm Garden, a sister hotel of the company) are some of the other facilities available.
The colour photo lab and medical centre with a doctor on 24 hours call are the new additions to the hotel.
General Manager S. Anandaraj said this is one of the leading resort hotel who gets 25 to 30 percent of repeat clientale.
The hotel is also an ideal venue for conferences and can accommodate 225 participants. Theatre style, meeting room with dedicated conference co-ordinators and all audio visual facilities and a banquet hall for weddings and sitdown dinners and cocktails, said Bazir Uvais, the Sales Manager of the group.
Riverina is centrally located and is within easy reach of Turtle Hatchery, Beruwela Lighthouse, Wood Carving Centre, Fishing Harbour, Ancient Temples and Mosques and Brief Gardens.
'Dinners consist of set menus and theme nights such as Sri Lanka Night, Oriental Night, BBQ Night, Fishing Night, Chinese Night, and International Buffet", said chief chef Tyrell Wasalathanthrie.
"Special promotional food festivals such as Champaigne Breakfast, Lobster Night, Fish market, Fine dining, Pub night, Kitchen cocktails, Cheese and wine party will be organised for extra supplementary charge for large groups, he added.
Tyrell is a veteran in the field and has years of experience behind him. He completes his tenth year with the group.
Live Band, Disco, Karoake, Sri Lanka Folk and Cultural Dance, Country & Western Music, Calypso Band, Vedda Show, Sari and Sarong Show, Brides of Lanka, Way of Life, Fire Walking, Camp Fire, Fire Limbo, Star Night. Carnival Evening and other Dance performances organised by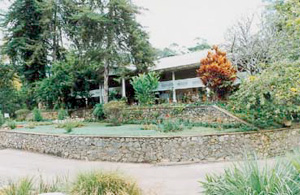 in-house Animators are some of the entertainment attractions of the hotel.
Garden chess, volley ball, pool games, aerobics, water polo, kite show are other outdoor sports facilities.
The facilities provided at the water sports centre are wind surfing? sailing, laser, hobby cat or traditional catamaran, scuba diving and snorkeling, padi licence diving school, deep sea fishing, boating, water skiing, jet scooters, water scooters, speed boats boats for river cruising and professional game fishing boat.
"Mini Club" is the newest addition to the many facilities available. A purpose built structure which includes children's Games, Toys, Computer Games, Videos, Educational Toys, Fun Games. The Club Animators organise daily activities such as occupational games, recreational games, team events and mini sports events, kite making, painting competition etc for children between the ages of 3- 12' Uvais said.
The hotel is well-known for its Sunday buffet and the activities organised by their experienced and friendly staff.
Riverina comes under the Confifi Hotel Management.