Kishin Butani wanted Serevi to play for Kandy in the 1997 Clifford Cup Tournament.
The Fiji link
By Ravi Nagahawatte
Fijian Waisale Serevi is for rugby what a magician is for entertainment . He might not require a wand. Just an oval shaped ball is all what he needs.
And when he is in possession of the ball, he is like a cheetah closing on a herd of antelope. Stopping him is unthinkable.
The twenty-nine-year-old Fiji sevens skipper is already a legend in the rugby world.
The inventor of the goose step - a striding movement done with his feet while being airbone - Serevi is a treat to watch. His mantle is sevens rugby.
The rugby star was once dropped from his country's XV-a-side squad. He was very much disturbed at that time. But like an injured leopard hunting, following its recovery, he too showed his spots.
Serevi proved that he had to be included in the XV- a-side squad by leading Fiji to yet another World Cup victory at the recently concluded sevens tournament .
Sri Lankan rugby today has a direct link with Fiji as many players from that country have come here to play in our domestic tournaments.
As though by coincidence the Lankans got to share the same dressing room with Fiji in this year's World Cup Sevens Tournament.
And one man who met this rugby legend was national coach Nimal Lewke."Serevi is an unassuming, simple chap," says Lewke.
According to Lewke he is an extremly popular man in Hong Kong , a country where it's famous seven-a-side tournament attracts both players and spectators to make regular pilgrimages to the country.
"Even the taxi driver in that country knows Serevi and Fiji"reflected Lewke.
Serevi has been in the limelight for the past nine years since making his maiden appearance for Fiji in 1990.
But he is known to be humble, has time for little children and does not disappoint anyone. "His public relations skills are plus plus"says Nimal.
However, the Sri Lankan coach says that this Fijian really means business on the field.
" It is real magic when he gets the ball. He reads the game and opponents better than anyone in the world. And when on the offensive he usualy attracts more than two two defenders, does not get caught and releases the ball so that others can score. He is a field marshall , the key man of the side".
This year's Army coach Celwin Farrington had once dropped in at Lewke's office and had seen a picture of him with the Fijian star.
The New Zealender had asked him who the best sevens player is.
"Serevi" Lewke had shot back, but Farrington had opined that it was Jonah Lomu, the New Zealand winger.
Lewke probably smiled to himself. He did not argue that day. His soft corner for the Fijian skipper still remains the same.
Serevi is a player who is sought by many foreign countries for their domestic competitions. The entire rugby world would know that he has a rich price on his head.
This multi-skilled player is often snapped up by prosperous countries like France and Japan to play in domestic competitions.
Many who approached him to obtain his services were often left dissapointed.
One Sri Lankan who joined that list of disappointed people was business tycoon, Kishin Butani.
" Kishin wanted Serevi to play for Kandy in the 1997 Clifford Cup Tournament. But Serevi had already signed a contract with the Mitsubishi Company in Japan to play rugby there. Kishin told me that he was willing to pay any amount to get him to play in Sri Lanka," said Lewke.
Trying to match someone with Serevi would be like comparing an amateur with a professional.
One of Sri Lanka's finest scrum halfs Sudath Sampath had this to say about the Fijian star: "It would be amazing if I could do one tenth of what he does."
As for Lewke he is a man who did so much for his country. "He is a person who reached celebrity status. But he did not lose the common touch and behaved like just another player. I can remember when I was posing with him for a a photograph. He took the innitiative and held my hand. He accomodates a lot of people, with his charm."
Many great men have been born. And Serevi undoubtedly is one who will go down in the annals of the game as a person who was so great but yet so humble.
---
Sanath's captaincy should boost his batting
By Rex Wijewardene
From the deep South to the big city came Sanath Jayasuriya. He was cast in the mould of those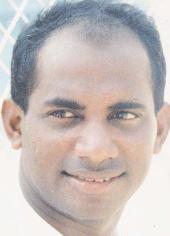 colourful cricketers from the Caribbean.
Termed the masterbasher of the willow, his swashbuckling batting in the 1996 World Cup took the cricketing world by storm, and he laid the path in a big way for Sri Lanka's glorious triumph in the 1996 World Cup.
He was honoured for his brilliant performances by being voted the Most Valuable Player in the tournament. Wisden, the Cricketing Bible, picked him as one of the five Cricketers of the Year in 1997. Today he is rated as one of the most dashing batsmen in the international scene. He has proved his brilliance both in the 'cowboy game' and at Test level. He came to the limelight from humble beginnings.
He is not a product of those elitist Colleges like Royal, S. Thomas' and a few others, who produced the cream of cricketers before Sri Lanka attained Test status. He came from a school deep in the South: St. Servatius in Matara, not so well-known in cricketing circles.
Gentle by nature, he won the hearts of all Sri Lankan cricket lovers. If one might call the former skipper arrogant, Sanath is just the opposite. Pride is something alien to him.
The cricket selectors have taken the correct decision by appointing him Captain, in the aftermath of Sri Lanka's miserable performance in the 1999 World Cup. Sanath has proved his capability as skipper on many an earlier occasion. He has the potential to get the best from his players. It was only the other day that I read about Bruce Yardley's comments that Sanath was the correct choice. As Captain he has an uphill task ahead of him, in the wake of the forthcoming tour by the Aussies, the undisputed champions of the game.
He has the grit and determination to inspire his team-mates to counter the strong challenge from the Kangaroos from 'down under'.
He has played in the shadow of one of Sri Lanka's great and controversial captains, Arjuna, and he might have learnt much from that experience. Arjuna's exit was inevitable after his poor performance in the 1999 World Cup, yet he will remain a legend in the annals of Sri Lankan cricket for his great contribution to the game.
Yet his presence and that of Aravinda in the team is a must for some time, there is still much cricket left in them. They could bow out of the game when Sri Lankan Cricket finds batsmen of their calibre to replace them.
---
Hathurusinghe excels
Former Sri Lanka cricketer Chandika Hathurusinghe representing a World Eleven, gave a fine account of himself as an allrounder and steered his team to a three wicket victory over Worcestershire in a benefit match played at Bristol, England recently. The game was organized by Worcestershire as a benefit for their prolific run scorer Graeme Hick.
The World Eleven team was selected from players who were out of the World Cup Super sixes and was led by Former West Indies Captain Courtney Walsh. Also in the team were Phil Simmons, Jimmy Adams, Gladstone Small and other cricketes from Sri Lanka, Kenya and England.
Batting first Worcestershire were restrictd to 198 for 6 in 50 overs with Graeme Hick top-scoring with 72. Hathurusinghe was the pick of the bowlers claiming 3 for 40 (including the wicket of Hick) with his gentle medium pacers.
Chasing a modest target of 199 for victory the World Eleven were 99 for 4 at one stage but were rescued by Hathurusinghe (44) and Phil Simmons (34) who added 77 for the 5th wicket and ensured that the World Eleven reached their target in the 46th over.
Chandika Hathurusinghe who was part of the Sri Lanka squad for the World Cup but never played a single game won the man of the match award for his all-round performance.
Scores: Worcestershire - 198/6 in 50 overs. (V Solanki 29, Graeme Hick 72, S Lampitt 65, John Lever l/l5, Gladstone Small 2/27, Courtney Walsh 2/3, Chandika Hathurusinghe 3/40, Hitesh Modi l/59, Phil Simmons 1/12.
World Eleven -199/7 in 45.3 overs (R Shah 46, Chandika Hathurusinghe 44, Phil Simmons 34, M Rawnsley (3/42).