Final showdown today
Who wil lord cricket world?
After one of the most breathtaking limited over matches on Thursday, two power packed and highly professional teams Pakistan and Australia are all set for today's showdown for the biggest prize in world cricket.
The World Cup cricket final in the world's most hallowed grounds of Lord's will be watched by a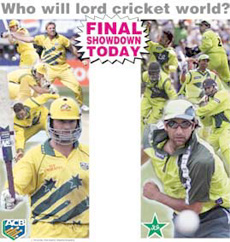 capacity crowd and a world television audience of hundreds of millions.
For cricket fans of Sri Lanka today's extravaganza will provide high class cricket but with golden memories and silver tears reminiscing the 1996 World Cup where Sri Lanka rose to their greatest heights. This time the dream turned to a disaster, the only consolation being Ranjan Madugalle's appoinment as match referee for today's World Cup Final.
Australian captain Steve Waugh called the extraordinary World Cup semifinal against South Africa the best game he had ever played in. Both sides were dismissed for the same total of 213 after South Africa needed nine off the last over to reach the final against Pakistan today.
Australia came through because they had finished higher in the Super Six second qualifying phase of the tournament. "It was the best game of cricket I've ever played.
"You've got to feel sorry for South Africa. We just held out in the end, we really dug deep," Waugh said.
Pakistan captainWasim Akram leads a supremely confident side into Sunday's World Cup final after they crushed suggestions they could not chase a big total in an exhilarating nine-wicket defeat of New Zealand.
Pakistan cruised past the Kiwis' 241 for seven with the loss of just one wicket and plenty of balls to spare at Old Trafford to top off a fine all-round performance in emphatic style.
"Before the final everything is going in to the proper place. I never imagined I would play a World Cup final again but I must say the way Pakistan have been performing for the last six months - we have amazing players in our side." Akram, appearing in his fourth World Cup, is a player for the big occasion.
In Pakistan's only other appearance in a World Cup final in1992 against England, the left arm pace bowler hit 33 off 18 balls and took three wickets to win the Man of the Match award.
Pakistan:(From) Wasim Akram (Capt), Saeed Anwar, Wajahatullah Wasti, Inzamam Ul Haq, Ijaz Ahmed, Shahid Afridi, Saleem Malik, Yousuf Youhana, Moin Khan, Azhar Mahmood, Abdul Razaak, Shohaib Akhtar, Waqar Younis, Saqlain Mustaq and Mustaq Ahamed
Australia: Steven Waugh (Capt), Shane Warne, Mark Waugh, Adam Gilchrist, Tom Moody, Ricky Pointing, Michael Bevan, Darren Lehmann, Damien Fleming, Glenn McGrath, Adam Dale, Damien Martyn, Brendon Julian and Paul Reifel
Umpires: Steve Bucknor and David Shepherd
Third Umpire: S. Venkataraghavan
Match Referee: Ranjan Madugalle
---
25th, National Sports festival
Marathon champs
Mallika Chandrakanthi of Sabaragamuwa and M. Manoharan of the Central Province won the women's and men's marathon at the 25th National Sports Festival event held at Ibbagamuwa, Kurunegala last Sunday.
Chandrakanthi finished in the 20 kilometres women's run in 3 hours, 00.37 seconds followed by D.A. Inoka (Central Province) 3 hours 01 minute 5 seconds, M.A. Chandrarathna (North Central) 3 hours 5 minutes 45 seconds, R.T. Chamake (North Western) 3 hours 14 minutes 10 seconds, S.N. de Silva (North Central) 3 hours 23 minutes 32 seconds, W. Nilanthi Rupika (Sabaragamuwa) 3 hours 39 minutes 13 seconds, Shashika Herath (North Western) 3 hours 44 minutes 16 seconds, K.P.A. Vijitha Mallika (Central) 3 hours 50 minutes 20 seconds, W.H. Janaki (Southern) 4 hours 00.32 seconds, Damayanthi Herath (North Central) 4 hours 28 minutes 27 seconds.
Manoharan crossed the finishing line in 2 hours 29 minutes 14 seconds, followed by Sarath Gamage (Southern) 2 hours 31 minutes 44 seconds, D.M. Prasanna Dissanayake (North Central) 2 hours 32 minutes 45 seconds, Laus Harischandra (Western) 2 hours 34 minutes 54 seconds, B.R. Chaminda Sisira Kumara (North Western) 2 hours 35 minutes 17 seconds, W.P.C.V.N. Fonseka (North Western) 2 hours 35 minutes 38 seconds, Rangith Thotawatta (Southern) 2 hours 36 minutes 43 seconds, W.M. Ariyadasa (Uva) 2 hours 37
Jayantha first
Jayantha Pushpakumara of the Western Province won the 25th National Sports Festival men's cycle race in a time of 2 hours 31 minutes 22 seconds conducted by the Ministry of Sports at Ibbagamuwa last Sunday.
G.G. Sisirakumara of North Central Province finished in second place in the identical time of 2 hours 31 minutes 22 minutes 16 seconds, N. Gunawardena (Central) 2 hours 38 minutes 43 seconds, H.P. Neil Samantha (Western) 2 hours 39 minutes 41 seconds.
Walking Race
B.M.B. Nayananda of Western Province and R.A. Chandi Namal also of the Western Province won the men's and women's walking races at the 25th National Sports Festival event concluded at Ibbagamuwa, Kurunegala last Sunday.
Nayananda crossed the finishing line in 1 hour 42 minutes 27 seconds followed by Dilum Pradeep Lakshitha (Central) 1 hour 49 minutes 38 seconds, M.D. Nimal (Central) 1 hour 55 minutes 38 seconds, A.D. Waruna Gunasekera (Sabaragamuwa) 1 hour 55 minutes 39 seconds, N.V.P. Jayasundera (Southern) 2 hours 10 seconds, P. Jeevanjee (Western) 2 hours 1 minute 29 seconds, S.G. Hettiarachchi (Central) 2 hours 2 minutes 24 seconds, W.M.R.Y.S.B. Weerasuriya (Sabaragamuwa) 2 hours 3 minutes 43 seconds, Vipulanandan Murugadas (North Eastern) 2 hours 4 minutes 36 seconds, P. Duminda (Southern) 2 hours 5 minutes 35 seconds.
Chandi Namal finished the race in 57 minutes 32 seconds, following her was B.D Eekha Nilmini Samaranayake (Western) 1 hour, U.M. Dulmini Iresha Kumari (Sabaragamuwa) 1 hour 3 minutes, Pramitha Wannabaduge (Southern) 1 hour 3 minutes 43 seconds, K.R.D. Dilrukshi (North Western) 1 hour 5 minutes 13 seconds, D. Krishanthi Samarakoon (Central) 1 hour 5 minutes 13 seconds, K.M. Rasika Kalinga (North Central) 1 hour 5 minutes 52 seconds, M. Indrani Swarnalatha (Sabaragamuwa) 1 hour 6 minutes 8 seconds, W.H. Lakmini Wanasinghe (Southern) 1 hour 7 minutes 15 seconds, Nilanthi Attanayake (Western) 1 hour 7 minutes 48 seconds.
---
Inosha top goal scorer in Bangalore
Chaturangani Inosha skipper of the Seethadevi BMV Kandy hockey team aggregated 18 goals during in their tour of Bangalore.
On their tour the Kandy lasses won five matches and lost two, one of them to a junior boys team from Banglaore by 2 goals to 1 and the other to Bell Sports Club by 2 goals to nil, both matches played at the National Hockey Stadium Astro Turf in Banglaore.
Seethadevi BMV beat Madras Juniors by 6 goals to nil at the Mayor Rasha Krishan Hockey Stadium with Chathurangani Inosha, Imalka Hiranthi and Iroshani Liyanage scoring two goals each.
In the second match Seethadevi beat Queen Mary College by 9 goals to nil with Inosha scoring 7 goals including a hat-trick and Imalka and Iroshani scoring a goal each.
Inosha scored two goals in their win over Madras Juniors 4-1 with Imalka and G. Gayathri scoring a goal each and Manori sounding the board once for the losers.
Skipper Inosha was in fine shooting form notching up 4 goals and Amathi Lakmali scoring once for the Kandy lasses in their 5-1 win over Winning Sports Club and F. Rihana scoring the losers solitary goal.
Madras Junior went down fighting by 2 goals to 1 against the Kandy lasses with Inosha scoring twice and G.Gayathri scoring the losers goal.
My Police Memories
By S. Sivendran
(Retd. Snr. Supdt. of Police)
---
Muni encounters Pakistan boxer
During my days at Maradana Police I found the sprawling Maradana police flats with more than a hundred Families of police officers to be the cradle of future Sri Lankan sportsmen.
These police flats and those at Borella, Slave Island and Police Field Force Headquarters were the brain children of Sir Richard Aluwihare the first Sri Lankan Inspector-General of Police.
Behind the Maradana Police Station building and in front of the Inspectors' block was the Stanley Senanayake Parade Grounds which was the playing field of the Police children in the evenings.
When there were no rugby practices and during off season I spent my evenings with these youngsters playing football and softball cricket and was amazed at the abundance of sporting talent in them. With the passage of time a football team was formed with the Police children and matches were arranged against all the clubs in Colombo which were played at Echelon Square Police Grounds at Fort where presently the Hilton Hotel and Galadari Hotel stand. I arranged police trucks to transport the players for these matches with the blessings of S.P. Colombo, Ivor Van Twest, a great soccer enthusiast.
Many of these Police children who were living in the Maradana Police Flats later became national players in different fields of sport. In soccer Sunil Perera, who is today Supdt. of Police in charge of Colombo South, played soccer for De Mazenod College, Police and Sri Lanka. Tissa Kodituwakku, played soccer for St. Benedict's College and captained his alma mater, and went onto play for Sri Lanka and today he is a playground Instructor at the Colombo Municipality and a qualified soccer coach. Then there were the Croos brothers Yoga, Mahendran and Ravindran who played soccer for St. Joseph's College, Colombo and Sri Lanka and Lal Ranchagoda who played soccer for Police and Sri Lanka.
Sunil, Yoga, Mahendran and Lal represented Sri Lanka at the 11th Asian Youth Football Tournament amongst an 18-member national squad. Sarath Mahinda played for Ananda College, Police and Sri Lanka. Anton Yoganandan played for Saunders and the national youth team. Judy Preena played for Zahira College, and went on to play and captain Police in both soccer and rugger and represented Sri Lanka in both these games. S.S.P., K.P.P. Pathirana presently in Trinco played soccer for Ananda College and Police.
In swimming there were the Dayananda brothers Lucky, Ranjit, Premasiri, Dhammika, Ranadeva and Kithsiri who held centre stage in swimming and life saving in Sri Lanka for several years. Kithsiri is an A.S.P. and Lucky and Dhammika are Chief Inspectors and Ranadeva an I.P.
Raju Sadikeen played hockey and cricket for Zahira College and later for the Police. Nandasiri Jayawardane played cricket for Isipathana and later for Police in the Sara Trophy. Chief Inspector Wedisinghe presently O.I.C. Kollupitiya Police played cricket for Thurstan College and Police.
ASP Latiff presently attached to the NIB played rugby for Royal. Percy Perera, known as "Lofty" due to his height played rugger and basketball for Air Force and there were the Jaroof brothers who excelled in boxing and hockey.
In 1965 Police rugby was captained by Muni Gomes a "Peterite" heavy weight who excelled in rugby, athletics and boxing for his College and Police and went onto represent Sri Lanka in boxing. I still remember him representing Sri Lanka against Pakistan in an International boxing meet held at the Stadium Sports Club ring at Bambalapitiya where he fought Abdul Rehman of Pakistan in the heavy weight class which was the final bout of the contest. All his friends including Yours Truly- bought ringside seat tickets to watch this heavy weight bout of International standard as his opponent had represented Pakistan earlier at the Olympics. The bout began with Muni, tall and well built clad in white banian, shorts and boots moving around the ring like Muhammed Ali against Abdul Rehman.
A fair, lean and lanky boxer with a long reach inspite of all our vocal support from the ringside seats the victor was Abdul Rehman of Pakistan who constantly kept on piling points with his long jabs. But had Muni exploded with his big frame and fists he could have dropped his opponent. But it was not to be and Muni after the meet said that he was feeling stiff right through the bout. At the end of it we were happy that we were able to see an international heavy weight boxing bout. Muni Gomes retired from the Police as a Deputy Inspector-General of Police. His brother Hajja Gomes was my classmate at St Peter's College and we both ran for Peter House.
Police rugby under Muni Gomes continued to prosper with another addition from Zahira College in Ibrahim Hamid a prop forward who also played for CR & FC before joining the Police.
---
It has been a bowler's World Cup
The drama of the Cricket World Cup which unfurled some five weeks ago has reached its final day. It has been written and said that it was a boring World Cup. The reason being that the ball has dominated the bat. One-day cricket, it is expected, to be spectacle where the batsman dominates. A score of 250 runs was comfortably gettable in the World Cup of 1996. This time round 250 runs was a competitive number of runs.
So when the semi-finalists found their places it was visible they possesed the best bowling attacks. Pakistan, Australia, South Africa and New Zealand all had the men who could hurl the ball to cause discomfort to the batsmen.
Shoaib Akhtar was the find of the World Cup. Here was genuine pace. When the countdown for this event commenced at the begining of the year, Akhtar relatively unknown. Within half-a-dozen months the speed guns were on him, clocking his every delivery. His presence had greatly lifted the Pakistan team. Simply knowing that you have the fastest man on earth in your team is a great morale booster.
At the other end Wasim Akram was as dangerous as Akhtar. His vigourous arm action still enables him to derive a fare dose of pace off the pitch. Coupled with late swing, an accurate Yorker and some additional bounce off the pitch - delivered left arm over the wicket. They are the complete opening combination.
Razak and Mahamood with their medium pace wobblers make up the pace quartet. 'These two though not experienced are heady bowlers, using subtle variations, doing enough to trouble the batsmen. They have taken upto the pressure game like ducks to water.
They continue harassing batsmen from where the opening combination left off. Add to them, Saqlain Mushtaq - off spin for variety. His repertoire of well concealed deliveries mesmerises the best of batsmen. The deadly accuracy with which he bowls completes what is probably the complete one-day bowling attack in the world.
South Africa boast of the most attacking set of bowlers. It's an attack made up of big, strong men. They are banking mainly on pace and swing. And why not? The conditions in England are conducive to such, so why not make the most of it. Their quickest consistently and best is Alan Donald, the veteran.
He bowls first change. It helps that attack because Shaun Pollock and Jacques Kallis do a good job with the new ball. Steve Elworthy who can be deceptively quick and moves it around too completes the attack. It sure is a top attack. One major difference from the Pakistani's is that they all deliver pace with the right arm. The Akram, Saqlain presence makes Pakistan a more varied attack.
Glen McGrath spearheads the Aussies. On his day he can demolish any top order batsmen, as he showed the helpless Indians. His ability to produce wicket taking deliveries makes him outstanding. After some early slugishness he has settled into a rythum. The support pacemen Paul Reifell, Damien Flemming and Tom Moody are real work horses.
Their toughness and professionalism enables them to bounce back even after taking a beating. They hang in there. They just don't let go. The bowler the Aussies have turned to in the middle overs to deliver the goods has been Shane Warne. When he was in top form he was able to stangle the opposition batsmen and also pick up a few wickets. Since his shoulder operation he has not been the same effective bowler. Time and again he has shown glimpses of regaining his former effectiveness. When he is on song the Aussie attack is as good as any other.
Regarded as the unexpected side to reach the last four, New Zealand had the bowlers to exploit the conditions. Their find was the left arm medium quick bowler Geoff Allot. He kept it simple. Bowled a good line and length, varied his pace, bowled both the inswing and outswing, threw in the occasional Yorker and systametically tormented the batsmen. He was richly rewarded with a harvest of wickets. Chris Cairns bowled sharp and effectively in the middle and at the death. An experienced player on English soil, he demonstrated the value of knowing the conditions. The support bowlers Nash, Larsen, Harris and Astle did just enough to trouble batsmen. Larsen in particular had a very consistent tournament. A classic example of 'horses for courses'. While their batting was adequate it was the bowlers who helped New Zealand gain a place in the semi finals.
Where are the bowlers? That has been Sri Lanka's desperate situation for many years. No great hopes are in sight. One solution is to play regularly on quicker, bouncier surfaces which also provides for some movement. The search must be on islandwide for bowlers. They are the most required professionals in the country today.
---
Briefly
Ruhunu Classic Motor Show
The Ruhunu Classic Motor Show and sprint conducted by the Ruhunu Motor Sports Club will be held on June 26 and 27.
The Motor Show will take place in Matara on Saturday, June 26 while the Sprint will be held in Koggala on Sunday June 27.
The Ruhunu Motor Sports Club of Matara with the assistance of the Classic Car Club, the Sri Lanka Association of Motor Sports (SLAMS) and the Air Force has organised a quarter mile sprint at the historical Koggala airstrip.
The chief guest at this sprint will be the Minister of Posts, Telecommunications and the Media, Mangala Samaraweera.
This sprint would be similar to the internationally conducted Drag Racing which originated in USA which will be another first in Sri Lanka.
Many reputed drivers and riders will be seen in action in this sprint.
Entries will close at Fibretec, No. 64, Vajira Road, Colombo 4, at 1.30 p.m. on June 19 and at 5 p.m. at Dharmadasa Industries at No. 69, Hakmana Road, Matara.
Many classic cars driven in Matara will be seen in action on this day with the Classic Motor Show held at the Uyanwatta Stadium from 3.30 p.m. to 7.30 p.m. which will be free of charge.
Chess champions
Srimal Sachinthana Wijesuriya and Siddharth Amalean won the first place in the under 8 age group Anatily Karpov Chess Club championships sponsored by Union Assurance and held at the Russian Centre in Colombo.
Sajith Diluka Senarath and Shawn Abeynaike won second place with Gireesha Tudawa and Eshan de Mel finishing third.
The other age group winners and first and second runners up were,
Under 10 - Chamika Madubashini Withanage, Ayesha Sushara Ratnayake, Chandeepa Malith Shehantha Wettasinghe, Shiraz Akbarally.
Under 12 - Jude Ranga Samarasinghe, Salinda Pathirage, Vanusha Adihetty, Migara de Silva, Praveen Kariyawasam, Nishantha Withanage.
Under 14 - P. Suntharakumar, Gopika Nilusha Adihetty, Heshan Manawadu, Sudath Weerapperuma, Lihunie Savantha Nissanka, Eranga Praveen Dias.
Under 16 - M.K.A.K. Dilshard, Kaminda Tikiri Karunanayake, Mathiraj Thavabalachandran, P.J. Mayooran, I.G. Sashikala Dilanthi Yatawara, M.K.A. Dilshan.
Under 18 - T.U. Amirthen, Gihantha Ratnayake, Kasun Samarasinghe.
Clifford Cup boxing
The Clifford Cup boxing meet conducted by the Amateur Boxing Association (ABA) will be held on July 7,8 and 9 at the Sugathadasa Indoor Stadium.
This meet will serve as the second trial for the SAF Games to be held in Kathmandu, Nepal, from September 22 to October 4.
Boxers from Army, Navy, Air Force, Police, Prisons, Arethusa BC, Mirigama BC, Nugegoda BC, Veyangoda BC, YMCA Colombo and Kandy, Peradeniya BC, Stanley Jansz BC, Kalutara BC, Seevali BC, Vidyartha, St. Sylvesters, Kingswood and Dharmaraja will be seen in action.
Entries will close on July 5 with the Secretary, Colonel, J. Jayasuriya at No. 53/2, Temple Road, Kalubowila, Dehiwela. The weigh-in followed by the draw will be held on June 7 at 8 a.m.
Kelaniya Cricket Club on top
Under the captaincy of Lasantha Perera, Kelaniya C.C. registered two victories over Grand Hotel N'Eliya and Old Thomians Matale in their Div.III qualifying matches.
Grand Hotel N'Eliya - 75 runs all out (Nandana Edirisinghe 3 for 28)
Kelaniya C.C. - 76 for 4 wickets (Sanjeewakumara 25 not out, Lasantha Perera 15 not out) H.T.N. Gamage 2 for 15.
In the second match:
Old Thomians Matale - 123 in 36 overs (C.A. Welagedara 29, M.B. Thilekeratne 19) Malraj Siriwardana 4 for 8
Kelaniya C.C. - 124 for 7 in 25 Overs (Lasantha Perera 43, Thikshana Anuradha 18)
Hockey Ladies unbeaten
The Combined Ladies hockey team remained unbeaten in their three matches, played against the Berlin Sports Club from Germany, in the two matches played in Colombo and the other in Matale.
In the first match at the P. Sara Stadium, the Combined Ladies team won by 2 goals, to nil, with both goals coming off the stick of playmaker Apsara Gunaratne.
In the second match the Combined Ladies team won by 4 goals to 2 with Surangika Ratnayake 1 and Shayama Kumari Ranasinghe scoring 3 goals while Bombitski Heike and Khulman Sonja sounded the boards once for the visitors.
At Edward Park, Matale, the Combined Ladies team beat the Berlin Sports Club by solitary goal to nil, the goal came off the stick of Shayama Kumari Ranasinghe.
JICA Volleyball
The Japan International Cooperation Agency (JICA) Challenge Cup Volleyball Tournament for disabled schools 1999 will be held on July 8 and 9 at the National Youth Council Indoor Stadium at Maharagama.
This tournament is jointly organised by the Department of Social Services for the third consecutive year.
Miss Tomoko Kuroki (JOCV) a physical education instructor attached to the Islamic Centre for the Physically Handicapped, Doolmala, Thihariya, will be in charge of the contest.
Twenty teams will participate in this tournament from 12 schools and four vocational training centres.
---
June 23, the 76th birth anniversary
Premadasa, has left an indelible mark in sport..
By Bernie Wijesekera
Today quite a number of personalities, be it politicians or otherwise are planning of putting up grandiose projects for the development of sports in the country.
It is left to be seen whether it will become a reality or are they merely on white paper to build their personal ego. But late Ranasinghe Premadasa, one time Price Park footballer, who dribbled the ball in the streets with his colleagues, who later became the President of the country, has left an indelible mark with his contributions for the development of sport.
Premadasa, was a man with a mission, who had the vision to fulfil his objectives against whatever odds. Born to a less affluent family, he knew the hardships the less privileged talented sportsmen, had to undergo to improve their skill during his time, unlike the present day sportsmen, who are afforded with everything - including sponsorship to develop their skills to reach national levels.
Apparently in some quarters power politics (at present), is the cause for the ruination of the respective disciplines. A good example at present is cricket. The game hit a new high, thanks to the efforts of its past officials, who made a personal sacrifice. Late Gamini Dissanayake, who served under Premadasa, put the icing on the cake, with an epoch-making speech for Sri Lanka to gain Test status in 1981. Since then Sri Lanka cricket went from strength to strength to build its image at international level.
But today, it's sad to mention it has hit a new low - due to incompetence, power politics and to hold office at all cost at the expense of the game.
During Dissanayake's tenure he held the reins firm. It was a spirited team effort with all binding together, unlike today. He had the support of the sport loving President Premadasa. It was no nonsense with Premadasa. All officials of the sport bodies had to work to a plan for the betterment of their respective disciplines.
It may sound undemocratic, but Premadasa, despite his heavy programme of work even had a close look into the affairs of the sport bodies. In the process kept its officials on their toes.
Talented sportsmen
June 23, will be late President's 76th birth anniversary. Premadasa may have had shortfalls in his quest to help the down trodden - the poor to enjoy a better tomorrow.
He knew that the young talented sportsmen had to face hardships to reach higher echelons. Put aside money, they hadn't the facilities. This is what he produced.
Premadasa's one ambition was to make our sportsmen to hold their own at least in the SAARC region. In the one-time marshy land at Maligawatte, with his own initiative, he built the Khettarama Stadium, in double quick time. Today its one of the best cricket playing venues in the world.
Nothing was impossible to him. He broke the barriers of red tape to get the job done on schedule. Funds flowed even from outside sources. Today this venue could be on par with some of the leading Test venues in the world - the MCG (Australia) Eden Gardens (Calculta) etc.
He fought a relentless battle to bring sanity both on and off the field and created a new chapter in Sri Lanka's sporting history. There may have been shortfalls, that may be due to his anxiety to get the job done. Firstly, the officials had to comply and then complain. They, were kept on the ball. They had to serve the public, but not themselves. No postponing for tomorrow.
If he lapsed in his endeavour to make it a reality, it was due to those around him, who at time failed in their tasks assigned to them.
SAF Games
It was another Premadasa first, that went on to help the country being tagged to host the Fifth SAF games here. It was after the massive Sugathadasa re-development plan and its international swimming pool. The Fifth SAF Games was tagged as one of the best held since its inception.
A writer in his columns suggested that the Stadium should be renamed as the Premadasa Indoor Stadium. But the President scoffed at this and insisted that it should be Sugathadasa Stadium for all time.
He said Sugathadasa did much for sport in this country with available resources, unlike today. 'I only saw to its re-development' he added. That was Premadasa, the man, who was born and bred in Price Park and never forgot his past, nor his poor parents.
Even his fiercest political opponents will not deny that his deepest wish was to help the poorest of the poor, our rural sportsmen among them. That was why he went to the grassroots. There may have been shortcomings but he was driven by an urgency, as if time was running out. This in the end won admiration from friend and foe alike.
This reminds me of a saying - "Sometimes the poorest man leaves his children the richest inheritance" Ruth E. Renkel. That's what late Premadasa has left for sport. A heritage that will live for all time, a flood-lit cricket stadium, at Khettarama and the beautiful re-developed Sugathadasa Stadium for the youth of this country to excel.
Once the present Minister of Sports, S.B. Dissanayake told this scribe emotionally: "Look though he's my political opponent I still admire and revere him for all what he has done for the upliftment of sport among the rural sportsmen".
Well, S.B. Dissanayake spoke nothing but the truth, that too from the bottom of his heart.
Human qualities
Premadasa, displayed unique human qualities. When he became President, K.H. Nandasena the caddie, was felicitated by the Golf Union and the public for bringing credit to the country in the Asian circuit. Premadasa was the chief guest at the reception held at the Gramodaya Mandalaya. Dr. Lance Fernando, Dayan Jayasuriya, Ian Pieris, Ana Punchihewa, Johnny de Saram, Ruki Kodagoda, Dennis Hapugalle, to name a few were present. The President asked 'Nande' what are your problems? Sir, 'I have no house.'
That's no problem "quipped the President. 'Nande', suggested that it would be better if he could get five perches of land within the precincts of the RCGC. 'We will decide that later", the President said. Looking at M.H. Mohamed then Speaker of the House: "Mohamed, I am giving 10 perches of land from your Borella electorate".
Today, most of them have forgotten the late President Premadasa, whose melting heart has helped them to live a better life. This included some members of the media, too, where he had a soft corner for the journalists. He really believed that they played a vital role in national life - and sport.
This reminds me of that famous saying - 'The more I think of Man, the more I love my Dog.' The late Prime Minister S.W.R.D. Bandaranaike, had a great love for greyhounds and cared much for them. They were treated by that famous sport loving Vet. Surgeon Dr. J.C.A. Prins - a former Patron of Havelocks S.C. How cruel are the two leggeds that the late Bandaranaike and Premadasa were destroyed by the very people the duo strived to help overcome suffering. This is due to hatred, jealousy, and greed for power.
Late President Premadasa, during his time knew what was going wrong with sport bodies. But preferred not to interfere. Politicians had other things to attend to than hold office in sport associations, which is the cause for the ongoing problems in some quarters.
Sunil Jayaweera a fine track and field sportsman during his time who was Deputy Director General of Education (Sports) told me that the late President firmly believed that sport in the country should be handled by those who have played the game at the highest level and by those who had the game at heart.
Though he shunned office, he still continued to support from outside the ring, Jayaweera added.
Another legacy that late Premadasa left behind was in the field of rugby. It was suggested that flood-lit rugby be played at the Sugathadasa Stadium among the clubs.
He not only agreed to make it a reality but also allocated the necessary funds, too. Today there is also a tournament for the schools too, thanks to the late President.
Fittingly the Rugby Union named it the Premadasa clubs and schools tournaments - a permanent fixture in its calendar.
Politics - have been the bane in this country, be it in sports or otherwise in this much talked of 2,500 year old culture. Let everyone for the time being shun caste, race or colour as preached by the Englightened One and join forces to sew up the gaping wounds to overcome suffering.
In the name of democracy in some quarters even some officials in sport bodies are enjoying themselves at the expense of the sport. Even the ongoing problems in the Cricket Board is due to a power struggle. As a result Sri Lanka will have to fight for the third spot in the region along with fast improving Bangladesh in the future.
During Premdasa's era he would have never tolerated the ongoing happenings and the officials too will be in two minds to commit them.
As Dr. Edith Summerskill, who served during British Labour Prime Minister Clement Atlee's government said: 'Democracy is the Government of the few, for the benefit of the few."
If sanity fails to become a reality then the head of the State must wield the magic wand for the greater good of the country, otherwise we are doomed.