Dee Pee Tee Cee collects a four-timer
By Ismail Khan
Saturday before last's York horseracing programme carrying with it the £ 52,000 William Hill Trophy (Handicap) a showcase event for 3 year olds over 6 furlongs was a sell-out with competitive finishes and resultant hard riding with three events going up to photo-finishes.
And on a day where no quarter was given and no quarter asked the main race, feature event, the William Hill Trophy over 6 furlongs saw a driving finish where Gerry Carter ridden Pepperdine 10/1 beat D. Mernagh (a claimer) ridden First Musical 1/2 a length from Champagne Rider (John Egan) and Fearby Cross (Frank Lynch) further 1/2 a length away in 3rd and 4th places. It was a close finish and in the driving finish a jostle took place but as it was accidental and none suffered much no inquiry was held. It was taken up in good spirit. The winner was trained by D. Nicholls who seems to be having a good crop of 3 year olds. Pepperdine off a good weight could do a repeat.
York began the afternoon with the opener Charles Henry Memorial Handicap over 6 furlongs for 3 year olds and upwards going to 20/1 Mel Brittain trained Grey Kingdom who beat Pigeon in a rousing finish by a short head with Miss Fit 3rd and present chance 4th. Grey Kingdom moved up from the pack a furlong out and held on well from a fast finishing Pigeon who if set alight early would have even got the day.. Horse to follow: Pigeon - who over an extended trip should be all the better although 6 furlongs looks her pet distance.
Tim Easterby's Bella Bellisimo ridden by Pat Eddery made most from the 3 furlong marker but had to withstand a fiery finish from Il Capitano who flashed late onto the firing line missing the target by only a neck. Next outing maybe Il Capitano could do well with a better draw, on the outside.
The Cadogan Silver Salver over 9 furlongs for 3 year olds and upwards worth £ 20,000 went to the prolific scorer Dee Pee Tee Cee who went on to collect his hat-trick of wins beating Tom Dougal 1 1/2 lengths from Weet-A-.Minute and Pas De Memoires. The winner trained by Michael Easterby and ridden by Paul Lucas won his third race so effortlessly that I pick him to win many more races before the handicapper catches up with him. Also follow Weet-A-Minute over 1 1/4 miles. His turn is not far off, whoever rides. Dee Pee Tee Cee got his four-timer at Hamilton on 16/6 Wednesday.
The William Hill Trophy was won by Pepperdine from First Musical, Champagne Rider and Fearby Cross. Follow Pepperdine for more winning runs. Other horses worth following from York: Jane Pearce's Lancer beaten 1/2 a length by Flower O'Canine should do well over 1 1/4 miles.
P. Haslam's Fiori who beat Chelsea Barracks neck carrying 8.5 in a handicap should be at ease in a terms or weight for age event. She should record another win or two.
George Wragg's Island House beaten 1/2 a length by The Exhibition Fox over a mile could do well over 7 furlongs or even less.
That much for today. More next week with Royal Ascot flashes. Good hunting.
---
Dynamic Klusener an asset to SA
On the field too we get on well. This is vital on a strenuous tour on and off the field. This also plays a decisive role for the success of the team.
By Bernie Wijesekera
Lance Klusener, the dynamic allrounder in the international scene today and doing yeoman service for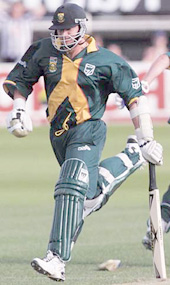 South African cricket, with his exploits with both bat and ball is the player to watch.
It's a fairytale beginning for Lance, who started playing cricket, when he was a kid in the Primary School. Since then he has not looked back.
He was first selected for the national squad when he was in Bullawayo on a tour of Natal. It was unbelievable that he got a call to say that Craig Matthews was injured in Nairobi. He packed his bags to serve the national team.
Lance,Klusener believes in simplicity on and off the field. He is willing to learn and follows the footsteps of his captain Hansie Cronje. To Lance, Hansie, is the greatest captain he has ever played under. He's always prepared to help them when things are not going their way.
"If you are not bowling well in one spell, he is not afraid to give you another spell, even may be from the other end", Klusener said.
All the players, rally around him and giving 100 percent. Even if things don't come off and yet if you've given 100 percent, then you've done something.
No harsh words if one fails, but a gentle pat on the back, that's skipper Cronje, the man who is a great believer in Faith. Determination and patience could make a tremendous impact on anyone be it sports or otherwise.
This is the best piece of advice he has received, Klusener says. Our Sri Lankan sportsmen should do well to take note of, (especially the cricketers).
According to Klusener, everybody tells you a little something. But the most important thing is just listen and do your best. Criticism, is not an enemy. It helps to adjust your shortfalls if there are any. If you think they are enemies, then you are the enemy to yourself. That's what life is all about!
Late entry
If the S.A. team despite their late entry to the international scene, (due to apartheid) are a force to be reckoned with, it is due to hard work.
According to Klusener, the S.A. cricket has a bright future. They have got a wonderful base and some fine sponsors. In the past sport was in the doldrums, due to apartheid. But today, it is not so. It's nice to see people of all colour and all interests playing together, sans colour, caste or race. But here in Sri Lanka despite our 2,500 year old culture we are at crossroads with various problems.
There has not being much disappointment for Lance in his trail-blazing career. But the best effort was his debut in Calcutta; 8 for 64, when he led the team off the field.
Todate he hasn't forgotten the people, who helped him to go places in this great game of character building. It was the National Academy in Johannesburg. Clive Rice the former S.A. allrounder did much of the initial effort. Malcolm Marshall the West Indian legend and Graham Ford at Natal had a great influence on his career. Today he's something in cricket - thanks to them.
If one has to succeed, one should not depend on others for one's happiness. He who expects to secure satisfaction in life from others, is worse than a beggar, who kneels and cries for his daily bread. This saying aptly fits to anyone be it sportsmen or otherwise. 'God helps those, who help themselves'.
Klusener says, that if he had any idols to look upto as there were no foreign players in action on the stage, when he was a kid it was Grahame Pollock and Clive Rice. They were two great players.
No barriers
He also attributes to his friendship with Makhaya Ntini. They were very close to each other. "I could speak his language and he could speak mine. There were no language barriers. This was one reason why we got on so well," he quips.
His views on his room-mate - allrounder Shaun Pollock, is fantastic. "We help each other in our hour of need. A lovable character, though he is a volatile bowler, hurling the cherry at tremendous speed. If you switch on the light when he is sleeping and if you are too long in the bathroom, you are going to be in trouble.
"On the field, too we get on well. This is vital on a strenuous tour on and off the field. This also plays a decisive role for the success of the team.
"This is evident for the success of the team. There are no camps among the players. No excuses for setbacks. If you don't lose, then you don't know how to win".
Klusener's views on the future of S.A. cricket - "We are heading down the right track at the moment. It's not something that is not going to happen overnight and things are going to take some time but I think that will eventually get us to where we all want to be. Very true!
Supportive role
This attributes to S.A.'s infrastructure and the people that matters who run its affairs, but not lotus eaters. There are no politics in sport or colour bar now.
All are God's children. All play together with a common objective. To this effect an educational background plays a decisive role. Dr.Ali Bacher is one of them.
According to Klusener the South African ladies who support cricket are playing an important role. They love cricket, and enjoy playing cricket and get-together to watch an interesting game.
They are a great inspiration for the promotion of the game. Today there are no blacks and whites and bonhomie prevails from whatever quarter.
Lance has made a 100 at Newlands, 99 in the final at Lahore and a haul of five wickets in the same match. Klusener also made 99 against Sri Lanka at Lahore. Followed up with 6 for 49 in the same match.
Today he could open the batting or bat at No.9 and enjoys stroking the ball all over along with players of the calibre of Jonty Rhodes, Shaun Pollock - offering that much needed rear-guard action to the S.A. cause.
With players like Jacques Kallis, Klusener, S.Pollock, skipper Cronje - four superb allrounders, SA is sure to dominate the international scene - come year 2,000.
---
A Historic Game of Cricket
By Malsiri Kurukulasuriya
None of us members of the Combined School XI realised the historic nature of this trip as we left Fort Station bound for Jaffna.
It was mid April 1959. The Combined Schools XI was captained by Sarath Silva from Nalanda College. The team comprised Mohanlal & Lionel Fernando, Raja de Silva and the late Priya Perera, the dynamic spin duo from St. Joseph College, Allan Gunasekera, Raja Athukorale, Brian Seneveratna of St. Peter's College, the late Melwin Mellawaratchi and yours truly.
We were to play the Jaffna School's XI at the St. John's College ground. This unfortunately was the first and the last time this fixture was staged. Of course none of us knew it then. On a blistering hot day, we won the toss and batted first. Sarath and Mohanlal and as usual the skipper were attacking every ball till he was brilliantly caught in the slips. We really didn't know much about our host. They were terrific hosts but how about their cricket? If I recall correctly, the feeling was that they could not handle our powerhouse team!
I went in after Sarath's fall and over the next hour or so I watched guys come and go after brief knocks. When Allan Gunasekera joined me we were struggling at 5 for 80. He was the last recognised batsman. By now we knew we were up against a tough side. Allan and I spoke constantly and we agreed unless we got down to some serious batting we could be the laughing stock. We batted sedately and put together over 100 runs. When Allan departed the score board was respectable; I was in the 80's. With a little help from the others I got my century and we were all out for 268. Once again we were in for a surprise - We reckoned 268 was good enough to get them out twice!. After 5 or 6 overs we knew our calculations were way off. Their two openers had us scrambling. The 50 came in about ten overs. And the beat went on. Their No. 8 was Sivananthan, who later played for Nomads as a batsman - wicket keeper. One of the openers was Balakrishnan who became a doctor and played for Sri Lanka.
The people of Jaffna were unbelievably generous. They showered me with gifts and money; and made us all welcome.
Mr. Ekanayake, the long-standing secretary of the School Cricket Association, invited the Jaffna boys to come to Colombo the following year, and guaranteed the fixture to be an annual affair.
We were also taken around the historic St. John College campus. One thing that caught our attention was the number of Buddhist clergy involved in teaching Sinhalese. The Jaffna man has always been far thinking. They knew that the learning of Sinhala was a prudent thing to do for a minority group.
The cricket fixture never materialised. But the members of the team will never forget the 2 wonderful days we spent in Jaffna. In many ways it was a historic event. We still have the memories. It is a little tainted now, since two of our team - Priya and Melwin have left us. I saw a photograph of St. John a while back and I could scarcely believe what I saw. (3 feet of grass, broken windows). I hope I will still be around to see that fixture take place. It is almost 40 years to the day since Mr. Ekanayake issued that invitation.
---
Shots that shake the world
Gradually one-day cricket is developing a language of its own, a music of its own. Slowly the rebellious son is emerging from the shadow of its conservative father. It is a game of rudeness and opportunism, of sudden shifts to set beside slower manoeuverings of the Test arena. It is a music hall beside an opera , a sing song against a solemn service.
It also has strokes of its own, mixtures of power and eye, and brings the crowd to its feet. These are not shots learnt on a grandfather's knees, rather they are torn from a comic strip and invented by necessity. Some of the top players around have created strokes that have become their signature.
Sachin Tendulkar's lofted straight drive - Tendulkar, the young genius from India, is a master whose bat is a barndoor in defence and a bludgeon in attack. Such is his range and power that he does not change his game much to meet the demands of one-day cricket. He merely puts his bat, the heaviest around, to even more vigorous use as he plays with the hot spirit of youth and the sense of pace and place more common among the aged. Only in one respect does he change his tempo in response to the requirements of the 50 over game. Whereas in Test cricket he keeps the ball on the ground, here he will open his shoulders to drive hard, straight and high, sending the ball thundering over the umpire to the boundary. He hits the ball early and with a straight bat and the effect upon bowlers is palpable. They drop their length whereupon the batsman unleashes his destructive backfoot strokes.
Arjuna Ranatunga's deflection through slip - Since one-day cricket emphasises the importance of saving runs rather than taking wickets, the slip cordon is usually left open, at any rate once the innings is under way. Ranatunga is a master manipulator on the field and off it. Not for him the sweet words of diplomacy. Instead he confronts opponents in an attempt to show that Sri Lankans are no longer the charming pushovers of yesteryear. Unsurprisingly, he is not afraid to pickle his opponents. At the crease he is a cunning fellow and vastly experienced. He uses his bat more as a delicate, almost surgical instrument than as a weapon of destruction. His strength is the deftness with which he guides almost any ball through the slip area, waiting for it to arrive and then opening the face of the bat at the moment of impact so that the ball shoots away in some unpredictable direction. This infuriates the bowler and keeps the score ticking. Something about the way Ranatunga struts between the wickets also serves to annoy opponents whose length accordingly suffers. Ranatunga has the skill and temperament to score runs in any situation.
Hansie Cronje's clout to leg - Full-blooded blows to leg have long been part of the game as played in villages, maidans and among the disrespectful lower orders of the batting list. Proper batsman, though, avoid the stroke because it means working across the line, hitting the ball in the air and often lifting their heads as if this secret of life can be found in the heavens above. These batsmen are taught the importance of keeping their eyes on the ball, moving their feet properly and hitting along the ground. Cronje plays the shots by putting his height to use. He places his leg so that he can hit the ball hard and straight, opening his stance so that the bat flows easily through. He plays the shot mostly against the spinners.
Darren Lehmann's reverse sweep - Bending on one knee in the ordinary manner reverse the bat and hit across the bod, sweeping or guiding the ball towards third man. The Australians are usually conservative in these matters. Lehmann is a particularly canny practitioner of this curious stroke. Although built along the lines of a bulldozer, he is a surprisingly subtle customer and scores as much with touches as blasts. He will use the stroke against the spinners. Probably, though, he will not attempt it against the pace bowlers.
Michael Bevan's flick through mid-wicket- No current batsman uses the blade as skillfully as Bevan, a stealthy left-hander who manages to remain calm when things are boiling and bursting all around. Bevan has a magnificent record in his cricket and must count among its greatest practitioners. Bevan's game is built around an ability to guide the ball into gaps. Most batsmen rely on violence. Bevan simply angles and varies the pace, most particularly he is adept at easing almost any ball into empty spaces on the leg side whereupon he scampers a second run, and the scoreboard keeps ticking over like a time bomb.
This flick to leg is his signature and his saviour. It is played with a straight bat and a last minute turn of the wrist as the ball speeds away at an angle of his choosing.
It is a stroke hard to contain. He scores as quickly as anyone and hardly seems to be taking a risk.
Romesh Kaluwitharana's loft over cover - These days most batsmen prefer to hit the ball to the leg side because the right hand is dominant besides which the fielders are usually located elsewhere. Kalu, follows that style. Although strong off the backfoot, he lacks the strength to blast boundaries and accordingly improvises. Once set he steps down the pitch, gives himself room and lifts the ball over mid-off. He is an exciting rather than accomplished batsman and frequently loses his wicket in the early exchanges.
Mark Waugh's glide to leg - To score freely in these matches a batsman must be able to score runs off accurate deliveries. Mark Waugh has a quiver full of beautifully timed strokes but greatest strength is the way he glides straight deliveries through gaps in the leg side field. He does this with the ease of a man putting on his hat.
Usually he keeps the ball on the ground and such is his timing that a boundary results. Only in haste will he lift the ball , giving the blowers a chance but bringing the prospects of swift scoring. So effortlessly does Waugh play this shot that bowlers feel obliged to direct their attention wider of the wicket whereupon this elegant batsman plays his offside stroke with impunity. Accordingly Mark Waugh has become one of the finest players in this form of cricket.
Ajay Jadeja's tickle to leg - Jadeja is a crafty one-day cricketer. He seems to enjoy the exhaustion and exhilaration of the game. He is an outgoing cricketer with a will to win hidden beneath a happy-go-lucky approach. At the crease he remains calm and often takes his team to victory. Like all top batsmen, Jadeja has a wide range of strokes but his particular fancy is the tickle to leg, a delicate stroke played at the last instant off almost any delivery. It is well chosen because the fielder at fine leg has been brought in close. It is a highly risky stroke even in experienced hands but if successfully executed it brings an otherwise elusive boundary. Jadeja has the audacity and eye to play this with much success.
- Ramesh Joseph
---
Walisundera is back in action
Nilantha Bandara Walisundera made a welcome return to the ring after a lapse of 18 months through injury to give a pleasing performance in winning his bout in the lightweight under 60 kilogram category at the Layton Cup meet concluded at the Sugathadasa Indoor Stadium.
This meet conducted by the Amateur Boxing Association (ABA) was the first trial to pick Sri Lanka's pool for the SAF Games in Nepal from September 22 to October 4th.
Asanga Weeraparakrama of the Air Force was picked as the Most Scientific Boxer at the meet for his power punching in the bantam weight bout where he outboxed the experienced Gamini Jayasinghe of the Police.
In the finals, Kumara Perera of the Air Force scored an upset win over national champ A.G.N. Premachandra in the welter weight bout, with Premachandra being picked as the best loser.
Pujitha Mendis of the Police knocked-out S. Fernando of the Air Force in the light heavy weight bout.
Major General K.A.M.G. Kulatunga was the chief guest at the finals and gave away the awards.
Results:
Light Fly (under 48 kgs) - S. Aragoda (Army) beat K.A.C.N. Alexander (Seevali BC),
Fly ( under 51 kgs), R.M.A.B. Ratnayake (Peradeniya BC) bt, S.S. Bandara (Navy),
Bantam (under 54 kgs) - W.A.B. Weeraparakrama ( Air Force) bt W.G.S. Gamini Jayasinghe ( Police),
Feather (under 57 kgs), D.P. Ranjith Dayananda (Army) bt D.D. Jayasinghe (Air Force),
Light weight (under 60 kgs) - N.B. Walisundera ( Vidyartha BC) bt J.S.K. Senadheera (Navy)
Light Welter (under 63.5 kgs) - K.L.K. Anthony (Army) bt R.S. Hettiarachchi (Nugegoda BC),
Welter (under 67 kgs) - K.A.S.C.S. Kumara Perera (Air Force) bt A.G.N. Premachandra (Army),
Middle (under 75 kgs)- S. Kiribanda (Army) bt A.M. Premasiri (Police),
Light Heavy (under 81 kgs) - W.P. Mendis (Police) bt S. Fernando (Air Force),
Heavy weight (under 91 kgs)- K.K.A.S. Priyankara (Army) bt R.M.S.M. Bandara (Air Force).
Super Heavy ( over 91 kgs) - G.A.G. Perera ( Police) bt H.A.U. Rupasena (Army)
---
Rugby stalwarts here to improve coaching
By Bernie Wijesekera
Our short-term rugby promotion and coaching mission here is not to perform miracles, but to help uplift and improve the coaching levels of the local coaches said Raymond Giles the former Welsh international, now turned coach, to The Sunday Times.
Giles and Denley Isaac, two reputed coaches are here on an invititon extended to them by the S.L.R.F.U. Development Committee headed by former Sri Lanka stalwart, Y.C. Chang.
Giles has turned up for the Welsh team in 1986 and was a member of the first Wrold Cup team in 1987. Both are specialist coaches and were involved with Under-18-four nation rugby tournament this year, which won the championships for Wales. The other participants were Ireland, Scotland and England.
The duo said they were pleased to be in Sri Lanka where there is a great following for this beautiful sport.
Y.C. Chang, who chaired the press briefing, outlined the programme which will be purely to train the coaches, especially from the provincial schools, who have taken to the sport in recent times. It will be at grassroots level - level 1 training programme.
He further said, both of them have come here to help us at amateur level. Their travelling expenses to and fro have been given by the Union while their internal transport, stay etc., will be provided by Arjun Dharmadasa's organisation, Connaissance Travels. A fine gesture indeed Chang added.
The provincial unions - Western, (Iqbal Hassan) the President of Sabaragamuwa, Southern, Kumar Abeywardena and Central will look after their needs during their assignments.
The president of SLRFU Anton Benedict, thanked the two coaches for coming to Sri Lanka to motivate and help develop the skills of the coaches of the schools who are newcomers to the sport.
Benedict, who first played for Sri Lanka played against England in 1969. Then followed the fully fledged Welsh team led by John Dawes, which team included some greats like, No 8. Mervyn Davies, fullback J.P.R. Williams.
According to Giles, Williams at present is an orthorpaedic surgeon.
All provincial coaches after successfully completing the course conducted by the Welshmen, will be awarded a Level I certificate.
The duo will also help the national pool along with national coach Nimal Leuke and the Under-21 Development squad too.
The itinerary:- W.P. (Colombo) June 10-13 - Longdon Place; Central - (Kandy) Nittawela June 16-19; this includes Wayamba too.
Sabaragamuwa Kelani Valley SC ground from June 14 -17. Ruhunu Province (Galle) - June 22 to 25 at St. Aloysius' College grounds.
The others who attended the meeting:- Iqbal Hassan, Arjun Dharmadasa, Nimal Leuke, Basil Rodrigo, Amaradasa, N.J. Mudannayake and B.K. Ramachandra.
---
A silly rule that would affect 'fair play'
In any tournament, the four teams who performed best in the initial stages should be there for the semi-finals. But unfortunately,it is not likely to happen in the World Cup because of a strange and silly rule.
In group A, South Africa has the best record, with 4 wins out of 5, and collecting 8 points. India and Zimbabwe both have 6 points each, but since India's new run rate is very high, they are better than Zimbabwe. So Zimbabwe is a poor third behind SA and India. But who has carried the highest number of points to the Super 6 stage? Not SA, not India, but Zimbabwe. Now, isn't that strange?
The reason for this is that the three teams could carry only the points earned against fellow qualifiers for the Super 6. Now, a win is a win, whoever the losers are. For the net run rate, all five matches played by each team are considered, and that is how New Zealand and Australia got in to Super 6 leaving West Indies out, when all three teams have equal number of points. Then, why not consider the results of all five matches which each team played, to decide on the number of points.
This same rule affected the competitiveness of the match between Australia and West Indies.
Australia wanted WI to get a better run rate than NZ because, NZ, if they were to qualify, would carry 2 points as they beat Australia earlier-
- Dr. W. Godakumbura,
Colombo
---
Lanka Lions dedicated to athletics
Lanka Lions S.C., who will be celebrating their first anniversary today (June 20) has made a big impact for the promotion of track and field sport in Sri Lanka.
Their inaugural meeting was held last year at the Lions International Hall, on June 20, where the Minister of Sports, S.B. Dissanayake, too was there to sow the seeds for its growth.
Its hierarchy headed by Brig. Neville Fernando and its deputy president P. Don Victor, an administrator of international fame, supported by a dedicated set of officials, formed the club.
The club's sole aim was to promote and uplift athletics islandwide - especially in the rural areas and help harness young talent in the class of Sasanthika Jayasinghe, Damayanthi Dharsha, Sugath Tillekerathne and Sriyani Kulawansa to do proud for the country.
P. Don Victor, when interviewed by The Sunday Times, said the club was happy that in its first year they were able to contribute much for the promotion of track and field sport. They have opened up branch clubs in Anuradhapura, Kegalle, Hambantota, Kandy, Polonnaruwa, Kegalle, Matale and Ratnapura.
This year plans are afoot to open clubs in Jaffna and in Batticaloa. In the past these two districts produced some great athletes and N. Ethirveerasingham was one of them, added Victor.
During the last 12 months Lanka Lions S.C. was to the fore, in track and field sport. In the nationals the "Lions, won 12 golds, 12 silvers and 12 bronze medals, speaks well for it sheer determination and dedication.
Seven of its members represented the country, in the last Asian Games in Bangkok. Namely Chinthaka de Zoysa, Suminda Mendis, A. Indrajith Cooray, A. Wijetunga, R. Pradeep Perera, Keshani Samarakoon and Harijana Ratnayake. Several Road Races too were held in the outstations, to focus interest among rural youth.
In the current year, races were held in Polonnaruwa, Hambantota and Kegalle.
In the Nidhahas Run (on Feb. 7) over 600 participants came under the starter's order, in eight different categories. Prize money worth over Rs. 100,000 was on offer, Victor added.
The club's vision is to promote and develop the skills of the outstation athletes. All the participants be it seniors or juniors were afforded with transport, accommodation and food for the duration of the meet. This is a rare milestone, apparently no other club in the country has done this in the past.
Rare achievement
In the junior championship last year held at the Sugathadasa Stadium, over 1,300 took part. It was a rare achievement by the club, Don added.
- BW