Have you heard?
Anton, a wealth of rugby experience
By S. Sivendran
Anton Benedict, the former Josephian Police, Havelocks and Sri Lankan ruggerite was elected unanimously as President of the Sri Lanka Rugby-football Union at the Annual General Meeting held on 27.02.99 at the Hotel Intercontinental.
Knowing Anton and associating with him in rugby affairs as player, referee, coach and administrator, the choice of Anton as President is ideal as he has a wealth of knowledge in Rugby matters.
Anton began his rugby career as a fast flanker and later No.8 at St. Joseph's College, Colombo.
On leaving school he joined Havelocks SC. But his big break came when he joined the Police as a Sub-inspector in 1967 and played for the 'Cops' who created the biggest upset in local rugby by defeating the CR&FC who were the reigning Clifford Cup champs and entered the finals under my captaincy. From then onwards Police rugby began to prosper and Anton played a big part in the process and led police to Clifford Cup Championship in 1972 for the first time.
He left the Police prematurely and played for Havelocks and captained the Park Club in 1978 in which year they became the Triple Champions winning the Clifford Cup, Premadasa Cup and Club Sevens. He also holds the unique record of having played in the Clifford Cup finals in 1967, 1970, 1971, 1972, and 1973 for the Police and 1974, 1976, 1977 and 1978 for the Havelocks.
He played for the national team from 1970 against Singapore, All England, London, Wales and the Paris University Club. He played in the Asiad in 1972 at Hong Kong and in 1974 in Colombo, which year Sri Lanka entered the Finals against Japan.
Having hung up his boots he contributed to Rugby as an able 'A' Division referee from 1980 to 1987 and was invited to referee the ten-a-side rugby international in Hong Kong in 1986.
He also excelled as a coach when he coached the Police from 1980 to 1986 during which period Police became Clifford Cup champs in 1980, 1984, 1985 (Triple Champs) and 1986. He also coached the CH & FC in 1994 to Clifford Cup and President's Cup Championships.
Anton was also the national coach from 1989 to 1992. During this period Sri Lanka toured the Far East including Hong Kong and Taipei and did well to win two out of five games which I was privileged to witness. He also coached the national team at the Asiad held in Colombo in 1990 where Sri Lanka beat Taiwan for the first time.
As a rugby administrator he was the Havelocks representative at the Rugby Union Committee in 1988 and Vice President of the S.L.R.F.C. in 1997 and 1998.
I met Anton after his election as President and asked him as to what he proposed to do to uplift our rugby and this is what he had to say.
Q. How do you assess the standard of Sri Lankan rugby in the Asian Circuit?
A. Today we are placed below Japan, Korea, Hong Kong and Taipei. We should have been above Taipei but due to tactical blunders in the crucial World Cup qualifying match against them we lost during the final minute of extra time having led them during the major part the game. And also we had to play 3 games in 10 days which was asking for too much from our boys.
Q. What do you attribute for our poor showing at the Asian and Commonwealth Games?
A. At the Commonwealth Games Sevens our skill levels, speed and strength were far below the other participating countries from the southern hemisphace such as Australia, New Zealand and even Papua New Guinea.
But the Malaysian match we had no excuse for losing as our players did some stupid things such as doing a scissor in our in -goal area and dropped the ball which was suicidal and our defence too was poor.
As for the Asian Games I was not present but according to reports from the national coach in the match against Taipei we were enjoying a healthy 12-Nil lead and ultimately lost due to defensive lapses. Even in the XV a side after beating Thailand convincingly we again lost to Taipei. As we definitely missed the services of players like Priyantha Ekanayake, Norman Silva and Asoka Jayasena.
Q. How do you see our chances at the Hong Kong Sevens?
A. We will be playing France, Argentina and Morocco in our Group. But France and Argentina are ahead of us as they are in the World Cup Group and we should show our might against Morocco which is our only hope for the bowl.
Q. How do you propose to develop rugby in the provinces?
A. The coaching structure should be strengthened as far as provincial rugby is concerned even though Ajit Abeyaratne's Coaching Society had been active in the provinces for the past two years. But now I feel that we should get foreign experitise to instil the correct basics at grassroot level if our rugby is to prosper.
The monitoring of the progress of provincial rugby too should be done in a more scientific and systematic manner.
Q. There is controversy in the Referees Society among the senior referees. How do you propose to tackle this?
A. This is essentially a matter fo the referees' society and it's President Brigadier Jupana Jayawardane informed the Union Council at the last meeting that he is taking action to sort these problems out with his committee and assured that a high standard of refereeing will be provided during the domestic tournaments and also hopes to bring foreign referees too which will improve the standard of our referees.
---
Duncan White, a superb example
"Duncan White was a superb example of the kind of individual from minority communities who at a time when there was racial harmony in this country contributed so brilliantly to the glory of Sri Lanka", said General Anurudda Ratwatte, Minister of Power and Irrigation and Deputy Minister of Defence, who was the chief guest at the annual Duncan White Awards ceremony held at Trinity College Hall.
"I appeal to all our citizens to try and live upto the ideals of the Olympic spirit which drove Duncan White to triumph with his commitment to decent values", said General Anuruddha Ratwatte.
"Though Duncan White left Sri Lanka to live in England he continued to have close links with the country of his birth for which he had a deep feeling of goodwill. In this attitude he was again an example to the millions of people from this country who have gone abroad in search of a better life, to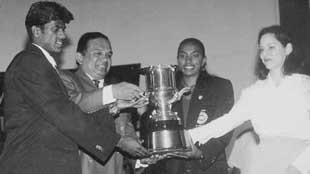 help their mother country, while they themselves prosper", he said.
"In relation to the thousands of others who took part in the 1948 Games, Duncan White had many handicaps. He missed opportunities when he was young, when the world war prevented sport among citizens of the world and his chance came only as an ageing athelte. He was not a rich man able to afford special training under expert coaches, nor special diets to prepare him for competition with the boys of Europe, America or Austrialia. He was just one of us confined to his plate of rice and curry in the Army mess", he added.
He said that White's performance was very great since he captured the World alone and not as a team.
"When will his fellow countrymen follow White's example?" he queried.
Olympic Boxer, Eddie Gray, who arrived from Australia specially for this occasion said that though White is no more, the Foundation must go on to perpetuate his name and make a wonderful example of it for the younger generation to emulate. "I think the two award winners Damayanthi Dharasha and Sugath Tilakaratne are sure to follow the footsteps of White", he said.
He also recalled playing rugby along with White, in 1936. "The Royal College team travelled up to Kandy to take on Trinity, at Bogambara. White played for Trinity as a winner. He dazzled the Royalists with his runs down the line and as a loyal Royalist I will not divulge the result of this match," he quipped.
He said these encounters brought him close to White and they represented the country in 1948 London Olympics and the 1950 Empire Games in Auckland. "I recently discovered that boxer Alex Obeysekera and myself are the only two surviving persons who had witnessed both these record-breaking performances", he said.
Jennifer Moragoda, President, Duncan White Foundation recalled that the tempo of World Atheltics was picking up at a hectic pace. "Today one tenth of a second can determine a winner. The cost to bring out good results had gone sky high with overseas training being very expensive", she said.
Joint medal winners Dharsha and Sugath shared the Duncan White Memorial Trophy and 4 gold coins each. Merit award winner Sriyani Kulawansa received two while Yachtsmen Lalin Jirasinghe and W. P. Janaka had a gold medal each valued at over Rs. 50,000 each.
The event was sponsored by Mountain Hawk Express, a licencee of Federal Express. Mahamaya College, Kandy gymnasts and dance troupe lightened up the show with their performances.
Several top yesteryear sportsmen and sports promoters Elmo Rajasuriya, Harindra Dunuwille, Kishin Bhutani, Charitha Ratwatte, Mrs. Gwen Herat along with D. W. S. F. founder members too graced the occasion.S
---
Boxing contest between Oxford and Cambridge
Blood, sweat, tears and insults
CAMBRIDGE-Standard fare at any boxing match but not, perhaps, at the annual contest between England's two oldest and most prestigious universities.
The 102-year- old Oxford versus Cambridge amateur boxing match last week was almost abandoned during a weigh-in circus that imitated the farces often sanctioned by the various world boxing organisatons.
Six of the eight bouts between the various theologians, economists, geographers and historians ended early as the crowd whistled, brayed, stood on chairs and taunted each other. The match was decided in the final bout which pitted heavy-weight Ollie Slack against Oxford's Mark Mullins.
But chants of "Ollie, Bomaye," an allusion to the famous "Ali, Bomaye" (Ali, kill him) chant that lifted Muhammad Ali to victory over George Foreman in Zaire, were not enough to help Slack as he was stopped in the second.
Earlier it seemed the match, whose participants have included contenders such as U.S. actor Kris Kristofferson and former Scotland rugby captain Rob Wainwright, would be called off over a dispute over the time of the official weigh-in, which ensures boxers are matched with opponents of the same weight.
Cambridge had been on the scales as dusk fell but the U.S. born Oxford Captain, Nicholas Pierpan, told Amateur Boxing Association (ABA) officials that his team had already weighed in at noon in the presence of a Cambridge official and would not do so again.
ABA members refused to sanction the bout unless Oxford boxers weighed in and a protracted and heated dispute followed involving members of both club's boards and the student boxers.
At one point Oxford University coach, henry Dean, a former professional boxer, left the weighing area with his boxers.
"We're going home, we're not weighing in, " he said.
Geoff Gestetner, president of the Cambridge club was obviously disappointed.
"I think it's very sad that it's got to this state of affairs, the Cambridge club could not exist without Oxford's and vice versa," he said.
Eventually diplomacy persuaded Oxford to weigh in, but they were forced to forfeit one bout and amend their line-up slightly before the show could go ahead.
The Cambridge medical officer said Oxford's training methods and weight loss schedules meant boxers lost weight by dehydrating and starving themselves immediately before an early weigh in and then gained weight before the actual contest.
"They have been operating within the rules but this tactic may give them an unfair advantage. We decided to schedule the weigh-in at six O'clock, as is our right, in order to reduce the possibility of weight disadvantages, " the Cambridge coach said.
But the Oxford captain was adamant that any advantage was down to hard work: "We're fitter and leaner than Cambridge because we work harder. They're trying to penalise our dedication, the weigh-in has been at noon for the last 102 years."
Cambridge boxers are selected six weeks before the match and lose weight slowly by careful dieting because it is safer than rapid loss by dehydration.
"All that counts is that we had a Varsity match. It is clear that several of the Oxford boxers were overweight but the point has been made, long may the Varsity match continue," Gestetner said after the excitement.
Oxford eventually won the grudge match 5 - 4 despite Cambridge's home advantage, extending their unbeaten run to 14 years.
- Reuter
---
Lanka squad for World Cup 1999
By Anusha Fernando
Permit me to highlight some salient points regarding the selection of the Sri Lanka squad for the World Cup 1999.
At the very outset I must state that I am not championing the cause of any particular individual player, for I do not hero-worship any cricketer. I am patriotic enough and I will be thrilled if Sri Lanka wins the World Cup again. Nevertheless, no one can turn a blind eye to injustices perpetrated on any player. I am referring to Roshan Mahanama who has not been included in the squad of 19 players. No one will dispute the fact that Roshan is one of the best fielders in the world, and is on par with if not better than Jonty Rhodes. True his consistency with the bat has failed. But all good players go through a lean period. Don Bradman, the greatest batsman of all time, too got out for a duck. Isn't there something sinister about Mahanama's exclusion? Hasn't it been pre-planned and pre-meditated? May I remind readers and selectors about Mahanama's prowess and achievements with the bat?
World Record: Highest Partnership (576 runs) for any wicket in Test Cricket with Sanath Jayasuriya in September 1997 (Roshan -225 runs).
1-Day International: 110 not out highest by a Sri Lankan vs England.
1-Day International: 119 not out 4th highest by a Sri Lankan overseas.
Fielding: 4th International Cricketer to hold 100 catches behind Azaruddin, Alan Border and Viv Richards.
What a short memory some people have. I feel that Mahanama has been martyred under the guise of his inconsistency. Some individual or a few want Mahanama to be in the limbo of forgotten Heroes. What injustice in the name of Cricket. I hope sanity will prevail even at this late hour.
Mahanama's record is as follows:
Category Matches Innings Runs Average 50's 100's Highest Score Catches
Tests 52 89 2576 30 11 4 225 57
ODI's 207 192 5023 29.7235 4 119 n.o 107
World Cup 20 13 461 36 4 - 89 5
---
Does Muralitharan throw? Your reaction
Votes so far: Yes: 24% No: 76%
It has been proved beyond any reasonable doubts that Murali is not throwing at any instance.It is his deformity in his right arm. We wholeheartedly support him as a very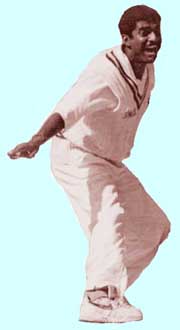 talented and amiable wonder spinner. He is No One.
Emil Liyanage, Sri Lanka
My advice to Murali as a supporter of cricketer is to work hard at his game and bring honour to his own country .
It's really funny to watch how English cricketers and Autralians tremble when he is bowling. No wonder why they try hard to get rid of him.
Shean Fernando, UK
Murali does not chuck the ball! I have seen him playing since he was a school boy. If he did chuck he would never have been able to get into the national team because of the very high competition. My question is that why no umpire other than the Australians didn't ever complain about him regarding this matter.The other question is why the ICC does not take any action against the umpires in the rest of the world if they think that the Australian umpires are correct.
Suranga Wijesooriya, Sri Lanka/USA
There is no question about Murali's bowling. He was cleared of all accusations some time ago. Some cowards who have got cold feet because they can't face him should improve their cricket rather than try to show their ancestral background.
Dr.Upali Fernando, Hong Kong
No not at all. He is one of the best bowlers in the world now.
Wasantha, New Zealand
The Australian inability to accept such brilliant talent in Murlitharan's bowling only reflects their arrogance, and further delineates their lack of respect for another team's strength.
Zamir Khan, USA
He does not throw. His bowling action creates an illusion. People have to respect his talents. It seems some people are not willing to accept the natural gift of this player.
Lionel Hewavitharana, USA
I think some people can't simply accept that he is a superb bowler.
Ranil Gunawardena, Sri Lanka
Why is it that none of these problems came up as long as we were losing matches in the Carlton series? We win two in a row, and suddenly everybody is worried about Murali's bowling action!
Channa Gunawardena, Sri Lanka
Anyone who bowls that well and isn't English must be throwing!
Dave, UK
The umpires word is final and should be obeyed at all time in the true tradition of the game. Sri Lanka should know to obey these basic principles and if they can not, they should refrain from participating in the game of cricket.
De Silva K.T.M.R., Sri Lanka
Of course Murali throws - he must not think this is the World Series of baseball! Rub him out, and Ranatunga too. Sri Lankan cricket owes an apology to the Australian public for serving up this rubbish. Aussie umpires are the best in the world - just like our Test and ODI teams.
David A, Australia
Given that Muralitharan has got a medical problem, it is unfair to call him for chucking.
Gopal K P, Oman
A clear thrower who has been called here. It appears he has not been called anywhere else mainly because umpires are afraid of potential backlash, and in view of what has happened to Messrs Hair and Emmerson, who can blame them. The lack of support shown for the 2 umpires by the Australian Cricket Board, and the pitiful "penalty" handed down to Ranatunga, demonstrate how much politics has overcome sportsmanship.
Chris Mann, Australia
I think he throws maybe 1 out of 100 deliveries and gets away with it. He knows exactly what he is doing and when. The way ICC is handling this, it is turning into a war between South Asians and Australians. I think ICC should take proper notice of this issue and do not spoil the cricketing spirit that goes with the game.
Eddy Ho, USA
We cannot bend the rules for one guy.
Shaikh Iftikhar, Saudi Arabia
How come he only throws in Australia? He bowls perfectly except in Australia.
Fenton Alphonse, Canada
Aussies and Englishmen want to play cricket only between them, they can't stand anybody else standing above them, so this is a well planned conspiracy to call him no-ball. He's best spinner in the world today and Aussies can't stand a spinner ( either leg or over spin) beating their legend Warne. That's all about it.
Anura, UK
The ICC has studied his action very extensively and concluded that his action is fair, and he has a deformity. He has played over 50 tests and numerous ODIs around the world and has not been called, except in Australia. My opinion is that it is sour grapes on the part of Australians - perhaps not willing to accept that there can be another great spin bowler besides Shane Warne?
Shan Sivakumaran, Canada
I would like to congratulate Murali. It takes tremendous amount of courage to come out and play in spite of such adverse situations. Kudos to Murali. Any lesser player would have quit long back.
Aravind, USA
How can the world discriminate against a "handicapped" player who rose to this level. All of us should draw inspiration from Muralitharan to face challenges without trying to make his life miserable. I think his captain Arjuna Ranatunge was right to protest against unrelented attack on Muralitharan. Is it wrong for Sri Lanka to produce a world class bowler or is it wrong for Sri Lanka to beat the so called masters in their own game! Or is it something to do with their skin colour? Just leave Muralitharan and Arjuna alone.
Tissa Abeyratne, USA
He is the greatest bowler in the universe.
Mangala, Sri Lanka
It was a poor show by Emmerson to get his fame, when it has been proven medically and accepted by the ruling body that Murali cannot throw. The spirit of the game has to be followed at all times, and that includes Aussie umpires as well. A cheap way to humiliate a bowler from the sub-continent, Australia has to stop whinging and accept, maybe, there are better cricket playing nations in the world.
Rajinth Jayaratne, Sri Lanka
His arm is bent from his birth. Some Australian idiots who cannot understand that those type of things can happen at birth can say that he is throwing. I pray on behalf of them to God to give them enough knowledge to understand it.
Prasantha Suraweera, Sri Lanka
As to whether Murali throws or not is, in the light of recent events, irrelevant. What matters and what needs the serious and immediate attention of the ICC is whether an individual umpire has the right to object to an action that he thinks, according to the rules of the game, is not a legal delivery. The fact that Umpire Emmerson was challenged and the manner of that challenge, leading to probably the worst episode of improper behaviour on or off the pitch, is what needs to be looked at. The gutless "penalty" of the ICC is a disgrace. Ways should be examined to exclude Sri Lanka from the upcoming World Cup.
Peter Donhaue
Though I initially thought, he 'chucks' as India's Rajesh Chauhan is also blamed for similar reasons, but the subtle problem with his arm, as revealed by later findings of ICC and also through slow-motion, certainly suggests that he does not throw the ball as per the existing rule. One point to note here is that 'chucking', as a faulty bowling action, does not have anything to do with intentions etc of the person concerned or his motive etc, but has to do with the technical meaning of it, which is what his last minute action is when the ball is delivered and if there is no proof of the fact that the bowler checks himself, just a fraction of time before the final delivery, and then throws rather than bowls in a continuous action, which can be closely examined through slow motion of his bowling action, there is no reason why it should be debated at all like this after ICC's ruling.
P K Das, Australia
This issue had already been tested by the authorities long before the current One Day Series, who found in favour of the bowler. Enough said.
Joanne Powell, New Zealand
The fact that he cannot straighten his arm is totally irrelevant to the rule of 'throwing'.
David McEvoy, Australia
I think this is one of the tactics that white cricketing people use to sabotage the non-white test playing cricketers, because they are ashamed of losing dominance in the field of cricket. In other words they are cowards.
Asela Indraratne, USA
I have been watching Muralitharan's bowling for almost 7 years now. I feel it's not fair, he does throw. I always had this opinion long before the Aussie umpires called and at a time when he was not as well known as today. This is because he played matches in India in the early and mid-1990's. However, one thing that I must add is the doubtful action could be due to a deformity in his elbow (for which reason the ICC panel has cleared him). The big question is whether he gets undue advantage due to this. The debate surely will go on, probably until the day he retires!!
Ramesh Jagannathan, India
Aussies come up with something nasty whenever they start losing. It is high time they started appreciating other team's players.
Deepak P, India
He does not throw the ball. If Aussi umpires say he throws, then all other umpires are wrong. So ban them.
Pradeep Biyagamage, Canada
Murali is a very fine young cricketer. I think the Aussie umpires should be sent to school to learn how to umpire cricket games. Toronto is behind Murali - just keep breaking more records.
Ranier De Lambert, Canada
I believe the bowling action is different, but it is not chucking and once cleared by the ICC then the umpire has to accept it; this is like insulting the ICC verdict of clearing Muralitharan of chucking.
Kannan, India
Throwing can be an ethical issue. I think it is clear that in the Muralitharan case, there is no deliberate attempt on the part of Muralitharan to deceive or to perpetrate wrongdoing. He is being penalised for something that he cannot change, that he has no control over, that is, the shape of his arm.
Cumberbatch, Barbados
To my mind chucking is an intentional act. The bowler who throws the ball intends to do so. But, as in the case of Muralitharan, if the arm is bent because of a physical deformity and he cannot do anything about it and if there is no intention to throw, then there is no chucking. Granted that there is no way to know about the bowler's intentions (unless the cricket board hires psychics), the only way out is to go by the medical diagnosis of the problem. If Muralitharan cannot staighten his arm, whether he intends or not that is the only way he can deliver the ball. One either accepts the medical fact or forces him out of the game. Surely, the English and Australian cricket fans are not too scared of Muralitharan's abilities to go for the second rather disgraceful and cowardly option.
Sunil Goonasekera, USA
If indeed Muralitharan's bowling action is due to a deformity in his arm and cannot be rectified, he should be allowed to continue.
Rajesh Jyothiswaran, USA
If the ICC has ruled that a player's bowling action is different but fair and medical tests have proved that the particular player has a bent arm, why should umpires no ball the player?
Frozny, Australia
Sour grapes by the Aussies at having lost the World Cup to Sri Lanka. It must be noted, only Australian umpiers see, the throwing action.
Mohamed, UK
I've seen him bowl. I dont think he's chucking. There are other bowlers who bowl with a simillar style, and never get called. These guys should stop whigning and get on with the game. In hockey, if we called every little rule in the NHL playoffs we'll be playing till fall, for crying out loud. Lets have a fast game, with lot of action. Thats how we like it in North America.
Brian, Canada
You don't have to bowl well all the time when you throw. And there is no need to for Murali. It's his own style.
Prem, USA
The Australians are not the best sportsmen. Australian umpiring at best has been sub standard for its fairness. On the contrary the British command wide respect on the Asian sub-continent for fairness and integrity in sports. So it should be no surprise that these turn of events would only occur in Australia. This man has been cleared by the world body.
Jeremy Davis, USA
What is the credibility of Australian umpiring? Obviously, 0.
Anjana Aryal, USA
There have been spinners such as Muralitharan, eg Tim May.
Mark Sivarajah, UK
If he throws then a throw must be redefined.
Manish Gupta, USA
He uses his wrist more than any other off-spinner in the world. That's what enables him to get tremendous spin on almost any kind of track. The Australian team and their authorities and the section of the cricketing public that shouts "no ball" every time Murali deilivers, are plain cowards. They should learn how to fight fair, like gentlemen. They were the ones responsible for prolonging this ugly incident in the first place, and now they've finally managed to tarnish the GENTLEMEN'S GAME.
Gayan Kodikara, Sri Lanka/USA
I do not believe Muralitharan is 'throwing' because the English umpires - supposed to be the best in the game - have not called him. For that matter except for the two Aussie umpires, no other umpire from any of the other country has called him. One of the Aussie umpires also came up with a book about Muralitharan's action, so one has to wonder at the motives for the umpire's actions.
Raj Mahraj, USA
The authorities should have the guts to stand up. A British or Australian player with a similar action would have been banned long ago.
Colin Bean, UK
Mr. Muralitharan, has been clinically proven to have a bent elbow and double jointed wrist. His action naturally confuses the umpires. Unfortunately the problem only appears in Australia. Perhaps he is unplayable and is a great threat to Warne.
Antoinne Norbert, Canada
I think his action is extremely unusual but it would appear that this is related to his apparent inability to straighten his arm and therefore should not be construed as being illegal.
B D Anthoney, South Africa
A Pom's point of view there must be an illegality - perhaps Oz umpires have more guts to be heard. They do live and breathe cricket down under - perhaps not to everyone's liking but we still have freedom of opinion.
John A, Australia
Murali definitely doesn't chuck and to the best of my knowledge the ICC has also cleared him. So why is Australia in particular making a fuss over it? There's more to it than cricket.
Mehul Shah, USA
I think the whole thing has become a farce. The ICC cleared Muralitharan's name after the hell that was raised earlier... and that too, after much scientific studying of his action on tape. After so many rewinds and expert analysis, they gave him the thumbs up. With one controversial call, umpire Emmerson has given Aussie umpiring a big thumbs down. Is this the funny season for cricket controversy Down Under?
John Philips, USA
His action is correct as the ICC has approved. The present issue is made by the media.
Haridas Kartha, USA
One way or the other we need to see an end to the issue. The game is suffering. Maybe the ICC should take a stand on the issue. That might settle the debate (even in Aussieland).
Anura Aturaliye, Sri Lanka
The whole attitude of Australian cricket officials is embarassing. When their players take bribes and cheat, they conceal it and instead criticise other players. I think its about time Australians learnt to prove their mettle on the cricket field instead of criticising on baseless issues.
Ali Awais, Pakistan/USA
I think that it is incredibly shameful that this issue is being brought up again and again (and always by the Australians) once it has been resolved by the appointed highest cricket body. The malice behind such umpiring verdicts is confirmed by the comments these 'worthy umpires' have been making to the press and in their 'literary masterpieces'. I think this is merely another example of the old guard finding it hard to stomach that the 'brown men' from the ex-colonies can play that oh-so-exalted game of cricket so well. I think if Murali had not been so successful, no one would have commented on his style. This sustained victimisation is ruining this remarkably talented bowler's career and creating fissures in international cricket on clearly racial lines. Come on Aussies (and I do personally know plenty of fair-minded ones so this appeal is for the nasty minority), applaud someone else for a change for playing well.
Osama Siddique, USA
Muralitharan does not throw. The laws are not being bent. I am sure that the sour grapes are being served up for tea in the pavilions of the conquered!
D Fernando, France
Assuming there is medical evidence on his elbow deformity, it seems to me to be wrong to say that he throws. What has struck me more, especially from the current slow motion views of the one day internationals in Australia, is that his wrists are more supple than most and his control of the ball and the degree of spin surely come from the wrist, and fingers, rather than any slight angle at the elbow in delivery.
---
Rhodes to glory
By N.T. Kumarasinghe
Jonty Rhodes is a remarkable man. A year or so ago his career seemed to be over. In his own mind he had admitted as much and it did not perturb him, for the call of home had always been strong. Jonty had stopped enjoying the sporting life, and especially the touring life with its various allures.
He'd been playing a long time and could feel his career fading away. He had scored a few runs, but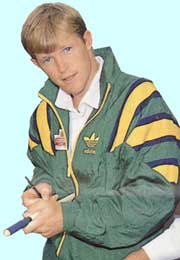 hadn't quite been good enough to prosper in the highest company. Younger players were passing him by.
To see this same Rhodes walking sprightly to the crease with his team in trouble at Lord's, 47 for 4 and all England astir, was to see a revitalised fellow. It must have been a reassuring sight for the South Africans, notwithstanding a Test average hovering in the humble 30s. Here was a player whose every jaunty step threw out a challenge a man unconcerned, let alone intimidated, by his predicament. Here was a man, too, who had changed a lot and was nowadays ready to counter any sort of bowling on any sort of pitch.
Somewhere along the way Rhodes had turned his back upon the notion of fading away. Somehow he had decided to give it another go. Perhaps he had listened to an inner voice that was not yet satisfied. He had convinced himself it was still worthwhile, and committed himself to putting runs on the board. Notwithstanding his amiable personality, he has always been wrestling inside. As the child confronts the man, as the bubble meets the burden.
In his boyhood he was obliged to direct his energies, which were considerable, towards his studies and his games, and he did not enjoy the wider life open to his contemporaries. As a dutiful son and respectful pupil, he did as he was told yet there was a strain within, a voice crying against restraint, a youth wanting to join the fun, cavalier beside the puritan.
Upon reflection, Rhodes realised he had come to cricket because it was inevitable. Although he played with determination and verve it had not entirely been a choice. Accordingly the idea of leaving the game had some appeal, allowing him to start afresh. A year ago he stood waiting at this crossroads and pondering upon the road to follow. And then he realised that this game did bite deep into him, that he grew as a man when he succeeded upon the field, that he had a gift to pursue, a gift he had not fulfilled. Of course, he hadn't done so badly, had shone in one day cricket and as a cover fieldsman too he was respected and liked. He had played for his country, but he knew he could do more. Even his fielding wasn't all it could be because his throws did not hit the stumps often enough, Rhodes did not think all this much of an epitaph.
Suddenly he realised he wasn't ready to go. Accordingly Rhodes went back to the nets. In many respects it was the first decision of his grown up life. He had always been willing to practise, now he went at it with a rare determination, arriving at the nets in Durban in the morning and often working deep into the afternoon, straightening his bat and improving his choice of shots. Every time a colleague arrived at the indoor school he would find Rhodes in occupation, on the bowling machine, or with some helpers or simply running around. Reward came as he was chosen to tour Australia.
Rhodes did well enough Down Under though to his dismay and his opponents' surprise, he did not play in the Test side until the last engagement in Adelaide. But he did bat splendidly in the 50 overs matches, showing there was life yet in the old candle. He was brought to England and set about securing the number six position, a task he accomplished with important scores in the warm-up matches.
His rehabilitation, both mental and physical was completed in Birmingham with a capable and combative innings at a critical hour. Rhodes appeared a far better batsman than previously because he had corrected his mistakes. Opponents saw him in a different way and, doubtless, he could sense their respect as he walked out.
Nor did the young man hesitate at Lord's. It is part of sport's attraction that it puts men in inescapable position, forces them to define themselves in a manner otherwise experienced only in the heat of genuine battle, Some are unnerved by the experience. Others relish it, and a precious few seem to have been waiting for an entire career for the situation to arise.
Rhodes belongs to the latter school as was clear from the way he set about some wayward bowling. In 30 Tests Rhodes had scored a single century. It wasn't enough. Now he reached the 90s and for the second time on tour, he did not hesitate, stepping back onto his stumps to cut a short ball, whereupon he scampered gleefully, the scoreboard, previously the broadcaster of bad news, now announcing the century. Rhodes raised his bat in his humble way, as a batsman and as a man. Suddenly the broad expanse of the cricketing future lay before him. Rhodes will score a lot more runs before he does finally withdraw to the harmony and tranquility of life at home.
---
Cricketing gear from Australia
By Bernie Wijesekera
The former St. Aloysius College and Kingsrove Sports Center boss. Harry Solomons, is doing much for Cricket in New South Wales and for the development of Cricket in his motherland, with cricket gear for deserving schools in Sri Lanka.
A humble bloke from the Southern Province, Harry, has decided this time to donate cricket gear to deserving poor village schools.
He has been able to collect quality cricket gear from well-wishers of Sri Lanka cricket. He continues to help his old school in a big way, and has spread his wings to other schools too.
Last year one of the recipients was Raddoluwa M.V. which school is being coached by former cricket umpire Royle Barthelot..
Solomons has decided to help poor village schools. Last year Singer (Sri Lanka) Ltd. started a similar project initiated by its chairman Hemaka Amarasuriya, to help needy schools. One of them was Kataragama M.V. Singer are helping sports in general in a big way. Besides cricket, hockey and rugby have benefited much with their sponsorship packages.
Solomons told The Sunday Times that it will give the responsibility of distributing the gear to his former schoolmate Niranjan Withanage. A good load of useful cricketing gear has been already collected by Solomons to be sent to Sri Lanka.
Recently Solomons sought the services of former Pakistan's legendary leg spinner Abdul Qadir for a coaching seminar, at his Kingsgrove Coaching Academy. Quite a number of promising youngsters attended this clinic and the future for leg spin bowling holds good for N.S.W.