---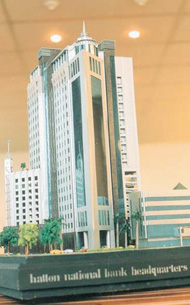 Colombo's dotted skyline will see another skyscraper when Hatton National Bank will commence work next month on their new highrise building. The modern highrise building will house HNB's head office, would consists of 23 floors, two basements and facilities for parking of vehicles with a total floor area of 430,000 square feet. Built on a block of 100 perches, the skyscraper would rise up on Saranankara Mawatha, behind Darley Road Colomo 10. The project is estimated to cost around Rs. 3 bn and we plan to complete construction by mid 2002, HNB Managing Director, Rienzie T Wijetilake said. HNB has floated a fully owned subsidiary Sithma Development (Pvt) Ltd to construct the building. The BOI has granted 'flagship'status for this project with tax benefits and exemptions from GST payments. Picture by Lakshman Gunathilake
---
ADB aid for capital markets
By Mel Gunasekera
The ADB will pump in US$ 1 mn on a fact finding project to develop capital markets in Colombo, a senior ADB official said last week. This programme is part of the annual US$ 7 mn technical assistance (TA) cost set aside for Sri Lanka.
"This technical assistance programme would be a precursor for a programme loan in the year 2000," ADB Senior Programmes Officer, Paul Turner told the Sunday Times Business".
We are embarking on a technical assistance programme in April called Private Sector Development. "The TA will look into the developments of the financial sector particularly the capital markets. We are also looking at opportunities of assisting the government in a programme of re-structuring state corporations. The TA will be the stepping stone for a programme loan thereafter next year," he said.
While the pilot project will be a study of possible areas of capital market development, ADB consultants will also look at opportunities to assist the government's restructuring programme for state corporations.
"The lack of long term domestic financing and inadequate infrastructure endowment are critical bottlenecks to private sector development," he said.
Turner is part of an ADB delegation which included ADB Vice President for the Region West Mr. M Shin, who was in Sri Lanka last week to observe the progress of ongoing ADB financed projects. The delegation met chamber representatives, who forwarded proposals for trade liberalisation and debt market development.
Turner said the Bank would not only focus on government debt, but also look into mechanisms of private debt that does not require separate assistance but can come under one umbrella. The Bank is looking at further improvement mechanisms in the capital markets, the government's long term vision of developing a scripless system and liberalising provident funds like EPF/ETF.There are some areas where they would like to help the government. While the consultants do not have a restrictive mandate, they have been requested to look specifically at weaknesses, impediments and remedies.
"There is a lot of work done on capital market developments at present, our consultants will take stock and look at issues that are needed to take the market further. The underlying objective is to remove these impediments to help private sector expansion," Mr. Turner said. The delegation had also expressed interest in providing support to the Central Bank towards developing a scripless system, he said.
Sri Lanka's disbursement performance has reached its highest level at a ratio of 25 per cent. In the last 3 years Sri Lanka we have outperformed some of our member countries, ADB Vice President for Region West, M Shin said.
The disbursement ratio rose from 21 per cent in 1996, 24 per cent in 1997 and touched 25 per cent in 1998, ADB Resident Representative, Tadashi Kondo said.
The Bank's average disbursement is around 20 per cent.
A higher disbursement ratio translates to a speedy disbursement of on -going projects, Mr. Shin said.
ADB is embarking on a 3 year strategy for Sri Lanka to be completed by year 2002. The Bank estimates to lend around US$ 120 mn each year during next three years. Since the country's external debt-service capacity is reasonably sound, Sri Lanka is in a position to absorb some official assistance at ordinary capital resources (OCR) terms and conditions, to achieve the targeted overall lending level.
The overall assistance package for 1999 is expected to be over US$ 120 mn.
---
Cracks in Ceramics as Noritake sells out
Hairline cracks appeared in ceramic giant Lanka Ceramics last week when Noritake Company Ltd. of Japan sold out their stake, triggering speculation on a possible takeover and a questionable management fee.
Last Thursday, the Noritake Group sold its 16.3 per cent stake (4.45 mn shares) at Rs. 21 per share, of which 3.5 mn shares was snapped up by Ceylon Theatres Ltd. and the balance by a foreign fund, market sources said.
Prior to the sale, Lanka Ceramics Ltd's main players were Uni Walker Group (35.2%), Noritake Group (16.3%), the Comeni Group (10%), and Lehman Brothers Securities Ltd (8.5%).
Lanka Ceramics (LCL) major shareholder Uni Walker Group recently entered into a management agreement with Uni Walker Management Services Limited (UNMS)
UNMS will be entitled to 1 per cent of LCL's turnover and 5 per cent of net profits.
Market sources say the management deal strengthens Uni Walker's position in LCL, as the Ceramics Company was recently subjected to a failed 'hostile' take-over.
However, an LCL official said Uni Walkers has been managing the company without a fee since it was fully privatised a few years ago. The management fee was put in to formalise what Uni Walkers has been doing over the past few years, the official said. He said the management contract was for five years, renewable for a further five-year period depending on the performance.
Market sources say the Japanese investors may have sold out as they were 'disgusted' when Uni Walkers slapped a management fee on LCL.
The change of ownership has triggered speculation that LCL's minority shareholders would band together to take legal action against Uni Walkers on the 'sticky issue of management fees.'
LCL's Director Ronnie Weerakoon's recent resignation from the board also fuelled rumours that he did not see eye to eye with the management over the managing agents fee.
The principal activities of LCL are manufacture of tableware, sanitaryware, hotel and ornamentalware and low tension insulators for export and local distribution.
The LCL Group currently consists of 10 companies. It owns 100% of Lanka Refectories Ltd and 70% of Great Western Finance and Investment (Pvt) Ltd., 23% of Noritake Lanka Porcelain and 55% of Lanka Walltiles Ltd (LWL).
In turn, LWL owns 100% of Lanka Walltile Meepe (Pvt) Ltd, 51% of Ceyexxe Plantations Ltd and 51% of Lanka Tiles Ltd, which owns Lanka Tiles Trading and Ceradec (Pvt) Ltd.
In addition, the group also owns 60% of Horana Plantations Ltd. Recently, Ceyexxe Plantations acquired 100% of Uni Dil Packaging (Pvt) Ltd.
---
Ceylinco high rise housing
The Finance & Guarantee Property Developers Private Limited a Ceylinco subsidiary set up exclusively to cater to the growth in the population, the scarcity of land and the hectic pace of life will embark on two pioneer projects.
Carlton Terrace at Galle road, Kollupitiya, consisting of 12 luxury apartments costing Rs 300mn and Majestic Terrace at Station road, Wellawatte which will have 72 semi luxury apartments at a cost of Rs.75mn will begin operations next month.
The management plans to raise part of the fund necessary for the project through public investments in the project. With a minimum interest of Rs. 100,000 for a period of one to four years at a guaranteed return on investment of 17 to 20 percent per annum and an additional profit share from each individual project..
Deshamanya Ceylinco Chairman Lalith Kotelawala said that the reason for collecting funds through this scheme was its flexibility. He believes that property development is the key to developing the economy because it had a cascade effect.
---
Unit Trusts call for help
In an attempt to jump-start the Unit Trust industry, the Unit Trust Association of Sri Lanka (UTASL) is calling for sweeping reforms and has sent a proposal to the Securities and Exchange Commission (SEC) suggesting setting up 'bearer funds'.
Bearer funds would allow unaccounted, or black money, on which tax has not been paid, to flow into the industry, General Manager Eagle NDB Fund Management, Manjula de Silva said.
The proposal is based on a document by J A R Felix Commission for tax in 1988, which stated that 'unaccounted funds' account for around 44 per cent of GDP. Fund managers estimate total unaccounted money in Sri Lanka at Rs. 300 bn, almost equal to the total legitimate money supply, making it a huge reserve for unit trusts to tap.
If there is an instrument that effectively mobilises such deposits and channel them to capital markets development, the country could use these funds for its development efforts, UTASL proposal said. The proposal would require a change in the country's Unit Trust Code of 1995, which regulates the registration for investors who buy unit trusts.
SEC officials said they were considering the proposal and if approved, may consider taking it up with the Finance Ministry. The bearer funds would not require registration for investors and would give bearer certificates, to protect their identity.
"We have to face the fact that there are large amounts of undeclared money in the country and the main deterrent to its flowing back into the legal economy is the registration system," Mr. de Silva said. Fund managers estimate that only 25,000 out of the 18 mn population invest in mutual funds and assets under management aggregate a mere US$ 48 mn. Investors in the funds would be eligible for tax amnesty back dues under the Inland Revenue Act.
"But in order to make it a fair deal for the government, we can consider imposing small up-front stamp duty of say 2-3% on investments in the funds, which goes to government coffers," Mr. de Silva said.
UTASL has also asked that non-resident Sri Lankans be permitted to take their dividend income and redemption proceeds from Sri Lankan mutual funds to their country of domicile.
---
Primary dealers get approval for subsidiaries
The Central Bank's Monetary Board has given approval to commence dedicated primary dealers from August this year, Senior Superintendent Public Debt, T S N Fernando said. Dedicated primary dealers would form part of a new regulation, the Registered Stock and Securities (Primary Dealers) Regulations No: 1 of 1999.
The regulations would be gazetted in April and the dedicated primary dealer companies would be in operation by August this year. The Central Bank brought in a proposal to create a subsidiary for primary dealers to stimulate the development of the debt market in Sri Lanka.
CB says the purpose of the regulation is to further stimulate the development of the money and government securities market, and to enhance CB's effectiveness in carrying out monetary policy.
Under the new regulations, primary dealers are required to form a public limited liability company with a minimum capital of Rs. 150 mn. The capital requirement would be gradually increased to Rs. 200 mn by 2000 and Rs. 500 mn by 2003.
The CB would evaluate the performance of each primary dealer semi-annually at the end of June and December every year. significantly to primary dealer activities. CB is also keen to limit primary dealers to around 8-10
Some primary dealers like MB Financial Services have already formed a separate company for primary dealership activities. Observers say Peoples Bank and Bank of Ceylon would form separate entities for prestige sake. However, response from private sector financial institutions have been poor and the numbers would be restricted to around 6-8 dealers.
---
South Asian trade liberalisation needs a new vision
The South Asian Preferential Trade Agreement (SAPTA), The South Asian Free Trade Area (SAFTA) and the lndo-Sri Lankan Trade Agreement will sooner or later be implemented. There may be some provisions which require to be discussed further and moderated, even amended, and in some instances, drastically altered.
Yet the general movement would be in the direction of free trade. We must recognize this and prepare ourselves to face up to the challenges and opportunities of such freer trade in the region.
Freer trade should, on balance, be of benefit to all South Asian economies in the long run. The benefits can be more to a small economy such as ours, which has always been trade dependent.
Yet freer trade implies greater competitiveness in which economic and technological efficiency are vital. Besides this all South Asian economies would have to adjust themselves to new specializations and be willing to give up old lines of production in which they are inefficient.
Inefficient production specializations would have to yield to new lines of production. Economic production patterns would necessarily change in response to new opportunities and the withering away of industries which are regionally and globally inefficient.
In fact this is precisely what happened in Sri Lanka with the post-1977 liberalized 'open' cconomy. The industrial pattern which emerged was quite different to the one we had in the import-substitution closed economy period. A re-adjustment of this nature is likely to occur.
lf the freeing of trade is managed properly all countries of South Asia would benefit. Economic analysis and political wisdom would require to guide the regional deliberations in order to achieve such a result.
There are several obstacles to achieving the optimum results of South Asian regional cooperation in trade. The first is the dominance of India in the region and its protectionist policies, which were entrenched till recently. There is however material evidence of a change of heart and a willingness to liberalize its trade both globally and regionally.
The recent Indo-Sri Lankan Trade Agreement as well as opening of her market to Bangladesh and Nepal are evidence of this. Yet we in Sri Lanka have to tread cautiously to ensure that the bi-lateral freeing of trade has material benefits to us.
The liberalizing of trade in commodities of which we have no export surplus would be a spurious liberalisation. Equally true would be the negation of trade liberalisation benefits by placing items of potential export on the negative list.
Another problem in bi-lateral negotiations is the fact that Sri Lanka has already liberalized trade to a far greater extent than the other countries. This should not be to our disadvantage. We should not be expected to liberalize much more than our partners merely because we already have lower tariffs. What matters is the tariff rates between the countries of the region, not the extent of new revisions.
There are also several short-sighted and parochial perspectives we should avoid. The first of these is to recognize that some of our industries would be disadvantaged, while others would gain. We cannot expect all industries to gain. The issue is one of ensuring that in the long run, the Sri Lankan economy would benefit by the liberalization of the larger market in India and in South Asia.
Individual country specializations within the region should be the ultimate objective. Such a specialization within the dynamics of the regional economy should be a base for global competitiveness.
We must also eschew the idea that the objective of regional trade liberalization is to improve bi-lateral trade balances. Such a myopic view can ruin the concept of free trade. It should certainly increase bi-lateral trade, but the benefits are not necessarily bi-lateral.
They are in making each economy more competitive and efficient. In some instances an adverse bi-lateral trade balance may strengthen an economy in its global competitiveness.
We must also be aware of the limitations of SAPTA and SAFTA. The complementarity of production of a number of commodities and the supply in elasticity of many agricultural commodities limit the potential benefits of regional economic co-operation.
We must accept such limitations and work towards effective cooperation in those areas where there is a big potential. We must have a vision of regional trade liberalization being a first step towards regional industrial integration, monetary cooperation and finally regional currency.
Regional free trade could make a useful contribution towards South Asian economic advancement in the next few decades if such co-operation is attempted with a vision of a different South Asia - a dynamic, competitive, efficient group of nations. While regional trade liberalization could be a force towards the development of this dynamism, each South Asian nation would require to put its own house in order. Each country would require to build its economic and social infrastructure and values to enable such a development.
South Asia's social and political complexity could be the major obstacle to such an attainment. Free trade can achieve much only if much more is done by each economy to strengthen itself.
---
Front Page| News/Comment| Editorial/Opinion| Plus | Sports | Mirror Magazine