The tears of a sister
The Prime Minister recalls memories of her brother Macky Ratwatte
By Roshan Peiris
There was a certain pathos as Prime Minister Sirimavo Bandaranaike expressed her sisterly tribute to her late brother Macky Ratwatte.
The tears flowed freely and the world's first woman Prime Minister who has held this position here three times kept wiping her face with a pale green wash cloth with the help of her concerned cousin and companion Glenda Dunuwila.
Mrs. Bandaranaike recalled that Macky was named Clinton and Mackenzie after one of the British Governors. "My father had a penchant to do so. And now the present American President is Clinton." Mrs. Bandaranaike said that Macky was registered, though, as Mahawelatenne their mother's family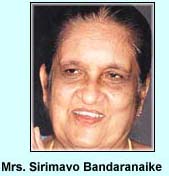 name.
"Macky had engaging qualities, a childlike smile and was kind and compassionate, with a strong sense of justice and unswerving loyalty especially to me.''
Mrs. Bandaranaike biting her lips as she tried to control her tears, composed herself and said "he was the fourth in our family. He was the second boy, Barnes being the first. Even as a boy he was lovable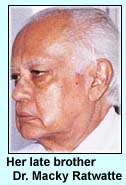 and I often made him sit on my lap and fed him.''
A slight smile appeared as she recalled that his favourite food was Kurakkan prepared in any form. He also loved the typical 'game' vegetables such as del and kos. Another great favourite was boiled yam eaten with lunu miris.
She recalled that Macky though he had travelled abroad a great deal accompanied her on most of her trips.
"But yet he retained his simple ways, be it in food or manners, and never put on any airs. This endeared him to people. He loved the people of Balangoda, our home town very much, and no matter what demands there were on his time, he visited there regularly and helped them with their problems.'' "He attended Trinity College but he lived with a family, the Missos and not in the hostel. When he was at Medical College he lived with me. I was happy to have him. I loved him so much that I used to even mend his torn clothes.
"Macky was never naughty or boisterous whether at school or Medical College," she recalled."He was a tower of strength to me at the Non-Aligned Conference Colombo in 1976 and helped with the co-ordination problems.
"I am on a wheel chair,'' she said wiping the flowing tears ''but with Glenda's help I went to Kanatte for his funeral. I went to his house daily and sat by his coffin for four days."
She recalled, "He never took part in sports but he loved wild life and gardening. All his favourite hobbies had a lot to do with nature." "He was a devoted husband and father and looked after his family with love, understanding. He gave ear to their problems and their choice of careers."Iranganie his wife was understanding, caring and supportive.
In these modern times when there is so much trouble between husbands and wives, they were an example of an ideal couple.'' "Now I will continue to love his four children, two boys and two girls. The boys are just like him in looks especially Mano,'' she said. Macky looked, she recalled pensively, just like her father with his round amiable face. "I look like my mother.''
"I still recall how hard and long he cried when I got married and left home. The whole family cried but he cried the most and I wept copiously too. "He always gave me a bottle of my favourite perfume Chanel on my birthday and was one of the first to come over and wish me."
"I think Macky had character, probity and a refined sense of honour and loyalty. He never kept a high profile when he worked as my private secretary and lastly as my advisor. He could have thrown his weight about, as most others would have done but his concern, was only for me," she said.
"I find it difficult to adjust my mind and live on, knowing I will never see Macky again." The tears flowed again, she paused for a long while and quietly said, ''That is samsara. Nothing is permanent in this life.''