To market, to market for action!
"Montevideo," said the guide book, "is pretty sedate by most standards." The first impression, on leaving the harbour gates, is even more depressing. A bastion of solid, administrative-style buildings confronts the stranger and there is no sign of where the action might be.
The successful traveller often has to rely on instinct and a nose for the offbeat to find what the guide books overlook. Thus it was by nose, rather than guidance, that I ducked down a lane leading between two overweight buildings opposite the port, and found Mercado Del Puerto, the port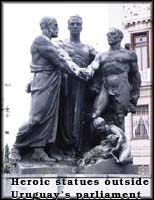 market.
Here I discovered medio y medio, or half and half.
Montevideo is the capital and chief port of Uruguay, a country on the Atlantic coast of South America, bounded in the north by Brazil and to the west by Argentina. It declared independence in 1825, a status accepted by its neighbours some 28 years later. The capital is home to nearly half of Uruguay's population of 3.2 million.
It is a superb port on the east bank of the Rio de la Plata (the River Plate) and the outlet for Uruguay's exports of grain, meat products and hides. Its industries include meat packing, tanning, footwear, flour milling and textiles.
The port, a rival to Buenos Aires on the opposite bank, made Montevideo the focal point for shipping. The city was founded in 1726 by Spain in response to Portugal's growing influence over the River Plate area. Many of its early residents came from the Canary Islands.
The city is top heavy with what the same guide book calls "undistinguished, utilitarian bureaucratic public buildings that would not be out of place in Eastern Europe." The imposing Palacio Legislativo contradicts that. It is a neo-classical pile flanked by Herculean statues of lusty men in heroic camaraderie.
The interior of this Legislative Palace, where the General Assembly meets, is a wonder of marble. Floors, columns, walls and heraldic arches are all of marble. There are marble pots balanced on friezed marble columns. The wax-work guards at the entrance to the Senators Chamber are actually not made of wax but of flesh, being human despite their immovability. These men in medieval uniform have to remain motionless, and not even blink when visitors flash their cameras in awe.
The palace abounds in stained glass windows, reception rooms opening on to balconies overlooking the north end of the Avenue of the Liberator General Lavalleja, and huge panels of oil paintings depicting epic historical moments in Uruguay's history. Entrance to the palace is free and it is a popular call on conducted tours of the city.
After the culture, comes the cuisine, which is what I found by chance at the Port Market. It opened in 1868 and retains its impressive structure of wrought-iron roof complete with ornate iron pillars garnished with rococo tidbits, and tall, wrought iron gates.
The square it adjoins has been transformed into trendiness with restaurants under the arches of its cloisters. Here the smart set linger while strolling musicians entertain. Across from the restaurants, outside the market, are freelance vendors displaying local handicrafts, and some stalls of antique knickknacks. Here, old cameras vie with cutlery and teapots to attract the impulsive curio collector.
Inside, the market is no longer dedicated to rural produce, but to the inner man: it consists of stand-up bars and snack counters where you can have what you like, as long as it is beef. Uruguayans thrive on beef and the standard meal is the parrillada, a platter of beef.In front of gigantic charcoal grills which display the different cuts available, cooks work in the open for all to see their dexterity.
I watched one man create matambre relleno, a yard of rolled and stuffed flank steak. He worked fast, scooping up red peppers, bacon and other slices of meat and laying them on top of each other on the flank steak base.
Then he rolled the layers together, bound them up with string to keep all the meaty bits intact, and put the roll on the grill, where it joined great wheels of sausages and sizzling steaks. Matambre is eaten cold or hot, sliced thinly for sandwiches, or in chunks as an appetiser. For me, it tasted delicious, despite my having seen how crudely it was prepared.
Montevideo's market is a fine place for people watching, even if what people are doing is not always polite. Darker nooks and crannies are favoured for trysts of a professional nature. Despite its staid image, the exuberance of life in South America cannot be stifled, even in bureaucratic Montevideo.
Perhaps as a contrast to the dull city streets, the market has a sense of humour. One bar has its stools painted with clock faces so you can sit on time and forget about it. At the Cafe Roldos, souvenir drinks trays are on sale, commemorating the cafe's existence in the same place in the market for 113 years. Its banner awning proclaims it is the home of Medio y Medio.
I've saved this, the best, for the end. "Half and half" turns out to be a glass filled half with white wine and half with sparkling wine. It has become such a popular drink in Uruguay, it is prepared and sold in bottles so it can be bought ready mixed.
To a wine connoisseur its taste might be disgusting - it is sweetly potent - but it was a fitting reward for finding Montevideo's offbeat market a few yards beyond the port's gates.