---
Child Care Fund for kids in need
'Boxty O' Connor' a renowned Irish group of folk musicians will perform a special concert on Thursday March 18, 1999 at the Russian Cultural Centre at 7.00 pm.
This is the first phase of establishing the 'Child Care Fund' as a part of its community service programme of District Rotaract programme. Yellow Pages, who are the main sponsor of this event, has always encouraged employees to participate in such community welfare development initiatives. According to Yellow Pages WE CARE... is the abbreviation of 'Welcoming Employees to Care And Reach out with Empathy'. Community involvement is very much a part of the Yellow Pages work culture.
WE CARE.... (A project by Yellow Pages in collaboration with the District Rotaract Organisation).... enough to create a special 'Child Care Fund' for children in need. Children whose parents have been victims of violence, children who have been abused and victimised by the desires and ignorance of adults, children who are our future generation. Yellow Pages have joined hands with the District Rotaract organisation in order to care for and help such children in need.
The District Rotaract Organisation of R.I. District 3220 - Sri Lanka has joined in the initiative of organising this project because of the fact that it falls within the Rotary avenues of Community Service and International Understanding. Rotaract is an organisation consisting of young adults sponsored by the Rotary movement.
TV Times, Dynavision will also show their care by way of Media sponsorship
Tickets are available at the Russian Cultural Centre, Roots (MC Food Court).
---
Dream Team in Male
The band Dream Team is now on holiday in Male for four days.
'After a hectic festive season and busy schedule at 'Blue Leopard', the boys are enjoying a well earned holiday in Male,' said Malcolm Perera, the manager of the band.
Anyway their holiday will come to an end on Thursday and the band will be on the bandstand again on Friday at the Leopard.
Meanwhile their frontline singer Natasha has turned down the offer from friends to replace their outgoing singer Suzette.
" I am quite happy with the 'Dream Team' and I have to be with them for my future development,'' said Natasha.
---
'Sangeeth':New entrant
'Sangeeth' is a new musical group comprising popular experienced players in town.
This group of musicians is well trained to present musical shows not only western music but oriental also.They also sing latest fast numbers in Sinhala as well as in other languages like Japanese,German,Hindi,Tamil,Sinhala classical songs if it is necessary.'Sangeeth' musical group is geared up to play in tourist hotels weddings or parties,has now undertaken to participate in open air musical shows also."We have tuned two songs for two private broadcasting stations.We are happy to say that these two songs are on air during prime time.Our team is preparing to release a song cassette shortly" Sangeeth Musical Group spokesman said.Seven musicians comprise this group.Bachchie Sittamge (lead guitar),Anton Deshapriya (key board),Vipula Fernando (base guitar) and singer Sangeeth Wijesuriya.
L to R Anton Deshapriya,Derrick Peters,Bachchie Sittamge,Sangeeth Wijesuriya and Vipula Fernando.
---
Sanda Kinduru comes on screen
'Sanda Kinduru' is scheduled to be on Swarnavahini on Thursday's at 2.30 p.m.
This tele serial relates a story of in a remote Wanni village where chena cultivation is the main mode of livelihood. Almost all farmers living in this village are poor living in iluk thatched and clay walled huts.
Gothami Pathiraja has produced this teleserial which comprise 17 episodes.
Sandawathie (Gothami Pathiraja) is the beauty in this village.As her parents died while a child Sandawathie's grand father adopted her.Thaniya (Ranjan Ramanayake)is the hunter who helped them to live.Sandawathie was much devoted towards him.However she did not approve his hunting profession.In spite of her pleadings to give up hunting he did continue.She made it a point not to accept anything Thaniya would give her purchased from money earned by selling flesh.
But Thaniya secretly loved her.He did not like Sandawathie being given in marriage to anone else.He prevented Sandawathie from giving her consent to marry anyone else.
As this man loved to be all alone villagers nicknamed him as 'Thaniya'.His parents too were killed by wild animals and only an elderly villager named Kira knew Thaniya's real name.As Thaniya was not familiar with cultivation there was no alternative to hunting.To please her Taniya gave up hunting and began to collect bee honey in the jungle and from the proceeds purchased clothes and gifted them to her which she gladly accepted. A new chapter opened in the village after Taraka Gunasinghe,the Range Officer came into the village.This man young and handsome was an honest public servant who discharged his duties without fear or favour.Because of his physical stature and kindness Sandawathie is attracted to him.The climax of this teleserial begins at this point.Christie Shelton Fernando has directed this teleserial on a script written by P.H.K.Ratnasiri.
Janaka Kumbukage,Rangana Premaratna,P.R.Perera,Indrajith Nawinna,Bertie Nihal Susiripala,Srimathie Heenatigala, are in the cast. Sarath Wickrema is the music director while Pushpa Kumara Rajaguru has photographed it.
---
Outstanding film men of India visit our shores
By Kumaradasa Wagista
Film personalities such as Shyam Benagel,Amitabh Bachchan and Nakkath Kushboo were in Sir Lanka recently.They were here on cultural missions and were felicitated by our artistes.Another notable son of India film actor producer and director Sunil Dutt visited us recently.Mr Dutt's misson was on a different theme not pertaining to films.The entourage 'Hands Across The Bor-ders'comprised a delegation of several members and a television unit.
Mr Dutt holds an unbroken record of going out of his way to fight for peace and justice in troubled spots around the world.He has bravely walked into borders of wrath, quake or flood disaster areas.
His greater mission to combat today's number one man eater cancer is yet in progress.
He is internationally recoganised as a man who can keep his head straight in troubled waters. His campaign to give redress to cancer patients is praiseworthy.
Battling against AIDS, drug addiction, poverty encouraging and strengthning human bonds to promote pea-ce,spreading communal har-mony,religious unity and to uphold good values among humanity and instilling qualities of nation building is well known among people.
Last August Sunil Dutt was presented with the prestigious Rajiv Gandhi National Sabhavana aw-ard,instituted in memory of the late Prime Minister, by no lesser a person than the former Deputy President of India Dr Shanker Dayal Sharma amidst a large number of Indian and non Indian dignitaries.
This rare award also carries a cash prize of Rupees Two and a half lakhs,which was immediately donated to trusts by members of his family. Ms Sonia Gandhi,her daughter Priyanka and son in law Robert Wadhera,Mr Dutt's daughter Priya and son Sanjay were among those present.
The Committee of this fund unanimously decided to present the award to Mr Dutt in recognition of services he has rendered When speaking of Sunil Dutt one cannot leave out his precious wife Nargis who died a few years ago. Nargis was an asset to promote his social service activities.
She was a film actress of international repute.Both of them were Members of the Indian Parliament.
Professor G.L.Peiris Minister of Justice Constitutional Affairs National Integration and Deputy Finance Minister flagged off Sunil Dutt's peace mission at Visumpaya on March 5.The delegates toured Anuradhapura, Mihintale, Kandy, Nuwara Eliya,Yala and Galle.
Pic shows Sunil Dutt being honoured by former Deputy President of India Dr Shanker Dayal Sharma by presenting the Sadbhavana Award.
---
Bertolucci whither bound?
By Bandula Jayasekara
The Italian film master Bernardo Bertolucci, a dream maker of this century was awarded the first life time achievement award for outstanding contribution to world cinema, by the Government of India.
Bertolucci started his career as an assistant to legendary film maker Pasoli, when he was still a student of the Rome University. At the age of 22 he directed his first film the 'Grim Reaper' Bernado's second movie Before The Revolution won a special award at Cannes in 1964. He followed with the "Spider Stratagem' and 'The Conformist' based on Alberto Moravia's novel for which he was selected as the best director by Society of Film Critics in 1972. This was a turning point for Bertolucci. He made the controversial film 'Last Tango In Paris' staring Marlon Brando. With his Tango he got instant recognition with the English speaking world. It was '1990' an epic in two parts in 1976.
Then with the backing of Holywood producers he made three spectacular movies. 'The Last Emperor' in 1987 which won him the Oscar for Direction and Screenplay and Achiever's Award from The Director's Guild of America, The Sheltering Sky in 1990 and 'The Little Buddha' in 1994.
TV times had the privilege of meeting the master during his visit to India this year with his new film 'Besieged' produced by Massimo Curtesi an Italian who plans to produce few more films for the master. Bertolucci was accompanied by his wife Clair Peploe. The renowned film maker said that the name Sri Lanka did not sound strange to him as many Lankans live in Italy and he gave thought to Sri Lanka as a location when he made 'Little Buddha'. He did not want to elaborate why it was made elsewhere. However he showed keenness to understand Buddhism of Sri Lanka. Bernardo was fascinated with India's Kerala and also said that he read Arundhati Roy's 'God Of Small Things' while on holiday in Kerala, her place of Birth. He was looking for new locations to shoot his new film and did not rule out Sri Lanka. His wife supported his interest as her sister who had visited Sri Lanka last year was planning another trip. Sri Lanka's location scout Asoka Perera of Film Location Services who was present was in deep conversation with Producer Massimo Cortesi. Who knows Bertolucci may be on his way here.
---
An evening to remember at Kathiresan
By Ismail Khan
Kala and Kushboo combined to give us a most memorable evening at the 'Star Night' performance held at New Kathiresan Hall Wellawatte recently. It was Kala Master's best yet seen in Sri Lanka from her school of Kalas Kalalaya.
Kushboo for one, joined this master Choreographer, in giving the colourful programme a great boost. If Kushboo was fragrance in her own language, Hindi, then the entire auditorium was filled with sweet fragrance as Nakkhat Kushboo danced her way, with the aid of other performers of Kalas Kalalaya, into our own hearts. And all this she did in spite of a drawback - she had a swelling foot which troubled her all the way. And for a worthy cause - in aid of ''Educating The Girl Child Scholarship Fund" during this period when International Women's Day is celebrated. Not only the women's world but ours too salute her and Kala for this magnanimous effort.
Now for the programme itself: It was a memorable one from the word 'go'. The opening sequence of a dance item done to the strains of A.R. Rahman's melody from the film ''Uyire'' set the tone to a wonderful array of song and dance themes all set to the music of A.R. Rahman, Deva and Illayarajah. The sound which flowed from the double speaker buffer set, though a little hard on our ear drums, singled out the musical miscellany very well.
Another item also from a melody out of another popular A.R. Rahman film Jeans had the audience tapping their toes as the Kalalaya girls danced like swift wind itself bracing the thin air with grace. The boys and girls of this ensemble, I thought had been put through their paces with much precision. They danced like the proverbial fairies in a fairy tale. The boys did even better. Their ballet like leaps and the steps they took to the music provided was just magic. It was as if Kala had woven a magic wand of dance through music.
Another item which caught my eye was the ''Old Is Gold'' where some of the old Tamil film song hits were played and the troupe went through the dances with the grace of ballet dancers. Every item performed by Kala's Kalalaya troupe got huge applause from the appreciative crowd.
The final item, the ''Vanthay Matharam'' performed to the music of A.R. Rahman, for which the musician got India's highest award, brought the house to its feet. It was immaculately performed to the highest ideals. And that brought the curtain down on a most memorable evening, an evening to remember.
---
Mandakini premiere held in Sydney
By Kumaradasa Wagista
The world premiere of the first Sri Lanka -Australia co production 'Mandakini' (The Milky Way) was held in Sydney on March 7.The film has been certificated by the Public Performance Board (PPB) and is scheduled to be released in Sri Lanka this June,director H.D.Premaratna said."I was planning to attend the premiere show but could not because of the shooting schedule in 'Kinihiriya Mal' he lamented.'I am confident that mutual cultural bonds that exist between the two countries will be furthered" He also thanked the Australian government and other state agencies for the cooperation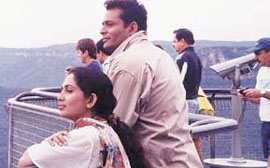 extended while the movie was being filmed in Sydney.
The new actor in 'Mandakini' Pradeep Senanayake who is now in Sri Lanka is a businessman operating from Japan,has acted in a teledrama and it was Premaratne's 'Seilama' where he played an insignificant role. In "Mandakini'he plays a running role making it his debut film.In it he does a playboy character opposite Ravindra Randeniya and Sabita Perera." For the first time I met Sabita and Ravindra in Sydney when I landed there to play in this film."he said.He has also played in two teledramas earlier.
Pradeep 28,is a happy go lucky type of a man in reality. He visits his motherland now and then and his hobby is to be away from problems as far as possible. As a businessman this type of mental state is an essentiality.This he has learnt from his business associates,he says.
Therefore he loves the entertainment field.But he will not neglect his business activities.Importing hydrophonics from Australia and supplying it to Japanese consumers is his main business." It's the process of growing plants in limited space without sand,gravel,liquid and with added neutrients. Specially for those living in skyscraper flats where there is no ground space to grow plants.Each of these units cost about Rs 65,000/- in Sri Lankan currency"he explained.He also imports lobsters from lobster breeding countries.
Although film acting is entertainment playing a role in a film is not that easy.An actor cannot play what he thinks is correct but he has to do it to the entire satisfaction of the director,as he is the sole creator of the film. Facial expressessions and giving re actions are of vital importance.
Speaking on his experiences of working in 'Mandakini' he said.I anticipated cooperation from the artistes who played opposite me.Director Premaratne and Ravindra Randeniya gave the necessary guidance.Presently I am working in 'Kinihiriya Mal' and Sangeetha Weeraratna plays opposite me.It's inspiring working with her as she always cooperates both in rehearsals as well as in the takes."he says.
'Mandakini' has captured one of the most beautiful locations in Australia,the Katumba Mountains. It is a tourist attraction where thousands of tourists as well as locals come and enjoy."The scenic beauty there is so enticing that lovers and young couples visit it to enjoy and relax there.It's a lovers paradise where feelings run high.Visitors travel in the licco train which goes around this giant mountain for several minutes. Enjoying the mountain -jungle scenic beauty satisfies them even educationally he says."Incidentally a disappointed lover had jumped from the licco train deep down into the wilderness the day we were to film the Katumba Mountains".
His present visit to Sri Lanka was for two purposes.Firstly to play his role in 'Kinihiriya Mal' and the second is to find a suitable life partner.He had seen several young beauties but not satisfied except for one blue eyed blonde working in a commercial bank." Her name is Aysha.I fell in love with her at the very sight.However things are yet in the balance."he says.
Pradeep started life first as a sailor at 18.He has worked as general helper,deck boy, mess boy, oiler,generator helper etc.in several ships for five years." I felt that it was the best way to enjoy life as a young bachelor should.While aboard we play merry hell.At times all are in a happy mood while there are days when no one even looks and smiles at you."
Being a son of a public servant he had to travel in many parts of the country. However he ended up at Rahula Vidyalaya, Matara, where he passed GCE A/Levels. He thanked Gerald Rohan Silva for introducing him to Premaratne.
---
Two film festivals for local films
Sri Lanka once again enjoys the privilege of participating in two major International Film Festivals.The first is Fribourg festival in Switzerland, where films from Asian, Latin, American and African countries participate.This festival starts on March 7 and continues till March 14.
Sri Lanka will be represented by Prasanna Vithanage's 'Pura Handa Kaluwara'(Death On A Full Moon Day), a feature film produced jointly by NHK Japan and Sri Lanka. The film is selected to participate in the competitive section of the festival,director Vithanage who will grace this occasion said.Joe Abeywickrema plays the role of a blind old man,the main role in the film with several other artistes.
Film critic cum journalist Gamini Wijetunge is named to sit in the International Film Critics (Fipresci) jury at Fribourg festival.He is also President of Asian Film Centre(AFC) while its Secretary Ashley Ratnavibhushana will participate as a delegate. The 9th.edition of African Film festival will be held in Milan,Italy,from March 19 to 25.Mr Ratnavibhushana will attend this festival on a special invitation extended by the festival dire-ctorate,AFC sources said.
---
Chef Geng Tao takes over Golden Dragon
New Chinese chef Geng Tao, have taken over the 'Golden Dragon', specialized Chinese restaurant at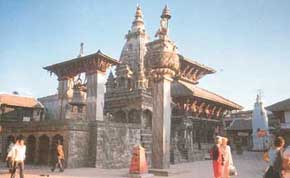 Airport Garden Hotel, recently from the out going chef Fei.
Chef Geng Tao from China has 12 years experience in hotel trade and has worked at Minshan Hotel and Crown's Holiday Inn, both five star hotels in China.
He is specialized in Wong Tongs and in Szechwan Cuisine. From the series of food promotions he has planned for Golden Dragon restaurant.
His first promotion concentrated on presenting special dishes of Chengdu, his hometown in China.
Some of Tao's specialities are Golden Batter Fried King Prawns or Duck Egg, Szechwan style. Don't miss the Singapore Chilli Crab or maybe the Double Fried Pork. If you like vegetables you have to try the Stir Fried Egg Plant in Mushroom and Bamboo Shoots with Soya Sauce. Mar-Por's Bean Curd with Minced Beef is a treat you can't resist and that also goes for Fu-Yung with Shrimps/Chicken/Crab/Meat or Vegetable. .
The Chinese restaurant is known for its quiet atmosphere and has the perfect setting in which to dine, whether for lunch or dinner.
The Golden Dragon is open from 12.00- 2.30 p.m. for lunch from 7.00 p.m. - 10.00 p.m. for dinner.
Meanwhile the mini pageant, 'Miss Talent' contest of the 'Miss Working Girl' will be held at the Airport Garden Hotel on March 21.
---
The right connection
By Ishan Sheriffdeen
When talking about world travel and tourism, one would not forget Nepal as a destination which offers plenty of activities for different segments of people arriving there. Be it summer, monsoon, autumn or winter, this beautiful country entertains a large number of tourists, trekkers, river rafters, poets, wild life enthusiasts, pilgrims, artists and scholars annually.
Nepal is blessed with scenic beauty, surrounded by the lofty snow capped Himalayan mountains (including Mount Everest), valleys and forested plains.
The vast range of flora and fauna divided into four major regions (as tropical deciduous monsoon forest, subtropical mixed evergreen forest, temperate evergreen forests and subalpine and alpine zone) itself speaks about the nature's gift to the country.
The legendary towns of Kathmandu, Gorkha and Pokhara are popular tourist attractions of this agro-based country.
With the aim of conserving the country's valuable wildlife resources and their inhabitats, the State of Nepal has also promoted the concept of national parks and wildlife reserves. The Royal Chitawan, Langtang, Rara are among these most popular national parks, which are popular among tourists.
These wildlife reserves are said to be on par with certain South African jungles.
Though this country is visited by many tourists around the world (particularly from countries such as USA, UK, West Germany, France, Japan and Australia), the lack of direct airlinks (between Sri Lanka and Nepal) deprives easy access for many Sri Lankans anxious of touring Nepal.
However, with developments taking place at SAARC level, authorities of Sri Lanka and Nepal are now very much keen in restoring airlinks, considered the key in strengthening bilateral relationship. The Sri Lanka-Nepal Friendship Society in particular, has put lot of effort to focus attention of respective governments towards prevailing problems.
"We have made several representations on this issue (airlinks) from the very beginning. There will be so many distinct advantages for Sri Lanka, such as the inflow of traffic to and from Nepal, and the extension of European charters to Colombo from Nepal (besides local traffic)", says Capt. D.A. Wickremasinghe, President, Sri Lanka-Nepal Friendship Society.
Nepal has been successful in attracting a large number of high-spending European tourists over the years. These tourists who arrive in Nepal, subsequently tour neighbouring countries such as Maldives and India. Sri Lanka could easily tap these visitors, once direct airlinks are re-established between Colombo and Kathmandu, he pointed out.
Earlier, flights between Sri Lanka-Kathmandu was a regular feature. It operated twice a week and gradually reduced its frequency as it was not profitable, but yet they continued. Inadequate concessions offered by AirLanka and the Department of Aviation (at that time) resulted in a withdrawal eventually.
"Nepal has a culture and civilization dating back to the birth of Prince Siddhartha. Many travel agents organize pilgrimages to Nepal, presently operating via Delhi. Though majority of Buddhist monuments are found in India, Buddhist pilgrimages are believed to be incomplete without "Lumbini" (the birth place of Prince Siddhartha, located in the Southern part of Nepal bordering India) on their itinerary. Lumbini is also popular as Siddharthanagar among tourists. Direct airlinks would enable local travel agents opt to Kathmandu as one of its prime destinations. However, it all depends on the air fares", Capt. Wickremesinghe explained.
Being the only Hindu State in the world, Nepal utilizes a large amount of foreign aid to restore and preserve ancient monuments and sites of cultural value. There are excavations presently carried out specially in the area of Lumbini, where lot of information is found. Lumbini, is now included in the World's Heritage List. Besides, the Bo-sapling of the Sri Maha Bodhiya (Anuradhapura) which is planted there, is to be surrounded by a "Ranweta" with the initiative of the Friendship Society.
Capt. Wickremesinghe, a tour operator specialized in organizing pilgrimages, is also a Sandhurst trained former Army officer.
He has been to India and Nepal with nearly 2500 pilgrims during the past ten years.
The vast potential for trade and investment between the two countries being explored, could also be facilitated, international business circles believe.
---
Kapur in 'A' list of directors
Once upon a time, not too long ago, Shekhar Kapur was like Pinnochio. A teller of tall tales. No, his nose did not get any longer. But each time he'd talk in his languorous drawl about his plans to conquer Hollywood - or make the greatest film ever in Mumbai - the rest of Bollywood (the Indian film industry) would seem to say: Ah yes, there he goes again.
After the high of his delightful film in Hindi, Mr. India, the charming braggart had tumbled into the Bollywood quagmire of aborted film projects. "He was not good at the court politics of the film industry," says his friend, director Mahesh Bhatt, "he was angry but not angry enough, and there was a sense of battered selfesteem."
Well, today when Kapur talks, they listen, as if he were the Indian Steven Spielberg. His film Elizabeth has just won Cate Blanchett the best dramatic actress award in the prestigious Golden Globe Awards. A portent of what could happen at the Oscars? Not a brow puckers in disbelief when Kapur describes his four hours this winter in Andrew Lloyd Webber's rambling 4,000 acre estate near Surrey. When Webber - who liked Elizabeth's operatic style played the piano for him and they talked about Kapur doing the film adaptation of his Phantom of the Opera with Antonio Banderas in the lead.
After Elizabeth, Kapur shot straight into the 'A' list of directors in Hollywood. In golf terms, he's landed on the 18th green in one swing. In real terms: a $6 million director tag, scripts being written for him by 'A' list screen writers, big studios and stars knocking on his door. Recently, Kapur signed Steinback's Point of View, a script which has Tom Cruise interested. Kapur and his baton are also being sought for Superman V but the super director is not quite sure he can make Nicholas cage fly. There are offers from movie moguls like Jerry Bruckheimer (produced Top Gun, Con Air and Armageddon). And 60 scripts have piled up for Kapur to read.
No one is surprised anymore, least of all Kapur. "My fantasies were so strong, and they are now coming true. Ultimately we create our own destinies," he says. He didn't just daydream: Every five years he would go and knock on those Fort Knox Hollywood doors, even Tom Cruise's.
The slow but irresistible ascent has taken this chartered accountant from actor to occasional model to director (Masoom and Mr. India) to international hot property.
His brand new fantasy is an entertainment company like his role model Spielberg's Dreamworks. And abracadabra, an entertainment company did become a reality when he launched the insouciantly named Starlight with Parmeshwar and Adi Godrej last month.
"I see Starlight as totally global. Indian entertainment can't survive otherwise," explains Kapur. Mr. Newly Corporate is already at work: his Jeeves, Suresh, says that "Sahib is always on the computer" in his Juhu (Mumbai) apartment. Evidently, nothing ever really goes waste in the rapidly changing world of Kapur. Some of those much worked-upon or even half done projects like Time Machine, Tara Rum Pum Pum and The Nine O Clock War will now be resuscitated. Suresh hasn't ever seen his boss this happy: "He does not lose his temper now."