Hello Children,
Have you heard of the Talent story in the Bible? Well most of you must have done that lesson in your Sunday school. Talent is God given.
If you can play music, sing, encourage others or do something good for others all these are talents. Using these talents to help others can give you satisfaction.
If you like playing the piano or any other instrument, you should tell your parents that you want to learn it and do it well. One day you might be called to entertain or help cheer an old person or sick person. With this special talent you could make a lot of people and yourself happy.
So think about what you've got and use it to the fullest.
Until next time
Aunty Sunshine
---
The grand piano
How great a grand piano is,
Did you ever think of it?
Do you know why I talk about it?
Because, most of us are fond of it. A way of relaxing,
And a way of learning.
A way of enjoying,
And a way of earning.

With beautiful music played on it,
And beautiful music heard from it,
To forget the troubles for a while,
And to see a new world and smile.

In rhythm go the fingers,
With sweet melodies linger
And sweet memories remember
Oh! how great a piano is.
Nellinne Perera
Good Shepherd Convent
Kotahena
---
Jumbo talk
Tame elephant: Hello! How are you? Where are you going?
Wild elephant: You don't want to know about me. Mind your own business. You are a prisoner. Prisoners don't want to know about anyone.
Tame elephant: No. I asked you whether you need some food. You are my friend.
Wild elephant: I have so much food to eat, if I haven't I can search for food (in a proud voice). You have so much food but you haven't freedom.
Tame elephant: Oh! You are jealous of me because you have no master to look after you. I also have a nice house.
Wild elephant: What! Are you daft? Is this a house? This is a prison. And I am not jealous of you. I don't want a master or nice clothes. I live happily. I don't want to spoil my life.
Tame elephant: Now I can understand you are right, but how can I come out of the prison.
Wild elephant: Oh! It's easy. You come with me.
Tame elephant: But how? The door is shut.
Wild elephant: I can help you to open the door.
Tame elephant: Thank you very much.
Rasangi Tilakarathne
Hemamalie B.M.V Kandy
---
A tribute to my grandfather!
You gave such joy to everyone
In your own very special way
You brought a world of happiness
To others everyday.
You've always been my special friend
And my helper too
Who taught me how to read and write
And also to be happy too.
Whenever I'm sad and lonely
You've always been there
Being a light in the dark
Showing me that you care
There were no blues in my life
When you were there
'Cause you always had a joke
To chase them all apart.
It has been a year since you left this world
I still remember all those days
I spent with you in tears.
Those joyful memories will always be cherished
And will have a special place in my heart.
May you lie in the hands of God
And be happy in your new world
May God's blessings be all yours
And may you be my friend, my guiding light
And above all my precious grandpa forever!
Shehara Muthuwady
Hillwood College Kandy
---
Myself
My name is Anton Dilip Fernando. I am fourteen years old. I attend St. Anne's College, Kurunegala. I am in Year 9 D. I am a junior prefect in my school. I go to school by van. I have many friends. But I have four good friends in my class. They are Olegama, Amila, Damith and Mahes.
My class teacher is Mr. Priyankara. My English teacher is Mrs. Muditha Palapathwala. I hope to become a Catholic priest when I grow up. My father's name is Anthony Joseph Fernando. My mother's name is Jacintha Fernando. My father is a Grama Niladari in our village of Mampuriya. I have two brothers and one sister. Their names are Pradeep Nilanga, Andrew Dioni and Nadeeka Dilini.
I am keen on saving money. Now I have Rs. 470. I hope to buy something useful with my pocke tmoney.
A.J. Anton Dilip Fernando
St. Anne's College, Kurunegala
---
Flowers
Flowers? They are the eyes of angels,
Innocent in their purity,
Rapt in perpetual prayer, like the
Saints in mystic ecstasy.
Flowers? They are dreamers born to dream,
Of beauty's inviolate gleam,
Minstrels of love who sing
Of the lovely king
Who talks through them to men,
In joy and pain,
A language understood by those alone
Who hark to their message of love's dominion.
M.R.A. Amjath
Akkaraipattu National School Akkaraipattu
---
Leading pirivenas are elevated
By Uncle D.C.R
A significant event in the development of higher education in Sri Lanka is the upgrading of the two leading Buddhist seats of learning, Vidyodaya and Vidyalankara Pirivenas to university status on January 1, 1959.
The two institutions had existed from the 1870s, the Vidyodaya Pirivena having being established by Ven Hikkaduwe Sri Sumangala Thera at Maligakanda (Maradana) on December 1, 1873 and the Vidyalankara Pirivena by Ven Ratmalane Dharmaloka Thera at Peliyagoda (Kelaniya) on November 1, 1875. The two Pirivenas contributed greatly to the resurgence of Buddhism and Buddhist education under colonial rule.
Hailing from Hettigoda, Hikkaduwa, Ven Sumangala Nayaka Thera (1827-1911), was ordained in November 1840 and received higher ordination eight years later. He entered the Paramadhamma Cetiya Pirivena, Ratmalana in 1844 and learnt Pali, Sanskrit & Buddhism under Ven Walane Sri Siddhartha Maha Nayaka Thera. In 1869 he became head of the Pirivena until he founded the Vidyodaya Pirivena in 1873. A pioneer in the Buddhist revival movement, he founded Pettah Buddhist English School (later Ananda College) along with C. W. Leadbeater and Ven Migettuwatte Gunananda Thera in 1886. A regular contributor to newspapers on Buddhist matters, he was also author of several books. He served as Sangha Nayaka, Galle district & nine Korales.
Born on September 23,1852 in Ratmalana, Ven Sri Dharmarama Maha Nayaka Thera was ordained in 1859 and studied under Ratmalane Dharmaloka Thera. Having got his higher ordination in 1874, he founded the Vidyalankara Pirivena in 1875. In 1894 he was appointed Sangha Nayaka, Colombo district. Among the books he wrote are 'Sanskrutha Shabdamala' and 'Janakiharanaya'. He passed away on May 3.
Both the clergy and the laity studied in the two Pirivenas which were soon recognised as seats of Buddhist learning at the highest level.
Wijayananda Dahanayaka, Minister of Education after S W. R. D. Bandaranaike became Prime Minister in 1956, decided to elevate the two Pirivenas to university status. The two Principals were appointed Vice-Chancellors. Thus Ven Welivitiye Sri Sorata Nayaka Thera (1897-1963) served as the first Vice Chancellor of Vidyodaya University for four and a half years and Ven Kiriwaththuduwe Sri Pragnasara Nayaka Thera (1891-1970) as Vice Chancellor of Vidyalankara University. Both were renowned as well disciplined, virtuous, exemplary monks and erudite scholars.
The 10 cent stamp issued on December 31,1959 to commemorate the inauguration of the two 'Pirivena Universities' carried the main buildings of the two Pirivenas and the portraits of the founders. Ven Sorata was among four distinguished personalities in whose honour stamps were issued on April 4,1997.
The two universities have now have been re-named the University of Sri Jayawardenapura (Vidyodaya) and the University of Kelaniya (Vidyodaya). They have also been relocated - the former at Gangodawila, Nugegoda and the other at Dalugama, Kelaniya.
---
Seals, walruses and dugongs
There are three groups of seals, the true seals, the eared seals and the walrus .
True seals
True seals have no outer ears, rather short flippers and swim mainly with their hind limbs. They use their fore limbs when they move on land, pulling themselves along in a wriggling movement.
Sizes range from the three-tonne elephant seal to the small freshwater Baikal seal, which weighs about 80 kilograms.
Most seals hunt fishes and squids, but the crab-eating seal of the southern ocean eats other sea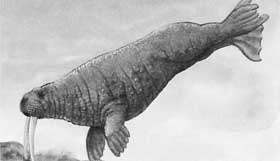 creatures as well. The leopard seal hunts sea birds and other seals. It can strip the skin off a captured penguin with one shake of its powerful head.
In the Antarctic, penguins stay with the pack ice, making a blow hole in it to breathe through. Eskimo hunters will wait by a blow hole to spear the seal. Weddell's seal of the Antarctic will bite holes in the ice.
The harp seal is a migrant, spending much of its year in the mid-north Atlantic, and breeding on the Norwegian coast and on a small mid-ocean island. It has large black spots and a dark band over its neck and down the sides of its body. It can dive to 270 metres, and can stay under water for 30 minutes.
Two seals that are becoming rare are the bearded seals, which live in small herds around the coast of the north Atlantic, and the solitary monk seal of the Mediterranean.
The common seal likes flat coastlines with sandy beaches and mud banks. It lives around the coasts of Norway, Denmark and parts of Britain and the Baltic. It has a greyish-white and greyish-yellow spotted coat and a round head.
The grey, or Atlantic, seal has a curved face. It prefers rocky coasts. It lives on the Atlantic coast of Britain and in the Baltic.
Seals come on shore to bask. Some can sleep in the water. Their main enemy, apart from man, is the killer whale.
Eared seals
Sea lions, or eared seals, have outer ears and long webbed feet which they use to swim very fast. On land, they can turn their hind flippers under their body and move at a clumsy gallop.
They occur throughout the world except in the Indian Ocean and the north Atlantic.
Sea lions include the so-called fur seals which are hunted for their skins.
The Californian sea lion, one of the best known members of the family, is often kept in zoos and does balancing acts in circuses.
The walrus
Walruses are massive and ungainly seals. They belong to a different family from other seals. They live in the north Atlantic and Pacific in large herds. The bulls use the downward pointing tusks for fighting, and to help to climb out of water.
The sea cows
Sea cows are a different family from seals. They have no fur and their front limbs are webbed. They have flat tails and heavily whiskered faces. They eat water plants. A single young is born in winter.
Two members of the family are the dugong and the manatee. The dugong lives in the Red Sea, and along the east coast of Africa. It is about two and a half metres long.
There are three kinds of manatees. One kind lives along the coast of West Africa and the other two are American. - To be continued