Hambantota: the kalu dodol capital
By Dilrukshi Handunnetti
Ever wondered how the delicious kalu dodol found its way here and secured a permanent place on our traditional festive tables? The art of dodol making was knowledge bestowed on us by our Portuguese rulers.
Since then, these originally Portuguese sweetmeats have become permanent features at our festivals. Apart from the large confectionery houses into mass scale production of various sweetmeats, you also get the occasional city-based dodol makers. But away from the city in arid Hambantota dwell some people to whom dodol making and selling marketing is a way of life.
Dodol is their only source of income, a home based industry exclusively practised in the Giruwapattuwa alone. These tiny dodol outlets look identical with many sporting free advertisements. Their walls are full of margarine, toothpaste and soap ads, a legacy from an ambitious Unilever marketing machine.
Although unpretentious, these places are clean and welcome looking, and also enjoying a certain traditional clientele.
As vehicles pass by, enthusiastic vendors step on to the highway inviting people to their tiny shops. You begin by listening to their descriptions of each dodol that is on display, and at their request, by tasting a few pieces before selecting the dodol which suits your palate and wallet both.
But things have changed dramatically. A decade ago, these kalu dodol haunts were the accepted tea kiosks with jaggery and plain tea being their trademark. No such thing today as modernisation intervened. You can order your chilled Coca Cola or the Sprite instead.
Ask a few traditional dodol makers what the process of making this delicious sweetmeat is like. Many would tell you that it is a tedious business. "Only if you know how people toil to prepare it right," said A. K. Kusumawathi who prepares dodol for several 'dodol kades' in the vicinity. She is assisted by her brother, husband and two helpers.
"It is one of the most difficult things to make. But there is an ever increasing market for this as the traditional knowledge is dying out and many do not want to go through the hassle of actually making dodol at home. This is how it evolved as an informal industry," says Kusumawathi.
But the cost of production is also eternally increasing. The rice flour, jaggery, coconut and other essences apart, the labour charges are rising.
Kusumawathi who has been in the business for over three decades explained that her task was to supervise the entire operation. Being unable to stir the batter alone, she employs two people to stir the batter for which she pays Rs. 250 per person. This amount rockets up with each additional tray they make.
But in preparation, she gets her home folk to scrape about 25 coconuts, prepare cashew nuts and shred the jaggery. The labour charges are for the stirring exercise only.
Next we met Sili Nona, the owner "Latha Kirikade", a typically rural woman chewing betel and still comfortable with the old ways of the world. To her, selling kalu dodol is of secondary importance. Her forte is curd selling. And dodol only an additional income, hence the lack of variety.
"I get two men to prepare a dodol only when I finish selling one tray. There are established dodol boutiques in the town itself, so nobody actually depends on me for dodol supplies as our main business is curd."
Another deterrent in making dodol according to her is the cost of production. She provides her cooks with 4 kg of rice flour, about 25 coconuts, 20 kg of sugar, 300 g of cashew nuts. In addition to breakfast, lunch and tea, she pays each man Rs.250 and with each additional tray, her payment increases.
"I make dodol as an extra source of income. When curd has to be returned ( due to many reasons), I sell dodol just to make ends meet. Yet in her estimation, making kalu dodol is no worthy business.
For K.H.H. Indika Sujeewa from Tangalle, running a 'kalu dodol kade' with his many sisters comes naturally. He grew up sensing the aroma of freshly made kalu dodol and his taste buds know what the market needs. So, they experiment and make many varieties with different flavours to meet the market trends.
To Sujeewa and his family, it is a traditional business which his father commenced on a very small scale. Ten years later, the 'kade' has flourished and the demand for dodol increased.
Running the largest dodol kade in Hambantota town, Sujeewa's outlet has dodols of varying quality, according to which the prices also vary.
Here and in a few other such "up market' shops selling dodol, fuelled by fierce competition in the vicinity has turned into a fine art of marketing.
A long row of similar looking dodol trays lie on a long counter with a price tag in the centre of each tray. A closer look and a brief inquiry reveal that the dodol trays vary in quality. The good stuff is as expensive as Rs. 100 per 100 grams. Other trays about seven to eight in all, are price marked lower from Rs. 75 Rs. 50 Rs. 45 Rs. 35 to Rs. 30.
Don't buy the Rs. 30/- stuff it is mostly made of water and very little jaggery the brother and sister team behind the counter informs visitors to their shop, who promptly ask for the most expensive!
Each tray presumably contains 35 kg of kalu dodol. And Sujeewa's sister rushed to explain all this. Rice flour, jaggery, coconut milk, cashew nuts and most important, natural ingredients go into the deluxe dodol, hence the price and its quality!
But for those unable to afford the ultimate luxury, there are other varieties more affordable. And the Rs. 60 variety is prepared in larger quantities as it is meant for the larger market of Kataragama pilgrims.
"Our sales soar during the Kataragama pilgrim season. Bus loads stop here to purchase dodol-that is part of a pilgrim's customary purchases. Apart from this, school holidays and public holidays are generally good as people go outstations. Generally, Sundays are good for business," claims the vendor family in unison.
And for this family of kalu dodol makers, their daily income exceeds Rs.2,000. Like many others, this family too employs others to prepare kalu dodol at home, and from their home across the road, they bring dodol trays to the outlet.
How often do they need to make fresh trays? It depends on the daily sales but within five days, they remove the old trays, sold or not.
"We have maintained certain standards and the customer's trust is of paramount importance to us. This is how we built this tiny dodol empire. Our sales are satisfactory and this is our only source of income. So we concentrate on this. We can't sell people dodol about to be affected by bacteria" quips Suneetha, Sujeewa's elder sister.
New Lanka Kalu Dodol, another popular boutique has been in existence for over 20 years, and now, a new generation has taken over the business. Mother Subadra sells dodol with her teenage daughter, and claims that their fortunes were often fluctuating.
"This is probably the only sweetmeat one has to offer for tasting prior to selling. There cannot be a limit on the number of pieces. We cannot charge the people for these pieces either," she says, adding that despite its appearence as a lucrative business, dodol making was being continued for this was the only business they have got used to.
And the economic dilemmas of the dodol makers are aplenty, besides the cost of raw material and labour charges.
A few years ago, a special loan scheme was initiated by the NHDA, according to the vendors to replace their wattle and daub boutiques and tea kiosks with better ones. The buildings were complete and the vendors had even settled a part of their easy term loans; they were informed that the rest of it would be written off as a means of assistance to a small scale entrepreneurship scheme.
But with the change of government dodol vendors claim that the authorities, namely the pradeshiya sabhas were insisting on the settlement of the entire loan which had earlier been written off.
Yes, most of them admitted that they paid Business Turnover Tax of 1% as required by any registered trader.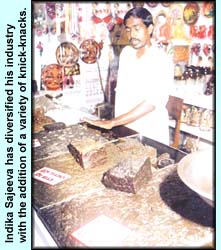 Most of the dodol vendors can barely make ends meet except for a few like Sujeewa who do have thriving business. In order to supplement their income, in addition to selling dodol, they market a variety of porcelain items, ranging from Buddha statues to tiny bird figures. "We sell them as souvenirs to people who look for tokens to be carried home. In most cases, it is a Buddha statue or a deva rupa, because most buyers are pilgrims. It is actually a very helpful thing," said Subadra.
For the few Sajeeva was making Rs.2,000 a day, the solitary pieces of pottery may not make a difference. But to the majority living on this home based industry, it is very relevant that they sell a few pieces at the end of each day!
KALU DODOL RECIPE
Ingredients.
One pound jaggery, 500 g rice flour, Milk of one coconut, 2 ounces cashew nuts.
Method.
Put the shredded jaggery into the coconut milk. Add flour and gently mix together.
Once adequately mixed, keep it on the hearth and stir. While stirring, add some cashew nuts. Use a spoon to remove the excess oil.
Spread the prepared kalu dodol on a banana leaf and sprinkle some shredded cashew nuts to decorate.
---
CFA programme needs money to keep going
The Chartered Financial Analyst (CFA) designation is recognised worldwide as one of the most prestigious and respected designations for investment professionals. Many have acknowledged that the presence of CFA holders increases the overall presence of the local financial markets. The Sri Lankan capital market, though in its infancy, boasts of 15 CFA personnel. The 15 charterholders were feted by USAID last week at a simple ceremony which included American Ambassador Shaun Donnelly, and Deputy Finance Minister Prof. G.L. Peiris. The Sunday Times Business spoke to Seth Isaac (USAID training specalist) and Ravi Abeysuriya (the first Sri Lankan CFA holder) about the Sri Lankan CFA programme and its significance in the long term development of the local capital markets.
Q: Why is it important to have qualified investment advisors?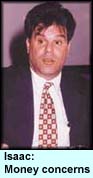 A: The investment management profession has relatively few barriers and has always been open to unqualified participants with little or no formal investment training. In addition, in recent years, people from many different areas have entered the investment management profession, and this diversity of backgrounds has contributed to an overall lack of common ethical values in the financial community.
Such unethical behaviour inevitably has an adverse effect on the investment psychology of investors. It diminishes the confidence they place in financial markets and obscures their perception of the risks that the market holds.
Q: How do investors judge a market?
A: Markets are really judged by three mechanism: the regulation of their marketplace, their mechanism of doing business (their computers, hardware etc) and judged by their market participants.
Q: Where does the CFA programme come in?
A: The CFA programme levels the financial market place worldwide. The CFA programme is the barometer of market participants. It's the CFA designation that tells market participants worldwide that the Sri Lankan market has the highest level of market participants.
The Association for Investment Management and Research (AIMR) oversee the investment management profession worldwide and the CFA programme is a part of it.
The CFA was introduced in 1963 and has grown to worldwide standards. In 1963, 284 candidates undertook the first CFA programme. In 1998, 33,800 candidates sat for the CFA programme worldwide.
Q: What is the basis of the programme?
A: The basis of CFA are threefold: ethics, portfolio management and asset valuation.
CFA charterholders must adhere to a strict code of ethics and standards of professional conduct, violations of which can result in the suspension or revocation of the CFA charter.
Q: When did the programme commence in Sri Lanka?
A: The CFA programme in Sri Lanka began in 1993 with 36 candidates.
Individuals who have successfully obtained the CFA charter have mastered a comprehensive curriculum based on an extensive body of investment knowledge and have successfully passed a series of three progressively rigorous exams.
In addition, they should have minimum three years work experience in the investment decision making process and have displayed a high level of professional and personal conduct, to join the CFA programme.
The CFA programme is now operated by SLASIA.
CFA ensures that the charterholders are participants of the latest trends in the financial market, by ensuring they are staying in touch with the market by their association with SLASIA.
They need to discuss market trends and this is a way to ensure that their charterholders keep abreast of the latest developments in investment theories and techniques.
The first two Sri Lankan CFA's Ravi Abeysuriya and Shamindra Perera graduated in 1995. At present, there are 86 CFA students in Sri Lanka.
Q: There are concerns that the programme is losing steam in Sri Lanka?
A: My concern is that in the shadow of the Asian financial crisis, the lethargic activity of the CSE, the brokerage community feeling the financial pinch all these factors coming together at one time, to allow their financial pullback, means that there is little money coming in the way of assistance to the programme.
Without corporate support, the candidates themselves must take a substantial financial burden. There is an annual expense between US$ 1,200 -1,300 which includes books, registration and training.
That is not small change for Sri Lankan companies, as salaries do not compete on the same level as their US counterparts.
In Sri Lanka we don't have any corporate budget to pay for these things, and the Sri Lankan people must pay for it. So we are finding a drop in candidates through a drop in sponsorship and that translates the CFA is losing steam here.
Q: How can the CFA help a developing market like ours?
A: We are talking about financial market development. We are sending a message to the world that the market participants of Sri Lanka can compete anywhere, and we don't have to send that message very loud.
The CFA designation does it for us. If we want international investors, the investors want security, we have to issue international quality research reports, the financial analysis of our local companies. Even if we can get the players of the world to read these documents, the fact that it is written by a CFA makes the document carry more weight. So it's the CFA designation that tells the world that this is a market whose participants you need to pay attention to. When CFA designation does not continue that message gets lost.
Q: What do Sri Lankan companies look for in a charterholder?
A: Sri Lankan corporates are not looking for accountants but for top flight financial professionals with exposure and experience in merchant banking, financial services, capital and money markets, fund management, investment advisory services, corporate finance, equity research and allied services. A report prepared by a CFA means that it is of high standard, this also brings in a certain amount of ethics and credibility to the Sri Lankan market. This has to be recognised.
Q: Why is there a drop in Sri Lankan candidates for the programme?
A: It's a shame that numbers are dropping due to lack of financial support. The lack of recognition of charterholders is another factor, as once a charterholder qualifies he is treated as just another chartered accountant. Corporate patronage is important for the long-term survival of the CFA programme here. Investors should feel secure that someone with a 'CFA' following his/her name was taking care of their financial well being.
Q: How did USAID get involved with the project?
A: USAID's involvement in the project dates back to the late 1980s when the donor agencies of the world looked at the development of financial market as a positive step towards fiscal independence for developing countries. The thinking behind this was that since financial market's is an avenue for raising capital, the donor agencies felt that by help developing the financial markets, the developing nations may start to raise capital for themselves instead of relying on loans and grants from donor agencies.
The donor agencies were looking at a short-term financial outlet to develop the market, hoping that long-term financial growth locally would diminish the burden of developing countries.
In this context, in 1990 USAID started the capital market project of Sri Lanka through the SEC and CSE. That project ended midway in 1992 it was instrumental in creating the CDS system.
Because of the CDS system, USAID decided to extend the project and created a new project called the financial markets project, and built into the financial markets project was the CFA.
CFA class began in March 1993 and the first exam was in June 1993. The students were up against all odds.
We were shocked when 25% passed the first exam and I give them all credit in the world because there was no reason in the world that they should have passed.
If you take the USA/Canadian results from out of the mix, 25% is one of the highest pass rates you can ever find. So Sri Lanka represented one of the highest. AIMR was also very impressed with the pass level, and knowledge level of the Sri Lankan candidates.
Incidentally, the first Sri Lankan CFA Ravi Abeysuriya goes to USA annually to mark the exam.
CFA graduates
Front row: Ravi Abeysuriya, Channa Amaratunga, Mevan Delwita, Roshini Fernando, Rachini Rajepakse, Harini Wijeweera, Deputy Finance Minister Prof G L Peiris, US Ambassador Shaun Donnelley, Kush Choksy (USAID )
Back row:Michael Owen (USAID), Nirosh de Silva, Dulindra Fernando, Ron Copley(Associated Professor), Seth Isaac(USAID), Murtaza Jafferjee, Chanaka Wickremasuriya, Vajira Kulatilake, Neomal Gunewardena, Dayan Abeyratne.
---
First hand-held recorder: Dragon
Dragon Naturally Speaking Mobile, the first mobile speech recognition solution designed from inception for optimal speech recognition will be made available for the local market by end of February.
The system includes the award-winning Dragon Naturally Speaking Preferred speech recognition software, the new Dragon Naturally Mobile pocket sized recorder and Dragon Naturally Mobile software for recorded speech, says a press release.
This new product allows users to create, edit and even format documents by speaking into a hand-held device. When the user wishes to write a document, record a thought, fill out a report or otherwise capture information, he can quickly speak into the Dragon Naturally Mobile pocket recorder using the built-in microphone. There is no longer a need to wait for a computer to boot or even to put on a headset microphone to capture speech.
When the user is ready, the recordings can be downloaded to a PC using a high speed serial link and the Dragon Naturally Mobile sofware provided with the product. Dragon Naturally Speaking will transcript the text and can execute commands for formatting and editing the text. The recorded speech can be transcribed at a speed faster than real time, meaning faster than it took the person to record it.
"Dragon Naturally Mobile enhances productivity for the mobile user and others who want to free themselves from the tyranny of their keybords," said Sanjeevan Jeevaratnam, Managing Director of D. & J Enterprises (Pvt) Ltd., Local distributor/reseller for Dragon Systems Inc. USA.
"Ideal for legal and medical professionals, journalists and business executives, this new product reinforces Dragon Systems' commitment to providing easy to use productivity enhancing portable solution" he added.
---
Smart Shirts Lanka awarded ISO 9002
Smart Shirts Lanka Ltd. was recently awarded the ISO 9002 certification from SGS International Certification Services Ltd. of UK.
It ensures Quality Control throughout the production process resulting in the availability of super grade products in the international market place.
The ceremony to mark the event was held on February 10 at Airport Garden Hotel, Katunayake in the presence of a gathering including top BOI officials and representatives of SGS and the media.
Mr. Mueller, the Managing Director of SGS Lanka presented the certificate to Dr. S. W. Law, Managing Director of the recipient company.
Smart Shirts has been providing employment for over 3000 upto early 1990 and with the setting-up of two regional factories in Haragama and Hunnasgiriya in 1994, the strength of its work force has exceeded 4500.
Shirts, blouses and pants are produced in these factories for world famous AMC, Dillards, Federated, Greg Norman, JC Penney, Newton, Nantica, Polo Ralph Lauren, Sears, Tommy Hilfiger and Van Heusen.
Smart Shirts has been one of the five top exporters of apparel for several years and has managed to maintain the third slot for the past three years continuously.
---
WB aid shade too late for Y2K?
By Shafraz Farook
The irreversible clock of time is ticking away taking us ever closer to doomsday.
The new millennium might turn out to be just that if Y2K (the predicted year 2000 date problem) comes true.
A fighting chance for survival in this scenario, a shot in the arm by a World Bank institution to finance Sri Lanka's Y2K problems may have come too late, experts say.
On an urgent appeal made by Central Bank Governor A S Jayawardene for Y2K assistance in the financial sector, the International Development Association responded speedily with a US$ 29 mn loan to the Sri Lankan government last month.
But many awareness programmes and many millions of dollars after the initial discovery experts say that we still might not be prepared for the Y2K, despite such individual efforts all round.
The Y2K computer problem, the glitch affecting computer software may make it difficult for some computers and computerised systems to function properly as we approach January 1, 2000.
Potentially, this flaw could cause disruptions in worldwide trade, commerce, transportation, and infrastructure, since so many systems are computer-dependent.
Particularly the developing nations are at risk due to lack of adequate funds and technical expertise.
Inevitably Sri Lanka falls under this category and is scrambling to make things right for the new millennium.
Though Sri Lankan institutions are not highly computerised, many of the key sectors such as finance and defense cannot "take the day off" because of their high level of activity.
The US$ 29 million is the second loan approved by the IDA to a developing nation to rectify the Y2K scenario. The loan was part of the World Bank's grant programme called 'Information for Development', an aid given to governments of developing countries to formulate a Y2K programme.
The project is focusing on assisting the country's banking sector and selected critical government agencies to adopt and implement a well-defined contingency-based strategic plan for Y2K compliance.
These grants have been made possible due to a contribution to the Information Division of the World Bank, from the British government's Department for International Development.
Sri Lanka is one of the 80 countries eligible to receive aid from IDA.
Information Technology (IT) experts say that the World Bank assistance is 'a little too late'. To add to this we are deprived of our own resources. We are short of skilled IT professionals since most of them have left the country in search of greener pastures.
An IT official said that "we might have to go on survival mode" if the Y2K problem is not addressed properly. The best thing that we could do now is make feasible contingency plans and hope for the best, he said.
A contingency plan is a back-up plan if all else fails. For example, if the computers in a bank fail, their contingency plans might be to operate manually. It is a crucial part in solving the Y2K problem. Another fact that hinders the effort to solve the problem is that experts do not know if the loan is sufficient to solve the Y2K problem.
In a survey by the Gartner Group, Sri Lanka has been rated at 3 in a scale of 5. This means that only half of Sri Lanka's computer systems are Y2K compliant.
The World Bank has also approved a grant of US$ 100,000 for the Council of Information Technology (CINTEC) to identify the critical areas that need immediate attention and create awareness in the key sectors of the economy. CINTEC is in the process of identifying the priorities in the key sectors and making contingency plans for them.
---
Complex way of taxes
Defined as "compulsory levies on private individuals and organisations made by government to raise revenue to finance expenditure on public goods and services and to control the volume of private expenditure in the economy taxes seem so simple when put in words, but when it comes to the real thing it is a whole new story."

Personal taxation was the topic at last week's Sunday Times Celltel Business Club meting. N R Gajendran, partner of Gajma and Company briefed the members on the many issues relating to taxes. He spoke on the many forms of tax and the pros and cons of the tax system.
Taxes are classified in various ways. Some are called direct taxes such as income tax and wealth tax. Others can be classified as indirect taxes. This includes duties and value added tax, the goods and services (GST) and the national security levy.
Over the centuries, economists have argued the effects of tax on the economy and the individual. All seem to make a point, but contradicting to each other. In the dawn of the 21st century though we seem to or under certain circumstances have to abide by a set of generally acceptable rules.
In Sri Lanka profit and income are taxed on a progressive basis. This means that higher the income higher the tax. For example if we take a hypothetical situation, a person earning Rs. 10,000 to Rs. 15,000 might have to pay say 10 percent as tax and a person earning Rs. 16,000 to Rs. 20,000 might have to pay 20 percent as tax and so on.
Though tax may cause work effort to be reduced, its existence makes leisure relatively more attractive, as it is not subject to taxation.
This issue has been argued to have a motivating effect on the worker. The tax might encourage someone to work longer hours to earn a higher gross income not reduced so much as a result of tax. The two effects thus pull in different directions.
The business minded members keen on the topic debated the effects of taxation on investment with Mr. Gajendran. He said when the uncertainty of the outcome of an investment and the fact that most income tax systems have loss off setting provisions are taken into account, the existence of tax may not reduce the expected return from an investment. Since the government shares both profits and losses investment could actually be increased. The outcome though depends on several factors such as the attitude of the investor towards risk and the variety of assets available to investors.
Mr. Gajendran also explained tax deductible expenditure. This he said could be descried as the various allowances which may be used to reduce tax liabilities. Generally liability to income tax. These include tax relief on interest payments and allowance paid to dependents.
---
The two main components of the US$ 29 mn loan
The first component - US$ 21 million given to the Central Bank Of Sri Lanka
US$ 20 mn
To be lent to private commercial banks and selected financial institutions.
For Y2K related expenditures, which would include the cost of consultants and equipment.
US$ 1 million
To the Central Bank's Project Co-ordinating Unit.
For monitoring and supervising the loan distribution to commercial banks.
The second component - US$ 8 millIon given to the departments coming under the Finance Ministry.
US$ 7.5 million
To sectors such as Inland Revenue Department, Sri Lanka Customs, Census and Statistics Department, the Sri Lanka Insurance Corporation, and other public administration agencies.
oFor financing the needs of Y2K activities.
US$ 0.5 million
To a project co-ordinating unit to be set up within the Finance Ministry.
For monitoring the concerned agencies and provide assistance in planning and implementation of their Y2K compliance activities
The loan is provided to the banks at a rate similar to their cost of funds, i.e Average Weighted Deposit Rate (AWDR). The maturity of the sub-loans will not be more than 10 years inclusive of a two-year grace period.
---
Durdans ties with Escorts, offers modern heart services
Durdans hospital has entered into a strategic alliance with the Escorts Heart Institute and Research Centre in India, one of the largest heart institutes in the world. This institution specializes in the prevention and treatment of heart diseases coupled with its research studies.
It has the added advantage of affiliation with the New York University Medical Centre, an equally well-known institution.
This facilitates Durdans-Escorts Heart Centre in Colombo to be conversant with the current global developments in medical technology and research, and to have access to the specialised services of the eminent cardiac surgeons and cardiologists of the institute, if the need arises.
Dr. Naresh Trehan, a cardiac surgeon who has performed nearly 14,000 open heart surgeries is the head of the Escorts Heart Institute and Research Centre in New Delhi, a news release says.
Durdans-Escorts Heart Centre has a well-equipped 10 bedded coronary care unit manned by staff exclusively trained at the Escorts Heart Institute and Research Centre in New Delhi. The soft opening of this Centre was attended by Dr. Ravi Kasliwal, the eminent cardioloist attached to the Research Centre in New Delhi.
With the rapid advances made in Medical Technology, Durdans Hospital now provides total and intensive cardiac treatment.
The Cardiac Investigation Centre at Durdans has the following facilities:-
Electro Cardiography (ECG);
Echo Cardiography/Colour Doppler;
Echo Cardiography;
Vascular Doppler;
Treadmil Testing;
Stress Echo Cardiography;
Pulmonary Function Testing (including Transfer Factor);
Executive Health check-up Programme.