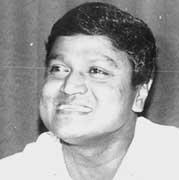 'Mayawo Akal Mako Amichawo Kewo!', 'Ocha Damanna Mara Mara Ocha Damanna!' songs by Granville Rodrigo made him a sensation in the tele-film world.
Heartthrob of millions of TV viewers he made a difference to the usually dreary teledramas with his highly successful tele-comedy 'Nonawaruni Mahathwaruni!'. His innovative songs written, and sung by him became an instant success.
Fate decreed that he meet with a motor accident on January 10 at 3.00 p.m.
He was trapped between the two engines of the colliding vehicles. Everyone in the vicinity rushed to the spot and it took less than one hour to rush him from Maharagama town to the Accident Ward. Usually during heavy traffic it takes much more than one hour, but the driver knowing he had a national asset with him took a risk. It is not everyday we produce such talent. .
Authorities in charge of the National Hospital Colombo boast that it is one of the largest hospitals in the world. There are more than 500 Medical Officers and 4,000 other categories of employees and 2,800 beds.
Granville Rodrigo had nothing to fear. He was in the tender loving care of one of the largest hospitals. The driver rushed and admitted Granville at 4.00 p.m.
His Bed Head Ticket shows he was examined at 5 p.m., nearly one hour after admission.It can be assumed that the doctor admitting the patient at the OPD would have taken half an hour to examine the patient, but after the initial examination the patient was sent to Ward No. 72 at 5 p.m. The Bed Head Ticket shows that at the point of admission, the patient was conscious, rational, not pale, that there was tenderness over right and left legs and no evidence of head injury.
Questions have to be asked when it is evident that the patient reached Ward No: 72 only at 8.45 p.m. A hospital with the most sophisticated equipment and highly trained doctors and medical staff takes three and a half hours to take a patient in serious condition to reach the ward. One wonders what happened during this time. Was he taken out of Colombo on a helicopter if there was one, to another destination?
Where was Mr. Rodrigo during this period of 3 hours and 45 minutes? I am sure at least some of the doctors, the nurses and even the minor workers would have identified Granville Rodrigo, writhing in pain with his legs burnt from boiling water that gushed out from the radiator of the vehicle.
It is alleged that the saline administered to him at the point of admission at the OPD had emptied and the empty bottle was hanging over his head. No one had apparently even cared to change the saline bottle. Finally at 8.45 p.m. he was admitted to Ward No: 72 and then taken to the operating theatre. It apparently took one hour and fifteen minutes to reach the operating theatre-at 10 p.m. Granville Rodrigo who allegedly languished in a hospital corridor without even a saline drip reached the operating theatre only at 10 p.m.!
The patient who was rational, conscious and had no fever and was only complaining of body pains on admission, had high fever and was coughing and passing blood with spit by January 14.
It is alleged that it was then and only then that the doctors realised that basic blood tests had not been taken for 4 days.
Three basic tests, FBC, ESR and UFR were ordered to be taken by the house officer. The ESR report which came only at 4.30 P.M indicated the ESR unit was 62-six times the maximum level of a normal person.
Consultant Orthopaedic Surgeon, Dr. Wasantha Perera,who was in charge of the ward says: "I was informed by Dr. Amarasinghe that the ESR level was 63 units. Normally it should be less than 10 units. The ESR level may have increased due to an infection or as a result of injuries".
When it was discovered that Granville Rodrigo's ESR level had increased six fold to that of a normal person, (it apparently took nearly four days for the hospital to determine that) only then did the doctors omit some drug and substituted with some other.
After taking four days to discvover that the patient had an infection, and prescribing a drug at 5.30 P.M. one hour after the ESR report was received, it is allegd that it was administered only at 8 P.M., that is two and a half hours later. But it was of no avail 15 minutes later Granville Rodrigo closed his eyes, and his haunting voice was stilled due to alleged negligence of those who treated him.
It is alleged that it took nearly 11 hours-660 minutes for the drugs to be administered to a patient.
The reports of the Consultant Haematologist which was sent to the laboratory at 9 A.M. on January 14, and the blood tests performed by the most sophisticated instruments was concluded at 11.45 a.m. on the same day.But it is alleged that the report reached the Ward on January 15 at 9.00 a.m.-when Granville Rodrigo's body was lying on the post-mortem table to find out the cause of death. The WBC was apparently 20,600 whereas the normal level is between 4,000 and 11,000. The neutrofil was 83% which confirms that the patient had died not due to injuries but allegedly due to infection which had not been treated on time. It is alleged that Granville Rodrigo was treated for infection only 4 days after admission, just 15 minutes before his death.
Thousands thronged to the cemetery at Madampitiya for the funeral of Granville. I can recall only one other artist who rose to the zenith of her career and was adored by millions of fans. She was none other than Ramani Bartholomuez.
Granville Rodrigo played many roles which went unnoticed but a few months before his death he composed two songs which made him one of the most sought after actors in Sri Lanka. In the teledrama -'Nonawaruni Mahathwaruni which became immensely popular he says these lines: "Are you asking me to die? I cannot die, I want to live as long as possible". A few days after these fatalistic words were spoken he died.
No one questions the decisions of the doctors, but in the case of Granville Rodrigo, the post-mortem was carried out by Dr. Dassanayake, AJMO, Colombo who opined that Granville Rodrigo died of "septicaemia following infected scalds of both legs". This revelation was made before the Additional City Coroner, W.M.M.J. Perera.
Mr. Perera has served the Judiciary with distinction as an Advocate of the Supreme Court. He had devilled under the late Dr. Colvin R. de Silva and the late A.C. de 'Bunty' Soysa. It may be a little unfortunate that he belongs to the old school of lawyers who would at any cost or at any risk pursue the cause of justice. No one,would be able to pressurize Mr. Perera to transgress the path of justice he pursues as an Additional City Coroner.
The Court of Appeal few days ago granted a stay order on an application made by the Director of the National Hospital staying the proceedings to the Coroners inquiry into the death of Mr. Rodrigo.
The petitioner says in his petition that this National Hospital, Colombo is one of the largest hospitals in the world. The Petitioner has alleged that the evidence of two doctors given before the City Coroner was not put down on record with some relevant material and thereby failed to maintain a true and proper account of the evidence given. He also says that the officers were addressed in a rude manner and treated shabbily. Mr. Kamalasabeyson P.C, the Solicitor-General, in addition to supporting this application on behalf of the Director, would without any doubt inquire into the manner in which Mr. Rodrigo died- whether there was enough evidence tantamount to criminal negligence, and in the interest of justice to indict the officers in the National Hospital for criminal negligence.
He would then have to decide whether it is necessary to give directions to the CID to investigate the manner in which this beloved actor was treated and left unattended. Section 298 of the Penal Code has it that "whoever causes the death of any person by doing any rash or negligent act not amounting to culpable homicide shall be punished with imprisonment of either description for a term which may extend to five years, or with fine, or with both."
Let us hope that the death of Granville Rodrigo was not in vain and that the Attorney-General's Department would take cognizance of all the material, and if satisfied take stern action against those responsible for the death of Granville Rodrigo, if it was due to criminal negligence.
---