In the heat of the night in Montego Bay
If she excelled in her elegance as the leader of the newest entrant to G-15, Sri Lanka President Chandrika Bandaranaike Kumaratunga, enthralled the hearts of many leaders and their entourages even outside the conference hall.

One such occasion was a secluded, delegates only gala at a palm-fringed island retreat in Montego Bay. When one delegation after another arrived by boat, extension speakers in the dance hall and the sprawling lawns blared raggae music. It seemed a gentle reminder they were in the home of the King of Raggae, that great late Bob Marley.

When President Kumartunga arrived, she looked charming and became the cynosure of all eyes. She sported a stylish Sri Lankan attire - a lungi and jacket to match. Her coiffure blended harmoniously. Tonsorial expert, Ramzi Rahman, made sure. He was on hand if an urgent touch up became necessary.

Jamaica's Prime Minister, P.J. Patterson, a Queen's Counsel, stepped forward to ask Sri Lanka's first lady "Madam, may I have the pleasure of this dance with you ?" She replied "of course" and the duo were on the dance floor to the strains of late Bob Marley's "Buffalo Soldier." Many a number went by.

When it came to "No Woman No Cry (another Marley favourite), the wife of a Foreign Minister from an African country rushed to the floor and screamed "No Man No Cry." Either no man was chivalrous enough to invite her to the floor or the cocktail, Appleton (a blend of good Jamaican Rum and fruit juice), was too heady. Many a delegate was seen dancing their way to their dinner tables after the cocktails.

President Kumaratunga was not alone on the floor. Foreign Minister, Lakshman Kadirgamar, joined in with his wife, Suganthi. There was Malaysian Prime Minister, Dato Seri Mahathir Mohamed, dancing with his wife. The list went on and on.

When the band struck Marley's "Could You Be Loved", Trade Minister, Kingsley Wickremaratne, stared up at his wife who was near him. He enjoyed the music but chose not to join in the dance. So were his Ministry officials and those from the Government Department of Information. The cool Carribean breeze cut the heat of the noisy night. There was an array of epicurean delights but none were catered for by the Hilton chain.

The guests were gradually withdrawing when the steel band thought of late Harry Belafonte's immortal "Jamaican Farewell". Even with a change of words, the rendition (with apologies to late Belafonte) would have been nostalgic.

Down the way where the nights are gay

And the Sun shines gaily on the mountain top,

I took a trip on a chartered ship

And when I reached Jamaica, I made a stop.

But I am sad to say I am on my way

Won't be back for many a day

My heart is down, my head is turning around

I had to leave little Montego Bay for Colombo town.
---
Green with blue, green on blue what a to - do!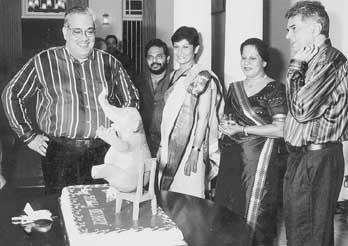 'Tintagel' was a blaze of colour on Monday when the Prime Minister hosted Anura's 50th birthday bash. The only parliamentarian invited was classmate Ranil. Fresh from Californian recuperation, the Prince across the water, was in rumbustious form.

A rotund green elephant on a minuscule blue chair added a political dimension to the birthday cake. An impish suggestion that the Premier helped cut it was curtly shot down. Not with that green pachyderm on it, was the eldest sibling's withering response.

And so to Puttapaththi where Ali Baba is scheduled to meet Sai Baba over the weekend. Perhaps the guru will portend what fate awaits us voter sheep on April fool's day!
---