Stars of Seventies -2
By Sanath Weerasuirya
'Stars of Seventies - 2,' a grand musical show featuring the singers and musicians belonging to the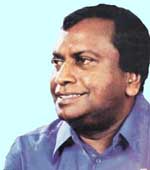 seventies era will be held at the Sarvodaya Vishwasamadhi Hall, Moratuwa on February 27 at 6.30 p.m.
Some of the top artistes of the 70's are billed to perform on this day.
They are 'Annesley Malawana of Moonstones and Super Golden Chimes fame, Indrani and Irangani Perera of 'Three Sisters', Maxwell Mendis, Joe B. Perera of Meemesso, Errol Fernando of Los Cabaleros, Priya Pieris of La-Bambas and Noel B. Ranasinghe of 'La-Ceylonians'.
In addition to these artistes, the Stars of 70's in the Western music scene like Maxi Rozairo, Dalreen Suby, Sohan Weera-singhe, Noeline Honter and Lincoln De Silva will also be featured.
Musical backing for the Artistes will be provided by Siha Shakthi and there will also be dance items by Kulasiri Buda-watte Dance Troupe.
The show will be compered by Chitra Kumari Kalubowila.
The Rotary Club of Moratuwa is organising this event featuring the Stars of Seventies.
The 1970's was a most exciting period of music as we experienced some of the outstanding compositions from our local musicians.
The main purpose of this project is to provide an opportunity to a whole new generation of young people to listen and watch these arti-stes of yesteryear perform 'Live'.
All funds raised would be utilized for the many community service projects that are lined up for this year some of which are to provide water purification in rural schools, a nutrition project for underprivileged children, several health camps and distribution of cricketing gear for identified schools in Moratuwa.
---
Screening of 2 new films
By Kumaradasa Wagista.
Film directors Linton Semage and Jayasekera Aponsu are to release very soon their debut directorial ventures,'Padadaya' (The Vagabond) and 'Re Ru'(Night Visuals).Usually it's the producers who are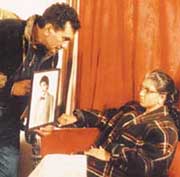 responsible for the release of films. But in this case as the directors themselves are the producers their responsibilities have increased.
Speaking to the media before the first frame of his film spread over the silver screen at Soviet Cultural Cinema Hall the other day Linton Semage said although he thought that many would be delighted to see him becoming a film maker he regretted that the opposite has happened. It may be because he came to this position from grassroot levels both in theatre and then in films."I can tolerate anything but not this display of hypocrisy"he added. In 'Padadaya' Linton Semage has introduced a new face to play opposite him.She is Shaymalie Warusavithana."I thought of using a new face for a change. One thing is that our filmgoers would like to see new talent in films. However working with altogether a new artiste is a burden on the director"Linton Semage said.
In 'Padadaya' Semage plays the role of a Vel Vidane (Dharmadasa), a widower.His only son ten year old Hiru is schooling. Ninety percent of the film is shot outdoor in North Central Province locations. The Vel Vidane who is in charge of distributing water from the wewa to villagers for cultivation and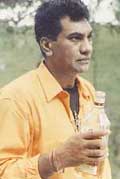 domestic purposes turns stubborn and stops the supply to the entire village by hiding the anicut key.The reason is his illegal love affair with Padmini, a married woman.The new star who plays Padmini has much to learn if she desires to continue in films.
The film ends tragically with the Vel Vidane committing suicide and Hiru being killed also paying for the sins of his father.
The only song in the film composed by Professor Sunil Ariyaratna and tuned by music director Rohana Weerasinghe rendered by Nanda Malini is beautifully picturised to match the loveliness of the lyric.
Cinematographer Jayanath Gunawardena has captured and capitalised the scenic beauty of this remote farming village. Trilicia Gunawardena and many others play in this film of which most are new faces. Meanwhile Jayasakera Aponsu while gearing up to release his first directorial venture 'Re Ru' has taken up another challenging assignment in TV media.He has been selected to play 'Nihal'in MTV Productions comedy 'Nonawaruni Mahathwaruni,the comedy role portrayed by the late actor singer Granville Rodrigo. Paying tribute to the late actor Jayasekera Aponsu said" Granville Rodrigo was a multi faceted artiste,dedicated to whatever he did.His loss is really felt by all of us. He was a rare person who lived a harmless life without malice towards anyone. He loved his family and children so much that he considered them more precious than all worldly pleasures".
Coupled with the release work of 'Re Ru' and shooting of the new teledrama Jayasekera Aponsu is working round the clock."Twenty four hours of the day is not sufficient to attend to the amount of work "the busy artiste said.'He described 'Re Ru' as a film that can be enjoyed by all classes of people."It's a musical relating a story based on re birth. Dilhani Ekanayake plays opposite him with a host of other new faces including his brother Gamini Aponsu."I had a great liking to introduce a new music director and decided on D.D.Gunasena" he says. However the release dates of these two films are not yet confirmed." We have told the producers of these two films to get ready as the dates will be given shortly' National Film Corporation sources said.
---
Going 'Loke Wate' with two children
Work on a children's teleserial commenced recently amidst chanting of 'seth pirith' at the residence of its producer Chitra Balasuriya.
Professor J.B.Dissanayake,Dr Amitha Obeysekera,former Director General Rupawahani Sunil Sarath Perera, artistes and technicians of the teleserial lit the traditional oil lamp. A highlight in "Loke Wate' is that Pundit W.D.Amaradeva directing music for a teleserial for the first time in his entire musical career.
Titled 'Loke Watte'(Round the World) the story revolves around two children who bolt away from their homes because of problems created by the elders in their homes.The two boys roam about and come across many things happening in society which has not been witnessed or even heard by the two of them earlier."Although 'Loke Watte' is categorised as a children's teleserial there are adult artistes also playing in it.Children and parents are always bound together as either of them cannot exist without the other'script writer Chandrasena Dasanayake said.
Joe Abeywickrema is selected to play a main role in this teleserial while the other cast is not yet finalised.However the cast has to be picked up soon as the shooting is fixed to begin shortly.The difficulty is in the selection of the two child artistes"
Journalist turned young teledrama director Vipula Sumanasekera will direct this teledrama comprising twenty episodes. Sumanasekera's earlier work in this field include a few much talked about teledramas like,' Navalovaka Kathawak'' Satange Puttu', 'Ek Nokew' Kathawak' '(X'Mas teledrama), and is the first Sinhalese to direct a Tamil teledrama.It's 'Nilal' (Shade). He has not faced any difficulty with the Tamil dialogues in 'Nilal' as he is well versed in all three languages." I was born and bred in Gampola, educated at Zahira College Gampola where I studied all three languages" he added. His other credentials are working as an assistant director in a few films made by Lester James Peries and in teledrama 'Gehunu Lamai' directed by Sumitra Peiris.
Chitra Balasuriya produced Gamini Fonseka's 'Parasathu Mal' and 'Mahagama Sakera's' Tun Man Handiya'. After being quiet for two decades he has decided to produce this teledrama." After much consideration I decided to produce this teleserial as my favourite subject now is children's fare. Moreover I have not come across a suitable script fit for a film"he said.
Suminda Weerasinghe will work as director of photography and Pundit W.D.Amaradeva is its music director.The theme song will be rendered by Nanda Malini.Hemapala Dharmasena is the art director.Make up will be handled by Rohan Mudannayake.
---
Talk series on Art and Cinema
A programme titled 'Art and Cinema 'that discusses aesthetic achievements of film directors, film critics,painters,screen writers etc. has become popular among thousands of art enthusiasts.
Sri Lanka Broadcasting Corporation (SLBC National Service) has brought out this series. "Already many such programmes have been on air weekly.
In this forum our film personalities express their views on versatile film directors and art creators of international repute. They are free to express views and opinions according to their conscience.All these discussions will be recorded and preserved by SLBC for future reference,programme conductor Chatura Jayatileka said.
The Corporation has made arrangements to compile a book of 50 such discussions he added.This is to make available these discussions for a wider readership and for the benefit of those who have not heard them while on air.This programme is on air on Tuesdays from 7.30 to 8.00 p.m.and is produced by Rajitha Dissanayake.
Among those who have so far contributed are Asoka Handagama, Jayantha Chandra-siri, Dr Sunil Wijesiriwardena, Simon Navagattegama, Gunasiri Silva, Sudath Devapriya Nihal Peries, Chandana Silva M.D. Mahindapala, Piyasiri Nagahawatte, Ashley Ratnavibhushana, Suresh Dissanayaka Bandara, and Piyal Kariyawasam. Kaushalya Fernando also joins in.