The game of superstition
Is the Sri Lankan cricket team struggled with another losing battle at the tail-end of their Australian tour some days ago, back here at home, cricket-lovers were doing their bit to help the team in their quest for victory.
A retired secretary, Mala Ranwala, was among those who did not want to lose faith in the team. But most importantly she did not want to lose faith in her belief. Mala believes that if she sits in the same posture throughout the match, in the same chair, of course, which should not be moved or used by any other for that duration there is every chance that however great the odds, be it 50 runs to win in 20 balls with one wicket in hand or worse, the Sri Lankan team could still win.
"I can't explain it. It's this feeling I have that if I continue sitting the same way, we could win. I know it's superstitious. It may even sound silly, but coincidentally, every time I've done this, we have won," Mala said.
Mala is not the only one. Not at all. Believe it or not, the majority of cricket-lovers consciously and unconsciously uphold their superstitions during matches in the hope that these actions, many that would undoubtedly make you laugh, would help the team. And as we all know, when it comes to cricket, there is no age barrier either.
A retired English teacher from Nawala, Kamini Perera had a lucky dress. An old, faded gown, she confessed, that she kept for cricket matches only.
"On a day when a match was being played I happened to be wearing this batik gown. This was during the World Cup and we won the match. And I can't really explain it, but I felt as if we won because of the dress," said Kamini. Ever since, she has made sure not to wash it or wear it unless Sri Lanka was playing an important match.
"It has been such a coincidence because every time I wore that dress, we won the match. I did not want to wash it thinking that it would lose its effect. But unfortunately the dress has been misplaced and torn by my grandchildren and I don't wear it anymore. Nor have I found a substitute dress," she said.
Kamini has been teased endlessly over this superstition by friends and family. She even used to get crank calls asking if she was wearing the magic dress or if she had washed it at last. To Kamini's relatives, it was a source of great amusement. However, they admitted to having their own little cricket superstitions which were not as noticeable.
Bandara Vaas from Dehiwela denies having cricket superstitions. But when a match is on, he makes it a point to stay away from the TV room, though with great difficulty. He feels he brings bad luck.
"Every time I come to see how our team is faring, a wicket falls. So the best thing is not to find out. And besides, my family members ask me not to come to the TV room. Instead, they prefer to keep me updated on the match situation," he said.
Cricketers themselves have their superstitions. While Sanath Jayasuriya pats his pad and adjusts his helmet after every ball he faces, the cameras often pick up Roshan Mahanama's lips moving in silent speech. Young star Mahela Jayewardene kisses his bat after every stroke. Similarly, other cricketers are said to have their own superstitions; some touch a talisman after every successful stroke they play, while others have their favourite bats. At the last World Cup, after that famous victory, the Sri Lankan team, it was reported, gathered in the dressing room for a prayer .
So does being superstitions help? The answer we received was an overwhelming YES. To many of the public having such superstitions meant a bond.
"People do all these crazy things because of the strong faith and feelings they have for their country," said Nimal Rajapakse from Wattala.
"It's a way of being part of the game. A feeling that we could do something to help," said Anuradha Wijesinghe.
Some cricket-lovers feel commentators also have an effect on the final outcome. They said when in the case of certain commentators, whenever they compliment the players or say that a particular player is doing well, he would get out.
"There is a local commentator who always says good things and only good things about the Sri Lankan cricket team, even if they are facing certain defeat. And every time he says something, a boundary gets saved, a sixer gets caught or a player gets injured. We have noticed that such things tend to happen whenever this particular commentator is on the air," said another cricket enthusiast.
Ten-year-old Chaminda Perera from Moratuwa believes that for any match to be won Sanath or Aravinda have to play. From the time the team is announced, if the two players are missing from the list, he believes that there is no hope.
Now with even die-hard fans being disheartened by the team's lacklustre performance in the last few tournaments, some superstitions have taken a beating.
"I have lost interest now. So, I don't want to find another lucky dress," said Kamini.
But fortunes change and who knows, it may not be that long before superstitions are revived. They're only a few wins away. And what we wouldn't do to win a match.
---
Black Comedy on stage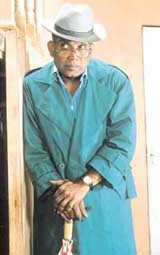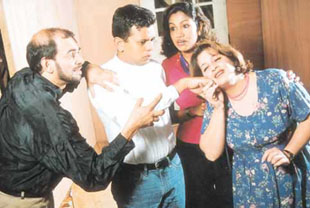 Jerome de Silva, Neidra Williams, Wanda Holsinger, Ian Herft, Dayan Candappa, Mohamed Adamaly, Shanuki de Alwis and Michael Holsinger star in the Performing Arts Company's production of Peter Shaeffer's 'Black Comedy' now being staged at the Lionel Wendt. The play continues from February 25-28. Pix by Mettasena
---
The history of the world – Part II
The Middle Ages. These were the ages in between the ages which came before and the ones which came after. They were also called the dark ages. A rather depressing name, but appropriate I think, as they had nothing to be happy about. The Middle Ages were times filled with pettiness and paranoia (and quite a few other "P" words). Nothing terribly interesting happened during these times. It's just that some of these people (listed in no chronological order) were very good at PR.
Louis the XIV was a rather confused Frenchman. For starters, he didn't like his name. Being French, he preferred to be called "Louie the lover". The people called him Louis the !@#$* so I suppose "the XIV" was a compromise. He was an extravagant king and had a big ego. He also had several mistresses. No wonder he could afford to say "L'État, c'est moi" (I am the state) – he was married to, or had affairs with all the women in the country – except for the ones he was married to. Because even in France – marriage kills it.
Lady Godiva was a rather progressive woman. She was very comfortable with her body and claimed that it had nothing to do with the fact that she was gorgeous. She had long blonde hair which almost reached down to her ankles but she didn't understand what that had to do with anything. One day some guys bet her (on her husband's life, to make it interesting) that she wouldn't ride around town on a horse with no clothes on. She did it. Mainly because she couldn't see the big deal about it. Actually as far as she could remember, she had never seen a horse with clothes ON.
Richard the Lionheart was called that because he was so deformed that all the people around him didn't want to comment on any other part of his body. He suddenly got terribly motivated to go on a crusade to the Holy Land. Going on a crusade is a little like going on a pilgrimage – just that on a crusade you kill people. After a few years of crusading he realized that the reason why he was running out of troops while the opposition didn't, was that THEY LIVED THERE.
Meanwhile back in England, Robin Hood used to be a rich guy. Then he had a nervous breakdown and decided to go off and live in a forest with a whole bunch of gay men and one woman. But, many people still believe that he faked the nervous breakdown so that he wouldn't have to go off and fight in the crusades. Because like all people who fight for a cause, he firmly believed in killing his own countrymen. But there is strong evidence to support the theory that he was slightly mad as well. I mean why else would he rob money from people and give it away?!
Marco Polo was an Italian guy who inherited the family business. He had his finger on the pulse of the markets at that time and realized that the future lay in trading with China which was an emerging market. The fact that China is still seen as an emerging market 700 years later doesn't say much about their ability to progress past that point though, but I digress. He liked the place and decided to stay on. The king liked him and made him governor over a large province. But after a while Marco got sick of the place – he was bad at remembering faces and the fact that everyone looked alike didn't help. So he decided to go back home to Venice.
Queen Elizabeth the first was the daughter of King Henry VIII. The fact that he had a nasty habit of chopping off the heads of his wives didn't help her cause and she remained single until she died. Nevertheless, she was a great queen and bravely queened through quite a few attacks on the country.
That boys and girls, was the middle part of History. Whatever anyone says I don't think there were any more interesting people during this time. So I hope you will join me next week when I bring you the concluding episode in this three-part series on the history of the world. Next week – the rest.