Enter the rabbit
By Renuka Sadanandan
Sinngapore is seeing red these days. As the lights came on on January 30 in the distinctive ethnic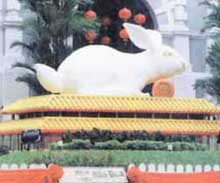 quarter of Chinatown to reveal a fairyland of red lanterns and streamers in a symbolic heralding of the Year of the Rabbit, the Lion City began its celebrations for the Chinese New Year.
2,500 metres of rope lights, 1,000 boxes of fairy lights, 100 metres of cloth for banners, 200 floodlights and 77 rabbit designs and cutouts went into making the heart of Chinatown a magical sight. At its most festive this time of year, the streets of Chinatown are packed with stalls selling traditional fare and the aroma of barbecued pork and waxed duck is in the air.
The Chinese New Year or Lunar New Year as it is more commonly known to Singaporeans is an annual celebration somewhat like the Sinhalese and Tamil new year which we Lankans celebrate in April. It is called the Lunar New Year because it is calculated from the first new moon after the sun enters the constellation of Aquarius, which in Western calendars is between January 21 and February 19. The Chinese have named their years after 12 animals and depending on which year you were born you could be a Rat, Ox, Tiger, Rabbit, Dragon, Snake, Horse, Goat, Monkey, Rooster, Dog or Boar.
The legend goes that the Buddha once ordered all living creatures to present themselves before him, but only these twelve did his bidding and were rewarded for their obedience.
1999, the Year of the Rabbit dawned on February 16 and for many Singaporeans it brought with it the hope that the coming of the Rabbit would inject some bounce into their somewhat depressed economy, for the New Year is traditionally seen as a fresh start, when they invoke the God of Prosperity to make sure their fortunes are favourable in the coming year.
No visitor to colourful, bustling Singapore this past few weeks could miss the Rabbit. From images of Bugs to more portly fellows they stood by every supermarket entrance and swung gaily before every shopping mall, reminding you the New Year was nigh. Always clad in red, for red to the Chinese is the colour of happiness and good luck, the rabbits invited customers to deck themselves and their homes in prosperous omens. Chinese homes in this season are conspicuous by their red decor, banners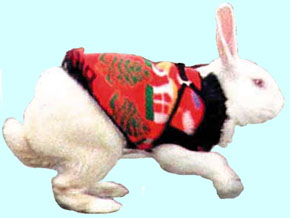 draped over doorways, calligraphic scrolls with gold lettering on a crimson background and the traditional gay red lanterns, not to mention inhabitants also clad in red. Red is also supposed to exorcise evil.
A New Year offering that comes wrapped in a red packet is the traditional gift of money or 'hong bao', given by parents and married people to children and young people, both friends and family members. The red packet symbolizes prosperity and luck for both parties.
Food is an important part of Chinese culture, so much so that the customary greeting is not 'how are you?' but 'have you eaten yet?'. At the New Year, as families gather for a reunion meal, many are the delicacies that must grace the table. Prominent among these is abalone, a quite pricey dish which can cost as much as 65Singapore dollars per tin and is displayed on every food counter at this time of year. Abalone is considered delicious when eaten with raw lettuce.
Dumplings are generally eaten on the eve of the New Year. Called 'yuan bao'( a form of currency in ancient China) because of their shape, they also signify wishes for good fortune.
The centrepiece of the main family meal is fish ('yu'), a whole fish complete with head and tail to signify a beginning and an end. Also auspicious is raw fish ('yusheng') which is thinly sliced and served with a mix of shredded vegetables which have to be tossed like a salad. The higher the toss, the greater the good fortune, so this dish is highly priced and prized.. Also common are dried oysters and hair-like seaweed, supposed to stand for happy events.
A quaint legend surrounds the nian gao or sweet rice cake, another staple at Chinese New Year. The story goes that a warrior named Wu Zi Xu had some rice cakes in his town fortress at a time of war. The rice cakes, it turned out saved the community from starvation. Then there are the red dates, dried cuttlefish, lotus seeds and mandarin oranges all meant to bring good luck. Small trees laden with mandarins are also used as decor.
Writes Violet Oon, a food consultant, "How is it that simple food items can take on so much meaning for Chinese people? It comes from the fact that each Chinese word has four intonations, and as a result, can have at least four different meanings. So by playing on words, the Chinese have come up with a whole range of good wishes for the Lunar New Year."
Food apart, the Lunar New Year is widely celebrated in Singapore with these hard working people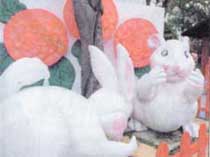 taking what is for them a long holiday. Celebrations spill out into the streets with dragon dances and the annual River Hongbao event on the Marina Promenade showcasing Chinese culture and traditions, with craftsmen and chefs being flown in from China and artificial cherry blossom trees,recycled from last year ( a sign of the present hard times).
The Chinese New Year has invaded the Internet too. The River Hongbao is online @springfest. Those captivated by the Zodiac can seek to have their fortunes told or check out the customs and traditions -chinese.s-one.net.sg/springfest or s-one.net.sg/springfest.
Rat Ox Tiger Rabbit Dragon Snake Horse Goat Monkey Rooste Dog Boar
1900 1901 1902 1903 1904 1905 1906 1907 1908 1909 1910 1911
1912 1913 1914 1915 1916 1917 1918 1919 1920 1921 1922 1923
1924 1925 1926 1927 1928 1929 1930 1931 1932 1933 1934 1935
1936 1937 1938 1939 1940 1941 1942 1943 1944 1945 1946 1947
1948 1949 1950 1951 1952 1953 1954 1955 1956 1957 1958 1959
1960 1961 1962 1963 1964 1965 1966 1967 1968 1969 1970 1971
1972 1973 1974 1975 1976 1977 1978 1979 1980 1981 1982 1983
1984 1985 1986 1987 1988 1989 1990 1991 1992 1993 1994 1995
1996 1997 1998 1999 2000 2001 2002 2003 2004 2005 2006 2007
2008 2009 2010 2011 2012 2013 2014 2015 2016 2017 2018 2019
2020 2021 2022 2023 2024 2025 2026 2027 2028 2029 2030 2031
---
1999 - your Chinese year ahead0
Lots of carrots for the 1999 Rabbit. And things are looking good for the other Chinese zodiac signs as well. By Linda Ti
• The Rabbit
1999 looks like a very lucky year indeed for Rabbits. They can hardly do anything wrong this year.
Rabbits are going to have so many interesting carrots dangled in front of them, their problem will be deciding which carrot is the juiciest.
If you're a Rabbit, you should be so much on the ball that others will have great difficulty keeping up with you. However, remember to consult your family or loved ones before doing anything.
Working conditions for Rabbits will improve and in some cases, there may even be talk of a rise. Social life will be closely tied up with your career which will provide you the opportunity to meet interesting new members of the opposite sex.
You'll also be in the ideal frame of mind to get your finances in order. If worries have held you back last year, it will be a different story this time.
Rabbits are usually reserved, artistic, moody and self-indulgent and their ideal partners are Goats, Dogs, Boars; not Roosters or Tigers.
• The Rat
You may be off to a slow start, but your vitality and confidence will gradually take over and it will then be an excellent time for pushing ahead in all directions.
Certainly not a time for hiding your talents or for being modest. Show the world you can be decisive when you want to be.
Single Rats will find relationships to be of the shortlived and exciting variety. Married Rats will find more happiness than they can ever imagine.
Rats are ambitious, thrifty, clannish, critical and sentimental. Ideal partners are Oxen, Dragons, Monkeys, Tigers; not Horses, Roosters or Goats.
• The Ox
You won't have everything your way in the Year of the Rabbit, but you're stubborn and you'll never give up. But try to avoid the temptation to force your will on others.
There are some changes in store that you might find difficult to accept, but in the long run, they turn out to be to your advantage. A link with the past could be cut, but you'll be pleased with the new interests you will form.
Oxen are dependable, calm, methodical, stubborn, a leader. Ideal partners are Roosters, Rats, Snakes; not Dogs, Goats or Tigers.
• The Tiger
You will be reaping the rewards, both career-wise and financially, of your efforts over the past six months. You will therefore be able to give more time to your social life, which will be coming to the fore.
Romantically, you're not averse to a bit of danger and you could find yourself in hot water later in the year, thanks to your love of "playing the field"— you could come unstuck this time!
Domestically, big changes are around the corner and a big decision needs to be made.
Tigers are colourful, unpredictable, dynamic, impulsive and romantic. Ideal partners are Boars, Dogs; not Oxen, Monkeys or Snakes.
• The Dragon
It is going to be a time when the ambitious side of your character should surface and you will be ready to push ahead with most of your schemes — but make sure you don't upset too many people along the way.
On the romantic front, if you're single, you would be ready to declare your intentions to the opposite sex; but don't be over-confident because you might discover he or she isn't ready for a relationship.
Dragons are eccentric dogmatic, whimsical, demanding and unreasonable. Ideal partners are Monkeys, Rats, Snakes; not Dogs or Oxen.
• The Snake
Your career will be changing for the better, so seize opportunities to move into higher circles, but don't do it at the expense of your workmates.
Snakes like working on their own initiatives, but this year, it's teamwork — with the Snake the leader of the team.
You might find it necessary to take a tougher line with a loved one especially if money is involved. Money could be the sore point of the year; you may get more because of work efforts, but it still seems to vanish quickly!
Snakes are philosophical, possessive, wily and passionate. Ideal partners are Oxen, Roosters, Dragons; not Tigers, Horses or Monkeys.
• The Horse
There is much adding of happiness to close relationships and the financial outlook will steadily brighten too. You will need to be on the lookout for ways to extend your range of interests.
If you are single and want to make any progress at all in your love life, then the Rabbit year holds more promise than most, and you must gallop into action.
Show the one you have your eye on, that it's a one-horse race as far as you are concerned. Don't take neigh for an answer!
Horses are cheerful, popular, quick-witted, impulsive and stubborn. Ideal partners are Tigers, Dogs, Goats; not Rats or Oxen.
• The Goat
You are likely to be on the move in the Year of the Rabbit, and it may be due to your job, your love life or simply moving house. So you will need to get yourself organised, something that, to be honest, you're not good at usually.
You're a bit of a dreamer at the best of times, but in 1999, you will need to take a firm hold of yourself.
Make up your mind and stick to it, no matter what. But console yourself with the thought that whatever you decide will all work out for the best — and happiness is assured in the long run.
Goats are sincere, shy, artistic, emotional and pessimistic. Ideal partners are Horses, Boars, Tigers; not Rats, Oxen or Dogs.
• The Monkey
You will be ready to stretch yourself and welcome any challenge. In business you could move higher up the ladder and enjoy increased prestige. A new love may enter your life, or an old one may become more attentive.
You have lots of charm, but you could be attracted to the wrong kind of people and although you are not usually gullible, you could lose a good deal of money because of it. So be warned.
Monkeys are warm, spontaneous, jealous and confident. Ideal partners are Rats, Dragons, Rabbits, Goats; not Snakes or Tigers.
• The Rooster
You will become more serious about your work, and make great strides in that area, pleasing those in authority.
You may be tempted to take risks with money, but you must be cautious because all is not what it seems!
Wider social circulation with new scenes and acquaintances will add to your self-confidence, and if you've had long-term plans for putting roots down somewhere, 1999 is a good time to do something about them.
Roosters are sharp, neat, organised, critical, egotistical and tactless. Ideal partners are Snakes, Oxen, Dragons; not Rats, Rabbits or Dogs.
• The Dog
There will be opportunities for pleasure pursuits and a personal wish will be fulfilled. Take pains to keep on the right side of people who can help you. If you can't get worthwhile results with old routines, don't be afraid to try new ones and be prepared to re-arrange schedules at short notice.
On a romantic level, the Year of the Rabbit will aid you if you're hoping to begin new relationships or put an existing one on a new basis.
Dogs are amiable, undemanding, fearless, pessimistic and warriors. Ideal partners are Horses, Rabbits, Tigers; not Dragons or Goats.
• The Boar
The Year of the Rabbit for you is definitely going to be about sharing. You can't go off at a tangent. If you do, you'll live to regret it.
You must gain the goodwill of other people, and only in this way can you hope to advance. Luckily, Boars are good at doing this.
This togetherness will also be prominent in all your romantic encounters, and others will adore you for the sensitive, sensual person you are.
Boars are honest, gallant, understanding, popular and trustworthy. Ideal mates are Rabbits, Goats, Tigers; not Snakes or Monkeys. - IPS