---
Why?
What led to Actor-Singer Granville Rodrigo's death?
By Tharuka Dissanaike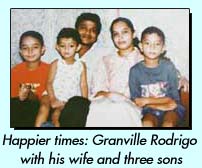 When Shamali left hospital at 6.30 pm on that fateful January 14, her husband showed all signs of recovery. True, the fractures he had sustained in the motor accident would take a few months to heal, but that day he looked better and more comfortable with his surroundings at the Accident Service of the National Hospital. He had even joked with her, while she fed him dinner. But then, barely two hours later, Granville Rodrigo, 40 was dead.
His death was so sudden. The nurses in Ward 74 say he asked for the bedpan at around 7.30 and shortly afterwards developed a bout of coughing and simply died. It shocked the family and friends of this popular actor/singer. They had all seen him in hospital and were convinced that he was recovering. It also shocked the doctors who were attending to him as they were certain that his injuries were not life threatening.
But it was the report of the Judicial Medical Officer that stunned both parties. P.B. Dassanayake, the Additional JMO declared after examining the body that Granville died of septicaemia- a bacterial infection of the blood, caused by infected burn wounds on his legs.
The family, still deep in their grief, pointed the finger at the hospital staff. "It's sheer negligence," Shamali said. The doctors meanwhile jumped to their defence. They claim that the patient did not show the typical symptoms of septicaemia. They deny the charges that the patient had not been treated with proper care.
Meanwhile the Ministry of Health has initiated an internal inquiry into the incident. The results were not available at the time of going to press.
"There has been absolutely no negligence," Dr. Hector Weerasinghe, Director, Accident Service said, "Even we are very baffled by the suddenness of this death."
Dr. Wasantha Perera, the consultant Orthopaedic surgeon in charge of the patient, giving evidence before Additional City Coroner, Justin Perera, said that it certainly looked like a death caused by pulmonary embolism.
This, he explained, is a condition that arises after accidents when a blood clot forms due to contusions and through strain (in this case passing faeces) it travels to the lungs and blocks its blood supply. The patient's cough would have been due to this choking sensation, Dr. Perera said. Dr. Perera did concede that this condition although fairly common in Western countries is very rare in Sri Lanka.
Granville Rodrigo was involved in a head on collision at Maharagama junction on January 10. Seated in the front of a van, Granville's legs were broken below the knee with the impact and he had several large burn injuries on his legs and right foot, caused by boiling radiator water splashing on him.
He was admitted to hospital within an hour of his accident and went through the normal OPD procedure.
Hospital records state that his burn wounds were treated with an ointment and he was given an antibiotic with the saline, intravenously. Then he was put in Ward 72 until it was time for surgery.

"He was left on a trolley in the corridor of Ward 72," laments Shamali. "Once, that night, I saw that his IV fluid had stopped but there was no nurse close by."
That night Granville's legs were set in a cast and he was returned to a ward bed. But the next day an unfortunate incident occurred. Shamali was leaving the hospital in the afternoon when she noticed that her purse, which she had left on the bedside locker was missing. Since she did not have a large amount of money in it, she simply mentioned the fact to the head nurse.
A media friend of the popular actor heard about the incident and the next day's Dinamina paper carried a front-page boxed story on the purse that went missing in hospital.
Shamali had not even seen this news story when she visited her husband at 6.30 in the morning and was stunned when a nurse from Ward 72 screamed at her in abusive language in front of the injured Granville. But Shamali claims she sorted it out with both the nurse and the Director of the Hospital.
That was the 13th. That day Granville also coughed up some blood but doctors claim this is normal in a patient whose chest was injured in an accident.
The next day the doctors ordered an ESR test and that indicated a high level white blood cells.
His postmortem report also speaks of haemorrhaging in the lungs, kidneys and liver. These are both signs of an infection. In the report the JMO clearly states that in his opinion the death was caused by septicaemia due to infected burn wounds.
"His showed no external symptoms of septicaemia," Dr. Perera said.
"Septicemia does not cause sudden death. When it causes death it is a prolonged with many clinical symptoms like inability to pass urine, deliriousness, high fever etc.
When the doctors were informed of the ESR report, it was decided to switch the patient to a different type of antibiotic. But this was not done at the time of death.
"It takes time. Since the new drugs had to be purchased outside hospital, the Director had to approve a requisition," Dr. Perera said.
How did Granville's burn wounds become infected? Dr. Weerasinghe said there is a certain amount of contamination at the point of accident. By giving the antibiotic it is generally hoped that the infection will die off within the body.
Since in Granville's case leg casts had to be put to straighten the fractured leg bones, the burn wounds were treated with a local application and the antibiotic was administered through the drip.
But obviously the nurses or attendants did not notice if he had bloodied stools or urine from hemorrhaging in the large intestines or bladder. The JMO also says that his liver was enlarged and hemorrhaging- a condition which, as Dr. Perera's evidence said, a doctor can determine by physical examination.
"We cannot talk of an ideal situation- of ideal treatment in this hospital," Dr. Weerasinghe said.He said that although Ward 72 has only 47 beds, the number of admissions every day exceed 80. "It is normal to have patients in trolleys along the corridor."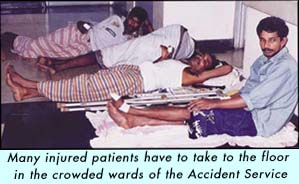 Indeed when The Sunday Times visited the hospital there were patients, in bloodied sarongs and twisted limbs even lying on the floor of the new Accident Ward building.
The Director said that in addition to the admissions there are at least 25 transfers from other hospitals to the Accident Service every day. Each ward has only five or six nurses to look after 80-100, traumatized, injured patients.
Many of the patients are hustled into other wards of the National Hospital, where nursing staff is even scarcer. Under these conditions of space and staff shortage, the hospital is doing the best it can, Dr. Weerasinghe said. In an ideal situation the hospital should close its doors when full. "As a policy we do not turn patients away.
"So whoever comes to hospital for treatment, we accept. This is the end station. If we turn patients away, where will they go?"
What needs to be done, Dr. Weerasinghe said, is to develop regional hospitals in a way that will lessen the burden on the National Hospital. But until then will patients have to contend with hassled nursing staff, harassed doctors and corridors of a ward even after a serious motor accident?
"Yes. But don't forget we save many people from death as well. We get soldiers and patients who come after really bad accidents. Their wounds are already infected. They do not die. We are very sorry that Granville had to die. But I will categorically say that there was no willful negligence on the part of the staff."
"It is accepted that the Accident Service is the country's best trauma centre, well equipped to handle large bomb explosions and war casualties."
But do overburdened staff and stretched resources mean that many patients have to be contend with less than ideal care at the Accident Service.
---
More Plus * Kala Korner - By Dee Cee
Front Page| News/Comment| Editorial/Opinion| Business| Sports | Mirror Magazine