---
Muralitharan: What's the googly?
Match referee shoots his mouth-off
By Marlon Fernandopulle
ICC match Referee Peter Van Der Merwe has overstepped his mark by making a public statement on the bowling action of Muttiah Muralitharan.
As the Umpires,Officials and team players are governed by a code of conduct which prevents them from making any public pronouncement or media comment detrimental either to the game in general or to a player, The Sunday Times learns that the match referees are also governed by a simillar code.
However Peter Van Der Merwe has breached the code and has been quoted in Australian newspapers saying Muralitharan's action is not the standard action and some of the balls that he bowls look a bit doubtful.
It was only last week that the ICC charged Australian Umpire Darrell Hair for publishing similar statements on Muralitharan in his book.
Earlier incidences involving similar bowlers were made public only after the ICC Advisory Panel on illegal deliveries came to a conclusion(following complaints from the Umpires and the match referee) that the bowler in concern has an illegal action.
Sri Lanka's Kumar Dharmasena who was found to have an illegal bowling action in the one-off Test against England in August last year was reported by the Umpires to the ICC.Following this complaint the ICC Advisory panel met and concluded that Dharmasena should not be included in any International games until his action is changed. It was only after this decision by the ICC Advisory panel (three months after the Test match)that this issue was made public.At no stage did the match referee or Umpires at that game make a public statement on Dharmasena's action.Indian spinner Harbajan Singh also went through the same process as Dharmasena ,but has now rectified his action and is once again playing for his country.
It is difficult to think that the aparthied era captain of South Africa is ignorant of the code that governs match referees.Observers and cricket fans in Sri Lanka are wondering whether his sudden public attack on Sri Lanka's trump card and the world's most outstanding spin bowler could be part of a plan or plot to ruin the bowler's career and undermine Sri Lanka's chances of retaining the World Cup.
The Sri Lanka Cricket Board,Captain Arjuna Ranatunge and millions of cricket fans here are standing by the champion off spinner in this new crisis.Ranatunge has already summed up the feelings of most people when he asked why such a challenge to Muralitharan was coming only from Australia.Murali was first called by two Australian Umpires three years ago but since then has been cleared by the ICC and no other umpire in any other cricketing country has challenged his action.
Months before the current tour of Australia there were reports that some quarters in Australia were planning a fresh attack on Muralitha-ran.The development of the past few days appears to give credence to those reports.
---
Kangaroo trial for Lankan spinner
Muttiah Muralitharan, the most successful wicket-taker for Sri Lanka with a haul of over 200 Test wickets, has again been attacked by the Australian media after Sri Lanka's first two one day games in the on going Carlton and United one-day-series.
Terry Prue and Simon Taufel the umpires who officiated in Sri Lanka's match on Wednesday against Australia, in their report to the match referee, former South African captain Peter Van der Merwe, has mentioned that they are concerned about Muralitharan's bowling action.
Manager Ranjith Fernando was quoted as saying today to the Australian newspaper, The Melbourne Age, that the tour management hasn't been told anything official, as such there is nothing to make a comment on and Sri Lanka will continue to play Muralitharan.
It's a pity that a champion off-spinner like Muttiah Muralitharan has been called only by Australian umpires and not umpires anywhere else in the world!
Before the latest uproar, the ICC sub-committee took up the issue and Muralitharan was cleared of any wrongdoing. With all this why are the Aussie umpires, trying to raise the issue in the on-going series?
Are they in support of their mate Darrel Hair who called Muralitharan seven times in the 1995 Boxing Day Test match against Australia which made world sport headlines or are they trying to destroy the future international career of this champion off-spinner.
In the longer term, the spinner may need to wait on a crucial review and re-write cricket's laws now being reviewed by the ICC. The panel must, once and for all, clear it or recommend that he makes alterations.
Peter Roebuck the internationally famed journalist and a close friend of this scribe, has told that he speaks out with an open mind on any issue without fear or favour.
Robeuck made some meaningful comments about Muralitharan's suspected bowling arm in the Australian newspaper The Melbourne Age. Here are some his comments to the readers of The Sunday Times.
"The art of journalism, so they say, is to reach the peanuts of any issue and to pluck out the truth as if it were a diamond in a mound of dung.
Sometimes it is not easy .I cannot say whether Muralitharan throws every ball, some or none. No one can. It's a matter of opinion. Some times people see the things they want to see. His action is a bone and rubbery wrist.
These fellows can put their feet behind their arms. Yoga is their part time. They will bowl like a wizard. On the one hand Murali has been called only once within its confines.
He has taken over 200 wickets. On the other hand his action looks odd and umpires are instructed to react to any hint of illegitimacy.
Doubt is enough to convict. It isn't much of a law. Straightening the elbow at delivery helps to produce more spin. Most recent cases concern finger spinners not least Rajesh Cahuhan, Harbajhan Singh, Sahid Afridi (his fast bowl anyhow) and Muralitharan - all of them from the sub-continent,
Cricket cannot be left to the umpires alone. The pressure is too great. No one had the nerve to confront any of the Windies pace-bowlers on the 80's. It's matter of opinion. They cannot take the responsibility of condemning a top cricketer alone.
Some distinguished umpires have passed Murali's action. Are they to be called obtuse or diplomatic or wise? Before he is driven from the game he must be given a fair trial.
Even criminals are allowed 12 men, good and true, Murali hasn't even picked a pocket rather than umpires defaming a man's fate. It's better that he reports doubts to the referee who passes them on to the appropriate part of the governing body. This is the mature and responsible way to respond.
It's up to the ICC to deal with this properly. The game must consider unusual actions much earlier before a man has taken 200 wickets. Very true!
This matter must be sorted out. Meanwhile Murali must be treated with respect. Murali is entitled to know how things stand, as are his selectors and captain, so are spectators.
At present he his insulted whenever he comes to bowl. A reaction which shows Australians in a poor light. The matter has to be sorted out. After all, he is simply bowling naturally. Murali has not taken a bribe or performed under enhancing drugs or claimed a catch on the bounce.
---
Who concocted match referee's interview?
Did the Australian media concoct an interview with match refree Peter van der Merwe regarding the bowling action of Muttiah Muralitharan ? Or is the match referee going back on an unjustifiable and unwarranted comment he made?
On Friday the Australian media and foreign news agencies quoted van der Merwe as saying he had doubts about Muralitharan's action and that umpires in the current triangular had made simillar complaints to him.He was quoted as saying he had reported this to the ICC and asked for a review of Muralitharan's action.But yesterday the ICC Executive David Richards issued a statement saying van der Merwe had not made any such comments about Muralitharan to the media.
Who is fooling whom? Could it be part of a conspiracy to ruin the career of Muralitharan
Statement from Dammika Ranatunge,Chief Executive BCCSL
On 15th January 1999 we were informed by the BCCSL representatives in Australia that various news items have appeared in print and electronic media in relation to an alleged interview given by the match referee Mr. Peter van der Merwe.
BCCSL informed David Richards, Chief Executive of the ICC who was in Australia at that time of the situation and made a complaint to the ICC of the conduct of the ICC match referee in this instance.
In response to our complaint, ICC Chief Executive has made a press release where it is stated that there is no report by the match referee or the umpires on Muttiah Muralitharan.
The BCCSL wishes to state that since 1996 todate, none of the umpires has made an official complaint in relation to Muttiah Muralitharan's bowling action. However, in 1997 during our series against India, International Cricket Council informed BCCSL that ICC match referee Bob Simpson has informed them of Muttiah Muralitharan having a suspect action. The ICC, in turn, has adopted the procedure in relation to the situations of this nature, where seven members of the test playing countries along with the chairman Cricket Committee of ICC Sir Clyde Walcott, have gone through the video footage of Muttiah Muralitharan's bowling action in the relevant series and unanimously agreed that his action was fair.
If must be stated that the members of this panel are nominated by the respective full member countries and they are past cricketers of repute who have played the game at the highest level.
Statement from David Richards,Chief Executive ICC
Any umpire may invoke Law 24.2 at any time.
If there is uncertainty about a bowler's action, the following process is available to an umpire or a referee. The umpire may advise the referee of this doubt and the referee shall request the home board to instruct the official television network to discreetly obtain footage of the player from different angles using a mix of normal speed and slow-motion cameras.
The resulting video is then sent to the ICC office in London where it is duplicated and distributed to a 9 man Advisory Panel on Illegal Deliveries, led by the Chairman of the Cricket Committee, Sir Clyde Walcott.
That Panel will convene by tele-conference and reach a decision on whether there is a problem with the player's action. If so, the player's board will be requested to withdraw the player from international cricket and have him undergo remedial action.
It is ICC policy not to reveal the name of any player going through this process, as that may be prejudicial to his public image and to the assessment of him by umpires in subsequent matches.
Notwithstanding this policy, it is public knowledge that Muttiah Muralidharan's action was referred to the Panel in late 1997. At that time, the Panel determined on the video evidence available to them that his action was fair.
Subsequently, it has been reported that Muralidharan has been "cleared" by ICC. The Panel can only decide on what has happened, not what may happen. Boards and players understand that an umpire can apply Law 24.2 or the above process can be re-activated, at any time, but without an umpire pre-judging the situation.
The ICC referee is able to explain this policy to media. Mr. Peter van der Merwe, in recently doing so, left the impression that an official report had been made against Muralidharan. He has since confirmed that there is no report either by himself or by any umpire.
Public comment about any player's action by an umpire or referee is not consistent with the confidential nature of the ICC Panel process, and Mr. van der Merwe will be making no further public comment on this matter during or after the tour.
Arjuna Ranatunge says....
"He is a tough little character and I feel very sad for him.It is very unfair for him. He is taking it really well. It is not the right thing to do to a sportsman" - 'Captain Cool' Ranatunga said on the issue.
Ranjith Fernando says...
"Someone must take responsibility for this absurd situation.The question I would like to ask everyone is 'Is this fair?"- The Sri Lanka team Manager was quite put off by the issue.
---
Sanath blazes away as Lanka win by 63 runs
BAROOGA, Australia,Saturday (Reuters) -With Muttiah Muralitharan's issue hounding Sri Lanka they showed that they were not even bothred about it as they cruised to an emphatic 63-run win over an Australian Country XI in a limited-overs cricket match on Saturday.
The Sri Lankans, despite resting several key players, compiled an imposing total of 285 then dismissed the locals for 222.
Stand-in captain Sanath Jayasuriya led the Sri Lankan run scoring spree with 86 from just 62 balls.
The tourists, resting both skipper Arjuna Ranatunga and star spinner Muttiah Muralitharan, had looked to be heading towards an even bigger total until a late collapse saw them lose their last five wickets for 41 runs to be all out in 49.3 overs.
The locals, made up of part-time players from rural Australia, were always in trouble chasing the world champions' total.
Wicketkeeper Simon Moore provided the greatest resistance with 48 but they were eventually dismissed in the 49th over.
Sri Lanka's next match is against England at the Melbourne Cricket Ground on Tuesday in the tri-series tournament which also includes Australia.
Sri Lanka are currently at the bottom of the standings with two losses from as many matches.
Scoreboard
Sri Lanka
S.Jayasuriya b Wrixon 86
A.Goonewardene c Jesberg b Smith 1
M.Atapattu st Moore b Wrixon 36
M.Jayawardene c Wrixon b Fuchs 47
R.Mahanama c Wrixon b Fuchs 20
H.Tillekeratne c Saliacus b Haworth 40
U.Chandana c Wrixon b Jesberg 12
S.Perera c Jesberg b Saliacus 12
R.Perera c Moore b Saliacus 1
T.Samaraweera c Moore b Smith 7
N.Zoysa not out 9
Extras (lb-3 nb-3 w-8) 14
Total (49.3 overs) 285
Fall of wickets: 1-4 2-127 3-139 4-187 5-224 6-251 7-253 8-273 9-277 10-285
Bowling: Smith 7-0-40-2 (w-4), Saliacus 6.3-0-28-2 (nb-2), Jesberg 8-0-55-1 (w-3), Haworth 8-1-43-1, Wrixon 10-0-46-2, Fuchs 10-1-70-2 (nb-1 w-1)
Australian Country XI
A.McQuire c Jayawardene b Zoysa 16
G.Grimmond c Tillekeratne b Zoysa 3
B.May c Tillekeratne b Jayawardene 18
C.Hayworth b S.Perera 27
J.Mosey lbw b Samaraweera 2
S.Moore c R.Perera b Chandana 48
C.Jesberg b Samaraweera 34
S.Fuchs c Jayawardene b R.Perera 7
M.Saliacus b Chandana 28
B.Smith not out 13
D.Wrixon b Chandana 0
Extras (lb-7 nb-4 w-15) 26
Total (48.4 overs) 222
Fall of wickets: 1-13 2-36 3-64 4-81 5-82 6-157 7-165 8-199 9-222 10-222
Bowling: Zoyza 8-0-28-2 (nb-4 w-3), R.Perera 9-0-41-1 (w-3), Jayawardene 6-0-35-1 (w-2), S.Perera 6-0-26-1 (w-6), Samaraweera 10-0-39-2 (w-1), Chandana 9.2-0-46-3.
Result: Sri Lanka won by 63 runs.
Inter School Cricket
---
Ranatunga century helps Raddoluwa MV
By Saif Izzadeen
Raddoluwa MV helped by a masterful century by Dushantha Ranatunga and two pentrative bowling spells by Nadeesh Pannilawithana and Dinidu Marage, scored a crushing innings and seven runs win over Gurukula MV in the Inter-School cricket match at Raddoluwa yesterday.
Raddoulwa continuing from their overnight score 211 for 3 in reply to Gurukula MV's 284, piled up 416 for 6 dec in 63.1 overs. The Raddoluwa score was built around three sparkling knocks from Dushantha Ranatunga (127) which had 13 fours and four sixes, Nadeesh Pannilawithana (92) which had 11 fours and Chinthaka Ranasinghe (53 n.o) which had two sixes and six fours.
For Gurukula, D.Samaraweera took three wickets for 92 runs Gurukula batting a second time around with 132 runs, were rocked by two devastating bowling spells by Nadeesh Pannilawithana (5 for 19) and Dinidu Marage (5 for 51) which saw them being bowled out for 125 runs thus giving Raddoluwa MV a resounding innings and seven runs win. S.Suharsha (20), M.Dinesh (24), S. Nimantha (20) batted wll for the visitors.
Gurukula MV - 284 and 125 in 40 overs (S.Suharsha 20, M.Dinesh 24, S. Nimantha 20; N.Pannilawithana 5 for 19, D.Marage 5 for 51)
Raddoluwa MV - (211 for 3 overnight) 416 for 6 dec in 63.1 overs ( D. Ranatunga 127, N. Pannilawithana 92, C. Ranasinghe 53n.o; D. Samaraweera 3 for 92)
Nalanda force draw against Royal
Nalanda after being forced to follow-on by Royal held on grimly to force a draw against Royal in their Inter-School cricket match which ended in draw at Reid Avenue yesterday.
Nalanda continuing from their overnight score of 40 for 1 in reply to Royal's first innings score of 249 for 6 dec. were soon in trouble as they were tottering at 57 for 6, due to good bowling spells by right arm fast bowler Harshana Rajakaruna and right arm off-spinner Fazal Ahamed, who shared five wickets between them.
However a face saving seventh wicket stand of 57 runs between skipper Niranjan Kumar (54) and Kalum Gangodawila (20) rescued them from further humiliation as they were bowled out for 148 - one run short of their follow-on mark. Others who made useful contributions for Nalanda were Dilshan Jayasundara (19) and (Viranga Perera 20).
.Right arm fast bowler Harshana Rajakaruna (3 for 43) and right arm off spinner Fazal Ahamed (3 for 24) bowled well for Royal.
Nalanda batting a second time around, with their backs to the wall, batted with great determination to be 117 for 4 at stumps. Dilhan Jayasundara (19), Mevan Porage (22) and Pradeep Hadigalle (10) batted doggedly to see Nalanda safely to a draw. Off-spinner Fazal Ahamed (2 for 25) bowled well for the homesters.
Royal - 249 for 6 dec.
Nalanda - (40 for 1 overnight) 148 ( N. Kumar 54, K. Gangodawila 20, D. Jayasundara 19, V. Perera 20; H. Rajakaruna 3 for 43, F. Ahamed 3 for 24) and 117 for 4 at stumps ( D. Jayasundara 19, M. Porage 22, P. Hadigalle 10; F. Ahamed 2 for 25).
High scoring draw at Moratuwa
A swashbuckling third-wicket stand of 122 runs between Manoj Fernando (65 n.o) and Suranga.deSilva (51 n.o) was the highlight as the Inter-School cricket match between St.Sebastian's Moratuwa and D.S.Senanayake ended in high scoring draw at Moratuwa yesterday.
D.S.Senanayake, resuming from their overnight score of 70 for 2 in reply to St.Sebastian's score of 139 runs, made 238 for 8 dec.They made the score, thanks to well complied knocks from Muditha.Maduwantha (86), Malintha. Gajanayake (16), N. Abeywickrema (20), M.Pradeep (30), M.Alwis (37). H.Perera (2 for 34), R.de.Mel (4 for 50) bowled well for St.Sebastian's.
St,Sebastian's batting a second time with 99 runs behind, scored 144 for 2 when stumps were drawn. Primesh.Fernando (12), Manoj.Fernando (65 n.o) and Suranga de Silva (51 n.o) batted well.
St.Sebastian's - 139 and 144 for 2 (P.Fernando 12, M.Fernando 65 n.o, S.deSilva 51 n.o).
D.S.Senanayake - (70 for 2 overnight) 238 for 8 dec. (M.Maduwantha 86, M,.Gajanayake 16, N.Abeywickrema 20, M. Pradeep 30, M.Alwis 37; H.Perera 2 for 34, R.de.Mel 4 for 50) - (SMD)
S.Thomas' deprived of victory
By Ravi Nagahawatte
The Thomians were robbed of a probable victory against St.Benedict's when bad light halted play on the final day of their Inter-School cricket fixture at Mount Lavinia yesterday.
The hosts were left with only two wickets to save face and still needed nine runs to make the Thomians bat for a second time when the umpires called off play in the 17th over at 5.15 pm.
The Benedictine tail wagged as the scoreboard read 76 for 8 in the second innings after S.Thomas' made up for a lapse of theirs in the ground preperation, with a positive declaration in the first innings .
The match commenced as late as 1.30 pm due to water seeping through a hole in the cover which was used to protect the wicket.Explosive batting by Gihan Fernando (53) and Suranga Peiris (34) helped the Thomians to a moderate 175 for 7 before the declaration came with only half an hour of batting in the afternoon.The Thomians commenced from their overnight score of 125 for 5 .The bowlers who made things happen for S.Thomas' in the Benedictine second innings were spinner Meshad Peiris who took 2 for 7 and pacemen Lakmal Fernando, who snapped up two wickets in a tidy spell which cost him just seven runs.
St. Benedict's - 90 all out 50 overs ( Jeremy Savarimuttupulle 21, S.Fernando 21; N.Ratwatte 3 for 20, R.Gunawardane 2 for 11) and 76 for 8 at close in 46.1 overs (C.Devabandu 32; M.Peiris 2 for 3 )
S.Thomas' - first innings 175 for 7 dec. (R.Perera 33,G.Fernando 53, S.Peiris 34; S.Perera 2 for 61, C.Devabandu 2 for 21)
Cambrians take honours
By S.M.D.Sirisena
Prince Of Wales College Moratuwa did well to take first innings points against the high-riding Ananda in their Inter-School cricket match which ended in high-scoring draw at Moratuwa yesterday.
Ananda continuing from their overnight score of 80 for 3 in reply to Prince of Wales' score of 277 for 7 dec. were bowled out for 233. For Ananda, Ishan Abeysinghe 86 (13x4 and 2x6), Maduranga Mallwarachchi (31), Mutumudaliage Pushpakumara (21) and Lahiru Chaturnga (48) did the bulk of the scoring. Hasantha Fernando (4 for 45), Pubudu Ranaweera (2for 53) and Shammika Fernando (2 for 4) bowled well for Prince of Wales.
The Moratuwa school batting a second time around with a lead of 44 runs were 155 for 4 at stumps. Shammika Fernando 71(10x4), Hasantha Fernando 22, J.Wannakuwatte 30 n.o and S.Wijeratne 26 n.o batted well.
Prince of Wales - 277 for 7 dec. and 155 for 4 at stumps (S. Fernando 71, H. Fernando 22, J.Wannakuwatte 30 n.o, S.Wijeratne 26 n.o)
Ananda - (80 for 3 overnight) 233 (I.Abeysinghe 86, M. Mallwarachchi 31, M. Pushpakumara 21, L. Chaturnga 48; H. Fernando 4 for 45, P. Ranaweera 2 for 53, S. Fernando 2 for 4)
Mallwarachchi 6 for 60
By Shane Seneviratne, Our Kandy Group Corr.
A penetrative bowling spell of 6 for 60 by Kingswood's Mallith Mallwarachchi was the highlight of their drawn Inter-School cricket match against Dharmasoka at the Peradeniya Campus grounds yesterday.
Dharmasoka - 109 (C.Sanjeewa 38, S.Soysa 13, M. Asanka 13; T.Madanayake 6 for 28, Vajira Seneviratne 2 for 18) and 177 for 8 dec. (C.Sanjeewa 42, M.Subash 32, S.Soysa 30; Mallith Mallawarachchi 6 for 60)
Kingswood - 144 (L.Ekanayake 44, V.Seneviratne 15, B.Ekanayake 17 n.o, C.Seneviratne19, R.Mawsoon 13; G.Mendis 4 for 41, T. Ramesh 3 for 17) and 52 for 2 (L.Ekanayake 20n.o, A.Arjuna 24n.o)
Draw at Kegalle
Half centuries by Sri Rahula's Amila Tennakoon (53) and Chaminda Samarakoon (67) was the highlight in their drawn inter school cricket against St. Mary's Kegalle at the Kegalle Esplande yesterday
Sri Rahula - 242 for 9 dec (A.Tennakoon 53, C.Samarakoon 67, G.Mahakumbura 26, S.Bandara 30, M.Konara 26; M.Samaraweera 3 for 26, P.Paranawithana 3 for 35, M.Jayewardena 2 for 51) and 185 for 9 (A.Tennakoon 30, S. Bandara 43, C.Samarakoon 11, V.Saman Kumara 17, C.Telunduwa 33 n.o, M.Kumara 11; T.Senanayake 2 for 18, R.Jinadasa 3 for 33)
St. Mary's - 173 (P.Paranavitharana 53, G.Samaraweera 26, P.Ariyadasa 15, R.Samaratunga 24 n.o; Seneviratne Bandara 3 for 59, Manjula Kumara 3 for29, Janaka Ekanayake 2 for 19).
Wesley-St.Joseph's drawn
The Wesley - St. Joseph's Inter-School cricket match ended in a draw at the Campell Park yesterday.
Wesley skipper elected to bat after winning the toss. They were shot out for 151 runs. Batting a second time, Wesley came out strongly to score 227/7 at the end of the second day to draw the match. Earlier St. Joseph's scored 213.
Wesley -150 (D. Jayakody 32, M. De Silva 30, P. Chandrasekera 18 ; D. Fernando 5 for 27, I. Hettiarachchi 2 for 28) and 227/7. (S. Faiz 61 n.o, N. Balasuriya 51, D. Dissanayake 33, K. Rodrigo 25 ; R. De Silva 2 for 27, A. Fernando 2 for 35, D. Ramanayake 2 for 14)
St. Joseph - 213 (I. Daniel 66, J. Jayasuriya 60 ; D. Jayakody 4 for 51 , S. Faiz 3 for 21)
---
Premier Championship
CCC poised for an outright win
By Marlon Fernandopulle
Medium pacers Indika Gallage (4/47) and Romesh Fernando (5/28) ripped through the NCC batting line-up to help CCC to be in contention for an outright victory in a Premier Championship tournament match at Maitland Crescent yesterday.
Fernado and Gallage combined well to bowl NCC for just 105 runs and give CCC a healthy 136 run lead. The home side batting a second time scored 176 for 7 by the close and consolidated their position further.
Bloomfield did well to obtain first innings points in their encounter against SSC at Reid Avenue.
After bowling out SSC for 193 Bloomfield hit up 274 in their first innings. Former Nalanda captain Ramesh de Silva top scored with a fluent century.Trailing by 81 runs SSC were strugling at 81 for 3 before Hemantha Wickremaratne (55 n.o) and Shantha Kalawitigoda (45 n. o) were associated in a unbroken 68 runs stand for the fourth wicket and saved the day for the visitors.
At Maitland Crescent: CCC vs NCC
CCC -241 & 176/7 at close (Damitha Hunukubura 21, Lanka de Silva 17, Yasas Tilekaratne 46, Duncan Arnolda 21, Romesh Fernado 27 n o; L Hanibal 2/29, J Sigera 2/46)
NCC - 105 all out (Kumar Sangakkara 38, Suwanji Madanayake 17, Ruwan Kalpage 14; Indika Gallage 4/57 Romesh Fernando 5/28)
At Reid Avenue :Bloomfield vs SSC
SSC 193 & 149/3 at close (Shantha Kalawitigoda 45 n. o, Hemantha Wickremaratne 55 n. o)
Bloomfield - 274 all out (T Gunaratne 26, Ramesh de Silva 117, Sajika Abeynayake 66, Batheesha de Silva 19; Jayantha Silva 5/105; Harith Jayasuriya 3/35, Sanjeva Ranatunge 2/43)
At Matara:Matara SC vs Sebestianites
Matara SC-171 all out
Sebestianites - 295/7 at close (T. M Dilshan 91, S K Silva 18, Ranga Yasalal 42, Nalin Wijesinghe 22, Laknath Fernado 49 n. o, Channa Liyanage 32 n. o; P Nissanka 2/75 N Gamage 2/55)
Even exchanges
By Marcus Joseph
Exchanges were even at the end of the second day of the match between Panadura SC and Kurunegala Youth Cricket Club.
At Panadura: Panadura SC vs Kurunegala YSC
Panadura SC -300 all out
Kurunegala YCC-256/6 at close (M Munasinghe 86, R Kariyawasam 50, R Jaymon 42 n o, H Liyanage 47; M Jayasena 2/56, P Wickrema 2/53)
---
Thurstan awarded President's Trophy
By Nadarajah Gokulan
THE under 19 President's Trophy has been awarded to Thurstan College as Zahira College were suspended recently for one year from January 1 to December 31, 1999. Meanwhile the runner-up will be decided at the meeting to be held at St. Joseph's College on January 23, the Secretary of Sri Lanka Schools' Rugby Football Association (SLSRFA) Mr. Nihal J. Mudannayake told The Sunday Times.
He further said that Zahira College,Maradana and Thurstan College played in the finals of the President's Trophy on July 26, 1998 and Zahira won the Match 11 - 9 to clinch the trophy.
According to Thurstan Coach Ranjith Fernando, a protest was made by Thurstan against Zahira before the final match and sent to SLSRFA, saying that "three players from Zahira, who played in this tournament did not qualify for the Advance Level as they had failed the Ordinary Level twice, but they played for the college".
As a result of this statement, SLSRFA inquired from Zahira and found them guilty. It was found that the three Zahirians in question had failed at the Ordinary Level exam on two occasions. So, the SLSRFA suspended the whole team for one year and awarded the trophy to Thurstan on the 13th of this month.
---
Sugath and Darsha are joint Duncan White Award winners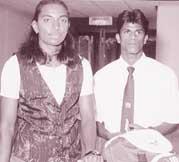 Sugath Tillekaratne and Damayanthi Darsha will be awarded the Duncan White Memorial Award for 1998 at a ceremony to be held on Saturday March 6 at the Trinity College Hall.
This decision was taken at the delegates meeting held on Thursday January 14 at the Colombo Club Lanka Oberoi chaired by Mrs. Jennifer Moragoda, the Chairman and President of the Duncan White Sports Foundation.
Sugath who won a gold and bronze medal at the Asian Games and a bronze in the 400 metres at the Commonwealth Games had aggregated 8 points to Darsha's 7 made up of the two gold medals she won at the Asian Games in the 200 metres in a new Asian Games record and the 400 metres.
After much deliberation those at the head table comprising Deshamanya Ken Balendra, Vijitha Fernando, Kavan Rambukwella, Stanley Unamboowe, James Lanerolle, Elmo Rajasooriya it was decided not to award cash but to award a gold coin each to Sugath and Darsha to the value of over Rs. 50,000 while Sriyani Kulawansa, Lalil Jeerasinghe and W.P. Janaka too will be recognised by the Foundation.
Kulawansa will also be awarded a gold coin since its Sri Lanka Golden Jubilee as a special award and Lalil and Janaka too awarded the coin to the value of Rs. 25,000.
The Duncan White trophy will be presented to Trinity College while a new trophy will be given away this year with all possibility Mrs. Angela White being present.
Mrs. White is also expected to bring down the Ashes of Duncan White to be preserved at Trinity College.
---
Match drawn
Two centuries by Dushantha Ranatunga 107 and Nadeesh Pannilawithana 106 enabled Sri Pangnananda College Raddoluwa to draw their inter school cricket match against De Mazenod at Kandana.
Scores.
Sri Pangnananda - 99 all out in 47.2 overs. (N. Pannilawithana 32, D.A. Marage 23, J. Livers 4 for 18, S. de Alwis 2 for 21, C. Fernando 2 for 21.) and 365 for 8 in 113 overs. (I.K. Kumara 29, C. Kulasinghe 27, Dushantha Ranatunga 107, Nadeesh Pannilawithana 106, T. Rowel 31, N. Gunatilleka 20 not out, D. Hettiarachchi 20 not out, K. Nishantha 3 for 68, S. Fernando 2 for 49.)
De Mazenod 220 for 5 declared in 47 overs. (S. de Alwis 107 not out, T. Almesida 28, C. Sylvester 38, G. Maduranga 21, N. Pannilawithana 2 for 60.)
---
No Decision
By Marcus Joseph
The Under-19 inter-school cricket encounter between Sri Sumangala Vidyalaya, Panadura, and St. Aloysius College, Galle, played at Panadura ended in a tame draw. (Dilruwan Perera of Sri Sumangala, who scored two fifties (59 and 55) followed up his batting skill by claiming 4 for 42 with his off spin bowling.
Sri Sumangala-115 and 196 (Dilruwan Perera 55, J. Sandaken 64 not out, A. Buddhiratne 31, J. Nilaweera 21, N. Nanayakkara 4 for 29).
St. Aloysius - 191 for 9 ( G. Chathuranga 60, N. Indika 42, S. Dilhan 22, D. Perera 4 for 42, J. Sandaken 2 for 34.
Rover pinpoints...
Unqualified doctor
Who is this unqualified doctor heading the Sports Ministry Medicine unit? He is rarely seen at the unit for at least two hours a day, but is making use of the official vehicle!
This qualified doctor in certain diseases, is reported to be working for the Sports Ministry Medical Unit free of charge, and is mainly concentrating on his private practice. Could he be depriving a colleague, who is knowledgable in sports medicine, to head this unit?
Racing cars for whom?
What an idea to import three racing cars for our three leading athletes who did the country proud at the recently concluded Asian Games. Rover wants to know whether plans are being made to ruin their careers with fast cars on crowded streets!
Searching for sponsors
Rover learns that the Sri Lanka Schools' Cricket Association is looking out for new sponsors since Coca Cola has pulled out.
It is interesting to note that since a breakdown was needed by a certain sponsor, the Association has, on the top of the list, wanted a tidy sum for the purchase of leather balls to be distributed to affiliated schools.
Rover wants to know how much of these balls will be distributed since every school has a stock of their own!
Olympics for Sri Lanka
Rover learns that it had been stated that the SAF Games is the Olympics for Sri Lanka concerning swimming. How true it is.
But why half of those swimmers were not included in the Asian Games team, goes onto prove that those names all belong to a certain training squad.
News correction
A reporter from a leading radio station in Sri Lanka, made a mess by proving the lack of knowledge of certain sports at the Asian Games in Bangkok and hurriedly sent a fax with the headline 'Exclusive News Correction.'
Shame
A popular radio station in Sri Lanka is not only pirating the news on cricket but giving boast to the source of providing them with the facility which is against the rules of broadcasting in Lanka. Also it is regrettable to listen to these commentators mispronouncing the names of leading cricketers.
Liaison Office
News is around that a 'podi' sir who heads the division as manager of a leading bookmaker in Sri Lanka has got the nod to go as Liaison Officer to the World Cup from May to June, in England.
The question posed by certain leading cricketers is whether he has the basic requirements to this post? Certainly not as liaison officer.
Korea bound
A leading athlete and the official accompanying her who knows next to nothing on the subject are going to the 4th Winter Games on a Friendship Invitation when the most qualified person has been left behind.
The Minister has had his final say but has not made the correct choice!
Taken for a ride
On the subject of the controversial fitness test for rugby referees, Rover understands that fingers are being pointed out in the direction of a top official in the Rugby Union who is alleged to have taken his colleagues for a ride by making some public statements which is now being disputed.. The allegation brought against him is that this official had not been present at some venues during the Asian Championships in Singapore last November, but had showered praises on a referee whom he had authorised to go, despite failing a fitness test. Now who is fooling whom? By the way who was the Referee's Society Member who went shopping instead of attending a meeting in Singapore?
---
Front Page| News/Comment| Editorial/Opinion| Business| Plus | Mirror Magazine