---
'It's acid'
"The next moment she felt a searing sensation on her lips and down her throat. She woke up many days later in hospital to find that…
By Kumudini Hettiarachchi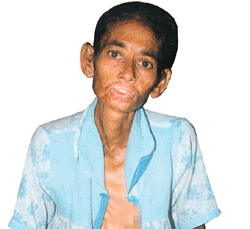 Shattered dreams. Dashed hopes.Herath Bandage Kusumawathie (46) is lucky to be alive, though barely so. When I met her last Saturday, in her tiny cadjan-thatched mud hut in Pahala Kalankuttiya off the beaten track from Galnewa on the Kekirawa-Anuradhapura Road, she was washing a few soot-bottomed pots and pans in her garden. She ushered me in to the tiny "hall" with a wooden bed sans a mattress and offered me a chair borrowed from her neighbour.

The surrounding is rustic and beautiful. The hut is bare. There is no pipe-borne water or even a well in the unkempt garden, which has a few rows of "bada-iringu (Indian corn) and some very young manioc plants. The family has to carry the water it needs from an irrigation canal about half a kilometre away. There is no electricity. Though twilight was falling and the ash-dove was whistling its plaintive even-song, there did not seem to be anything to eat for dinner in their home.

"We wanted a better home and a few pieces of furniture. A better life for my five children. But this is what is left of me," she wept, fighting for breath and spitting phlegm into an old sardine tin. And what is left of Kusumawathie is a sorry sight.

Her mouth is disfigured, one rib has been removed, her collar bones jut out from a painfully thin body, there is an angry red scar on her chest left behind by several operations, and a tube in her stomach, with the end hanging out, through which all the food and nutrition she needs is funnelled in. Only liquids. No solids. But her sparkling eyes are big and beautiful, evidence of what she would have looked like before this calamity.

What about the pot of gold? Nothing, not a cent. She has come back from Saudi Arabia with nothing. She and her family face only starvation and debt.

Her story has a familiar ring. It is the story of torture, harassment, sometimes death, non-payment of wages, breach of contract, lack of communication and numerous complaints by migrant workers.

From January to September this year there have been 6,083 such complaints, including 77 deaths. The deaths fall under different categories - natural causes, accidents, suicides and only sometimes murder. How can the poor, illiterate rural folk contest the cause of death in a certificate issued in a foreign land.

To get back to Kusumawathie, this is her story. She and her husband were eking out a living by cultivating their one-and-a-quarter-acre paddy-plot and their tiny home garden in the dry zone. It was a battle for survival. They toiled long hours. One day, hope of a better life came in the form of an "agent". He came to her home and offered her a job in the Middle East, and with it dreams of a nice little brick house and enough money to feed and clothe her family. The fee was Rs. 25,000. But this impoverished farming family had no savings. "Kumbura ukas kara," (Mortgaged the land), that too with difficulty and coughed up the precious Rs. 25,000.

The "agent" got the passport and an insurance policy against any mishap and Kusumawathie was off to Dammam.

She went to the home of "Baba", a retired businessman and "Mama" on September 2, 1995. The first three months were okay. She and an Indonesian housemaid had to do all the work. But she was used to hard labour. The home had 18 rooms and seven latrines. She dusted and swept the rooms and cleaned the toilets twice a day. There was a large concreted garden of about half-acre, which had to be hosed down daily. She also had to wash and iron the clothes of all 10 members of the family. She learnt a smattering of Arabic and the people in the house liked her. That was her undoing.

The Indonesian maid was envious. She carried tales to "Mama", the madam. Then the harassment started. "Mama" noticing, on the instigation of the other maid, that Kusumawathie had put on weight, since her arrival, ordered that she eat only one meal a day. On the slightest pretext she was beaten and abused. She begged to be sent back, but "Mama" insisted that she had been "bought" by them for two years!

April 12, 1996 was the day that changed her life. The previous day, "Mama" had starved her, after listening to the tales of the other maid. On the morning of April 12, Kusumawathie had been so hungry that she prepared a cup of milk in the kitchen where all the provisions were kept. The other maid brought "Mama" to the spot and Kusumawathie was "caught" drinking the milk. "Mama" slapped her and she screamed for help. The next moment she felt a searing sensation on her lips and down her throat.

She woke up many days later in hospital to find that "Mama" and the other maid had forced acid — used for the septic tanks — down her throat.

Six months, many, many operations later and weighing only 16 kilos (the weight of a child) she was put on a plane for home. Her mouth, the food canal and most of her stomach have been burnt beyond repair.

At Katunayake, she told sympathetic people of her plight. They put her on a bus to Pettah and then Kekirawa. From there a concerned trishaw driver took her to her parents' home in Gonapathirella, a village off Kekirawa.

Her parents took her to the Anuradhapura Hospital, from where she was taken to the Colombo National Hospital. Now she's back in her humble home trying to survive on milk. She can only put fluids into the tube. Doctors have told her to take eggs, soup, marmite.

"But where is the money for that? I find it difficult even to buy milk," she says.

What about compensation? Nothing. Not even her salary for the months she slaved in that house in Dammam and now she would lose her land as she cannot pay the mortgage money. Did she complain to anyone?

Yes, she went to the Kekirawa Police, who summoned the "agent" several times, but nothing came of it.

The agent's excuse had been that she should go to the Sri Lanka Bureau of Foreign Employment (SLBFE) in Colombo, to get assistance, as an insurance policy has been taken out for her. She needs Rs. 35 as bus-fare from Galnewa to Colombo (one-way) and she simply does not have that kind of money.

When I asked to see the insurance policy, she brought a document issued by the National Insurance Corporation Ltd., for the SLBFE. The policy number had been stamped on the printed lettering of the document making it unreadable. The passport no: L0590639 on the insurance policy did not tally with her passport no: L0590689.

Why didn't the villagers get-together and agitate against the "agent"?

Why should they? Kusumawathie asks in return. From her village of about 700 families, nearly 100 women have found jobs through him and other "agents".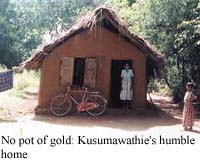 They have built their homes and sent money back. So others were reluctant to get involved because their sons and daughters were doing well.
But they had heard that a woman in Rajangane nearby had died, but her body had still not been sent back.
Aren't there any safeguards for hapless Kusumawathies who are part of the 1.2 million migrant workers (a figure given by Labour Minister John Seneviratne) and who are the biggest source of foreign earnings for the country?
Both Minister Seneviratne and SLBFE Manager (Research and Development) L.K. Ruhunage say there are many safety mechanisms, so long as migrant workers go through licensed job agents or the bureau.
Mr. Ruhunage explains that many awareness programmes through newspapers, radio and TV are being conducted all over the country except in the north on how to seek foreign employment. The bureau has set up 14 centres to help people with the procedure.
Potential migrant workers should not depend on "tharaw karayas" (middlemen) to get jobs. They should approach the bureau or a registered job agent. Then the workers would have to undergo a training and orientation programme conducted by the bureau.
The programme includes the use of electrical appliances, a knowledge of the food habits and customs of those countries and most importantly what they should do in case of harassment.
They would be provided the phone numbers of the Sri Lankan embassy and the job agent who has found a placement for them in the country they would be employed in.
They would also sign contracts on the terms and conditions of employment jointly with the employer and the local and foreign job agents, which would be attested either by the bureau or the Sri Lankan embassy.
Before their departure, they would be issued with an insurance policy and a special security stamp put on their passports.
To minimise the numbers going through unauthorised agents, a unit of the bureau has been set up at the airport to check the passports of migrant workers for the security stamp.
Anyone who doesn't have it is turned back and advised to get it from the bureau. The unit's welfare officer is also available for returning migrant workers to lodge complaints of harassment.
Mr. Ruhunage said they had a centre with residential facilities at Seeduwa to keep destitute returnees until their kith and kin could be contacted.
More than Rs. 5.5 million has been paid as monetary relief and Rs. 40 million under the "Suraksha" insurance policy to victim migrant workers in the first nine months of this year, he added.
The bureau also has an intelligence unit, which conducts raids on unlicensed job agencies.
In the first nine months of 1998, 28 such places had been raided and the bureau's legal division had filed 156 cases, the balance being those agencies against which complaints had been lodged, Mr. Ruhunage said.
Meanwhile, the Secretary of the Association of Licensed Foreign Employment Agencies (ALFEA), Faizer Mackeen was critical of the "middle-men" whom he dubbed "sub-agents" who benefited from both sides.
According to him the potential migrant worker was not expected to pay any money, as the Association of Licensed Foreign Employment Agencies bore the cost.
But the licensed agencies were unable to go into the villages in search of manpower because the market was controlled by these sub-agents. They were compelled to depend on these sub-agents.
Referring to housemaids, Mr. Mackeen pointed out that the association members paid the sub-agents who brought them Rs. 15,000-20,000 (for Muslims) and Rs. 5,000-7,000 (non-Muslims) as "commission", as well as the Rs. 5,200 needed to get each individual insurance policy.
They could do so because they got a fee (US $ 700-800 for Muslims and US $ 475-550 for non-Muslims) from the foreign employer that included these costs.
But what happened was that unscrupulous sub-agents and unlicensed job agents took money from both sides. Mr. Mackeen said unlicensed agents were running "mafia-style" operations and Kusumawathie, most probably was a victim. There was a proposal to get all such sub-agents to operate on a permit basis, under licensed agencies.
ALFEA had a strict code of conduct and all job agencies were required to get its membership under the Sri Lanka Bureau of Foreign Employment Act. His lament was that of the licensed 500-odd agencies only 391 were members of the association. As such it was difficult for it to play the "watch dog" role expected of it.
Commendable as these safety mechanisms are, what of people like Kusumawathie who out of sheer ignorance, lack of guidance or due to unscrupulous agents have become victims of a cruel fate?
What can be done to redress, even in small measure, the grievous suffering she has undergone?
We hope that though no one can make her physically whole again, some assistance would be made available to her. We also hope that as promised by Minister Seneviratne and Mr. Ruhunage, immediate inquiries would be made into her plight and some form of compensation provided.
At least then we need not add broken promises to her list of shattered dreams and dashed hopes.

---
The promises
Instead of waiting for an official response to the published story, the Sunday Times brought the plight of Kusumawathie to the notice of Minister John Seneviratne and Mr. Ruhunage of the Sri Lanka Bureau of Foreign Employment and urged that a humanitarian solution be sought. The response was immediate.

Mr. Ruhunage gave an assurance that he would personally visit her with the bureau official based in Anuradhapura and provide whatever assistance they could.In the minister's case, during The Sunday Times interview, he got on the phone and instructed the SLBFE to initiate an inquiry. "Don't worry, I will see that something is done to help this woman," he responded.

While helping Kusumawathie, there seems to be another urgent need — to make the bureau's awareness campaigns more effective. Keeping in mind that most rural homes do not buy newspapers, have a radio or TV, a campaign should be carried out through the temple monk, the school principal, the grama sevaka or some such grassroots level worker who has access to the men, women and children in the villages. Their help should be sought to make potential migrant workers aware of the dangers in foreign countries and what precautions can be taken against unscrupulous middlemen. They could also direct these villagers to the bureau's many centres for advice and guidance.

Some other suggested guidelines:

The SLBFE has officers to look into the needs of outgoing and incoming migrant workers but it needs to make these units more effective. Every single returning worker must be cared for. This would mean deploying more officers and more funds, but the migrant worker sector is important to the Sri Lankan economy and in the long term, it would ensure that the bureau is on top of the situation by being the first to be aware of cases like Kusumawathie.

Most workers are ignorant of rules and regulations. Welfare officers need to go looking for them, instead of the other way round for complaints and connected issues. If we can treat tourists like kings, why not the same for migrant workers, who are the country's biggest foreign exchange earners, superseding tourism and garments, which are favoured sectors by the government.

Maybe AirLanka, which is the chief carrier of migrant workers, could be asked to assist by issuing cards (similar to the immigration disembarkation cards), calling for basic information and complaints and comments on flights to migrant workers.

Welfare officers should sit alongside immigration officers (like in some countries where health officers are located at immigration counters), take these cards, greet these humble passengers kindly and courteously and hand them over to another welfare officer if they have a problem. The same guidelines should apply to outbound migrant workers.

Leaflets with advice and guidelines in simple language should be provided to people who don't have access to newspapers, radio or TV. Such leaflets could be distributed through grama sevakas, village officials, community or non-governmental organisations. The simplest way could be the postman.
---
More Plus *Heritage in a fridge *Exciting peek into vernacular heritage *A mine of historical illustrations
Front Page| News/Comment| Editorial/Opinion| Business| Sports | Mirror Magazine