Looking for Gold
By Annesley Ferreira
Sri Lanka looks certain to strike gold after a lapse of 24 years at the 13th Asian Games to be held in Bangkok with their largest ever contingent of 105 staking their claim in the battle for supremacy from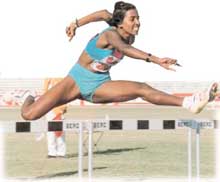 December 6 to 20. They will take part in 12 disciplines.
The Lankans who have earned a name for themselves in the field of athletics will no doubt be banking on this field to win at least six golds and many silver and bronze medals.
A lot of attention will be focussed on Susanthika Jayasinghe who will be making a welcome return to the track to dominate the 100, the 'blue riband' of the Game, the 200, Sugath Tillekeratne in the quarter mile and the 200 metres which he himself said he could win without any hesitation.
The other athletes in contention of winning golds are Sriyani Kulawansa in the lower hurdles and Damayanthi Darsha in the women's quarter mile, while she has also entered for the 200 to race against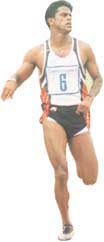 Susanthika Jayasinghe.
The other disciplines where medals look bright are Yachting, with Lalin Jeerasinghe and K.H. Janaka,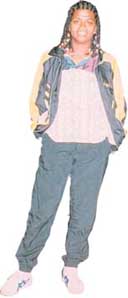 Windsurfing with Thushal Gunawardena and Nalin Lalinda men's and women's Golf, Rugby and Billiards and Snooker.
The Minister of Youth Affairs and Sports, S.B. Dissanayake speaking at the signing-in of the contract by Telecom as the official Sri Lanka sponsor for the Games stated that the four swimmers, two men and two women and a female diver will have to bear the cost of participating at the Games since they were not in the original squad approved by the National Olympic Committee with only the sole male diver, the 13-year-old Gayan Ranatunga being approved.
This the minister said was done to give them a chance as they were not up to Asian standards.
Asian Games - 1998 Bangkok
Sri Lankan Team
Athletics
Men: Sugath Tillekeratne, 400m, 4 x 400 R; Rohan Pradeep Kumara 400, 4 x 400 R; V. Ratnakumar,4 x 400 R; Suminda Mendis,4 x 400 R; W.M.S.K. Wijetunge,4 x 400 R; Harijan Ratnayake,400 H, 4 x 400 R; Chinthaka de Zoysa,100m; Lalith Galappaththi,1500m, Ruwan Pradeep Perera,, Pole Vault; B.N.M. Nayanananda, 20 Km. Walking Race; Mahesh Perera, 110m H
Women: Susanthika Jayasinghe,100m, 200m, 4 x 100m R; Damayanthi Darsha,200m, 400m, 4 x 100m R, 400 x 4 R; Sriyani Kulawansa 100H, 4 x 100m R; Pradeepa Herath,4 x 100m R, 400 x 4 R; Anoma Sooriyarachchi 4 x 100m R; Nimmi de Zoysa 400m, 400 x 4 R; Nayanthi Kumari Chandrasena Long Jump; Kheshani Samarakoon 1500m, 5,000m; Jayamini Ileperuma 400 x 4 R; Swarnamalee Edirisinghe 400 x 4 R.
Officials: Brig. M.R.U Bandaratilake, Manager; Mr. Upali Kumarasiri, Asst. Manager; Mr. Dervin Perera, Coach; Mr. Sunil Gunawardena, Coach; Capt. D.M.G. Dissanayake, Coach
Golf
Men: Tissa Chandradasa, Anura Rohana, Rusi Captain, Lalith Kumara (Team event).
Women: Thulasini Selvaratnam, Anouk Chanmugam, Shyanika de Silva (Team is approved subject to the availability of Thulasini Selvaratnam).
Officials: Mr. Pheroze Billimoria, Manager.
Rugby Football
Harin Gabriel, Shantha Rohana, Dunstan de Silva, Viraj Prasantha, Capt., Ranmal Weerasekera, Suranga Amerasinghe, Pradeep Basnayake, Asoka Jayasena or Kapila Silva, Duminda Silva, B. Dharmapala, Alfred Hensman, Haris Omar, Shamly Nawaz, Nilfer Ibrahim, Champika Nishantha, Asanga Rodrigo, Sajith Mallikarachchi, Indrajith Bandaranayake, M. Musthaq, Kishan Musafer, Harein Perera, Manjula Pathirana, Lasantha Wijesuriya, Radhika Hettiarachchi, Nalaka Weerakkody, Nalin Dissanayake.
Officials: Mr. Anton Benedict, Manager; Mr. Ana Saranapala, Coach; Mr. Nimal Leuke, Associate Coach.
---
Kingsgrove keen to help Lanka cricket
By Bernie Wijesekera
Harry Solomons, who started, his career as a planter after leaving St. Aloysious College, Galle, was an outstanding sportsman allround.
Man who has a heart and soul for the less affluent, is a big name today in the world of circket when it comes to cricket gear.
Solomons, now domiciled in Australia, Sydney, runs the Kingsgrove Sports Centre the largest chain of cricket stores in the world. Seeing is believing!
This scribe, was fortunate to meet him in N.S.W. It's not only an outlet for sports equipment, but runs a cricket academy par excellence. None of our indoor schools, be it the BCCSL centre, at Maitland Place could come on par to his academy. Its museum could be tagged as one of the best.
A visit to the centre, will also afford an opportunity for any cricket enthusiast to see the past and present greats and the history of this game called 'King Cricket'.
It has been hard grinding for Harry, the amiable product from Galle, where several Sri Lankans come under his workforce.
Not forgotten
Though living in Australia, he has not forgotten his country of birth and still continues to help those schools with men and material sans school ties.
According to Niranjan Withanage, he regularly sends cricket gear not only to be distributed among the needy youngsters at his alma mater, but makes a specific point to be distributed among the other schools too who deserve assistance. Recently, he gifted material to Raddoluwa M. V.
In his catalogue for 1988-99 it is specifically mentioned. "Let the poor use your old cricket gear! Donations of any old used club or individual cricket gear in reasonable condition will be accepted and sent to children in under developed countries such as Sri Lanka etc.
This scribe met him while watching a game in Sydney. He is a diehard supporter of cricket and believes in helping those talented, but less priviledged cricketers.
They need not only the equipment but the strength and nutrition to be physically strong to sustain mental bearings.
Very true! The Waugh twins Steve and Mark, will testify to the support rendered by Solomons at the start of their career.
Today the duo is always at beck and call to help Harry in whatever project he undertakes to help develop the game among the needy.
Quite a number of Sri Lankan cricketers had the opportunity of going to the Sports Centre. Sri Lanka's man of steel, skipper Arjuna Ranatunga, dynamic Aravinda de Silva, a great crowd puller in the cricketing world heads the list.
Any brand of gear it's available. Undoubtedly his sports centre is the cricketers best friend. Steve Waugh, Shane Warne, Jonty Rhodes, Dominic Cork and many others regularly make a trek to Kingsgrove when they are in Sydney. India's maestro, Sachin Thendulkar was a special guest at his cricket academy.
KSC has spread its wings to other areas like Westside and 'Macarthur'. The Sri Lanka Cricket Board, have already started putting up concrete pitches in the interior where reputed national cricketers are involved at the opening ceremony.
But it needs equipment, the all important diet and the men who have the time to serve the game and be in continuity; to serve the less priviledged, who are not economically sound unlike their counterparts in the metropolis.
They may be talented, but put aside playing cricket as their parents are struggling for very survival.
In places like Moneragala, those less priviledged parents may be able to produce a W. Wimaladasa, Susanthika Jayasinghe and Daymanathi Dharsha etc, but certainly not cricketers, who are highly professional today even at school level. Just putting up cement pitches here and there is not the answer to unearth hidden talents. One swallow does not make a summer. 'It needs planning and those who know the ABC of cricket. He may not be a Test player to be a good administrator, but the know-how and the game at heart.
Temporary
There are quite a number of them now living abroad, who are prepared to help the country sans race, caste, colour and school ties for the further development of this character building sport. Harry Solomons, is one of them. The CB hierarchy should make good of them for a better future. No one will deny that form and power is temporary, but class is permanent.
That's why Sir Donald Bradman, despite in his nervous 90s, is still revered the world over, because he has class, with his simplicity. Sri Lanka, too had one of them in Duncan White, who passed away recently. Two ministers in the PA cabinet, who were outstanding sportsmen during their time - Trinity 'lion' Lakshman Kadirgamar and old Royalist C. V. 'Puggy' Gooneratne will testify to this effect.
Both follow White's simplicity despite living in high seat of power. They too believe that everything is temporary.
---
The race for World Cup begins...
The world's best tennis players arrange their playing programmes around being in peak form for the four Grand slam events each year. Sports people aiming at winning medals at an Olympic Games work towards reaching their peak at that point of a four-year period. And so the list goes on with the other sports. When the Cricket World Cup was first played in 1975 it was not considered as such an event. Mainly because TEST cricket is considered as the supreme test in the game and so it remains.
However, as the championships went through the nineteen eighties and into the nineties its popularity gained momentum. It was the last World Cup that really took off and reached great heights. What with a team that was not amongst the favourites winning handsomely! It was one of the biggest "stirs" in team sport history. It gave new hope to many countries where the sport was not being played that seriously. The governing body - the ICC - also opened their eyes. They saw the need to promote the game vigourously around the world.
All the excitement, the coloured clothing, games under lights has brought a new dimension. Thank that Australian business tykoon Mr. Kerry Packer for it. He brought about this revolution in 1977 to spite the Australian Cricket Board, for denying the rights of cricket coverage to his TV channel and now what wonders it has done to cricket. They say, "every cloud has a silver lining!" All the "razamataz" of one day cricket has come to stay. To be classed as the "World champions" for four years is something that every country playing International cricket is striving for. Who have been classed as the world champions of one day cricket since March 1996? Sri Lanka! Shame on you England! You invented this game, have been playing as a nation for one hundred and twenty-one years and have not won the Cup yet. Mind you, they will be taking it very seriously. On home soil they will want to smell success as much as any one else.
Zimbabwe, in the recent tournament in Sharjah brought back their ageing paceman and allrounder Eddo Brandes. It was not because they expected him to "star" in Sharjah. He has tons of experience playing in English conditions and mastering the conditions of May/June is a vital factor. They are thinking about that. That is no doubt what all the Captains, coaches and managers must be doing right now. Meanwhile, it could be said that Zimbabwe are going to upset a few sides in this competition. They have an experienced one day outfit now, but still not capable of going all the way to win a championship.
Since about the early part of this decade the International calendar has been a very busy one. Never so as it is during this current season. Currenty Zimbabwe is in Pakistan, West Indies is in South Africa and the Ashes battles have just got underway "Down Under". So it will continue for all the countries right up until May.
Of course the important factor will be to peak come June of next year. Not to be stale or jaded at that time. Not to be mentally tired. Not to have key players carrying unjuries. Take the Australian schedule for instance. They have just returned after a tour of Pakistan and Bangladesh. They play five Test matches in approximately seven weeks. Then they play the three nation one day tournament with Sri Lanka and England for five weeks. A couple of weeks later they fly off to the Carribean to play five Test matches and three limited over games which brings them to the doorstep of the World Cup. True, they are adopting a policy of different teams for the two different formats of the game. Yet, the strain on the nucleus of major players is going to be tremendous. That is what the Aussies have chosen to do in their lead up to the "show", so good luck to them. Last time round Sri Lanka had the ideal preparation. That tough ten week tour of Australia playing Test matches - having had a successful tour of Pakistan really moulded them. They had an adequate break before the "Cup" games commenced. There too, with the Australians and West Indies boycotting the games in Colombo, it proved a blessing in disguise. In that final the Aussies were puffing and panting unable to get their act together. The Sri Lankans were of "rolls Royce" class - simply purring along on top gear. What pleasant memories!
Memories though are a thing of the past. What of the present? At this moment the South Africans are the strong favourites. Australia and Sri Lanka would compete as joint secondly favourites. Following them, again jointly, is India and the hosts England. The rest follows, not looking like giving a serious challenge at this stage. Thoughtful preparation to peak at the correct time is what is required from now onwards.
---
Dubai ready for Rugby Sevens
In anticipation of a record crowd this year, tournament organisers have initiated preparations at the venue for the forthcoming Dubai Rugby 7's from December 2 to 4 1998, sponsored by Emirates Airline. Immense technical resources are required to construct the temporary stadium and surrounding infrastructure to accommodate and service the crowd of upto 10,000 people per day. The building of the temporary stadium on the 62,500 square metre site around the Dubai Exiles ground requires 12 months careful planning. Printed and published by Wijeya Newspapers Ltd. on Sunday, October 25, 1998 at No. 8, Hunupitiya Cross Road, Colombo 2
---
Squash prodigies excel
By Saif Izzadeen
Kushani Daluwatte who won the women's under 19 squash title for the third successive year took the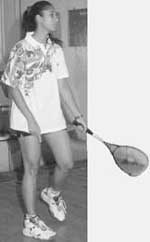 limelight at the annual Junior Squash Nationals, worked off at the Trans Asia Hotel courts.
The competition which was worked off in five age groups saw all matches providing high-class squash from the first game itself. The age groups in both the boys and girls were under 11,13,15,17 and 19.
Most of the winners came from families who had a good sports back ground. Some of the winners were not only good in squash but had successfully pursued other sports as well.
Kushani Daluwatte who was the winner in under 19 age group is also a good tennis player and had

represented her school in the sport. Her sister Avanthi Daluwatte has played squash for Sri Lanka.
Thehani Guruge became the under-13 champion while her brother Rajitha Guruge was the under 19 squash champion and her uncle Oliver Guruge has become the national champion in squash.
One of the organizers told The Sunday Times that most of the players who played at the tournament were talented. He went onto add if they could choose the proper players and train them they could be good squash players in the future.
Under 19 competition
Sri Lanka national player Hirantha Goonasena won the under-19 title by beating Kavinda Cooray in the final by 9-6,9-0 and 9-6
A happy Goonasena speaking to The Sunday Times said "I had only one aim when I came into the tournament . That was to win the title." he said adding,"I am very happy that it worked that way. In the final Kavinda gave me a good fight but I had some better selection of shots which enabled me to win the title".He concluded by saying that his only aim is to win the title next year as well.
In the girls event the title was won by Kushani Daluwatte. She won the title for the third successive year beating Buddika Perera in the final. The score read 9-1, 9-3 and 9-3. Incidentally present Army Commander Rohan Daluwatte is Kushani's uncle.
A beaming Daluwatte said: "I am feeling very happy. Winning it for three years in-a-row, puts the icing on the cake".
Kushani who took up the sport in 1991 when she was only 10 years old didn't take long to hit the spotlight as she began to dominate the sport in every age group. During the last seven years in which she has participated other than winning the under 19 title on three occasions she has become under 11 champion once and bagged the under 13, 15 and 17 titles too on two occasions.
When asked how she took up this sport she said: "My sister played squash for Sri Lanka. This was a motivating factor. The other reason is because I loved the sport".
She went onto add: "At the start it was little bit boring but as I went along I began to enjoy the sport .I am very happy with what I have achieved so far".
She said in conclusion: "My only aim is to represent Sri Lanka in both squash and tennis, with the hope of bringing glory to my country".
Under-17 competition
Naveen Samarasinghe and Rashani Lankage won the boys' and girls' titles respectively in this age group. Both of them had tough fights in their matches against Eranga and Madhushika Dharmapala, respectively.
"It was a tough fight but in the end I managed to pull it off", said a relieved Naveen Samarasinghe who beat Eranga in the final 9-0, 9-1 and 9-4.
"I took up the sport for fun of it but as I went along I began to like it. Asked what he thought of his achievement he said: "It is really great to win the title". In conclusion he thanked his parents for helping him with all the encouragement and support.
Rashani Lankage told The Sunday Times that winning the title was a dream come true. " I was waiting for this for a long long time and I have finally done it. I enjoyed playing with Madhushika in the final. She played a great game but I had that extra zip to pull it off".
Under-15 C'ship
Manisha Hettiarachchi and Indika Cooray became champions in the girls' and boys' category respectively in the Under 15 championships.
Indika Cooray beat K.Jayawardena 9-2, 9-4, 5-9 and 9-4 in the boys final and Manisha Hettiarachchi beat Tehani Guruge in the girls final..
"From the moment I stepped into the first match in this tournament my only dream was to win the championships. I am happy that it worked that way", said a delighted Indika.
"It was tough going in the final. K Jayawardena gave me a terrific time but I managed to keep my cool to win the tournament". He said: "I must thank my coach, school and parents for being the guiding light".
Under 13 C'ship
Prasanna Dharan and Tehani Guruge became champions in the boys' and girls' category respectively in the under-13 championships.
Prasanna Dharan beat Shazan Zhir 9-7, 9-0 and 9-0 while in the girls' final Tehani Guruge beat Sathya Madawi 9-0, 9-1 and 9-0. Although the score sheet showed easy victories for both, in reality both of them had a tough time.
Tehani who took up the sport two years ago has already shown signs of becoming a future star in the sport. She began to experiment the sport after seeing her brother playing. After that she began to enjoy the sport and has won many tournaments.
In 1996 Tehani became the junior national under 13 runner up and this year she won the Signature Cologne Championships in the under 13 age group, junior national under-13 championships and was under 15 semi-finalist
"I am very happy about the achievement. My brother gave me a lot of advice, which stood me a good stead to win the tournament. My parents too helped me a lot", said beaming Guruge.
"It is a very nice feeling to win the tournament . My only ambition was to win the tournament", said Prassana when asked how he felt about the victory.
Under-11 C'ship
The under-11 championships was won by Asitha Gunasekera and Sathya Madawi in the boys' and girls' categories respectively. They overcame J. Gunawardena and S. Malik in the finals.
Asitha Gunasekera beat J. Gunawardena 9-7, 9-0 and 9-0 in the men's final while Sathya Madawi had the better of S.Malik 9-0, 9-1 and 9-4 in the women's final.
Both of them were very happy and said that their only dreams was to win the tournament next year as well.
---
Tackling a mirage
By The Shadow
Looking into how selections are done in the sport of rugby it brings into memory our childhood which on rare occasions have become gloomy due to favourations and the pig headed attitudes of certain adults.
Well giving it all to their blue eyed boys is what's really happening in the national rugby team where selections are concerned. And at present a dark cloud hovers over a bunch of hopefuls - the ruggerites who could not make it on the current tour- who have been left behind.
Is it worth continuing to travel on this road to glory where only a selected few know the right turns to take in order to reach the final destination. For the rest the journey they began after leaving their academic institutions seems like chasing a mirage.
Unlike in cricket the technical knowledge and the ability to identify the rugby players by the general public is limited to a selected crowd. How many know the name of the present Sri Lanka captain? Many refer to him as Viraj Prasanna when it should be Viraj Prashantha. Will there be a mistake when identifying one of our national cricketers? The cricketing community is so large that the moment something wrong or undesirable happens it is leaked out to the public within hours. But in rugby the authorities continue to live without fear and pick their favourite players along with peace-loving officials who dare to go against them when tours approach. It is yet another well known fact that a leading Colombo club is getting too much attention from the Rugby Union. And the need to do something about this has become louder and louder in the rugby circles that a reporter from a Sunday newspaper came out blaring in his column recently that the Sri Lanka Rugby Football Union's headquarters should be shifted to a neutral place.
The big question, as big as the rugby ball itself, is whether the Sports Minister is aware of all this. This was a sports body which was once a law to themselves when they did not come under the influence of the Sports Ministry. But even though the situation was not as bad at that time, many rugby enthusiasts will agree that favourations did take place. However the present tide is too strong for the players of less influential clubs who can only wait - kick an up and under - and hope for the best.
When The Sunday Times spoke to some of the less fortunate ruggerites most preferred to stay tight lipped over the issue. However two ruggerites, who wow that they will never attend national practices, poured out their hearts in utter exasperation.
The burly Sundhar Niranjan, who has nine years of club rugby behind him, sees the immediate need of having a representative from each club to be in the national selection commitee. He was also of the view that the selectors should not base their selections only on performances of the domestic season and that past records should be taken into account.
"If a top cricketer fails in domestic matches will the selectors drop him from international matches" asked Niranjan. The former Sri Lankan second row forward went on to add that a leading club is dominating the rugby scene.
Niranjan also pointed out the shifting of the union headquarters to a neutral venue as one of the necessities to solve this problem. "When a ruggerite is playing for an average club the player might not get the oppotunity to perform well. But it could not be the case when playing for Sri Lanka. It's the team combination which matters. After all players are national assets and they are wearing the country's jersey. They have done the country proud. You can't write off players like this reflected Sundhar. "You cannot take puny players along and win. A forward must have a body weight of at least two hundred pounds", said the big man who sees that only the Sports Minister can intervene and bring about a change to the current situation. Sundhar who has represented the country in three Asiad's has taken a decision to quit international rugby. However he advised all disheartened youngsters not to give up hope and give it another shot. Twenty-seven-year old Thushara Jayalath is yet another senior player who seriously feels that injustice has been done to him. The Havelocks player who took some time off from his work to give his views on the hot topic said that the selectors should have looked into the strengths of the opponents and picked the team.
He is of the opinion that the team which went for the Asiad is inexperienced. "There was no format in the selections" reflected Jayalath. But Jayalath's main grievance relates to the selectors thinking pattern which revolves around players performances at the domestic season. "So if a player gives hundred percent at club matches and fudges at international matches he is not affected by this. Because the selectors do not consider past performances.
They only speak about how well a player performs in the local inter club tournament" said Jayalath. Thushara also agreed with most of the comments made by Niranjan.
Both of them who work at the Grindlays Bank in Fort was of the same view that each club should have a representative in the selection committee. Jayalath who made his debut in the 1996 Asiad in Taipeh felt that the country should obtain the services of a foreign coach.
However he does not think that this system of selection will change. When asked whether the Sri Lankan team has not showed results in the recent Australian tour with the current combination of players, Thushara had this to say: "The Australian Northern Territories side is a team similar to ours.
"We beat them here in one match and in the Development Squad game, which I captained, were trailing 3 - 10 when bad wheather halted play. So you can see that this side was not very strong". Jayalath, who had the rare honour of playing for the Asian Barbarians, advises youngsters who have thoughts of quitting to go and play for a winning team as it is the remedy for this problem. Twenty-four year old Leonard de Silva is yet another ruggerite who is a bit worried about his future in the sport. The former Peterite skipper sees his dropping out of the Sri Lanka sevens squad before the Commonwealth Games the reason for being axed from the current rugby scene.
However Leonard admits having not informed the necessary officials his intentions when he pulled out of the final 14 to play for his club.
"Even if I had gone I would have been a reserve so I thought it was better to play for Havelocks in the Under 24 tournament which was in progress at that time. This might have given the selectors a wrong impression," said de Silva.
He has never been called up for Sri Lanka pool practices since.
Leonard who is presently married, firmly believes that he can only commit himself to play one more year of rugby. De Silva who is tipped to lead Havelocks next year said that he had not given up on his chances of playing for Sri Lanka.