IAAF never suspended Susanthika
Then who wanted her banned?
By Daminda Wijesooriya and M.H.M. Manasique and the sports desk
Sri Lanka's wonder girl Susanthika Jayasinghe in the midst of another mysterious controversy as she prepared for next month's Asian Games - says she believes the latest dispute is part of the conspiracy to ruin her and her spectacular career.
In an interview with The Sunday Times Ms. Jayasinghe said that after several weeks of intense training she was in peak fitness and supremely confident of winning a gold medal for Sri Lanka at next month's games in Bangkok.
The 23 year old sprint queen, who has been embroiled in a series of disputes with Sports Ministry VIPs since she won a silver medal at last year's world games, said she was not sure who or what was behind the latest hurdles put in her path to athletics glory. She said the Sri Lanka Amateur Athletic Association President D.A. Kannangara had called her on Friday and assured that the local controlling body was standing by her. He told her that her suspension on drug charges had been lifted with the approval of the international controlling body and there would be no obstacle to her participation in the Asian Games.
Mr. Kannangara told her everything would be okay and advised her not to be misled by various stories.(see separate story on this page for text of a statement made by Mr. Kannangara)
Despite the AAA president's assurance Ms. Jayasinghe said she felt the conspiracy against her- which began when she accused a sports VIP of sexually harassing her- was being renewed in a deceptive way.
The "Warakapola rocket", widely regarded as Sri Lanka's greatest athlete since the legendary Duncan White, said that if the plot against her continued she would quit athletics and would never never come back again.
But she warned that this time she would expose all and everything. When she made some charges last year- leading to sensational stories in the media and a debate in Parliament - Ms. Jayasinghe did not mention the name of the person or persons who were hounding her. But next time she said she would tell all.
"After all what can they do to me? They can only send me to jail and I'm ready to go to jail," said the brave and extraordinary girl who believes that she could even win the first ever gold medal for Sri Lanka at the 2000 Olympics in Sydney The latest plot against Ms. Jayasinghe came from a strange place- China. Virtually out of the blues, a top Chinese sports official last week raised a new dust storm over Susanthika when he claimed that the International Amateur Athletic Federation had still not lifted the suspension on Ms. Jayasinghe and she would not be able to compete in next month's Asian games. Ms. Jayasinghe told The Sunday Times she did not know why a Chinese official suddenly raised questions. But sports observers feel the Chinese have vested interests.
The Number 2 sprinter in Asia is from China and the Chinese probably feel that if Ms. Jayasinghe is sidelined or eliminated, the Chinese girl could win the gold.
The basis on which the Chinese sports official threw a bomb-shell at Susanthika is mysterious. He claimed that the international controlling body had not cleared Ms. Jayasinghe of charges of taking banned performance enhancing stimulants. But the sports desk of our group of newspapers in an independent investigation contacted the IAF to find out what was really happening. The reply was stunning.(see IAAF reply)
An IAF spokesman informed us in writing that the international body had neither imposed nor lifted the suspension on Ms. Jayasinghe and she was free to compete. The IAF clarification makes one thing clear. The initiative to carry out a surprise off season drug test on Ms. Jayasinghe and other athletes was taken by the Sri Lanka AAA.
Ms. Jayasinghe has alleged that the drug tests on her were not conducted properly and that someone tampered with her urine samples as part of the conspiracy to ruin her.
---
Story within the story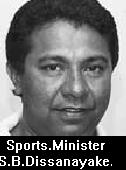 Susanthika Jayasinghe's allegations that she was being sexually harassed by a VIP and that she even faced death threats came up twice in Parliament in November last year. Sports Minister. S.B. Dissanayake replying to opposition speakers said -
"Susanthika Jayasinghe's stories about sexual harassment and death threats are completely untrue. There are major contradictions in what she says about what she asked for and received and what happened can tell the full story and the complete truth now but I believe it won't be good for sports in Sri Lanka and for her. But the time will come and I will reveal all. On that day they will be ashamed. Those who made political capital of this will be ashamed."
A few months later the local controlling body the AAA took what is described as an " excellent initiative to carry out surprise, out of season drug tests on Susanthika Jayasinghe and four other top athletes.
As clarified in the IAAF reply to our newspaper group, the initiative was taken by the local AAA. In April this year the AAA announced that the tests on Ms. Jayasinghe's urine samples showed she had taken banned drugs. The AAA imposed a six month suspension on her but Ms. Jayasinghe challenged the findings. She said it was all a conspiracy and called for an independent inquiry. Such a panel was appointed and by June the panel in a majority decision said the drug charge against Ms. Jayasinghe had not been proved. The story was leaked to the media. The Sunday Times was among the independent newspapers that campaigned hard to clear Ms. Jayasinghe's name and give her the chance to bring more gold medals and glory to Sri Lanka. After months of obvious feet dragging the AAA on August 21 announced that the ban on Ms. Jayasinghe was being lifted. But it was too late for her to take part in September's Commonwealth Game where she could have won a gold medal or two for the country. The AAA said though entries had closed it was prepared to make a late entry for Ms. Jayasinghe. But after training for a few days and doing a time trial Ms. Jayaisnghe decided that she was not fit enough to compete in the Commonwealth Games. She said the lack of training and the denial of training facilities to her combined with the emotional turmoil she was forced to go through had prevented from becoming the first Sri Lankan woman athlete to win a gold medal at the Commonwealth Games. Ms. Jayasinghe told the media she would go into intense training for the Asian Games.
At the Sri Lanka Athletics Nationals last month she came out with flying colours in record time. She was set and all ready to go for gold at the Asian Games when suddenly a dirty wall from China came up with speculation as to whether a hidden hand and powerful force from somewhere might be manipulating the whole dirty game.
Ultimately it may be a case of Sri Lanka itself ruining one of its greatest treasures in the field of sports- all because of some petty personal or political schemes.
---
We are standing by her says AAA
Sri Lanka's Athletics controlling body which has been accused of collaboration in efforts to discredit Susanthika Jayasinghe, claims it is standing by the champion sprinter and that the way is clear for her to take part in the up-coming Asian Games.
D.A. Kannangara, President of the Amateur Athletic Association of Sri Lanka issued a statement over the weekend amidst allegations of another subtle move to sidetrack Ms. Jayasinghe.
After issuing the statement Mr. Kannangara told The Sunday Times that whatever the Chinese were trying to do in objecting to Ms. Jayasinghe's participation the local AAA would ensure that she takes part in the Asian Games and would provide her with all the support and facilities.
Rejecting the Chinese claim he said that even if the IAF had some doubts regarding the inquiry conducted by the local body it would be referred to an arbitration body next year. Till then Ms. Jayainghe was free to take part in any national or international meet and that meant she could take part in the Asian Games next week. His official statement is as follows:
"I wish to refer to the numerous press reports during the past few days, referring to the eligibility of Sri Lanka's athlete - Susanthika Jayasinghe, to participate in the Asian Games next month. The position of the Amateur Athletic Association of Sri Lanka is as follows:
"The Amateur Athletic Association in their press release of August 24, 1998 declared that Susanthika Jayasinghe has been cleared to compete at National and International levels. The Amateur Association of Sri Lanka made their decision on the following facts:
1. Recommendation of the Panel to release her;
2. The IAAF in their letter of August 20, 1998 has advised us to act on the recommendations given by the Panel. Accordingly, she was declared as eligible to compete. Thereafter, there has been no communication from the IAAF to the Amateur Athletic Association of Sri Lanka, on this subject.
"Somewhere around the early part of November, we have observed varying press reports on the subject of the eligibility of Susanthika Jayasinghe to compete in the Asian Games. On this matter we wish to make it very clear to all sports loving citizens of Sri Lanka that we do not have any communication from the IAAF to whom the Amateur Athletic Association of Sri Lanka is affiliated to debar her from participation or imposing any conditions on her participation in the Asian Games or any other Meet, at the time of this press release.
Susanthika Jayasinghe's name is registered as a participant for the Asian Games to be held in Bangkok Games and she will, as it stands now, proceed as a Member Sri Lankan Contingent and we are happy to note that she has taken this event very seriously and is training very keenly."
---
Hot dog!
How hygienic are the conditions behind the glitzy fast-food counters?
The Sunday Times investigators posing as PHIs probe kitchens of top restaurants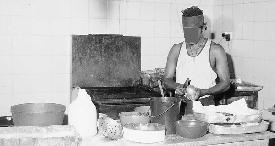 Preparation of food with little concern for hygiene at restaurants
.While many small eating houses in and around Colombo are now being raided or sealed by public health inspectors, due to inadequate sanitary and unhygienic preparation of food, several up-market snack bars and restaurants where sanitary conditions are as bad as Pettah eating houses, seem to be getting privileged treatment. Sauce for the small ones does not seem to be sauce for the elites.
Customers patronise these so-called elite food parlours, blissfully unaware that behind the glitter of colourful panels and varnished furniture of these big names are the same old unhygienic conditions — open food basins, sweaty cooks, leaking sewers and attendant flies.
The Sunday Times visited some of the mushrooming up-market fast-food outlets in Colombo in the backdrop of the Cholera outbreak.
Walking into the kitchen of a popular food parlour in Bambalapitiya, we saw a bundle of leeks lying on the floor. Asked why it was kept like this, a kitchen hand quickly picked it up and put it on top of a gunny bag.
"It would have fallen off from the table just now," the manager told us. When he asked his kitchen staff why there was food lying around, he was rewarded with blank stares.
On inspecting the food and its storage, we were in for a few more surprises. One of the cupboards contained four jars full of stale spices. We were told that they were to be thrown away as they could not be used any longer. But our question as to why they were not thrown away immediately, was met with vague replies.
We were wondering why kitchens looked rather bare, without as much food as we expected, when we were told that the bulk of the food is prepared in a different location, and it was only the garnishing that was added on at the snack bar.
We also asked the manager why a rack full of partially spoilt potatoes were being stored. The manager explained that the potatoes were meant to be thrown away, and showed us another rack full of fresh potatoes, which he said were the ones that would be used. But not before we noticed that the potatoes were of two different varieties and of two noticeably different sizes.
On a ledge a little above the food shelves, were three big containers of disinfecting liquid. An obvious health hazard, as the liquid could drop onto and be absorbed into the food, escaping anyone's notice.
Our next stop was the newly opened fast food restaurant carrying a famous name.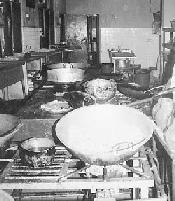 It was a welcome relief to see the methods they employed in their food preparation. We were taken on a tour of the kitchen by the General Manager who assured us that international standards were being adhered to.
The food, if not sold within ten minutes of preparation, is disposed of. Or so he said. If any of the utensils are dropped on the floor, there are ready sanitisers to dip them into, and the sanitizing liquid is changed every two hours. The floors are also cleaned every two hours.
With such a boast we were jolted to learn that leftover hamburghers were dragged along the road in dustbins to their dump past residences. The management pleaded ignorance to this and about a leaking sewer in their car park. This has been going on for the past three days with all the mucky stuff being spread on the road, a fast food outlet for flies. It sure was a big muck.
Next, we visited a popular snack bar in Wellawatte, most often frequented by the students of Muslim Ladies College and St. Peter's College. We were first not allowed in, but we posed as health inspectors to do a check.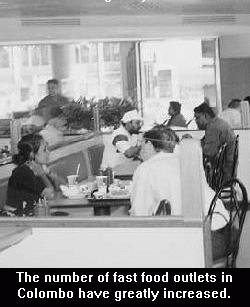 It seemed as if the Sri Lanka Flies Association was having its AGM in the kitchen. Although electrical insect repellents had been installed around the kitchen, they did not seem to disturb the proceedings.
The floors were dirty, no second to some of the dubious eating houses at Maradana and Pettah, with food peelings which had dropped on the floor being stepped on by the workers. Garbage bins overflowing with waste food were kept open next to the tables where the food was being prepared.
Some of the kitchen workers wore neither caps nor gloves. We were told that although the management had repeatedly admonished the workers regarding this, and even imposed a fine on them, some workers did not adhere to this.
Another reason given was that the company which supplied gloves had closed down. But we wondered whether there were no other companies to provide gloves.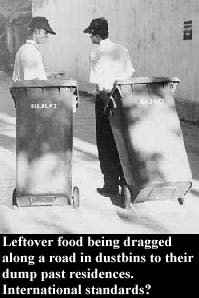 We also came across a large tub of brackish water filled with potatoes. Asked why the water was so discoloured, the strange response we received from the supervisor was that when potatoes were kept in water for a long time, the water and not the potatoes, changed colour.
Although many think that a higher price tag means cleaner food, this may not necessarily be so. Just as you can't judge a book by its cover, a well packed meal, or a sophisticated restaurant, doesn't necessarily mean a clean one.
---
New laws, more PHIs
With Cholera still raging, in Colombo and the suburbs, the city's public health officers have lamented that laws for cleaner food and sanitary conditions are outdated and absurd.
Dr. Pradeep Kariyawasam, Deputy Chief Medical Officer of Health and P.J.A. Weerasinghe, the Chief Public Health Inspector, said that amendments had been proposed and drafted to meet present needs. But the process of putting them into the statute book and implementing was painfully slow and in the meantime, dirty games were continuing.
Some of the amendments recommended include heavier fines for offenders.
Nails in packets of rice, worms and cockroaches in soft drinks and a beetle in a curry are among the complaints that regularly come to health inspectors.
A senior health official said PHIs should be empowered to close any restaurant or eating house if he suspected any health hazards.
He also said another major problem in ensuring clean food was the lack of PHIs.
In the wake of the Cholera outbreak, the Colombo Mayor has asked the Governor of the Western Province for permission to recruit retired PHIs to fill the vacancies temporarily.
And according to Health Minister Nimal Siripala de Silva's instructions, trainee PHIs who are still to complete their courses have also been enlisted to tide over the present situation.
---