From the Blue Corner
"Be thou forever"-Viruddha Paakshikaya
By Paaksikaya
My unseen friend, Viruddha Paakshikaya, whoever he (or she) may be cannot be a good lawyer. I say so because last week, his defence of his beloved leader's (self-appointed?) Economic Affairs Adviser was worse than the offence.
In this valiant attempt to twist the truth Viruddha Paakshikaya's slip is showing in a very embarrassing manner.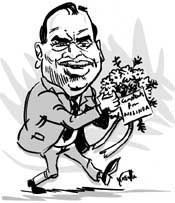 I say so because when Viruddha Paakshikaya says only a goat will gloat over the fact that Sri Lanka joining the "Group of 15" developing nations is a reflection of how well our economy is doing, he is only calling his own economic affairs adviser a goat!
It is you, Viruddha Paakshikaya, who said so, not I!
Now if our readers are finding this debate somewhat confusing, briefly this is what happened: the economic (or is it international) affairs adviser to Ranil Wickremesinghe, Milinda Moragoda, wrote in a Sunday Lankadeepa column that we must be proud Sri Lanka has joined the "G 15" and that this is proof of the economy doing well under the PA government.
One of our MPs then raised this in Parliament, asking the UNP how it dare blame the PA and its handling of the economy when the UNP leader's hand-picked adviser compliments the government for sound economic management.
Of course, what was not said was that your adviser is not ashamed to do business with us, arrange trips abroad for our ministers (with whom your party has decided not to even talk to) and that everyone is waiting for a licence to start a bank — a licence that our leader is refusing to give for good reason, bad reason or no reason.
Then, the fact that Sri Lanka has joined the "G 15" paying US $ 200,000 as a kind of membership fee also seems reasonable to your own economic adviser. So, who are you to complain, Viruddha Paakshikaya?
Again, that the list of "G 15" members you gave may not be the best examples of economically developing countries or you question as to how come Singapore — your role model economy — is not in the "G 15" is a valid question, Viruddha Paakshikaya, but again, your economic adviser sees nothing amiss in that either.
So, one of you is talking through his hat, Viruddha Paakshikaya — you or your party's economic adviser. Parliamentary language prohibits me from saying what either of you actually maybe talking through Viruddha Paakshikaya — to borrow a phrase from your one-time leader Dudley Senanayake. Now, this is why I said that you are anything but a good lawyer, Viruddha Paakshikaya — you have ruined your case by highlighting the evidence unfavourable to you!
All this only shows the calibre of advisers the UNP has today. You may call them "Harvard Educated" even if they went to Harvard only for a six month course at the age of thirty something just to get it into their CV - but that's alright by me.
Your leaders, after all, say they went to St. Joseph's College even if it was for night classes and one could hardly find his classmates around. So, you are only continuing the party traditions, but then, what else can a party bereft of Rhodes scholars and Presidents of the Oxford Union do? Indeed, the only such erudite person you had — Lalith Athulathmudali — left you, unable to stand the treatment meted out by the "University of Experience!"
You may resort to such humbug, Viruddha Paakshikaya, but, just because you have a chip on your shoulder and say you were educated at places you never were, in the proper sense, taught, you should not use these tactics to hoodwink people.
And, it also seems such hypocrisy is common among your MPs too. On the one hand they shout that the economy has been handled badly contradicting your own adviser. But, having said that, they keep shouting ''No quorum, No quorum'' during the Budget debate, forcing the ringing of the quorum bell and on one occasion even having sessions suspended.
The idea of the Budget debate, my dear Viruddha Paakshikaya, is for the opposition to have a chance at bashing the government by exposing corruption, scandals and the like if they exist. It is your chance to get the attention of the media without having to pay for advertising. You get this chance once a year and what's more, you are speaking in Parliament, so you are immune from charges of defamation. You get this golden opportunity and what do you do? You throw it all away by asking for a quorum! What idiots!
Then, Viruddha Paakshikaya criticises the Budget itself, citing the twin decisions to remove the proposed rail fare increase and restore the duty-free allowances.
The original proposals, he says, reflected the government's intentions to hit the poor, he claims and labels the Budget as being ill-planned.
Look at it with blue eyes, Viruddha Paakshikaya, not green eyes, you seem to be uncomfortable with the fact that we are a caring government under a caring President who, with hindsight had the courage to alter decisions to ease the burdens on the poor. That's the truth, Viruddha Paakshikaya, and you know it!
Ask your adviser and he will tell you how important it is to balance a Budget especially at a time when increasing amounts of money are going for the upkeep of an Army that is now successfully fighting terrorists.
That money has to be found from somewhere. So came these two proposals. But we are a government that listens to reason. Our budgets are presented to alleviate the sufferings of the people — not to portray Finance Ministers relaxing at Geekiyanakanda. So, when it was pointed out that these proposals would hit these two categories of people — the rail commuter and the housemaids — we decided to remove these burdens.
And you, Viruddha Paakshikaya, say that is wrong. Of course, you would have been happier if the proposals remained so that you could agitate with one of your "virodhatha viyapaara-yas'' — or at least send a statement to the press — saying what a wicked government we are. Sorry, Viruddha Paakshikaya, but we have to disappoint you for the sake of the people!
Then, Viruddha Paakshikaya's meandering essay of last week jumps from Milinda Moragoda to the Budget and then to our leader's statement ''against'' the Tamil community, where she is reported to have said they were not the original inhabitants of Sri Lanka.
Viruddha Paakshikaya says the Tamils are "mad". Well, not really. Only Kumar Ponnambalam is and most Tamils don't take him seriously. I don't think even he himself takes himself seriously, being content to have an 'insurance policy'' against the LTTE by making periodic outbursts of this kind so he could avoid the fate that befell Amirthalingam, Thambimuttu and others.
As for the latter, more particularly the TULF, they are in a difficult situation. On this issue, I tend to agree with S.L. Gunesekara (one of our former MPs, now in the MEP) that the more the Tigers chase the TULF, the more the TULF goes behind the Tigers — probably believing it is better to be behind the Tiger!
But you, of all people, need not worry, Viruddha Paakshikaya. President Kumaratunga has explained to the TULF how that remark came to be made. She said she was ''rushed'' by the interviewer and that it was not in the context of how it was made to appear.
The TULF has obviously accepted that position. It is much ado about nothing and perhaps a much-needed boost for Kumar's ego. That's all there is to it, or, a storm in a tea cup, one might say. Kumar, of course, will disagree but, Viruddha Paakshikaya, to say that you take him seriously is to concede how pathetic you are politically. An amiable young (?) man, Kumar is, but he is also a horrible politician which is why he manages to lose his deposit whenever he contests elections, be it for a presidential poll or a parliamentary one.
Now Viruddha Paakshikaya, you should not try to draw parallels of this little remark by our President with your President D. B. Wijetunga's deadly statement that all minorities — not just the Tamil community — are "creepers". Oh, what a creep!
And now, the UNP, in the middle of this issue, has got blasted by the National Movement Against Terrorism (NMAT) which has certified that what our leader said was, in fact, true. So, the UNP, by trying to woo the minority vote, has lost the majority vote. As only you — and our cricket team — can do, you have snatched defeat from the jaws of victory!
That is the plight of the UNP today, Viruddha Paakshikaya. Every time they think they are taking a step forward in the "right" direction, they find their other leg in the way and trip as a result!
Why, oh why, Viruddha Paakshikaya? It is a well known secret that the UNP is now split. Last week, when Wijeyapala Mendis, your long-time member from Katana commemorated his son's second death anniversary we saw Sirisena Cooray seated by the senior Mendis. And, conspicuous by his absence was Ranil Wickremesinghe.
These are the Old Guard of the UNP that your new leader has edged out of the party. The vanguard of the party now comprises individuals more comfortable in London than Lunugamvehera, Paris rather than Padaviya.
But, beware, Viruddha Paakshikaya. Provincial elections are due early next year. And, the UNP is in for the lesson of its life. But there is a good side to it too: Viruddha Paakshikaya will keep his job and be Viruddha Paakshikaya for many years to come.
And so, may I conclude - since we were talking of St. Joseph's and Harvard — with the motto of S. Thomas', Viruddha Paakshikaya, though I do not know whether you are a Thomian or not: Esto Perpetua - "Be thou forever!"
Forever a Viruddha Paakshikaya!