| | |
| --- | --- |
| | Contents |
---
After Dark
---
Sumathi Tele Awards
The annual Sumathi Tele-Awards Festival will be held at the Sugathadasa Indoor Stadium on November 28 at 6.00 p.m.
The National Youth Services Council and Sumathi Newspapers (Pvt) Ltd have jointly organised it.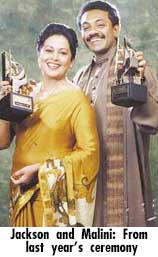 A cash prize of Rs50,000/- will be awarded to the best teledrama serial.The best single episode teledrama will be awarded a cash prize of Rs 20,000/- There are 38 prizes altogether offered to the winners in various categories of teledrama production including youth awards.
The U.W.Sumathipala Commemorative Award inclusive of the special trophy and cash awards presented in memory of the founder of the Sumathi Group and a Film Producer will be awarded to the male artiste and female artiste who made an outstanding contribution to the field of Television.
Only those television programmes screened and concluded screening between April 1,1996 and March 31,1997 are elegible to enter this Tele Awards Festival,in which Bronze Trophies and cash awards will be presented to winners, festival sources said.
---
Colombo 2000 back to action
By Sanath Weerasuriya
Colombo - 2000, one of the popular night spots in the city, some time ago, will come into action again.
'Colombo - 2000' will open its doors to the public on December 1.
The Galadari Hotel has a whole lot of surprises lined-up for the newly opened "Colombo 2000".
DJ's especially flown from all around the world will keep you entertained throughout the festive season. Internationally famous 'Aliance Dancers' from Russia will be on stage at 'Colombo - 2000' from December 1- 12 in their opening act.
Aliance Dancers', based in Moscow, have performed in some of the best night spots around the world from Japan, Italy to Singapore.
'Crazy J' popular DJ from London will spin his discs with some of the top DJs in the local scene.
---
Ethugala Pamula:a story of a walauwa
A new Sinhala teledrama based on an old walauwa in Kurunegala is scheduled to be on Swarnavahini from November 30 onwards.
Titled as 'Ethugala Pamula' the characters move round a middle aged widow Kumarihamy and her two daughters.Visakha who is the eldest daughter is a clerk while the other girl Asoka is a teacher.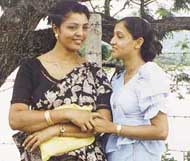 Visakha works under the new AGA Nissanka.He develops a liking towards her.The girl too feels it but behaves as if she is not aware of it.
Mudiyanse who is the waluwwa watcher questions Visakha of what happens in the walauwa.On the other hand Asoka is inqusitive about his relations with her mother.
She frequently inquires from her elder sister Visakha about the home front.The hidden fact is that the father of Visakha's mother and Mudiyanse is the same person.
The next character to enter the walauwa is a handsome teacher Asela who has affairs with both sisters,keeping it a secret from one another.
But Asoka is caught while Visakha escapes from it.
Mudiyanse awaits anxiously till Visakha marries Nissanka.He hates Asela's behaviour.
When Mudiyanse comes to know of the affair between Asela and Asoka,he informs Sujatha.After this incident Asela moves to Colombo where he finds a job.
Visakha who comes to know of her younger sister's affair with Asela,goes to Colombo to meet Asela.She persuades Asela to marry her sister and promises her share of the walauwa as dowry and Asela agrees. However the family affairs take a bad turn a when Asoka comes to know that Asela had an affair with her sister too. She chases away Asela when he cames to the walauwa. Asoka later goes for higher education abroad. Finally Nissanka marries Visakha. Ajith Prasanna Jay-awardena has directed 'Ethugal Pamula' where Bianca Sharmini,(Visakha).Sashika Rodrigo (Asoka),Jagath Wickremasinghe(Nissanka),Rajitha Rodrigo (Asela),Visakha Siriwardena (Indu) are in the cast
The other credits include Kumara Karunaratne (script), K.A.Dharmasena (camera),Sangeeth Wickremasinghe (music),and Hiran Gunasakera (production)
---
Landmark for playwright
Dramatist Sisil Gunasekara who has completed 20 years in the field of drama production celebrated the event with a short drama festival ending today at the Vihara Mahadevi open air theatre.
Gunasekara's latest drama 'Reliya' (Procession) will be staged at 6.45 p.m. on Sunday.
On Friday 'Prana-apakaruwa' was staged followed by 'Ethaliye Kathawak', 'Puduma Lampuwa', 'Guwan Karanam', 'Dehiwala Handiya', 'Prana Epakaruwa', 'Guwan Kurullo', 'Rellen-rella', 'Vadamaarachchi',
'Ethaliye Kathawak', 'Rella' 'Halt', and 'Ukussa' are among some of the dramas staged by Sisil in various parts of the island including Jaffna and Vavuniya.
He has also directed and produced the film 'Rellen-Rella' and a 10 episode teledrama 'Kandu Pamula'.
The Colombo Municipal Council and Colombo-Elvitigala Lions Club 306 have sponsored the drama festival.
Colombo's Mayor, Karu Jayasuriya will be the chief guest for today's event.
---
Movie Scene
---
Nita:once more in limelight
Producer and main actress of 'Pauru Walalu' which won three prestigious awards at the 18th International Amiens Film Festival held in France Nita Fernando was overjoyed by the success of her effort."I am glad as my feature film can now bring foreign exchange to Sri Lanka a duty that I should fulfill as a film producer"a jubiliant Nita Fernando said.She was resting at her Katuneriya residence when she heard the joyful news.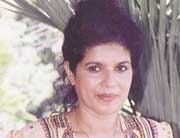 Nita won the Best Actress award at this year's Singapore International Film Festival for this film.She was present at the festival to receive the award.Nita Fernando expressed her gratitude to all who assisted her to produce 'Pauru Walalu' which was produced under very trying conditions.Nita Fernando made her debut appearance in 'Ruhunu Kumari' produced and directed by W.M.S.Tampoe.
At the 18th International Amiens Film Festival 'Pauru Walalu' won the Network for the Promotion of Asian Cinema (NETPAC) Award for the best Asian Film,Grand Prix de la Ville D'Amiens for the best film and the GPCI Award presented by independent film exhibitors,which entitles the film to be screened in foreign countries.
'Pauru Walalu director Prasanna Vithanage was present at the Amiens Festival to receive the award.
---
'Vel Vidane' misuses official powers
By Kumaradasa Wagista.
Tanks have always been at the centre of activity in most villages in the North Central Province. Tanks provided water for cultivation as well as for domestic needs.It was the duty of the'Vel Vidane' to see that water was equally distributed to the villagers without discrimination or favour.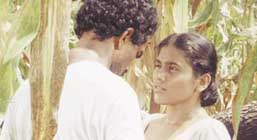 Linton Semage plays the main role of Dharmadasa,the 'Vel Vidane'in his latest film'Padadaya' (The Vagabond-for adults only) 'Padadaya' portrays how the'vel vidane'misuses his powers in the village."The entire film was filmed in NCP in the vicinity of Deginiyagama tank and the main female role is played by an amateur,a woman born and bred in Anuradhapura"Linton Semage said."She has not appeared even in a school drama earlier.She is Shaymalie Warusavithana."
In the drama Dharmadasa is a widower.He has only one son Piyal who is talkative and matured for his age
Wilson is a Home Guard living in a house close to that of Dharmadasa.Wilson lives with is wife Padmini.Meanwhile a relationship builds between Dharmadasa and Padmini during the absense of Wilson.It so happens that Wilson's house catches fire on a day when Wilson is on duty.Neighbours gather and manage to douse the fire.Villagers later help to rebuild the house.Dharmadasa gifts some clothing including a cloth worn by his late wife.
One fine day Dharmadasa sees Padmini bathing wearing the cloth used by his dead wife.Flashbacks of his life with his wife starts re kindling in Dharmadasa after this sight.Padmini is now more prettier and sexy than earlier.He tries best to forget about these flashbacks but he fails in all attempts.
Dharmadasa starts to live with Padmini like husband and wife.But from the very first day of their illegal relationship villagers begin to suspect mischief. Gossip at various levels among villagers annoy Dharmadasa. Fumingin anger Dharmadasa decides to take revenge from the entire village.He decides to punish the village gossip mongers by stopping the supply of water to the village.He ruthlessly closes the sluice gate witholding the supply of water to the village.
Actually the climax of the film starts at this point."After a prolonged drought farmers hopefully started cultivation in the village as rains arrived.But because of Dharmadasa's revengeful actions they were left in the lurch.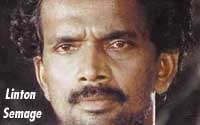 Linton Semage admits that there are sex scenes. However those scenes are not plugged in forcibly. These scenes flow along with the story, he says.He is getting ready to release his film next month in the 4th circuit.
Linton Semage entered films from the theatre.His debut film was 'Meeharaka' where he bagged the Sarasaviya' award for his performance in it. He aslo produced 'Indrakeeliya' which is now queued up in the fifth circuit.
Tamara Semage has produced this film while Jayanath Gunawardena is the cinematographer.Elmo Haliday has edited it.Rohana Weerasinghe is its music director.
---
Grand Dame of South Indian screen
South India's super actress Bhanumathi Ramakrishna,popularly known as Bhanumathi in films has completed six decades of acting ,it was reported recently.
Religious ceremonies were held in Chennai evoking blessings from Providence for long life to her.She is yet acting elderly roles in films as well as in tele serials.Bhanumathi aged 73,made her debut appearance in films by playing the main role in 'Varavikrayam' as a teenager.
Bhanumathi actively engaged in literary and cinema wrote and published her first short story at the age of 14. Apart from being a versatile film artiste Bhanumathi is a singer,music director,costume designer and film director.
Bhanumathi married assistant director P.S.Ramakrishna, who later became a film director in 1943 quit films for a shortwhile.She has appeared with stalwarts in the South Indian screen of the time. She has acted in films of all languges produced in India.Her latest starrer was Kodi Ramakrishna's 'Pelli Kanuka.
Presently she is engaged in a tele serial depicting her career with clippings from climax shots of her feature films.Titled 'Nalo Nenu' is to be completed shortly.Eleven episodes of the tele serial are completed to date.
---
Dinning Out
---
AGH Christmas
The mixing of the Christmas Cake is a big event at this time of the year.
Lending a strong hand to spice up the real rich cake for Christmas at Airport Garden Hotel is its General Manager Ranjan Stanislaus, Ex. Asst. Manager Frigidian Fernando and Sales Manager Ashok Fernando.
The Ex. Chef J.B.Wijeratne and his team are busy here preparing the goodies for the season that is just round the corner.
---
German food fest with Katz' music
Lanka Oberoi goes German from the November 21-29, with traditional German food prepared by the Hotel's German born executive chef Helmut Hubele.
The German food and musical extravaganza will be held at the popular roof "supper club", in the form of a daily dinner buffet.
The highlight of the food promotion will be the German swing ensemble - 'Karl Katz and Cats' flown in specially for the occasion by courtesy of Condor and Vip Tours.
Karl Katz who is no stranger to the Oberoi or the music lovers of Colombo along with his Cats will perform folklore, jazz and swing music to create the right ambience during the German food extravaganza.
Karl Katz a veteran in the music field in Frankfurt is a multi-instrumentalist, and plays the saxaphone, clarinet, violin and of course the piano.
Karl who has played in String Orchestras, Bossa Nova schools in Rio, Brazil jazz clubs and the British Orchestra for three years promises a memorable German musical experience.
The festival includes the traditional dishes such as Grune Erbsensuppe - green pea soup with frankfurter, rollmops - pickled herrings, schinken platte - smoked and cooked ham, schalachtplatte auf sauerkraut - assorted meats on sauerkraut and of course sweet temptations such as black forest gateaux, Swabian cherry cake and Bavarian cream etc.
---
'Jade Gardens' has expansive ideas
'Jade Gardens' , one of the oldest Chinese restaurants in Colombo, has geared up to take the coming festive season.
They have changed their menus to accommodate more clientele to the restaurant.
According to Bharathe Kotalawala, the CEO of the Hotel, 'parking' the major problem of the place has now been solved.
Jade Gardens restaurant has relocated their take-away counter to have the much needed vehicle park.
'Actually our customers had to park outside the restaurant earlier and now with new infrastructure change ample parking space is available within the premises'. he said
Their new menu will serve more popular items to meet the demand.
'We are not an exclusive restaurant that serves only to up- market ones. Our customers are mainly common people from all walks of life. That's why we have survived for more than fifteen years.
We want to cater to a bigger clientele outside the city limits. Jade Gardens will open up in Nugegoda and Dehiwala soon ' he said.
The all inclusive rate for new menus range from 350/- to 550/-.and all are Chinese dishes prepared in a more spicy Sri Lankan way.
Our executive lunch is very popular among office staff. The price per pack is Rs.125/- and the delivery is free within the city for over five packs.
---
Indonesian Food Feast
The Cafe Emerald at the Ceylon Inter-Continental Colombo will be the venue for an Indonesian Food Feast, served buffet style for Lunch and Dinner from November 20-28. Indonesian chefs and hostesses have been specially flown in for the occasion from The Borobodur Inter Continental, Jakarta by courtesy AirLanka.
The Buffet Lunch and Dinner will consist of an array of Soups, Cold & Hot Dishes, Accompaniments and Desserts made to authentic Indonesian recipes such as: Soto ayam madura - Chicken Ginger Soup, Gada-gada - Assorted cooked vegetables with peanut sauce, Nasi Goreng Jakarta - Fried rice with turmeric and shrimps, Nasi Goreng Nelayan - Fried rice with seafood, Dadar Gulung - Crepes stuffed with grated coconut and palm sugar and much more! Every diner will have the opportunity to participate in a Raffle, where the winner will be announced over Gold Fm at the end of each day. The grand finale will take place at the end of the promotion - and the lucky winner will be entitled to a Free one-Year's Family Membership at the Sports Complex of the Ceylon Inter-Continental Colombo.
---
Chandimal's sixth CD out soon
By Sanath Weerasuriya
'Chandimal & The 2nd Connection' is to release its new cassette and compact disc, a calypso style music, next week.
According to Chandimal, he has not used any of the electronic instruments for this audio and CD.
'This calypso party time CD and cassette are first of its kind and all songs are 'unplugged' versions. I have managed to get most of the original singers to sing with my band. There are about 31 songs, sung by fourteen local artistes. Chandimal explained.
'It is a Sinhala CD with a differeant kind of party music for easy listening', he said.
'Torana Music Box' will be marketing this CD.
Last year Chandimal released Lanka's first Double Pack CD with a non-stop baila medley titled 'Temptation'.
'This is my sixth CD released into the local market and I think I am the first musician in Sri Lanka who has released the most number of CDs', Chandimal said.
'Chandimal & The Second Connection' now comprises Chandimal, Chandana Fernando, Sheridon Kuruppu and Senaka Batagoda.
This year the band will be in action at the Airport Garden's New Year's Eve Dance.
The band will be touring Australia and New Zealand in January next year.
'There will be four dances in Australia and NZ organized by the Sri Lankan Associations in the respective countries', Chandimal said.