---
"Grace" live in Colombo
'Lets Travel', a leading travel operator to Sri Lanka celebrated its 5th anniversary recently in Switzerland. They invited 200 of the top travel agents for dinner in collaboration with Jetwing Hotel, Sri Lanka.

Picture shows Louis Siriwardena, Managing Director of Lets Travel (centre) with the Lankan band. Reza Deane( Grace , Purple Rain) , Michael Silva (Purple Rain), Bandu Mendis(Arabesque,Serandib) and Shanaka Weerakoon(Shine) are also in the picture.

Meanwhile the 'Amazing Grace' will come alive again at the Hilton at the New Year's Dance.

Tony Fernando, Reza Deane and Jeffry Hussein will be on stage as the newly formed 'Grace'.
---
Granville: artiste of many parts
By Kumaradasa Wagista.
Funny things happen in this world.What happened to Granville Rodrigo since 1974 to date is funnier.Nearly seven lakhs is due to him from producers of films,teledramas and musical shows.

Once in a musical show at Urugasmanhandiya the organiser collected the gate collections and bolted away leaving the musicians and singers in the lurch.."Although many think that we earn big money as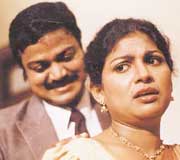 singers and actors,this is our sad plight" said teetotaller, actor -singer Granville Rodrigo.
As a teenager Granville started playing the box guitar and mastered it to a great extent because his ambition was to be a musician some day."As a choir singer at St.John's Church Mutwal I honed my singing talents which has helped me to earn my living."he added.
In all respects Granville Rodrigo is a fortunate man whatever his grievances are.His mentors in the drama field were Professor Ediriweera Sarachchandra and Dhamma Jagoda.He is a versatile actor who has played varied roles.'Maname' 'Sinhabahu and 'Mahasara',Simon Nawagattegama's 'Subha saha Yasa'.Dharmasiri Bandaranayake's'Ekadipathi'.Vijitha Gunaratna's'Sakya'.He has even taken part in the picturisation of Lester James Peries' Puran Appu'.The song being 'Jaya Apataie'.Parakrama Niriella's'Siri Medura' is another film he has acted in.
He is also a talented artist." I have worked as an art director in several films.He was presented the President's award for art direction in 'Dharmasiri Wickremaratne's 'Himakatara'. The Sarasaviya best art directors award for Dharmasiri Bandaranayake's 'Suddilage Kathawa' was also bagged by him.Recently Granville Rodrigo released a song cassette 'Otta Damaniya'comprising 16 dance numbers in aborignial (veddha) songs.Pradeepa Dharmadasa has rendered the female voice.He acted and directed music for K.A.W.Perera's'Paasal Guruwari'. " Yet I love the character I played in Suranjith de Silva's teledrama 'Manokaya'- Astral Body.
But I am confident that there is more in me to be utilised by film and teledrama directors" Granville said.
Granville has been very careful to be non aligned where politics are concerned.
He feels that actors,singers and others involved in arts should not be involved in politics."People of all political shades are our critics" he says.
However his constructive critic is his wife Shamalie."She is a force that guides me in all respects." After a long standing love affair with Shamalie ,he married her.The two of them are now parents of three boys."Our family is the most important factor in life" he said.
Granville is an old boy of St. Benedict's and De La Salle College Modera.
---
New face with a new look
Our cover girl this week is the newest face on the Sinhala screen.

Shehara plays the main role opposite Ranjan Ramanayake in "Mohothin Mohotha' (Moment to Moment') to be released next week in the Ritz Circuit.

This is Shehara's second film and her first film 'Balakamaya' will be released in December this year.

'Balakamaya' by Louis Vanderstraatan was my very first film, which was completed last year. However, Sunil Soma Peiris' 'Mohothin Mohotha,' will be released before this movie', she said.

She also acted in Dharmasiri Wickremasinghe's 'Seetha Reya', which will follow 'Balakamaya' on another circuit.

Twenty-four year old Shehara is a past pupil of Sujatha Vidyalaya, Nugegoda, and never had any intention of becoming an actress.

'When I was schooling I had a liking to act in films but soon it faded away. I wanted to become a designer and I never had a chance to step into that field. However I will never continue as an actress. I want to be in films for few years and will settle down, she said.

Shehara's hair and make-up was done by Asika Abeysingha, popular hairdresser and beautician.

Asika Abeysinghe started working as a beautician, opening up her own salon in 1986. She trained under Mrs. Gladys Perera of Salon Gladys, Janet Balasuriya and also for short periods under Romany Bulathsinhala and Ramani Fernando.

She does hair cuts as well as beauty treatment in her Salon - all by herself.Her contact No. is 582088.
---
Prasanna's films take trip to Europe
By Kumaradasa Wagista.
Two local films have been selected for participation at international film festivals in Europe.Both films are directed by Prasanna Vithanage.

'Purahanda Kaluwara (Death On A Full Moon Day) is selected to participate in the Asian Vision section of the 39th edition of International Thessoloniki Film Festival,Greece.It is scheduled to take place from November 13 to 22.

This festival which is the major film festival in Greece and the Balkans attracted by film makers and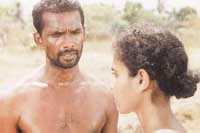 distributors,film and television film buyers, as well as the media,promotes nuture creations made by new film makers.It is also the premier showcase in the Balkans for new and provocative work from and around the world.
Joe Abeywickrema plays the main role that of a blind old man living in the Wanni.
Director Prasanna Vithanage has been invited to attend the festival.
'Purahanda Kaluwara' is produced by N.H.K.Japan Broadcasting Corporation.
Festival International de Film d'Amiens in France has selected Prasanna Vithanage's 'Pauru Walalu'(Walls Within) to participate in the18th edition of this festival.The festival is scheduled to be held from November 5 to 16.Nita Fernando who is the producer of this film plays the main role in it.She won the best actress award at the previous Singapore International Film Festival. The festival comprises of two international sections,full-length fiction films and short fiction films.A selection of full length fiction films compete for the prizes of the jury,the prize of the public,the prize of the city of Amiens and the prize of the Office Catholique Internationale du Cinema (OCIC).The full length fiction film Grand Prix (Golden Unicorn)will be provided with a 50,000 French Francs support for distribution.
International promotion of these films are handled by the Asian Film Centre,
---
Teledrama off the beaten track
A new teledrama is scheduled on Sirasa TV shortly.Titled 'Damini' it relates a story of present day urban woman courageous enough to fight the hardships of life.

Sentimental teleactress Yasoda Wimaladharma (Damini) plays a novel role,that of a professional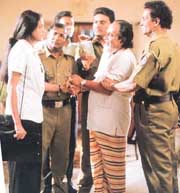 journalist.
Today's women are able to shoulder the major responsibility of their day to day life and manage to keep a balance in the socio-cultural growth of the family with dedication.
This is the story of a middle class woman who is exceptional and outstanding with her own efforts to maintain faith and self respect.
Damini is actively aware of the falling social values and growing terrorism in urban life. She is a woman whom is against corruption,malpractices,criminal tendencies and social injustices.
Her story starts with the brutual murder of an innocent young girl,by the son of a member of the Legislative Assembly Dhananjaya (Roger Seneviratne).She tries to report this incident in the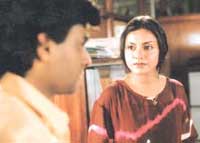 newspaper but fails.Her copies disappear after a telephone call from the MLA to the editor of the newspaper.
Seeing no alternative to her problem she resigns from the newspaper and joins hands with Madhawa (Kingsley Loos) the fire-brand editor of 'Yasasa'.
Meanwhile Madhawa and Isuru (Senaka Wijesinghe) decide to fight and raise their voices against social injustice,corruption and political pollution.Damini's friend Lahiru (Jayantha Bopearachchi) who is assistant to an advocate Molamure (G.R.Perera) joins this mission.Inspector Dhanushka (Rangana Premaratna) who is an adviser to Damini also helps them in their battle.Deshabandu Athugala (Wijeya Nandasiri) who is a lawyer helps Dhananjaya to win the case.
His wife Nilanthi (Nilanthi Heendeniya) is a 'schizophrenic',whereas his elder son is studying in the States and his daughter is in a local college.
Although Athugala is a go-getter his only problem is that of his wife's mental condition.
'Damini' gets one more bolt from the blue after losing the case. Her father Wickremasinghe (Ranjith G Perera) is arrested on a false allegation of cheating.
The teledrama enters its climax at this stage on an unexpected note.
Rajesh Lodhia is its director.Tilak Lakshman Seneviratne is script writer and Rajeshkar Andenhalli is cameraman.Vency Gabriel Gonsalves is the editor.Nimal Lakshapathiarachchi and Nilendra Deshapriya are Executive Producers.
"Damini' is a Sirasa-Sri Adhikari Brothers joint venture.
---
Colonel Saunders begins new wing
By Sanath Weerasuriya
The popular KFC restaurant will open it's second outlet at the Union Place next week. KFC's new outlet promises to deliver the same selection of finger lickin' feasts that have made Kentucky Fried Chicken a delicious delicacy worldwide. In addition there would be ample parking available. There is also a special kids area with play equipment.

Fast food is now becoming the favourite of many. This rapidly growing sector of the hospitality industry thrives on offering customers a quick, well packaged change from traditional Eastern rice and curry type meals.

KFC stands at the helm of this fast food invasion, being one of the largest global fast food franchises currently operating in Sri Lanka. A product of the post-war American dream, KFC grew from Colonel Saunders' tiny Kentucky service station to become a successful multi-billion dollar worldwide enterprise', said Maljini Jayasekera, the Brand Development Manager for Cargills Foods.

KFC in Sri Lanka adheres to international guidelines and is proud to state that they use locally produced raw materials,' she added

Majestic City outlet has, over the last three years, proved to be a popular dining place for those wishing to savour locally sourced, freshly prepared, Halal succulent chicken in crisp coating enriched with the Colonel's Original Recipe, a secret blend of herb's and spices. KFC serves Real Food fast. The meals come complete with a tempting array of side dishes like Coleslaw, Mashed Potato and Savoury Rice.

We have gone to the extent of localising the menu to meet our customers requirements by the latest addition which is the lunch time special which is only priced at Rs. 88/=, where you get a delicious, wholesome piece of chicken, savoury rice and gravy. ' Trevine Gomez, the GM for Cargills Food Services Ltd., said

Children flock to KFC, thanks to a rather large, cuddly bird named Chicky.

Kids can have their Birthday parties with Chicky who organizes games and presents and treats them to a fun-filled evening. Chicky kids meals frequently come with special surprises like the very popular Disney toy figures, Maljini said.
---
Oberoi gets set for X'mas
Christmas time will soon be here and the Lanka Oberoi has already commenced its preparations for the season with the mixing of the traditional X'mas cake.

Picture shows executive chef Helmut Hubele and executive sous chef Morugama and the team participating in mixing the delicious Oberoi Christmas cake - something to look forward-to for all the Christmas cake fans.