Dine out healthily!
By Ayesha R. Rafiq
It's lunch time and you're starving. Or it's time for dinner, but you don't feel like cooking tonight. It would be nice to dine out, wouldn't it? But you're also health conscious, and you just can't take any more fast food, with all that hype about cholesterol, and the ingredients they use being bad for your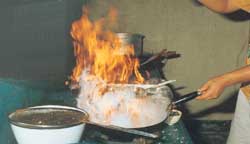 health. For once you would like to dine out and eat something that is good for your health, and tastes good at the same time.
A stone's throw away from Wadiya, the Chinese Herbal Restaurant is a place where you can put up your feet and enjoy the homely atmosphere, while you listen to the whisper of the sea and watch the waves breaking on the shore.
But the name may mislead you. The menu is the popular Chinese one, with all the favourites such as sweet and sour fish and meat dishes, the noodles, the rice, the soups and so on. The difference is that they're cooked in herbs which have therapeutic effects, but the taste of the herbs is not immediately evident.
The restaurant is owned by a former Deputy Manager of the Sheraton Hotel in China, Jack Zhang. Leaving his job of eight years, he decided that he wanted to see the world. For the next eight years, he traveled to continents such as Africa, Europe, the Middle East and Asia, holding various posts such as a directorship at a restaurant in Seychelles and in Cyprus.
He has now decided to settle down in Sri Lanka and incorporate the best of the culinary skills he has picked up on his travels, into his Chinese herbal menu.
He is friendly and talkative, and doesn't mind sharing his cooking secrets with others. "My goal is to educate the people in the art of herbal cooking. I plan to start cookery lessons shortly, and unlike elsewhere, I won't keep any secrets to myself. Even now, if people ask me for a recipe, I will give it to them."
"My menu is a combination of medical herbs with food, which results in a healthy diet, as well as medical treatment. The herbal food is especially prepared according to a medical formula."
He uses a mixture of Chinese and Sri Lankan herbs, such as ginseng, angelica, dangshen, wolfberry, chinese dates and chrysanthemums. Among their many therapeutic effects, he lists some of the most important as, reducing cholesterol, healing one of rheumatism, relieving tension, and cleaning the lungs and other organs, thus being especially good for smokers and drinkers. He also assures customers that the menu is halal, as he too is a Muslim.
The dining room can hold up to 35 people. At the moment Jack does all the cooking single handedly. But a dish is ready in about five minutes, as he makes the necessary preparations before the restaurant opens for lunch at 11:30. And you only have to wait for a meal for about 20 minutes, while you chat to Jack, who always has time to make his customers feel welcome, by telling them about the sights and sounds he has come across on his travels.
---
Fun and joy at Independence Square
By Chamintha Thilakarathna
Independence Square, in the heart of Colombo is one of the capital's land marks. Standing tall and elegant in the bright sunlight, the audience hall and its surroundings are quiet and deserted in the heat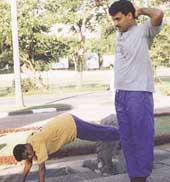 of the afternoon. But drop by in the cool of the early morning or after sunset and you will find it transformed into a place full of life and activity.
This is when one meets a lively crowd who have gathered to relax, exercise or just to take in the fresh air. It is not just the crowd that is fascinating but the variety of people that has given that extra sense of vibrancy to Independence Square. In fact, the only thing that seems to be missing in contrast to the many popular outdoor family hangouts are the peanut, ice cream, pine-apple, paper propeller sellers and the enthusiastic beach lovers. Those are what sets Independence Square apart from the ever famous Galle Face. Even the Parliamentary grounds does not seem to have appealed to too many people who find the security arrangements to be quite disturbing.
"There are only a few outdoor places like the Vihara Mahadevi park, Galle Face, Kotte that one could go to for some exercise or fresh air. And of the limited options this is the best for this purpose. I come all the way from Kotte to jog and to bring my daughter to roller blade here because at Kotte the cement is badly damaged and it is difficult to workout," said Dr. Ranjith de Silva.
He added that the cities in Sri Lanka do not fulfil the people's need for open spaces for recreation and exercise. This he felt, was a great lack, especially now at a time when exercise is seen as an essential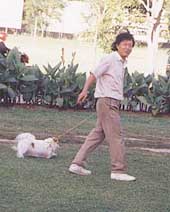 for healthy living.
Eight year old Sherman de Silva felt that there should be more places to accommodate cyclists and roller bladers who cannot have their fun on the main roads.
According to many joggers, the reason why they have chosen Independence Square is because it is still relatively peaceful, no vehicles hooting asking them to move away, or ice cream vans or other noisy elements to distract their concentration. "One could walk in peace without any one to disturb you," they said.
Fourteen year old Chola Gangola who arrived there with her mom felt that it was the soothing atmosphere that brought them to do their joint exercises.
"We don't have time to go for exercise as such. This place is just a hop step and a jump from the quarters at Narahenpita so it's a luxury in all aspects," said Lance Corporal Pushpa Kumara.
Although to many it is the lack of an alternative that has led them to the city centre to keep up their physical health, to some others it is not so. The tall and well designed pillars serve as a hide out for lovers. Moreover, the circular pond at the entrance guarded by the majestic lions is an endless source of fascination for children who love clambering over them. The audience hall as a whole is also favoured as a resting place for elders and for those who just want to indulge in a friendly chat, or even for families who want to get away from the idiot box and enjoy the splendour of the setting sun.
Yet, Independence Square is often the venue for national celebrations and events of historical significance. Amidst the bustle, there was a sprinkling of tourists, taking photographs and poring over the architectural detail of the structure.
Ms.Sitti Careem and Ms.Jaleel from Colombo were among those who wanted to chat peacefully outdoors. "Earlier we used to go to Galle Face, but now the place seems so dirty and what with the smell of cooking oil and the uncared for beach, it is not at all pleasant. Although the breeze is nice the place has been ruined," they said.
According to N.H.Esufally (75) from Jawatta Road, who has a pass to the adjoining Sports Ministry grounds, the grounds are not freely open to the public other than athletes. "Therefore, I am coming here to do my exercises," he said.
"This is a quiet and peaceful place and it is easy to get here because it is at the centre of the city. Besides, one can stay on for as long or as late as one wants here and parking is not a problem either," said Ms. Darling Wijebanu (46) from Rajagiriya.
So under the benign gaze of the statue of Independent Sri Lanka's first premier D.S Senanayake, people young and old grab a little bit of fun and relaxation amidst the hectic pace of urban life.