I want to break free
Seth Sevana offers hope to those drug addicts who want to come out
By Hiranthi Fernando
For fifteen long years, Sarath (not his name) had been addicted to heroin. He was then a young man of 24 years having a steady job. He was introduced to heroin by a group of friends. Enticed by them, he felt tempted to try it out. And so he became hooked on it and paid dearly. He lost his job, became estranged from his wife and family, got into debt and was left with nothing.
"The first day I took it, I vomited and felt dazed and lifeless," Sarath said. "I did not feel any of the euphoria my friends promised. However, the next day, as I returned from work, these friends met me at the bus stop. Once again, I was persuaded by them to take it. Although I felt no thrill and did not enjoy what was happening to me, I still felt compelled to continue. At first I spent fifty rupees a day, then seventy five. Later on, I spent all I had on it and even got into debt. Nothing seemed enough. I had to take it several times a day.
In the mornings I could not even get up without having some. I became completely dependent on it. Most of the time, I felt disoriented and could not work. As time went on, I could not go to work regularly and finally lost my job."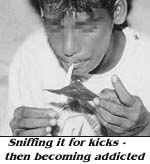 On the urging of his wife, Sarath went for treatment several times but nothing seemed to work. He always went back to the habit after a few days. Finally, having no money and no family, Sarath sought treatment at 'Seth Sevana', at Koswatte, Talangama.
He has been at the rehabilitation centre for fifty days and is now on the road to recovery. He has not had any heroin during this period. "I regret very much that I took to drugs. I lost everything I had," said Sarath who is now 40 years old and the father of two children. "I wish I had come here earlier."
"This centre is entirely drug free," said Sugath Dissanayake, Manager of Seth Sevana Rehabilitation Centre. "Patients, visitors or staff are not permitted to take any drugs, alcohol or even smoke a cigarette within its premises. The drug addicts being rehabilitated therefore have no access to any form of drugs" Seth Sevana is one of four drug rehabilitation centres run by the National Dangerous Drugs Control Board (NDDCB).
Established six years ago, Seth Sevana is equipped with residential facilities for 45 inmates as well as an outdoor treatment centre. Rehabilitation is completely free of charge, including meals which are provided. Mr. Dissanayake explained that Seth Sevana rehabilitates drug users who seek treatment voluntarily. They are not made to feel shut in. During the last year, approximately 930 drug users have been rehabilitated.
However, he said that all those who are rehabilitated may not keep away permanently. It may take several visits to get over the problem completely. The centre works below capacity since only 26 of the 45 places are filled at present. Severe drug addicts do not like to be confined and tend to run away, Dissanayake explained.
Thushanika, a Counsellor who has worked at the centre for five years, says the average age group of drug users coming in is between 18 - 35 years. They are mostly from lower income groups. They find many young people who have taken to drugs before an exam. They have been told by friends that they can study better and are sadly disappointed. Thushanika says the family members of drug addicts have an important role to play in their rehabilitation. Drug users come in on their own will, initially with family members. They are counselled to reduce their intake for a start and set on a daily out patient programme. When they feel more comfortable, they are willing to start on a resident rehabilitation programme. The length of the treatment varies depending on the extent of addiction. The centre is open seven days a week from 9 a.m. to 4.30 p.m. On an average they treat 70 - 80 drug users each day.
"Apart from Seth Sevana, the NDDCB runs three other rehabilitation centres, 'Meth Sevana' at Handessa, in Kandy, 'Mith Sevana at Unawatuna in Galle and 'Nava Digantha' at Urapola, Nittambuwa" Karunadasa Gamage, Director, National Dangerous Drugs Control Board said.
Addressing a media gathering organised by the Defence Ministry in connection with the World Anti Drug Day on 26th June, he said that the NDDCB was established by an Act of Parliament in1984 under the Defence Ministry.
The main function of the NDDCB is to implement the national policy relating to the abuse of dangerous drugs. Their work includes the prevention and control of both trafficking and use of drugs as well as the treatment and rehabilitation of drug abusers. In the course of their work, they conduct at least two programmes each day for the education of personnel engaged in drug control and rehabilitation activities such as police officers, prison officials, school teachers, non governmental social service organizations, as well as for the media.
According to S.L.S. Chandrasiri, Chief Welfare Officer of the Welikada Prison, it is more difficult to rehabilitate drug abusers who go to jail. "Unlike those who seek rehabilitation at the various centres, drug addicts in the prisons do not go there of their own will. Thus they do not have the same conviction of the need to be rehabilitated and so have to be convinced," Chandrasiri said. He explained that there were three categories of drug offenders in the prison drug addicts, drug traffickers and those who are addicts as well as traffickers. The average age of drug offenders is found to be between 22-30 years. At Welikade Jail, about one third of the prisoners are drug related offenders. Since they are all herded together, it is increasingly difficult to prevent the continued use of drugs. It also poses the threat of possible addiction among other prisoners. Drugs are somehow smuggled into the prison by various means. There are even mothers who bring it in for their sons. Measures are being initiated however to stop the use of drugs within the prison. Prison officials are undergoing training to recognize drug users and deal with the problem.
"The laws against drug abuse, enacted in 1936, were not strong enough to control the drug menace in the country until 1983 when it was amended," Director of the Police Narcotics Bureau, Senior Superintendent, C.L. Ratnayake said. "Now we have the most severe sentence against drug trafficking, since anyone found to possess over two grams of Heroin could get a death sentence."
According to him, when the Police Narcotics Bureau (PNB) was first established in 1973, the drugs that came in to Sri Lanka were mainly Ganja (Cannabis) and Abin (Opium). Since the first detection of 275 grams of Heroin at Beruwela in 1981, increasing amounts of Heroin have been found. In a year, an average of 40 kgs of Heroin are detected while around 12,000 drug offenders are taken into custody. The detection of heroin for 1997 amounted to 54 while in 1996, 10,150 kgs of Hashish was detected at Chilaw. In 1997, the PNB estimated that the number of drug users in the country could exceed 100,000. However, it has been determined that not all the drugs coming into the country are for use here, but Sri Lanka is also used as a transit point for drugs coming in from the Golden Crescent (Pakistan, Iran and Afghanistan) and Golden Triangle (Myanmar, Thailand, Laos).
Reports from Interpol and other foreign sources have also shown that Sri Lankans have also been detected trafficking in drugs outside the country. It is believed to be connected with fund raising for terrorist activities. Thus the term narco-terrorism came into being.
"The cooperation of all sectors is necessary to combat the problem of drug abuse and trafficking in the country" says Senarath Leeniyagolla, Assistant Secretary (Media), of the Ministry of Defence. He stressed the importance of getting the correct message across to both dealers and users of drugs. Apart from government agencies there are other agencies involved in this work. Since the problems of drug abuse was aggravated in the country in the early 1980s, many non- governmental organizations have started working in this field. The Federation Of Non Governmental Organizations against Drug Abuse (FONGOADA) was instituted in 1987. FONGOADA coordinates the activities of 26 NGOS working against drug abuse. The NDDCB, together with the FONGOADA planned a series of activities in connection with 'World Anti Drug Day' on 26th June. The programmes aimed to educate and create awareness among the public and particularly young people of the serious dangers of drug abuse.